ITV's 'Love Island UK' is a guilty pleasure for many, but none can deny that it's entertaining and addictive. The dating reality show features bachelors who are ready to find love, compete in challenges, and pair up with someone compatible. Ron Hall and Lana Jenkins on season 9 have confused the audience beyond belief, but some of their loyal fans remain hopeful. Even though they faced several ups and downs, the duo was resilient to everything thrown their way. But were they able to accomplish the same outside the villa, or did their partnership succumb to the hard-hitting reality of life? Let's find out!
Lana and Ron's Love Island UK Journey
Ron is a financial advisor, while Lana is a makeup artist; they are both 25 and hail from Essex, England. The duo became the first official couple in the Villa after Ron mustered up the courage to ask Lana for a relationship. He said, "I've never had a relationship or anything like that, so for me, it is like a massive thing, and we've talked to each about being exclusive, but that is not enough for me. I want the title. I want you to be my girlfriend".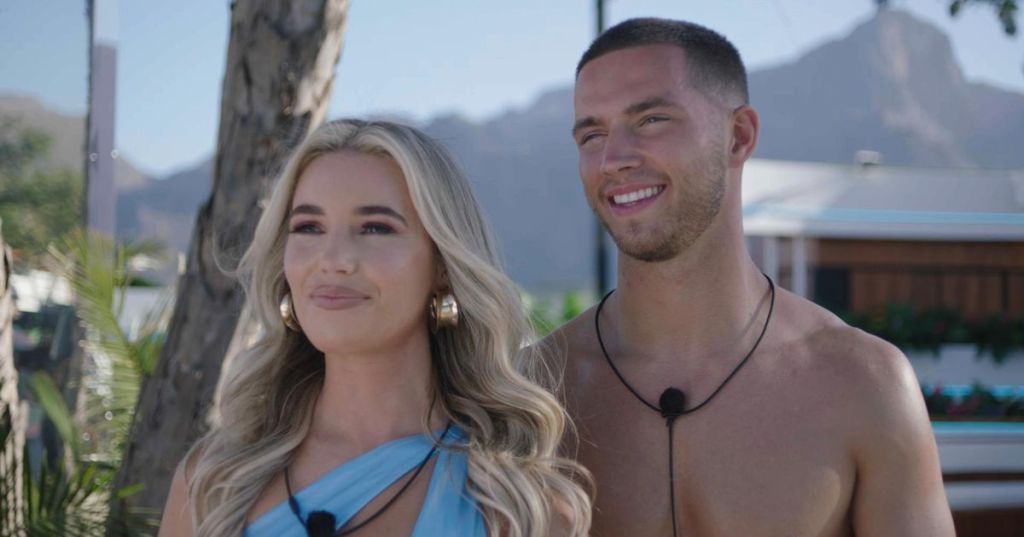 Their picture-perfect moment unfolded on the terrace, and Lana cheerfully accepted his proposal. The two leaned in for a sweet kiss, and Ron made the official announcement to all the other contestants. However, their journey to this particular moment wasn't all fun and games. Even though Lana had an intuition that she would end up with Ron, things were quite turbulent in the beginning. With Ron being swooned by bombshells and Lana coupling up with Casey, it was surprising to see them together.
When Lana recoupled with Ron, not everyone approved of her decision. Some believed she was settling for less and were actually happy about her decision to choose Casey. Many fans even accused other contestants of trying to sabotage the couple because Ron was labeled as a "game player," implying that his feelings for Lana were not genuine. The couple was also voted first by the audience and the villa members for having "least sexual chemistry" because they never indulged in PDA (public display of affection).
Moreover, Ron stated that he had been single for four years and then implied that Lana was his first girlfriend. Fans were quick to point out the loophole about how he suggested having a girlfriend before, but now he's titled Lana as his first one. So, was all of this enough to tear them apart? Or did they see beyond the shortcomings and decide to strengthen their bond further?
Are Ron and Lana Still Together?
Yes, Ron and Lana are still together because no conclusive statements or evidence point toward separation. Their journey throughout the show was tumultuous, but that can be said about almost all 'Love Island UK' couples. It was commendable to see them find their way back to one another. Their special moment on the terrace seemed genuine, and one could tell how truly they admired and adored each other. They forgave their partner's past actions and hoped to start anew. Moreover, the two did not let gossip affect their equation, which is a sign of maturity and mutual respect in their relationship.
Needless to say, not publicly showing physical affection isn't an indicator of poor intimacy. It could very well be that the duo prefers to keep such things away from the public eye because they value their privacy. They are also the same age, which might suggest that the two are going through similar phases in their lives, reaching congruent milestones, so it's a lot easy for them to communicate and understand the mentality of their partner. Both come from Essex, so long distances can pose no problem, and the two can easily relocate to live together.
Taking everything into account, every piece fits perfectly so far, and nothing stands as a major problem in their relationship. However, they do not follow each other on Instagram or share photos due to their NDAs because the season is yet to conclude. But no matter who wins the show, we hope to see them together and get a glimpse of their romance. However, if they decide it's in their best interest to part ways, we'll still support their decision and continue to root for their success.
Read More: Is Love Island Real or Scripted?