Faye Winter and Teddy Soares were among the most loved couple in season 7 of 'Love Island UK,' a dating reality show where contestants pair up to survive the politics, challenges, and drama. Fans admired the two because they truly made an effort to be together. This was proven after a small hiccup, when they managed to converse and move past the problems. However, the two have lately been in the news for a possible breakup and their fans are latching onto any detail they can find online. So, let's traverse their relationship and go through everything that has unfolded so far.
Teddy and Faye's Love Island Journey
During the first week, Faye, a Lettings Manager, was coupled with Brad and Liam. Teddy was a new bombshell, and the Senior Financial Consultant already had ladies swooning for him. He went on a date with four girls, and of them was Faye. The sparks flew, and they were inseparable, with the exception of one minor misunderstanding that could've led to their fallout.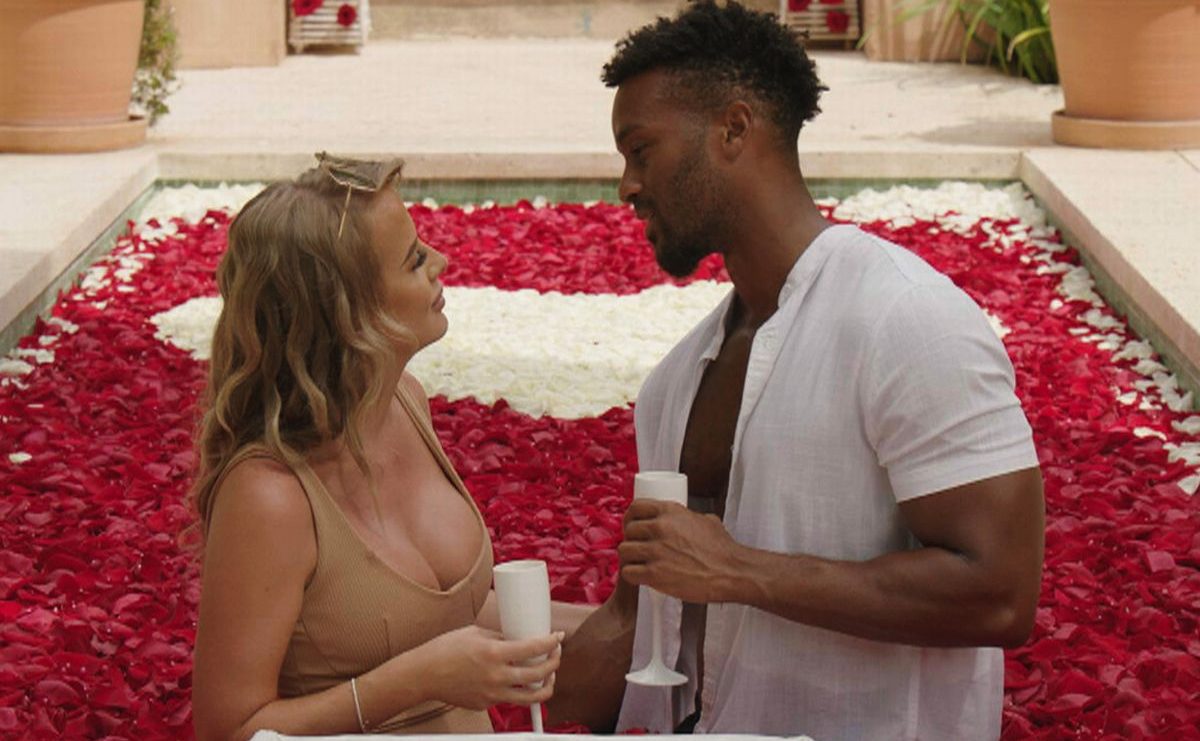 Faye and Teddy had a small rift on the show when the male contestants went for a "lads' holiday." When six new bombshells joined them, their current partners were shown how they were getting touchy with the new ladies. Teddy kissed Clarisse Juliette, and Faye was quite upset about the whole ordeal (she did not know that the kiss was part of a game).
Moreover, Faye also missed the part where he slept outside Casa Amor, surrounded by mosquitoes, to avoid being involved with someone else. Consequently, Faye started being cheeky with Sam Jackson and recoupled with him. However, after a heartfelt conversation on the terrace, the couple sorted out their differences. Teddy told Faye about the game, and she apologized for her actions. He also confessed to being jealous by the thought of her kissing someone else.
The two leaned in for a passionate kiss, and the conflict was resolved. The couple was adored by fans and secured third place in the competition. They had big plans for their future and seemed excited about sharing their lives. But were they able to successfully execute them and settle their arguments like they did in the show, or did they meet the same fate as most reality TV couples?
Are Teddy and Faye Still Together?
Yes, Faye and Teddy are still together, but somehow, there's a rumor about them splitting up. First, let's have a quick recap of what the two planned after the show. In an interview, Faye revealed that the duo planned to move in together. She said, "We have spoken about it, and I think we will likely get a place together, but I will probably still spend two, three nights – depending on schedules at work – in Devon." They also spoke about their relationship dynamics and how they complement each other's personalities.
Teddy commented, "I'm the ice to her fire, to be honest! Overall we have so much fun together, we take the p**s out of each other, and we have our affectionate moments. We've got such a fine balance. Even the arguing, I think that's healthy in every relationship. It's just how you deal with it." True to their words, the duo soon moved into their dream home in London. They posted about relocating on their Instagram stories, and Faye said, "So guys, we have moved in today to our little dream humble abode! It's beautiful. I love it even more going back in today than I did when we viewed it."
The two welcomed a new member to their family, a 5-month-old Golden Retriever puppy named Bonnie, who is a ball of happiness. They had to cancel their Christmas vacation because the pup didn't receive a rabies jab. However, that's a small price to pay for an adorable dog. Everything seems lovely between the two, so where did the fans get a whiff of their breakup? The rumor sparked when Faye posted a video of her wearing a baby pink lace lingerie set doing a brand promotion for Valentine's Day, with the caption: "Valentine's isn't just for couples, it's also a time to fall in love with yourself."
The caption instantly raised many eyebrows and got people to do all kinds of mental gymnastics. An empowering message for everyone was taken completely out of context and molded into a breakup announcement. However, the last photo where they posed together was shared more than a month before the lingerie advertisement. As per reports, the two have been fighting for their relationship. Teddy even posted a story of him having a breakdown. He said, "It's definitely okay to cry. It's definitely okay to let your emotions out," and told the followers about him being in a difficult position.
All facts point to the possibility that both Teddy and Faye have been taking time off for the greater good of their relationship and giving their connection another shot. Presuming their split without any official confirmation is jumping to conclusions, so we won't be doing that. We hope that even this time, the couple makes it through the rough patch and gives their fans an update about their status. No matter what the outcome, we wish only love and happiness for the pair.
Read More: Is Love Island Real Or Scripted?