Lifetime's 'Married At First Sight' gives a unique spin to the dating reality show genre. The thrill of the show is in knowing whether the connection between the couples, matched by experts, gets stronger or fizzles out in the real world. Among the many faces in season 12, Briana Myles and Vincent Morales seemed promising. The way Vincent and Briana spoke and looked at each other felt like the two were already in love. Fans unanimously agreed that the two were meant to be and had the potential to be a long-term couple, but were they right to believe so? Let's traverse through their relationship and examine the current updates to see where they stand now!
Vincent and Briana's Married At First Sight Journey
Briana was a 28-year-old established engineer when she first appeared on the show in search of a life partner. Vincent, on the other hand, was 27 and ready to tie the knot after a successful career as an auto broker. The two individuals were searching for someone who would respect their values and belief system, and luckily, they found their soulmate in each other. The two seemed overjoyed while getting married and meeting each other for the first time. Vincent loved their first night together, and the newlyweds had a lovely honeymoon.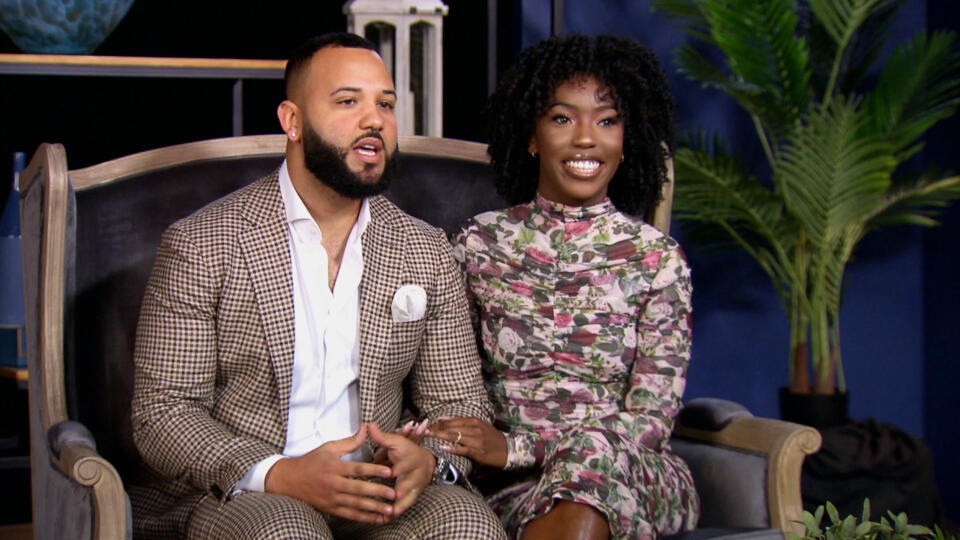 Briana supported her husband when he lost his grandmother, and this brief moment of being together during her partner's mourning phase deepened their bond. The physical intimacy came as naturally as their emotional intimacy to them. Whatever little differences they had, the couple quickly sorted them out, even after a heated argument. After Decision Day, the fans breathed a heavy sigh of relief because the couple had decided to stay together for the long haul.
They acknowledged the differences in their personalities but also showed a willingness to work through them. Vincent also made the sweetest gesture when he knelt and unboxed a cheesecake for Briana, asking her to stay married. This wholesome little act made her tear up, and the couple shared a sweet kiss. In the reunion episode, the two confirmed that they were still together and also spoke about their long-term plans. They lived together at Vincent's place and planned to accommodate a condo soon.
Their marriage seemed healthy and happening, with Briana being showered with flowers, wine, and romantic dinners regularly. During the finale, they celebrated their one-year anniversary, and Vincent proposed to Briana because he couldn't do it initially since they were married right after meeting each other. Even though the two were married, Vincent was nervous about the proposal. But obviously, Briana said yes! However, it's been a long time since their last appearance on the show. So, has the couple still kept their initial energy intact, or did they meet the same fate as most reality TV show couples?
Are Vincent and Briana Still Together?
Yes, Vincent and Briana are still together and stronger than ever! In an interview with E! Online, Briana expressed how she felt after first meeting Vincent, "When I first saw him, I thought his smile was gorgeous, and then from there, we both had a good vibe. His family was great, and I think if someone's family is great, it makes him even more attractive. There was attraction at first sight, not just physical."
Vincent also highlighted how natural it was to get along with his wife. He said, "Right after we met, I realized why we were matching. Everything was flowing. Everything seemed natural. Nothing was being pushed. We had an amazing time, and we were having fun. It took off from there." By July 2021, the couple had already bought their dream house, where they planned to raise a family. They humbly thanked the experts on the show for their effective advice, which helped in looking past their differences and truly embracing each other.
In 2022, the couple announced that they were about to welcome a baby. As per reports, the two were expecting a baby girl and were quite excited to welcome the little bundle of joy in their lives. Briana was overjoyed to know that she was going to be a mother. She said, "This little lady will have him wrapped around her finger! I'm still in awe that someone will be calling me Mama soon, but I'm thrilled to take on this new role! I believe we'll be amazing parents with a wonderful support system." This news was confirmed when they posted a video regarding the same on their YouTube channel.
On January 19, 2023, Briana posted a photo of her adorable newborn baby girl on Instagram with a sweet caption. She wrote, "Aury Bella Morales (meaning Golden Beauty) made her debut on 01/03/2023 at 3:23 PM! Our little lucky charm is finally here. "On February 4, 2023, Vincent also posted a picture with the baby on his Instagram, captioned, "Bella, you've taken my heart. I have never fallen in love so quickly."
The couple definitely had sleepless nights and clueless moments since the arrival of their child, but that's the joy of parenting! Vincent is currently working full-time as a realtor at Compass and seemingly has an alcohol-delivering business. At the same time, Briana is also employed full-time at HITT Contracting Inc as a Project Manager. The power couple posts special updates of their life on YouTube and has managed to secure multiple brand deals thus far. They are one of the few couples who've truly made it and survived the test of time, and we hope that they will continue to do so.
Read More: Where Was Married At First Sight Filmed?