Alleviating the awkward stage of dating and the countless efforts to find a match, 'Married at First Sight' follows the lives of strangers who are married to each other within minutes of dating each other. With expert matchmakers aligning individuals, the reality television show follows the journey of couples who get to know each after marriage. Season 7 of 'Married at First Sight UK' also brought a number of couples together. Zoe Clifton and Jenna Robinson are one of the few couples whose enamoring personalities intrigued many. So, if you're also wondering if the couple stayed together outside the show, look no further because we've got all the information right here!
Zoe and Jenna's MAFS Journey
At 30, Zoe Clifton had come to 'Married at First Sight' to find a genuine connection and move away from the world of serial dating. The Quality Surveyor had yet to find someone she felt she could grow old with. On the other hand, 32-year-old Jenna detested the patriarchal form of marriage but was still fond of the idea that one may get to build a long life with someone. Brought together by the show, Zoe and Jenna soon became the life of the party, but issues between them still persisted. On their honeymoon, Zoe started feeling that her lifestyle may not be compatible with that of Jenna.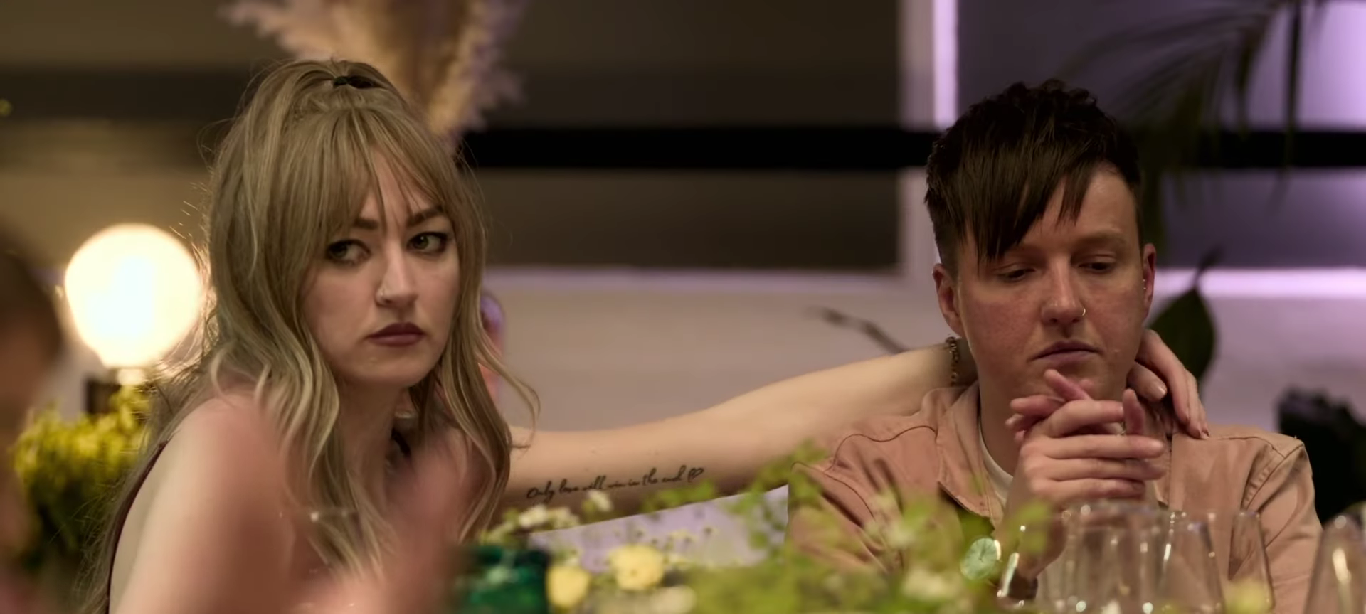 Whilst Jenna's zero-waste business was blooming, Zoe's career and lifestyle were moving in an entirely different direction. So, even though they felt they could make it work, Zoe doubted there would be a place for her in Jenna's life in the long run. One of the major differences that plagued their days on the show was their choice of consumption and diet. While Zoe was a meat eater, Jenna was a stout vegan. Naturally, Zoe always felt hesitant in front of Jenna to eat what she liked.
On the decision day, the duo aired their issues in the relationship clearly. Zoe felt she could be honest with Jenna, but the inability to let loose and be jovial around her partner was still amiss. On the other hand, Jenna felt that there were times when emotional intimacy from their relationship was absent. Undeniably, the two felt that they needed to work a lot on their relationship. Even so, the duo decided to stay together on decision day. However, like a number of other couples on the show, a breakup could still be possible, leaving many to speculate the same.
Are Zoe and Jenna Still Together?
Yes, Zoe Clifton and Jenna Robinson are still together. Beating the curse that normally entangles a number of reality show couples, Zoe and Jenna have managed to look beyond their differences and emerge together as an even stronger couple. After the cameras stopped rolling, Zoe and Jenna continued working on their issues and have since grown closer. One of the major issues that drew Zoe and Jenna apart was their different eating habits. However, in a feat to make consumption more sustainable and align her views with her partner, Zoe gave up meat and decided to live on a plant-based diet. As such, both Zoe and Jenna continue making different lifestyle choices to acclimate themselves to their partner.
After switching to veganism, Zoe even committed to Veganuary as Asda's ambassador. So, far from the days when she wouldn't dream of dating a vegan, Zoe has found an affinity in a meat and dairy-free diet. In addition to making lifestyle changes, Zoe and Jenna also take time for each other and regularly go on vacations. The duo vacations to exotic sites like Cancun, Mykonos and Santorini.
Not just this, Zoe and Jenna are also discussing the possibility of starting a family. While Jenna holds reservations about the environmental strain of bringing a child into this world, they are still considering each other's options and openly discussing what the other wants. Naturally, Zoe and Jenna have set the pace for their relationship by being respectful partners to each other who openly discuss their issues.
On the personal front, the duo has a major presence on social media as well. They regularly partner with famous brands and even showcase their gratitude for the people who constantly reach out to them. After their appearance on the reality show as the first lesbian couple, Zoe and Jenna have become a beacon for countless young individuals who wish to come out to their families. Naturally, we continue to wish Zoe Clifton and Jenna Robinson the best and hope they create new milestones personally and professionally!
Read More: Are Christina and Henry From MAFS Still Together?