'Baseball' is one of the most popular games in the America. It has a huge following throughout the country and is a sport for which there are huge investments each year. The game, however, traces its origin back to England. There was a game called stoolball which was quite popular in England during the 15th century. This game was brought to America by the English and later it developed and modified into the game we call baseball. 1791 has been traced as the year when the first recorded mention of the term 'baseball' was used. New York Knickerbockers are the first ever professional American baseball team which played the game in accordance with the modern rules.
Interestingly, Abner Doubleday, a soldier during the Civil War was mistakenly granted the status of 'Father of Baseball' fifteen years after his death. Later, such a claim was dismissed by historians. Cricket was quite popular in America before the Civil War due to British colonialism, but after the war, baseball completely took over the fancy of the American people. Numerous movies, TV shows, and documentaries have been made about this popular sport. Here's the list of really good baseball movies on Netflix that are available to stream right now:
5. Weeds On Fire (2016)
Who knew a baseball movie would come out of Hong Kong that will just sweep us off our feet? Yes, this is what exactly can be said about a film like 'Weeds On Fire'. The movie is based on a true story and is about the formation and rise of the baseball team, Shatin Martins. The two central characters of the story are Lung and Wai. They are best friends and have managed to enroll in college. Their college is infamous as the students are extremely misbehaved and rowdy.
Both Lung and Wai, along with some of their friends, have been selected to be the members of the college's baseball team. They started poorly but slowly began to improve. However, in one match, Wai gets involved in a fight and the coach replaces him with Lung. Feeling betrayed, Wai quits college and joins a criminal gang. Lung and the others manage to compete and reach the final of a junior championship. The movie has been well-praised by critics and has also won numerous awards. It was shot under extreme budget constraints.
4. The Phenom (2016)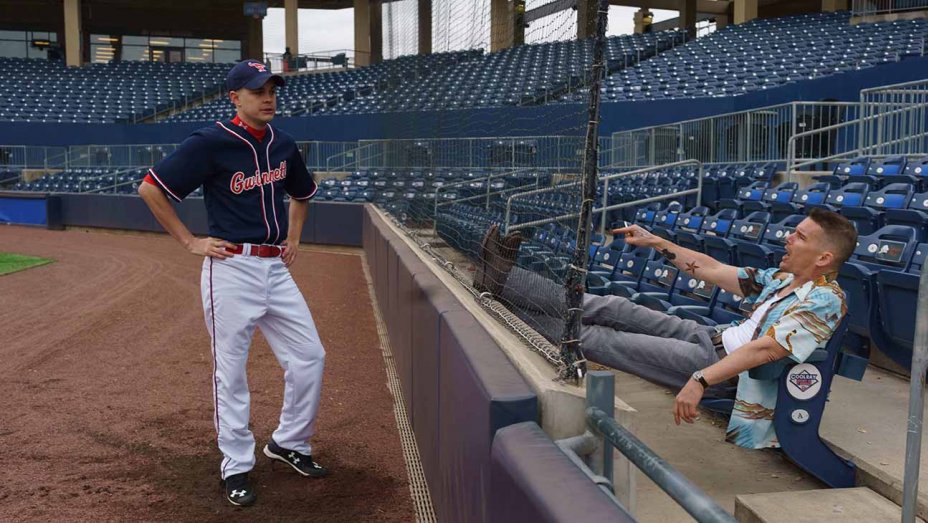 'The Phenom' is more than just a baseball story. It is a story of repressed emotions, anger, trauma, and the personal turmoils that the lead character goes through. The name of the lead character is Hopper Gibson. He is a talented baseball player who is quickly rising up the ranks. However, he sometimes gets distracted during matches, which slowly becomes a huge problem in his life. His coach understands that it has to do with something more than just a game. He is sent to a psychologist who specializes in sportsmen and women. Hopper, however, does not trust the psychologist because he knows that a player who was going to come to him had committed suicide.
The psychologist takes his time with Hopper, slowly gaining his trust and making Hopper comfortable enough so that he starts speaking his mind. It is only then that the doctor learns that Hopper's father himself was a player, but drugs and unruly behavior brought an abrupt end to his career. And moreover, Hopper's father was extremely abusive towards him, always shouting and berating him. This created a huge trauma in Hopper's life which he never managed to get over, and it also disrupted his concentration while playing. What this movie does is very interesting. It takes a sports theme and makes it into a complex battle inside the head of a player. The film is dialogue-heavy, but the actors have managed to do a fine job.
3. Bull Durham (1988)
Considered one of the best sports movies ever made, 'Bul Durham' stars major actors like Kevin Costner, Tim Robbins, and Susan Sarandon. Costner's character is called Crash and he is a veteran of minor league baseball. Durham Bulls, a minor league team hires Crash so that he can help their new pitcher, Nuke. Nuke is arrogant and Crash has to teach him the trappings of the game and how to make his way into the major league. However, when they meet, things do not go that easily between the two players and their relationship faces further troubles when both develop soft corners for Annie.
Annie is a girl who dates baseball players from the team and when she invites the two to her house, Crash leaves saying that he understands what she is up to. Slowly Nuke and Annie develop a relationship as Crash keeps teaching him about the game. Nuke finally manages to outplay his potential and gets called up by the major league. The movie was a huge commercial and critical success, with all the critics unanimously praising Costner for his stunning performance as Crash. The film also shows the acting prowess of Tim Robbins, who would later go on to star in important movies like 'The Shawshank Redemption' (1994) and 'Mystic River' (2003).
2. 42 (2013)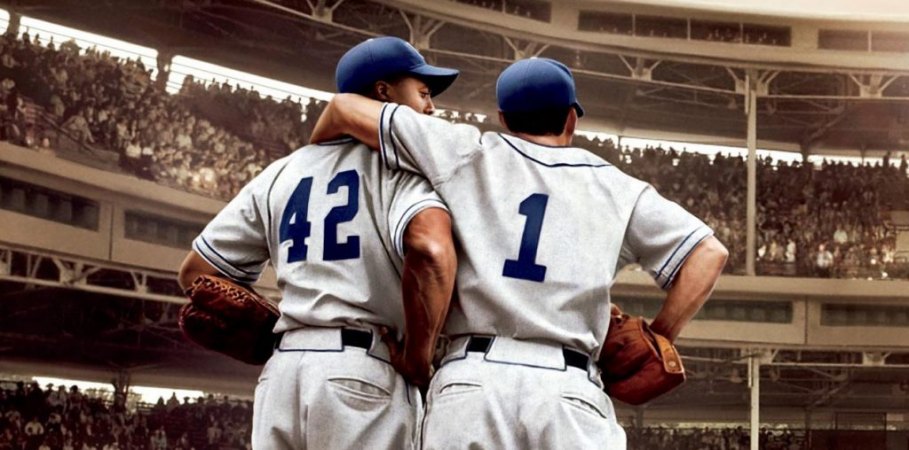 Jackie Robinson is one of the most important players in the history of American baseball. He is the one who made racial integration possible within the sport. Actor Chadwick Boseman dons the role of Robinson in this biopic. We see how racism was steeped in American society when Robinson was refused to even use the washroom of a gas station. Despite being an extremely talented player, he was humiliated at every step of his life. Even when he got a chance to play for the major league team, Brooklyn Dodgers, his teammates refused to play with him. Then Robinson showed his skill in the match against Pittsburgh Pirates, which helped the team qualify for the final of the World Series. The name of the movie is 42 because Robinson always wore that jersey number throughout his career. The film was a huge commercial and critical success and truly manages to depict the genius that Boseman was. The effort to portray the life of one of the biggest sporting and cultural icons of America was lauded by all.
Read More: Best Shark Movies on Netflix
1. The Benchwarmers (2006)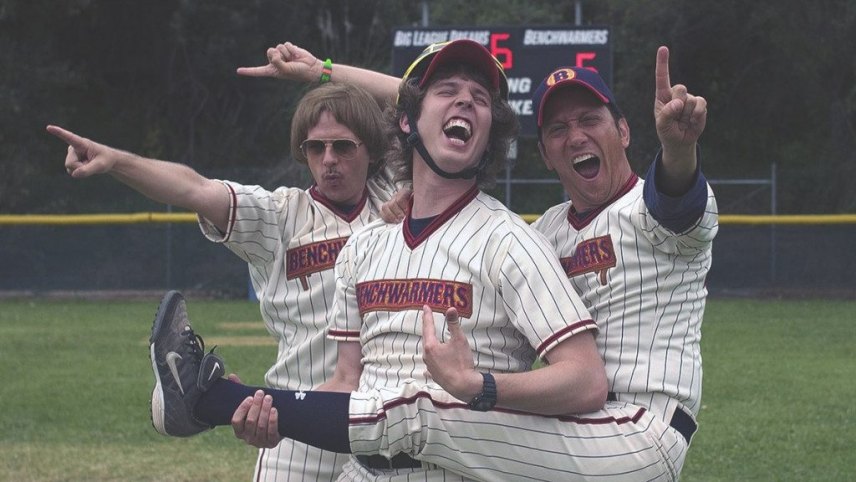 Dennis Dungan directed this hilarious sports comedy which tells the story of three nerdy friends who've only dreamt and talked about playing baseball instead of actually doing it. However, when they face off against a local team after an altercation, Gus, one among the three friends, proves to be a brilliant player. With his friends Richie and Clark, he manages to defeat these players in two matches. Gus is then approached by a billionaire who wants his team to participate in a tournament to determine who shall be the users of the new baseball park that he is building. The three friends agree and take part in the tournament.
Surprisingly, their team of three turns out to be so good that they end up defeating all the other teams and reach the final with ease. The three, however, do not play the final but make other nerds like themselves take to the field. The movie did not manage to impress critics but was a huge commercial success.
Read More: Best Suicide Movies on Netflix