Whenever we think of lemonade, nostalgia hits us hard, and we are instantly taken back to our childhood, thinking about our first-ever business out on a hot summer day. Thinking along the same lines with a "buzz twist", young entrepreneur Mikaila Ulmer came up with her lemonade company, Bee Sweet Lemonade, which was later changed to Me & The Bees due to copyright reasons.
The company is dedicated to saving the bees and runs along the motto, "buy a drink, save a bee." Mikaila Ulmer and her father, Theo Ulmer, appeared on season 6, episode 23 of 'Shark Tank', where they received a $60,000 investment for 25% equity from Shark Daymond John. They are now back on season 14, episode 17 of ABC's 'Shark Tank.' We are indeed excited to see young Mikaila back after so long with a fresh update on her company. Let's find out where the company is now.
Me & The Bees: Who Are They and What Do They Do?
Mikaila Ulmer, the founder, was bitten by a bee when she was around four years old. Her research on the crucial part bees play in preserving the environment is a result of this encounter. She became more and more interested in researching the bees, and in the process, she realized she wanted to save the bees. She developed a product at the same time for Austin Lemonade Day and the Acton Children's Business Fair. Her great-grandmother Helen had brought the family a vintage cookbook from the 1940s that included the recipe for flaxseed lemonade.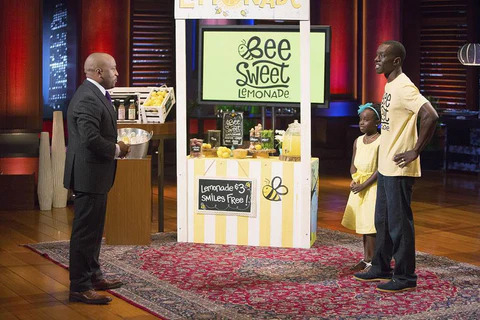 By combining sugar and honey with the beverage, the young girl gave it her own special touch. The iconic Bee Sweet Lemonade was created in this way in 2009. It has changed its name to Me & the Bees Lemonade due to a copyright issue. Also, a portion of revenues is given to organizations that promote bee conservation.
Mikaila is currently enrolled in her high school, and while she's out there saving bees, she also loves Spanish, science and rock, and climbing classes. In August 2020, Mikaila's debut book, Bee Fearless, Dream Like a Child, was published. It is about her experiences as a social entrepreneur who runs a business that aims to provide quality, all-natural lemonades in a way that supports bee conservation, and it was published by Penguin Random House.
Where is Me & The Bees Now?
Me & The Bees is still operating and available for business, and their website claims that they have increased in size by 500% since starting out. Her lemonade is sold at over 1500 stores across the nation, including Whole Foods Market, The Fresh Market, Global Market, H-E-B locations around Texas, Publix, ralphs, Getir, Meijer, GoPuff, Giant Eagle, and Kroger. Apart from this, the product is also sold by a number of eateries, food trucks, and organic food delivery services.
The Healthy Hive Foundation, a non-profit organization devoted to programs for honey bee research and conservation, was even founded by Mikaila in 2017. She juggles her speaking engagements, career, and studies. At the United States of Women Summit, she even had the chance to meet former US president Barack Obama. Me & The Bees lemonade currently comes in four different flavors; each bottle is sold at $29. The flavors are Classic Lemonade, Original Mint Lemonade, Lemonade with Mint, Ginger Lemonade, and Black Cherry. Currently, the Black Cherry is out of stock.
The brand also sells different products, including Honey Comb ATX t-shirts starting from $29, signed bee fearless gift set at $25, greetings from Austin postcards (5-pack) at $8, Me & The Bees sticker sheets from $10, Me & the Bees stickers from $4, gift cards from $30, Bee fearless tote bag at $15, and embroidered Me & The Bees hat at $22.
The company also donates a share of profits to local and international organizations fighting hard to save the honeybees. So, considering the hard times that Mikaila has gone through in order to come out and make Me & The Bees Lemonade as big as it is today, we can bet on her sheer determination and perseverance to take this brand to a higher level in the coming future.
Read More: Autio Shark Tank Update: Where Are They Now?