Bravo's 'Below Deck' is a reality television show that focuses on the crew members who work on a private yacht as they cater to the needs and demands of high-end clients who embark on lavish and exclusive charter vacations. The crew members must also deal with their drama, which often spills over into their work lives. The sixth season of the show follows its cast into the yacht named My Seanna as it sails in the stunning waters of Tahiti. Since the premiere of the season in October 2018, fans have followed their favorite cast members closely and have been curious to know more about them since it wrapped up. We have got all the details for you, so let us begin!
Where is Lee Rosbach Now?
The captain of the ship was a veteran face in the sixth season of the show. He managed to run the boat successfully and was able to tackle the interpersonal problems that came his way. As a captain, he had to make some hard decisions but it did not deter Captain Lee from coming back to the show for a couple of more seasons. Owing to his health issues, he had to take a break during the filming of the tenth season and he revealed he will not be returning to the show.
Captain Lee is a published author of 'Running Against the Tide: True Tales from the Stud of the Sea', a book he co-wrote with Michael Shohl. He is enjoying his time with Laura Monteverdi, his wife, and lovingly calls her "my bride" in all of his Instagram posts. He has confirmed that he will be doing more work with Bravo but the details are still unknown.
Where is Adrian Martin Now?
The Chef on the cruise for Season 6 was Adrian Martin. He was well-liked by all other crew members because of his calm and composed demeanor and pleasant temperament. However, third stew Laura Betancourt, in one of her confessionals, mentioned Adrian passed some romantic advances and sexually charged remarks that made her feel uncomfortable. On the show, he apologized for his behavior when she confronted him about it. After appearing on 'Below Deck' for a single season, Adrian kept working as a chef in NYC and then moved to Saint Martin, where he grew up.
Following that, Adrian had been offering private dining experiences to his clients and had shared that he wanted to go on a tour all over the US. Interrupted by the COVID-19 pandemic, Adrian picked up on his plans after 2021 and even worked on a couple of yachts during this time. In 2022, Adrian and his partner, Grace, had a daughter whom they named Poppy Eloise. From what we can tell, he is now settled in Oregon with his lovely family.
Where is Kate Chastain Now?
The fan-favorite, Kate, brought her usual flair and feistiness to the sixth season of the show as well. There were many people she head-butted with but that is what fans love to see. In August of 2023, she appeared on a show named "Couch Talk" with Captain Lee and they discussed the "biggest moments of the week". She is a new and proud mother of baby boy Sullivan Cay and has over one million followers on Instagram. This successful influencer has found different ways to reach new heights in her career and there is no stopping for Kate anytime soon.
Where is Josiah Carter Now?
The British steward brought his refined service skills and keen attention to detail to the yacht and formed a good relationship with Kate. He quickly became a fan favorite and won over many hearts with his funny but well-meaning comments. After he departed from the show, he expressed that he could come back to the franchise for one of the spin-offs but the plans did not materialize due to the COVID-19 pandemic.
Josiah is currently the owner of an ethical clothing brand named House of XOXO and is also a famous Instagram influencer. He and his long-time partner adopted a puppy Spoodle in December 2020 and they named him River. In addition to the fulfilling moments in Josiah's life, he got engaged to Michael Groves in February 2022 and the couple will be married very soon this year. It seems like Josiah is very content in his life right now, and the doors for coming back to the Bravo production are not closed for him.
Where is Caroline Bedol Now?
Caroline's entry into the show was quite promising but it was not an easy ride for her as she sustained a lot of minor injuries and got into some heated arguments during the show. Even though Kate and Josiah celebrated her leaving the show, fans could not help but wonder what she has been up to. Caroline has kept a low profile since leaving the show and revealed that the time she spent on the show was quite traumatizing and she would like to recuperate for a while.
In a Reddit AMA, she did say that she can think about returning to the show. She said, "I would have another go at the third-stew position! Only because they would literally never attempt to eff with me again haha". She has picked up her interest in horse riding again and espouses her political beliefs boldly. It looks like Caroline is gradually healing and is paving the way for great things ahead.
Where is Laura Betancourt Now?
Laura joined as a stew to replace Caroline in the middle of the charter season. Her strong personality clashed with Kate at the beginning of her arrival but the two were able to figure out a friendship along the way. Laura also had a brief romantic stint with Ashton while they were aboard.
Post leaving the show after just six episodes, Laura is now working as a yoga and fitness instructor with many certifications under her belt. She even hosts online practice sessions for her clients, which include celebrities. She is currently living in Hawaii and is making her followers envious with pictures of herself in beautiful and underexplored locations. From what we can tell, Laura is either single or she has decided to keep her love life under the radar. Whatever the case may be, she has great things written for her in the coming years and she seems to be thriving.
Where is Chandler Brooks Now?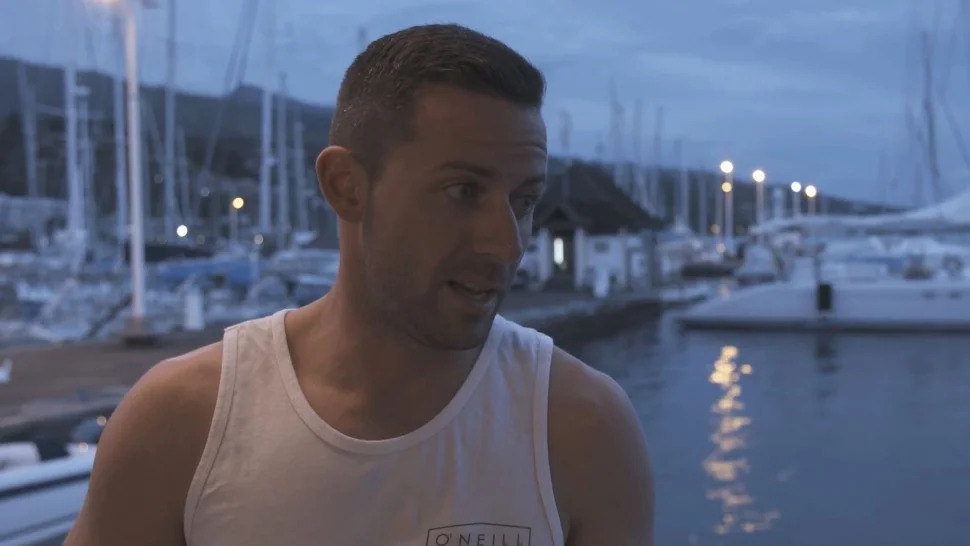 The bosun of the yacht, Chandler, was not a favorite member of the crew. They felt he was not performing well at his job and had a bad attitude. He landed in a lot of trouble with Captain Lee because of not adhering to his orders and poorly treating his deckhands. Many fans agreed with Captain Lee for firing him but a lot of speculation has gone around related to his departure and his whereabouts after the show. Even though his co-star Caroline, in an AMA, said that Chandler was fired because he told the production team he wanted to resign and was overwhelmed with the job, there is no proof of the same.
Since his departure, Chandler has continued to rise the ranks in the yachting industry and is in a loving relationship with Jamie Jason, a cast member of 'Below Deck Mediterranean' season 3. Even though he is not present on social media, Jamie kept her profile public till a few years ago and it was evident that the couple were building a strong relationship while enjoying their respective careers and traveling. Chandler seems to have found some peace and stability in his life after the show, and better things are in store for him.
Where is Ross Inia Now?
Ross Inia joined the show as a deckhand but following Chandler's untimely departure from the show, he was promoted to bosun. According to his crew mates, he was a better leader than Chandler, even though he was not the best. He gained a lot of love and liking from the fans of the show but Inia did not make a second appearance. In December 2018, following the season wrap-up, Inia was partying with a few friends in West Palm Beach, Florida, when he got into a fight and was reportedly arrested for disorderly intoxication and battery.
As per reports, Inia was charged with a couple of felonies but the charges were later dropped to misdemeanors when he entered a "not guilty" plea. According to Bravo, he said, "It was just me and a couple of mates having a night out. That's pretty much all I can say. I can't really elaborate on it. It was a big misunderstanding." He has kept a low profile since then and frequently posts pictures with his son, Kai. On a personal front, he got engaged to his girlfriend, Rachel, in May 2021 and wants to spend more time in Florida to stay close to both his son and his fiance. Sadly, Inia's father passed away in February 2022. Though he misses him every single day, Inia keeps his father's memories alive in his heart.
Where is Ashton Pienaar Now?
Ashton survived a near-death experience in the show when his leg got caught in a towline but he was fortunately saved by a cameraman. He returned to the show for the next season, but it soon became apparent that he had a drinking problem which led to him being fired. After he left the show, Ashton turned his life around and is currently the owner of a fitness company called A P Elite. In 2021, he declared that he had been sober for a year and is making strides in delivering on personal and familial relations. He is not only helping himself but also providing support to people to lead better and healthier lives and it seems like he is meant to do even greater things.
Where is Rhylee Gerber Now?
Born and brought up in Alaska, Rhylee joined the 'below Deck' crew as a deckhand. She did not get along well with many people in the show but always ended up in heated arguments with Ashton. She came back to the show for a subsequent season but has not made an appearance since then.
After deciding to leave the show for good, Rhylee went back to Alaska and started fishing professionally. She frequently posted about the daily ins and outs of her life and after the pandemic was over, she moved into a van and started traveling across the country. She was accompanied by her dog, Dolce, whom she lost to an unbeatable tumor in July 2020. She is currently an entrepreneur and is seemingly involved in animal rescue. She is a very successful influencer and is shining brighter than ever.
Where is Tyler Rowland Now?
With STCW and CPR certifications, Tyler made a good deckhand on 'Below Deck'. Some sparks flew between him and Rhylee during the filming of the show but it did not lead to long-lasting relationships. After the show, he went back to working as a firefighter and has also become a digital creator. He has reclaimed his liking for adventure and frequently treks and travels to obscure destinations. He expresses interest in a lot of arenas like fitness, food, and activism. It is great to see Tyler being in his element and reclaiming his true self to achieve better.
See More: Below Deck Season 4: Where Are They Now?