"Balatkar se yaad aaya, meri biwi kaha hai?' (Speaking of rape, where is my wife?) Yes. This is an actual line from the "so-called-hilarious" adult comedy 'Grand Masti' released in 2013. And what's even more disconcerting is that this isn't even the most lecherous dialogue to come out of our beloved Hindi film industry. Adult comedy, a genre which was once considered a gateway for getting rid of a little of the regressive mindset of our movies, has somehow resulted to even more female objectification, blatant chauvinism and so much sexism it would make a feminist rip their hair off. Now most of Bollywood adult comedies are cash cows preying upon the twisted perversions of the society, and yet another way for mediocre (even terrible) actors to stay in the business. And now that I've calmed down from my heated rant, it is time to look at some silver linings on this very dark cloud. Because rare as it may be, Bollywood does have a handful of boisterously funny adult comedies in its kitty, which deserve props. So here is the list of top Hindi sex comedy movies.
7. Masti (2004)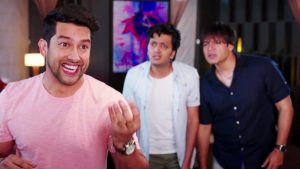 The original film in the now-infamous adult comedy series is easily the funniest of them all. When 'Masti' arrived in 2004, adult comedies were a forgotten, derelict genre in Bollywood. Chuck full of double-meaning innuendos, eccentric characters and good-looking women, 'Masti' blazed a trail for mindless toilet humour films. But none of its followers have managed to match its shameless glory. 3 husbands, fed up with their married lives, decide to ' eat some murgi instead of the monotonous ghar ki daal', but things go very, very astray when the focus of their attraction supposedly dies and a ruthless criminal sets on their trail. Farcical performances all around by the wide ensemble and the relentless outpour of one crass joke after another (many of which are actually good, unlike the sequels) make this a fine indulgence.
6. Mixed Doubles (2006)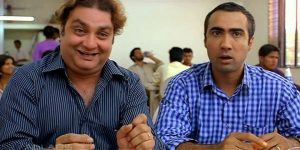 No, this isn't a biopic on Leander Paes. This is a film on, wait for it… spouse-swapping! (popularly known as swinging) Ask a married person what they think about spouse-swapping and you'll get an idea of the sensitivity of the topic. To create a quasi-realistic comedy on the same in India is akin to playing with fire. But Rajat Kapoor's look at this midlife crisis situation is subtle, restrained and surprisingly watchable (so very unlike Abbas-Mustan's 'Ajnabee'). The film tells the story of an urban middle-class man named Sunil who needs his wife's consent for swinging to maintain the spice in their life. Konkana Sen Sharma and Ranvir Shorey do a decent job at playing a middle-class couple, while Naseeruddin Shah, Saurabh Shukla and Vinay Pathak are a hoot in support. The director himself makes an understated appearance. 'Mixed Doubles' takes an amoral stand and touches upon swinging and it's possible repercussions without getting too preachy.
5. Hunterrr (2015)
'Hunterrr' is a breath of fresh (if slightly raunchy) air in the midst of all the forced innuendos and unnecessary physical exposure. That doesn't mean the film lacks any of the above; it just means that the film also has a plot to go with them. 'Hunterrr' chronicles the life and times of "just another guy" Mandar, who, under his off-putting dressing sense and run-of-the-mill physique, is actually a high-functioning sex addict with a colourful past. Everything changes when he meets Tripti, and falls hard for her. The film flashes between his attempts to woo Tripti and vignettes of his past exploits. Gulshan Devaiah puts in a suave act as the witty, droll Mandar. And the cheeky dialogue and music add to the spice of the fare. 'Hunterrr' is one of the Bollywood rare adult comedies with some rewatch value to non-perverts as well.
4. Straight (2009)
Just a year after the homophobic abomination that was 'Dostana', Vinay Pathak, one of the most elite members of "Underrated Gems of B'wood" club, made a low-key comedy about Pinu, an Indian-origin restaurateur in London, who falls prey to the two biggest booboos an Indian male can have – virginity and homosexuality. Without once mocking the orientation, 'Straight' takes a look at the desperation of a middle-aged virgin confused about his sexuality (read: unwilling to come out of the closet) in a saccharine fare with quite some laughs and gives s much-needed message of accepting oneself no matter what. I bet none of you have had this one on your radar ever, so go find it right away.
3. Vicky Donor (2012)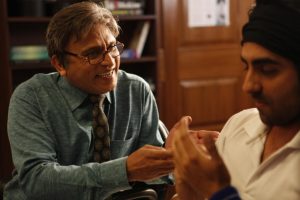 This hilarious Shoojit Sircar caper touches upon the taboo topic of sperm donation and the stigma associated with it in a jovial light. Dilli boy Vicky is an aimless, irresponsible man-child with some impressive genetics when he catches the eye of out-of-business fertility specialist Dr. Chaddha, who entices him to donate some of his swimmers for a quick buck. The personal and societal problems Vicky faces form the heart of the film. The film merits from a hilarious screenplay and snappy Hindi-Punjabi dialogues. Charming performances from debutants Ayushman Khurana and Yami Gautam, and a boisterous and side-splittingly funny act by Annu Kapoor as the persuasive Mr. Chaddha, who constantly makes sperm metaphors but shares a caring bond with Vicky, make 'Vicky Donor' a must-watch for every kind of sperm (and ovary)!
2. Shaukeen (1982)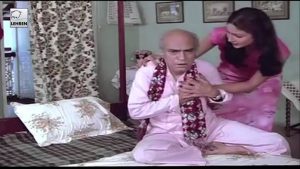 The 'Godfather' of Indian adult comedy, this 1982 film about three jawaan dil oldies (brought to life with uproarious effect by the legends Ashok Kumar, Utpal Dutt and A.K. Hangal) who go to Goa to try and add some zing to their life. While there, each of them leeches on the dainty Anita trying to get lucky, oblivious to the fact that she is actually the lover of their driver! What ensues is a wild ride of things which would embarrass anyone if they saw their granddads do it! Basu Chaterjee's signature informal storytelling, the sheer chemistry between these silly old creeps and the creatively cribby dialogue like "Kya zulm hai? Jin jin cheezon se zindagi zindagi lagti hai kambakth Doctor ussi ko cheen lete hain" are the film's biggest assets. Watch it for some old-school lewd, wanton charm (and don't even bother yourself with the remake).
1. Delhi Belly (2011)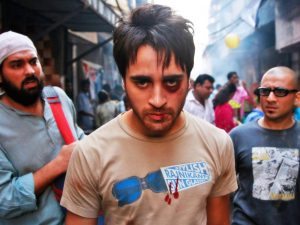 The locale is a squalid part of Dilli and the story is of 3 roomies being screwed in different ways by their lives – one by his fiancee, the second by his boss and the third by his belly! A mayhem ensues when they swap 2 very different packages supposed to be delivered to 2 very different locations. 'Delhi Belly' is one of those films which make you wonder "What else could possibly go wrong?" while watching it and swiftly answers with yet another event planning to screw the characters. Everything from gangsters to ex-husbands and diamonds to faeces gets a feature. The screenplay doesn't up let for a single moment as the trio lends new vision to the phrase "Shit Happens". With bang-on acting performances all around (Kunal Roy Kapoor deserves a special mention for looking so genuinely constipated with the titular "Delhi Belly") and the farcical music, DB is a hootfest. And while the English version is uproarious, the Hindi dubbed version is a friggin' treasure!
Read More: Best Bollywood Comedies