Chaplin makes it sound simple, but comedy is a tough job. It takes a wise man to convince a crowd that he's a fool. Bollywood has had more than its fair share of rib-tickling attempts over time. Comedies only second to romance in terms of preference and sheer output (And if Govinda and David Dhawan were still doing films like the late 90s, it would be the first!) 2016 was a dark year for Bollywood comedy movies though, with trash like 'Kya Kool Hai Hum 3', 'Great Grand Masti' and 'Tere Bin Laden 2' making us wonder if we had really asked for them while underrated romps like 'Happy Bhaag Jaaegi' went under radars. In an attempt to forget the abomination of a year and to rekindle belief in our comic cinema, here is the list of top Hindi comedy movies of ever made.
10. Oye Lucky Lucky Oye! (2008)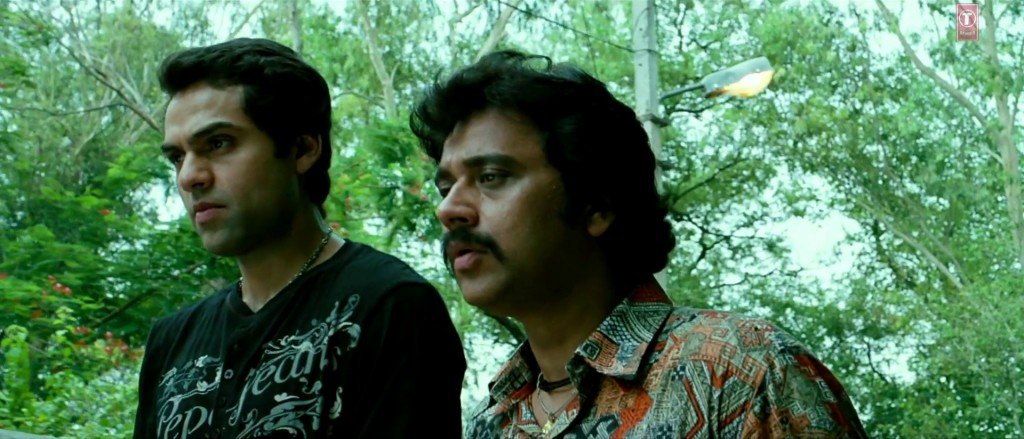 Inspired by the real life diablerie of Lovinder "Lucky" Singh, this Dibakar Banarjee flick stars Abhay Deol, the most underrated actor in the business today, in his finest form as he bamboozles his way in and out of the houses of many an elite family across the nation. The film opens as Lucky is facing trial and he recounts the story of his childhood, his love life and how he just does the roguery for the heck of it. Aiding him is the ever-so-hilarious Paresh Rawal as Lucky's father / Gogi Bhai / Dr. Handa, acing all of them. Whatever your usual chor-uchakka does, Lucky does it with style, with flair, with a smile and with the ease of a magician, thus making his story an engaging one.
9. Chupke Chupke (1975)
In the same year that Jay-Veeru immortalised drama and bromance in 'Sholay', Professor Parimal (who becomes Pyare Mohan) and his friend Sukumar (who is also the fake Parimal) created a riot in this prank comedy directed by Hrishikesh Mukherjee. Dharmendra runs the show as a jovial newly married professor who plays a practical joke on his wife's Jijaji who brags he can catch an imposter with ease, and becomes a shuddh Hindi speaking driver who only speaks in motor metaphors. As he includes his wife and friends (and numerous plot twists) in his act, the viewer can't help but sneer at the Jijaji's annoyance. SD Burman's music is fun and easy on the ears. Dharmendra-Amitabh's undeniable chemistry also garners quite some laughs. One of the many simply told but easily memorable tales from the legendary Hrishi Da, who has another spot reserved for him near the business end of this list.
8. Delhi Belly (2011)
'Delhi Belly' is one of those films which make you wonder "What else could possibly go wrong?" while watching it and swiftly answer with yet another event planning to screw the characters. A comedy of errors if you may. But not the PG-13 kind. The NSFW kind. The story begins with three roomies and a package gone astray, but follows it up with total mayhem, with everything from gangsters to ex-husbands and diamonds to faeces getting a feature. One of the boldest – actually – the boldest comedy to ever come out of Bollywood, it is crass, on-the-nose and doesn't sit back for a moment. With bang-on acting performances all around (Kunal Roy Kapoor deserves a special mention for looking so genuinely constipated with the titular "Delhi Belly") and the farcical music, DB is a hootfest. And while the English version is uproarious, the Hindi dubbed version is a friggin' treasure!
7. Munnabhai MBBS (2003)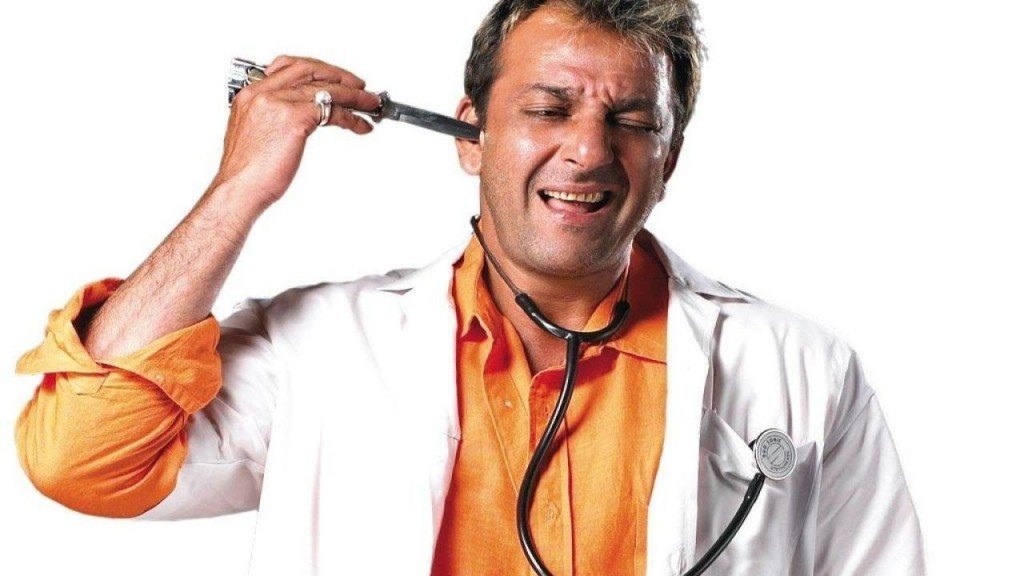 Rajkumar Hirani has the best of both worlds. He is a darling of the critics and his films break box-office records. Maybe it is so because his films are emotionally aware, but philosophically effortless, unpretentious. And nothing embodies this simplicity as his debut protagonist Munna does. Meet Munna, a gangster with a golden heart, who has no inhibitions whatsoever, in thoughts, in actions, in love. His tapori exploits, first as a gangster who fakes being a doctor for his father with the support of his loyal sidekick Circuit and then as a medical student with some uncanny methods which infuriate the Dean provide for some wholesome entertainment. Sanjay Dutt as Munna, Arshad Warsi as Circuit and Boman Irani as the Dean redefined their careers with memorable characters, which are Hirani's USP. There are quite a few tear-jerking moments, but it's all smiles by the end. 'Munnabhai MBBS' feels like a warm hug.
6. Khosla Ka Ghosla (2006)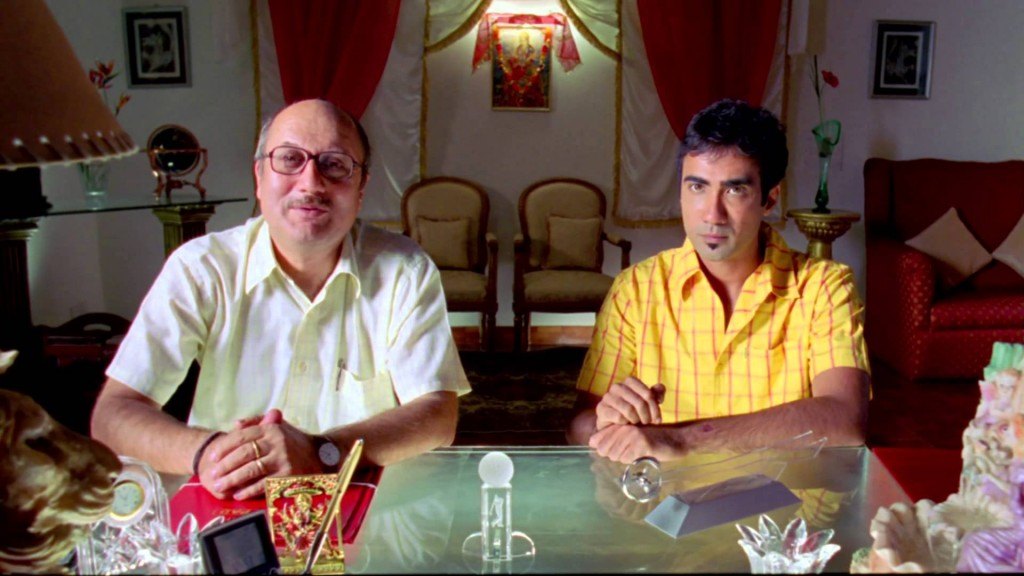 Dibakar Banerjee's debut flick tells the story of Kamal Kishore Khosla (played by the eternal film father figure alongside Alok Nath, Anupam Kher), an upstanding everyman as he battles against the property usurper Khurana (played by the eternally versatile Boman Irani), to protect a plot which he bought with his life savings. The winning factor of 'Khosla' is its intricate nuances while portraying mundane life of a family in a crisis. Tough it takes its time easing into the plot, no dull moment surfaces courtesy bang-on casting and crisp dialogue. The climax changes the tone of the film by being a little unreal, but laugh-inducing nonetheless. Amongst star-studded, big budget , ridiculously plotted ensembles (I'm looking at you "De Dana Dan"!), 'Khosla' is a bonafide revelation.
5. Jaane Bhi Do Yaaro (1983)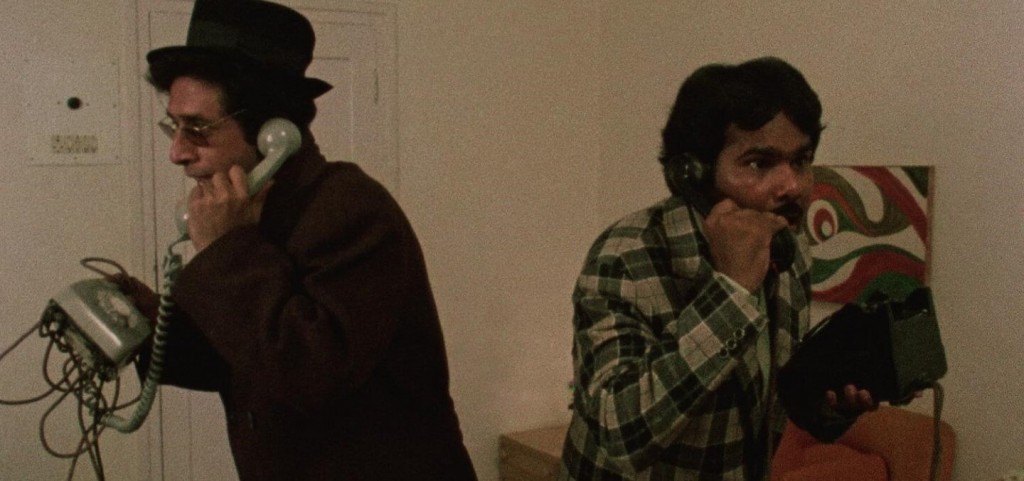 'Jaane Bhi Do Yaaro' is a probably the most socially cognizant comedy of Bollywood. It tells the story of rampant corruption in India through the misadventures of two ambitious photographers who find themselves in the thick of a battle of two builders. Then a corpse gets involved and turns the entire city into a game of pakda pakdi. The climactic scene involves a Mahabharata show where all the characters end up, in which the corpse somehow ends up playing Draupadi, thus making the Duryodhana on stage vying to protect her instead of doing her Cheer Haran, which then turns into Mughal-E-Azam where the corpse is Anarkali! Comedic gold with satirical prowess make 'Jaane Bhi Do Yaaro' an inspiration to many future films and a cornerstone in intelligent Bollywood comedy.
4. Hera Pheri (2001)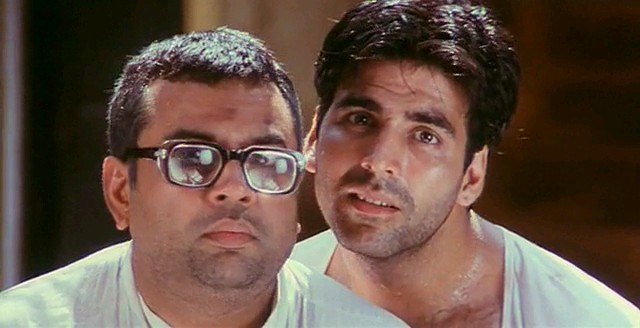 The film that established Akshay Kumar as a comic actor, reinforced Paresh Rawal as a comedy legend and umm, gave Suneil Shetty something to do. The film tells an interesting story of three good-for-nothings looking for some easy money, who become the middlemen in the kidnap of a rich kid due to a misplaced phone call. Not a big hit when it first showed up, 'Hera Pheri' is now a cult classic thanks to its immense quotability, the lively love-hate vibe between the lead trio and especially Rawal's madcap, side-splitting rendering of the debt-ridden drunkard Baburao Ganpatrao Apte. 'Hera Pheri' is the Bollywood film with the funniest T-Shirt quotes (only second to our top entry). Fittingly, one of the biggest highlights in the film, the phone call with the baddie Kabira features the title track from our next entry!
3. Gol Maal (1979)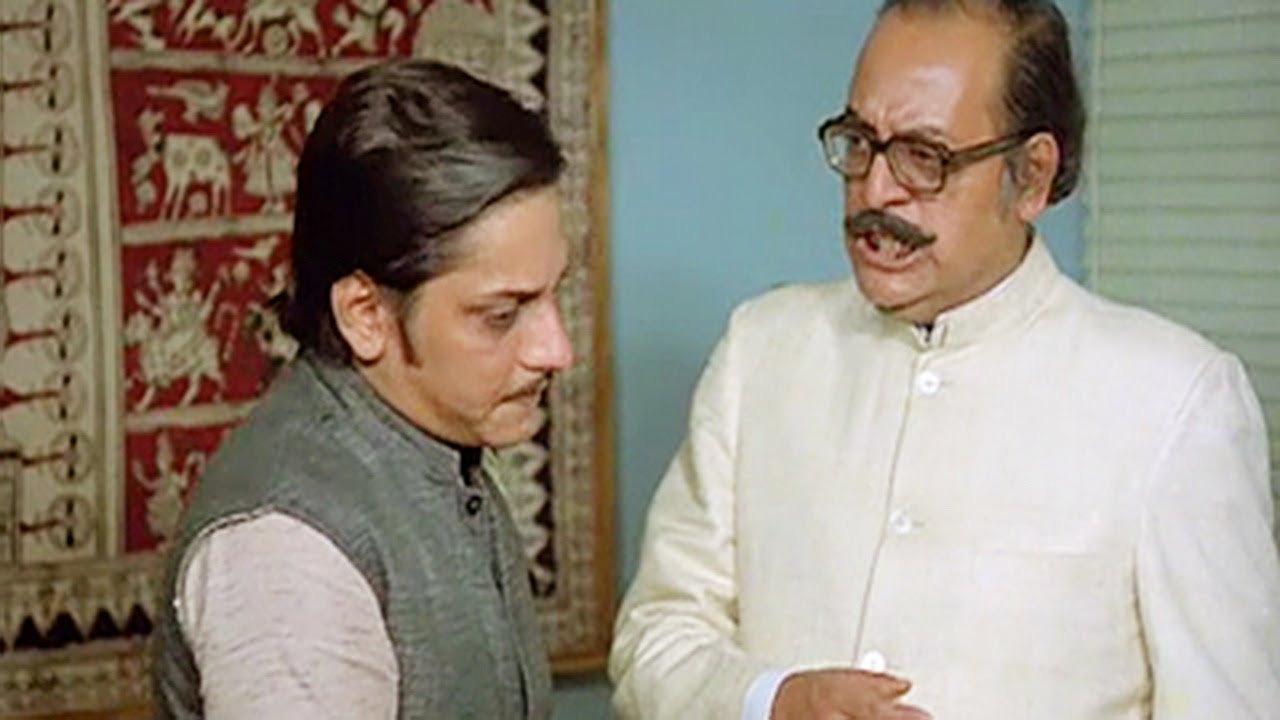 Hrishi Da (or as I like to call him, The Gautam Buddha of Hindi Cinema) found the perfect balance between mainstream flair and artistic dexterity to create 'Middle Cinema", telling stories about the Indian middle-class ethos across genres. And while 'Anand' is arguably his greatest dramatic achievement, 'Gol Maal' is the peak of the light, easy storytelling style he favoured. Ramprasad (Amol Palekar) is a young man who needs build a mountain of lies to get and then keep a job working for Bhavani Shankar, an eccentric old man with bizarre requirements (immortalised with fervour by Utpal Dutt). He begins with feigning ignorance about sports but this quickly spirals down to fake twins, fake mother and the fake twin of the fake mother! Thus, the film truly lives up to its name, even including chase where Bhavani Shankar is mistaken for his thuggish lookalike named Pascal D'Costa! Gol Maal is a wholesome hodge-podge and hilarious to this day, as evident by the numerous remakes including a modern Rohit Shetty makeover 'Bol Bachchan' which was almost as good, but hey, Abhishek Bachchan is no Amol Palekar!
2. Padosan (1968)
Think of comedy phenomenon Mehmood, and one of the first images which probably comes to your mind is of him singing "Ek Chatur Naar" as a bald Tamilian music teacher while Sunil Dutt mimes Kishore Kumar's voice in retaliation. This is only one of the many iconic quirky bits of in the musical comedy in which a simpleton (aptly named Bhola) tries to woo the beautiful music-loving girl next door Bindu by feigning musical expertise through the voice of the dynamic Guru (Kumar) and his Panch Ratan Mandal with "Mere Saamne Wali Khidki Me" and then going at daggers with her Masterji in "Ek Chatur Naar". He and Bindu fall in love, but then she finds out and decides to marry Masterji out of spite. Bhola has no option but to become a martyr in love! I'm kidding. Watch the film to know what actually happens if you haven't though. And be sure to thank me later.
1. Andaz Apna Apna (1993)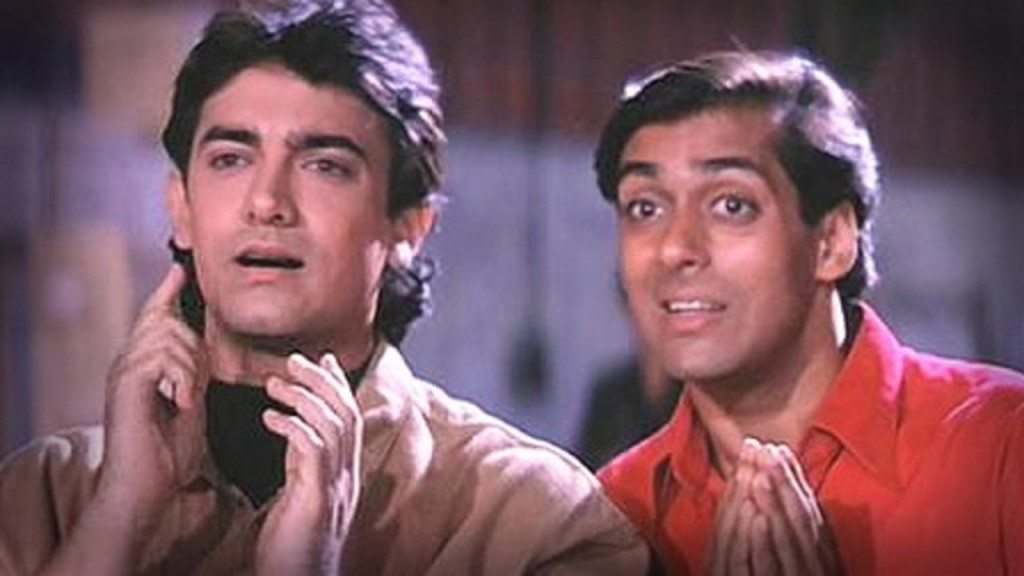 "Aila!", "Uima!", "Teja mai hu, mark idhar hai!", "Crime master Gogo naam hai mera. Aakhe nikaal kar gotiya khelunga!"… I could go on and on and on for a 1000 words and still leave some epic one-liners out from 'Andaaz Apna Apna', such is the sheer quotability of the film with the most legendary cult status ever. Before Aamir Khhhan and Salllman Khan (that's how they're credited!) were mega-stars, they were Amar and Prem, two daydreaming nincompoops with a common aim: getting rich by marrying a rich heiress named Raveena. They get together and insinuate themselves into Raveena's house when Amar feigns memory loss and Prem acts as the doctor. But Raveena is actually Karishma and her secretary Karishma is actually Raveena. And there's their strict father Ram Gopal to deal with. He also has an evil twin. And there's a goon named Crime Master Gogo who is obsessed with playing marbles with eyeballs. Think all of this is utter ruckus? You don't know the half of it. Amar and Prem's shenanigans make you laugh till your stomach hurts and you begin saying "Aila" and "Uima". Paresssh Rawal, Paresh Rawwwal and Shakti Kapoor aren't very far behind, eclipsing the lead duo in wackiness at points. Immensely re-watchable and boisterously comic no matter which part you begin watching it from, 'Andaz Apna Apna' is one film which can make you laugh no matter what, making it the best of the best of Indian Comedy.
Read More: Best Bollywood Soundtracks