The Bengali film industry is known through some of the greatest directors in the Indian film industry, if not the world. But Satyajit Ray and Ritwik Ghatak are not the be all and end all of Bengali cinema. This industry is survived by many more brilliant directors who discover the simple, yet meaningful lives of humans. It is in simplicity that the industry has found greatness, and if you think low-budget is any barrier to making brilliant movies, they all prove you wrong.
With a small industry, the faces of directors and actors are all familiar like a community, and it is beautiful to see how connected the industry is, where the directors help each other out for the sake of the art, and it is not uncommon to see them becoming actors themselves for each others' films. Former actors who have worked closely with the likes of Ray, Mrinal Sen, Ghatak carry the legacy forward to create timeless art. With that said, here is the list of top Bengali movies ever since 2000.
20. Chalo Let's Go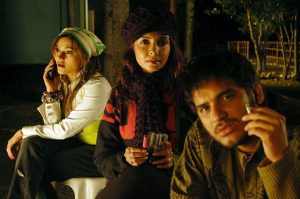 Four misfits come together to form a travel agency. On their first trip through the scenic hills of North Bengal with nine passengers, a young girl Ria joins them. A light-hearted film about the four friends and their ten passengers is a fun watch, especially when the characters are discovered so thoroughly, and Anjan Dutt brings in his own music with his beautiful screenplay.
19. Muktodhaara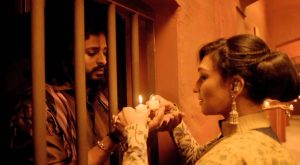 When the new Inspector General of the correctional cells of West Bengal calls former dancer Niharika to help organise an event with the inmates, Niharika wishes to stage Tagore's Valmiki-Pratibha. Niharika takes up the challenge to soften the hearts of the inmates and help them open their hearts out through art, even that of Yusuf Mohammad, a dangerous murderer who is not ready to coordinate. The journey of broken men discovering themselves through theatre is a heart-warming experience, especially when the tough exterior of Yusuf shatters to pieces as he picks up courage to hold the lead position in the drama.
18. Baishe Srabon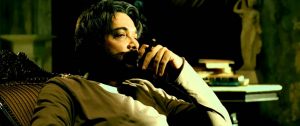 In the gripping psychological thriller, Chief detective Abhijit and ex-cop Prabir try to track a serial killer who leaves Bengali poetry verses with every murder. As they get more and more involved in the case, their relationships with people close to them falters, and Abhijit's journalist girlfriend gets involved in the case while investigating. Al though the film is inspired by the De Niro and Al Pacino starrer, Righteous Kill, similarities between Baishe Srabon and Fincher's Se7en is apparent. This however only adds to the quality of the movie, and I would consider it as one of the most compelling thrillers in the recent Bengali film industry.
17. Ranjana Ami Ar Ashbona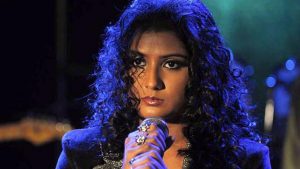 When a successful band consisting of four men in their 50s go for a show in North Bengal, they are enthralled by Ranjana who opens for their band. Member Anjan decides to open a way for her career in music and invites her to meet him in Kolkata. The music film follows the ever-changing relationship of Anjan and Ranjana in their attempts to turn Ranjana into a star. Anjan Dutt's direction and his music to go with the film creates an intoxicating experience, one that shouldn't go overlooked.
16. Anuranan

Two couples meet in a resort in Sikkim, and as the bond between Rahul, the husband of Nandita, and Preeti, Amit's wife grows strong, through their loneliness, their loyalties are brought to question, and the misunderstanding soon involves the society, burying the two individuals under staunch stigma and suspicion from their own spouses. The film explores themes of loneliness and grief, with compelling characters that resonate with ourselves.
15. Abohoman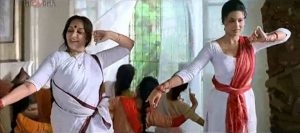 Abohoman is the story of Aniket, one of the finest film-makers of Bengal's turbulent mind as it finds a muse in his lead actress, in place of his former muse who is his wife. With the young girl becoming more and more like Deepti, Aniket soon starts calling her Sreemoti, a name he had given his wife. He is mesmerized by Sreemoti, and as relationships are torn into shreds, and the audience comes to a tempestuous revelation.
14. Arekti Premer Golpo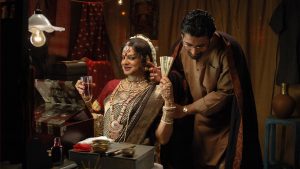 When transgender documentary filmmaker Abhiroop decides to capture the life of legendary jatra actor Chapal Bhaduri, he finds himself drowning in his role as his own emotions starting falling in parallel to those Chapal's. The film that breaks boundaries and stigma attached to transgenders, starring Rituparno Ghosh, touches you to the very core, and portrays the trauma inflicted on them by the men they loved.
13. Autograph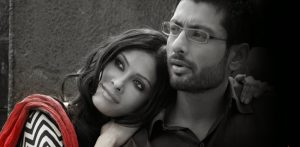 Srijit Mukherjee's debut is a heartbreaking film revolving around the painful loneliness of a director, his girlfriend, and a famous Bengali actor. Miscommunications, aspirations and ego comes in between when Shuvobarata casts renowned actor Arun Chatterjee for his adaptation of Ray's classic Nayak, alongside his girlfriend Shrin. The realistic take on the estrangement of relationships is heart wrenching, and Autograph is sure to stay with you for a long long time.
12. Antaheen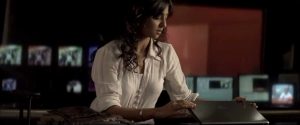 Antaheen, means endless. It is a love story that is bound by an endless waiting between two individuals who have seemingly never met in real life. Abhik, the diligent IPS Officer who is skeptical about love, and Brinda, a dynamic journalist meet online anonymously. With a not-so-perfect first meeting, and the crimes outside weighing the two down with their own responsibilities, it is difficult to fit a love-life in. Despite the barriers, their hearts ache, with endless promises to keep in a never-ending spell of loneliness, and an endless wait. Even if you are not a romantic at heart, Antaheen is sure to make its way through.
11. The Japanese Wife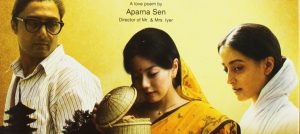 A beautiful film that weaves the story of Snehmoy and his Japanese pen pal who he has fallen in love with. Never having met before, they come to marry through letters. The uniqueness of the distant love story and strength of Snehmoy's love for Miyage despite his closeness to Sandhya, a young widow will melt hearts. However, the lingering pain of distance and helpnessness never leaves the audience.
10. Bishorjon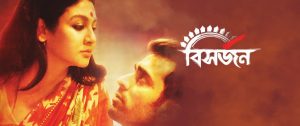 During the strenuous relations between the two Bengals after the Partition, Padma, a Hindu widow saves Naseer, a Muslim from West Bengal as she finds him unconscious at the shore of Ichamati river after Durga immersion. As Naseer takes refuge in Padma's home stealthily till his wounds heal, the two develop feelings for each other. Despite the social stigma and troubles Padma has to go through to help Naseer, the lonely woman finds some solace in the foreigner, and makes sacrifices that help her find a sense empowerment.
9. Bela Sheshe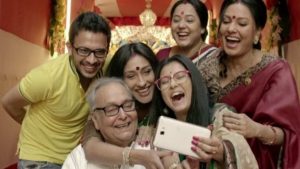 Bela Sheshe is a film about rekindling love that was seemingly lost. Fifty into their marriage, and four successfully raised children later, Biswanath seems to have lost touch with his marriage, and asks his wife Aarti for a divorce. Aarti, the simpleton who is blindly devoted to her husband is left in turmoil and pain, only to be helped by her children who come together to help their parents rediscover love, and in turn rediscover themselves.
8. Noukadubi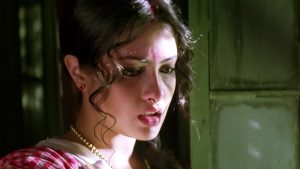 An adaptation of Tagore's novel by the same name, Noukadubi is a story about two couples estranged by a fateful boat wreck. Their lives float apart and as they start to rediscover love in a new way, thousand questions arise, and the definition of true love is blurred betwwn the lines.
7. Moner Manush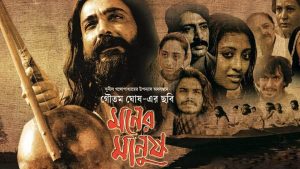 The biographical musical by Goutam Ghose follows the life of folk singer and spiritual leader Lalon Fakir. An enchanting experience from the beginning to the end, Moner Manush is set in the heart of orthodox colonial India, where Lalon Fakir and his followers transcended societal boundaries, rising with the Bengali Renaissance. Breaking through the resistance of staunch orthodoxy to propagate ideas about love and equality.
6. Chotushkone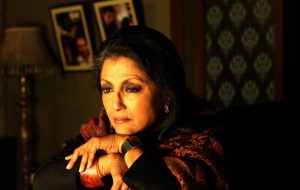 Joyobroto, a dynamic director, new to the industry brings together three directors, estranged by their past, to collaborate on an film. Each director contributes their own story to the anthology with a common theme: Death. As their past swiftly catches up to them through strained communications, the darkness of the haunting film creeps into the story, and gruesome revelations are made.
5. Praktan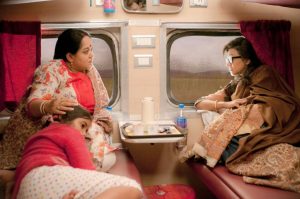 A story about love lost and growing up, this movie delves into the depth of the turmoil that couples go through when love is just not enough to solve their problems. It a journey on a train with multiple characters who fit harmoniously, coming out as a more matured version of themselves by the time they reach their destination. Praktan will fill you with sorrow, pain, elation, and calm all throughout the journey with the stories of all its characters even though the film is primarily the story of Sudipa who gains a different perspective about her divorce through her conversations with Malini, a gleeful housewife, and finds the answers she is looking for.
4. Bhooter Bhobishyot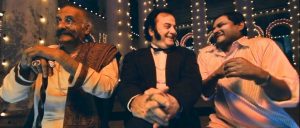 When an ad director visits a mansion to see the site for his new ad, he meets Biplab, who tells him a story about a haunted mansion where the ghosts team up to chase away the millionaire who wants to take the house down for a new shopping mall. This comedy about the resident ghosts of the mansion is sure to leave you in laughs and giggles as you discover the comic personalities of the different ghosts and their histories. The comedy has a pure heart, and a strong story to support it. If you're looking for genuine comedy with brilliant characters, and little scares to go with it, Bhooter Bhobishyot is your film.
3. Cinemawala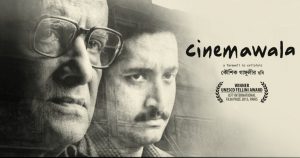 This one is for cinephiles who are lost in the longing for those times where a theatre was a place of worship, and the operators were artists. Cinemawala is a story of changing times where Pranabendu Bose struggles to keep his relevance as the owner of a cinema hall named Kamalini, with his assistant Hari. As someone who considers the art of cinema sacred, his own son deals in selling illegal CDs and DVDs. As Prakash, his son, gains popularity in the village through means that are considered sacrilege by Prababendu, he is left helpless at the face of the losses faced by his own hall. A story about the slow, painful death of traditional cinema, and the capitalization of cinema as a commodity, this film is another moving creation by Kaushik Ganguly.
2. Goynar Baksho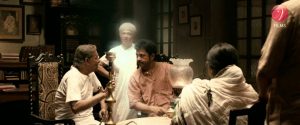 It is hard to fit Goynar Baksho into a particular genre: is it comedy, or drama, or horror? The multi-layered period film follows three generations of women through changing times and changing status in the society through a single connection: a jewellery box. The box was owned by the widowed head of the household of a sophisticated family in colonial India. After her family moves to India during the Partition, losing all of her possessions apart from the box, she grows paranoid about the safety of her jewels, and remains that way even after her death. She haunts the new bride of the house, coaxing her to protect the box, and eventually, her grandniece. The film is an in-depth tale about the lives of people affected by the Partition, and the overall effect of colonisation on Indians. This film is Aparna Sen's masterpiece, and is a must-watch for lovers of good Indian films.
1. Shabdo
A film that is one of a kind, Shabdo is the story of Tarak, a foley artist of popular Bengali films, drowning in his obsession with the nuances of sound. The movie is a unique experience in itself, where a psychological disorder is treated with utmost tenderness yet with severity. Tarak struggles to accept his own illness and treatment for the same with his wife's support. As with most Bengali films, the supporting characters are beautifully written. The film dissolves the boundaries between reality and dreams, and seamlessly flows into surrealism. There is no background score for the film. It relies solely on foleys to make the audience experience Tarak's maddening mind.
Read More: Best Satyajit Ray Movies