It doesn't take a Bollywood trade pundit, analyst or insider to ratify the condition of Bollywood films in the 90s: the lackluster scripts, recycled stories and songs, and masala potboilers galore are a testament to that. If there is one era in Bollywood that can somehow be held accountable for the atrocities inflicted upon us year after year, even today, in the name of 'Blockbusters' solely sailing upon big names, it is the 90s. Yes, it might have originated in the 80s, but it reached a fever pitch in the final decade of the 20th century. However, as entropy in the universe goes, everything must reset after reaching a nauseating high, and if recent trends indicate anything, this may already be working.
Why do I start on such a pessimistic note, you may ask? It is to highlight as to why this series of articles was warranted. It is to appreciate efforts of a select few filmmakers who either stood their ground and were not swayed by the wave of commercial cinema that had swept over Bollywood, or found a succinct balance between displaying their art and even making good money out of it.
As I have highlighted in a previous series of articles, these did serve as beacons of hope in a time otherwise marred by stagnation in content. It is these beacons that this series of articles attempts to bring to fore, for the informed public to read, and either get enlightened and update their watchlists, or to simply dowse in a healthy dose of 90s nostalgia. The list may include some movies previously unheard of by the masses, and may have skipped over fan favourite blockbusters. In that, I urge you to keep an open mind, and rather than getting enraged, give the other ones a try. You won't be disappointed. That being said, here's the list of the top movies of 1996.
9. Ghatak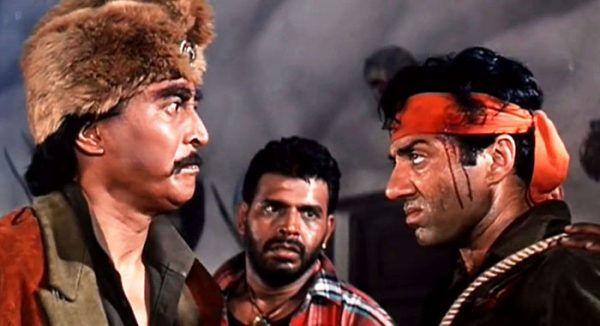 Without a shred of doubt, 'Ghatak' is the weakest entrant in the list of best Bollywood movies of 1996. It even falls short of the glory achieved by two other Rajkumar Santoshi and Sunny Deol collaborations: 'Ghayal' and 'Damini'. However, the film displays a fairly good flair for constant, relentless Bollywood style action sequences, that was a huge crowd puller back then, and when done by Sunny Deol accompanied with explosive dialogues, a blockbuster was guaranteed. It is these departments in which the film earns its merits. It knows its target audience, and does what it sets out to do; to deliver a standard good guy revenge drama with Sunny Deol in the lead that fetches quick buck at the ticket windows. Apart from some cracking dramatic scenes, this is pretty standard Bollywood fare, a notch above the rest in the hands of a seasoned director.
8. Is Raat ki Subah Nahin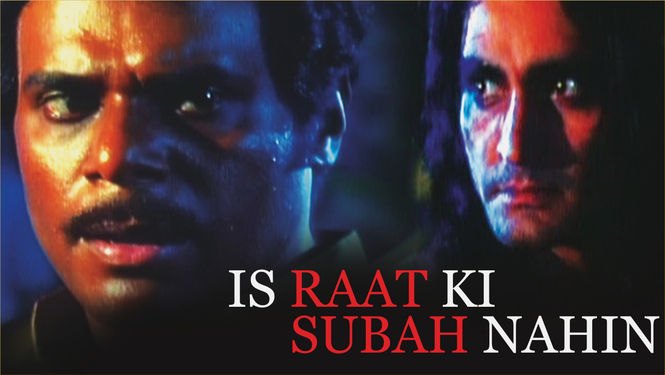 I have, in my humble opinion, found Sudhir Mishra's cinema rather peculiar on an occasion or two, but all the more intriguing. He is at his certain best when handling violent, sensual crime dramas with a touch of chilly noir and a certain 'rawness' that displays his love for the hinterland, that of the 'non-cinematic' urban rural dwell quite effectively, in this case, Mumbai's. The unfiltered dialogues at times too are testament to that.
'Is Raat ki Subah Nahin' works like a dark comedy of errors, with one unfortunate event leading to the other and seemingly unrelated plots and characters coming together in the end, often resulting in some violent showdowns, very stylistically shot and edited I must add. Mishra even filmed 'Yeh Saali Zindagi' later in 2009, serving as a spiritual successor to the film. One would consider that the production value or some scenes in the film could have been better, and that even by today's standards, the film does become a tough watch at certain points. However, if you have the patience to sit through it, you will come out rewarded.
7. Sardari Begum
Before reading up about, and eventually watching the film, I would admit about being unaware of director Shyam Benegal's intention to establish a trilogy of sorts based on the lives of strong, independent women in a 'modern' India, mostly because it was unheard of compared to the 'Apu' trilogy by Satyajit Ray, or 'Elements' by Deepa Mehta, or even the 'Gangster' trilogy by RGV.
It is not your regular Bollywood flick, so there is an entirely different set of reasons why one may choose to like (or dislike) the film, and they simply won't be circling around the usual story-screenplay-performances tropes, while the film admittedly scores on these as well. It is the mood, and the way the film is able to transport you to a different day and age that ends up working for 'Sardari Begum'. If all else fails, there is always Kirron Kher's rebellious act you can count upon for the heavy lifting.
6. Halo
'Halo' is a particularly charming kids movie, although well-intentioned for people of all age groups, and rightfully swept all awards in the junior category in 1996, including the national award. The film is an endearing journey following Sasha, as she sets off to find her lost puppy in the streets of Mumbai, who she eponymously names believing him to be the only source of "light" in her life.
The flamboyant city of Mumbai has obviously been better, and rather flagrantly portrayed a number of times on the screen, but 'Halo' offers the same insight through a seven year old's eyes, quite literally. The journey takes Sasha through some treacherous territory and introduces a host of characters along the way, including rioters, street urchins, cops, gang members and others that only add to Sasha's perception of the city, and it's a commendable job done if all that is pulled off in 90 minutes. If you manage to get your hands on this one, trust me, it is going to stay with you by virtue of its simplicity and charm.
Read More: Bollywood Movies 1998