It doesn't take a Bollywood trade pundit, analyst or insider to ratify the condition of Bollywood films in the 90s: the lackluster scripts, recycled stories and songs, and masala potboilers galore are a testament to that. If there is one era in Bollywood that can somehow be held accountable for the atrocities inflicted upon us year after year, even today, in the name of 'Blockbusters' solely sailing upon big names, it is the 90s. Yes, it might have originated in the 80s, but it reached a fever pitch in the final decade of the 20th century. However, as entropy in the universe goes, everything must reset after reaching a nauseating high, and if recent trends indicate anything, this may already be working.
Why do I start on such a pessimistic note, you may ask? It is to highlight as to why this series of articles was warranted. It is to appreciate efforts of a select few filmmakers who either stood their ground and were not swayed by the wave of commercial cinema that had swept over Bollywood, or found a succinct balance between displaying their art and even making good money out of it.
As I have highlighted in a previous series of articles, these did serve as beacons of hope in a time otherwise marred by stagnation in content. It is these beacons that this series of articles attempts to bring to fore, for the informed public to read, and either get enlightened and update their watch-lists, or to simply dowse in a healthy dose of 90s nostalgia. The list may include some movies previously unheard of by the masses, and may have skipped over fan favourite blockbusters. In that, I urge you to keep an open mind, and rather than getting enraged, give the other ones a try. You won't be disappointed. That being said, here's the list of top movies of 1998.
11. China Gate
With 'China Gate', I always seem to see a lot of squandered potential more than a good movie. But keeping the occasional hiccups aside, this Sholay-Seven Samurai cocktail served with a heavy dose of popular 90s Bollywood tropes is a somewhat entertaining watch, guilty comfort food to put it mildly. Alas, without the tropes, and half an hour shorter, this could have been a really good film. Nonetheless, a lot of known veterans coming together in this Rajkumar Santoshi directorial for a second coming of sorts makes for an efficient watch if you have nothing better to do.
10. Kareeb

'Kareeb' finds its spot on this list by virtue of a simplistic yet sombrely delightful treatment, an effervescent music album, a few entertaining, well-written scenes, and the charm of its leading lady Shabana Raza, who is sincere and effective in equal measure, oozing simplicity in every frame. Bobby Deol and Saurabh Shukla are good to watch too, their banter forming some of the entertaining bits of the film. To be fairly honest though, this will appeal more to the Bollywood romantic in you than the staunch cineaste.
9. Zakhm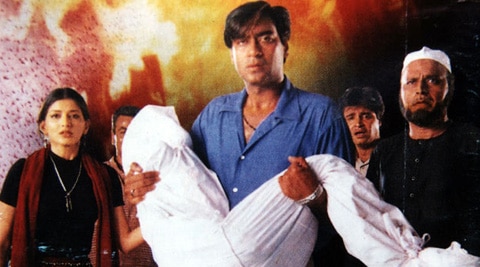 Mahesh Bhatt's last directorial before he switched to only acting as producer for Vishesh Films, 'Zakhm' won the Nargis Dutt Award for Best Film on National Integration. It also fetched Ajay Devgn his first National Film Award for his performance. Having stated these, 'Zakhm' completely warranted these awards, and stands its ground by virtue of these only: Devgn's strong performance, and its national integration and communal thematic. The film is a bit high on the melodrama quotient, but in an age of potboilers, it stands its ground as a serious film tackling a highly sensitive issue at the time, bereft of the regular girl meets boy and song and dance routine. A word of caution though against a short 'heavenly' sequence in the climax.
8. Dushman

At the onset, I would like to call this a confession more than a writeup for this movie. I was merely a kid when this movie came out, and Ashutosh Rana absolutely terrified the living daylights out of me in his debut turn as a villain in this remake of the Hollywood flick, 'Eye for an Eye'. He rightfully swept all awards for Best Villain that year, having redefined the Bollywood antagonist in a darker light, overnight. The rest of it, Kajol in a double role, Sanjay Dutt's relatively effortless ease, music, direction by debutant Tanuja Chandra and script, are all somewhat added advantages. This film, however, belongs to Ashutosh Rana and the deranged demeanour of his character, all still enough to send a chill or two down your spine.
7. Hyderabad Blues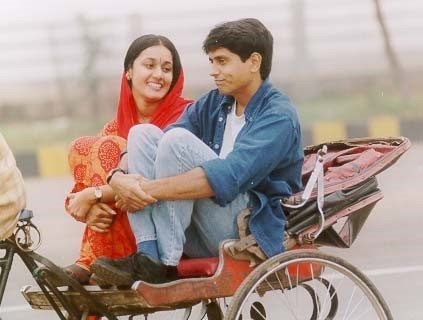 A lazy evening, bunch of friends over, and a beer, and I can assure you this film won't be a bad choice. Sure, it might seem a little jaded two decades later, but everything from the concept to the script, to the unheard of cast, everything was fresh back then. Consider the circumstances the film was made in: A budget of under 20 lacs and a shooting schedule of 17 days! The end product here is definitely better than a lot of mega-budget movies with huge stars in it. Replete with an obvious indie quality, 'Hyderabad Blues' tells of an NRI returning home and the resultant culture shock he goes through. A friendly reminder to all aspiring filmmakers out there: all that is required is a good script and unbridled passion.
6. Ghulam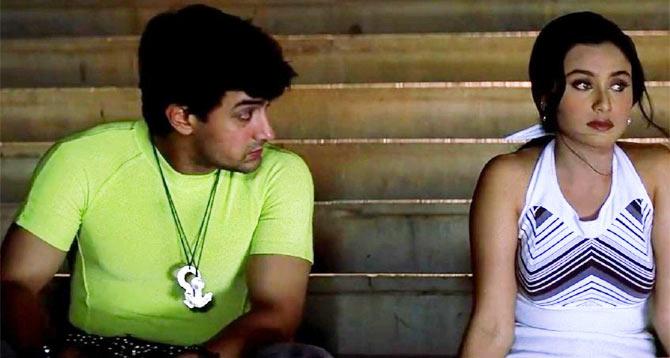 Think of Vikram Bhatt's 'Ghulam' and the first thing to cross your mind will probably be the ridiculously infectious 'Aati Kya Khandala' number. Dig deeper and there is much to like about this unofficial remake of the much-loved Hollywood classic, 'On the Waterfront'. The Bhatts have a rather earned infamy for remaking foreign language films in Bollywood, but up until the 2000s, an awful lot of them worked, both in terms of remake quality and box office numbers. 'Ghulam' is no distinction; much of it makes for pretty entertaining fanfare, even though much of it tends to be increasingly formulaic. Aamir Khan, as bankable an actor as always, delivers the goods nicely here, and the scene wherein he runs towards an approaching train and misses it by a few seconds, is still one of the more memorable ones from the decade.
Read More: Bollywood Movies 2001