The year 2001 was quite profitable for Bollywood since a fair amount of movies were released, which went on to do good business at the box office. Cinegoers remember the year 2001 as the year Aamir Khan's 'Lagaan' went to the Oscars; but then there were many other films from the same year that left an indelible mark on the audiences and helped rake in a lot of moolah.
Some movies with A-list actors in the lead failed to hit the bulls-eye because of weak scripts, while others with good stories had poor performances by the lead actors, which did not impress the viewers. But from an average viewer's point of view, the first year of the new millennium, saw some great movies, with amazing stories, with talented actors in the lead and here we bring to you a list of top Hindi films from the year 2001, which really wowed us.
12. Chori Chori Chupke Chupke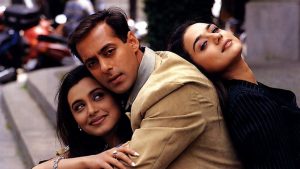 Directed by Abbas-Mustan, the film had quickly garnered negative publicity close to its release since it touched upon the topic of surrogacy, at a time when India was not ready to talk openly about the subject. Breaking all stereotypes and shunning all negativity, 'Chori Chori Chupke Chupke' became the first ever Indian movie to shed light (albeit with a lot of masala) on the controversial topic and succeed in it too. The Salman Khan, Rani Mukerji and Preity Zinta starrer was well received at the box office and people had finally become more receptive to handle such topics as a medium of entertainment.
11. Kabhi Khushi Kabhie Gham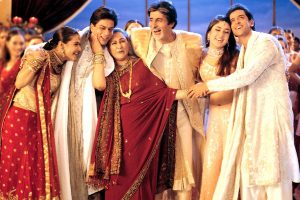 Karan Johar, who was riding high on the success of 'Kuch Kuch Hota Hai', returned with a family film in the form of 'K3G' and rocked it! His movie with opulent sets, luxury cars and plush mansions was all about loving your parents and the director did succeed in cutting across his simple message. With names as great as Amitabh Bachchan, Jaya Bachchan, Shah Rukh Khan, Kajol, Hrithik Roshan and Kareena Kapoor in the cast, and locations as lovely as England and Egypt, KJo's film was a sure winner!
10. Gadar: Ek Prem Katha
A period film, which released in 2001, Anil Sharma's 'Gadar: Ek Prem Katha', was set amidst the communal riots during the Partition era of 1947. Loosely inspired by the story of Boota Singh, 'Gadar' was the story of a Sikh truck driver, who falls for an upper-class Muslim girl, while she's on her way to the newly-born State of Pakistan. The film saw Sunny Deol in his element, who had come back stronger after a string of flops, while Amisha Patel was still finding her foothold in the industry. If for nothing else, the movie is best remembered for its iconic hand pump scene and its desh-bhakti provoking one-liners, which received all the catcalls and whistles from the audiences!
9. Pyaar Tune Kya Kiya
Starring Urmila Matondkar, Fardeen Khan and Sonali Kulkarni, this Ram Gopal Varma film featured Urmila as an obsessive lover, who goes all out to get the man she loves, despite him being happily married to another woman. The film was not a roaring success but it did good business at the box office as compared to some other multi-starrers that came out along with it in the same year. Urmila's performance was highly lauded by critics and commoners alike, while Fardeen Khan and Sonali Kulkarni too provided their able support. The songs of the film also took this otherwise average movie a notch above the rest.
8. Nayak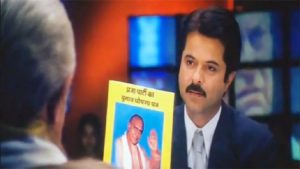 Starring Anil Kapoor, Amrish Puri and Rani Mukerji in lead roles, 'Nayak' was a movie that had a slow start at the box office for its underlying political theme. But when word spread about the movie, where a common man rises to the occasion to tackle loopholes in the system and meet challenges head on and become a true hero, people started appreciating the film. Directed by S. Shankar, 'Nayak' was a remake of his original Tamil language film. Although the movie was a commercial box office failure, it still enjoys a cult status among fans.
7. Ajnabee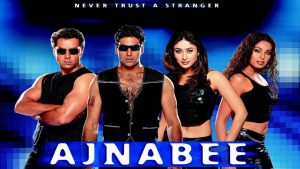 When there's no coincidence, there's 'Ajnabee'! A film from the Burmawalla brothers' stables, 'Ajnabee' was one movie, which not just won our hearts but also all our praises. A craftily made thriller (for which Abbas-Mustan are well known), 'Ajnabee' had a dose of everything – from love to deceit, to mystery to humour – the film had it all. An adaptation of 'Consenting Adults', the murder mystery starred Bobby Deol, Kareena Kapoor and a relatively new Bipasha Basu in the lead, while Akshay Kumar portrayed a grey shade in it. The film worked wonders at the box office and Kumar, who had played a villain for the first time in his career, swept away all awards for his role.
Read More: Best Hindi Movies of 2016
6. Daman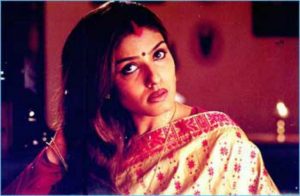 Directed by acclaimed filmmaker Kalpana Lajmi and distributed by NFDC, 'Daman', told the story of a woman, who's a victim of domestic violence and suffers a great deal at the hands of her husband. Unable to take things lying down any longer, she decides to end it all. This Raveena Tandon starrer was widely appreciated and Lajmi's efforts to highlight violence behind closed doors and the plight of Indian women suffering silently were greatly lauded. The film was truly an eye opener!
5. Zubeidaa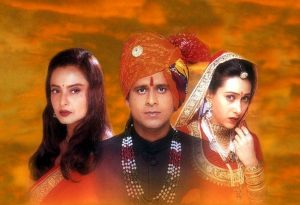 Written by celebrated journalist and film critic Khalid Mohamed, 'Zubeidaa' was a part-fact, part-fictional tale of his own mother Zubeida Begum, who was a film actress back in her day. Directed by Shyam Benegal, the film narrates the unfortunate story of the actress, who married a Jodhpur royal for love, but died in a plane crash along with her husband at a very young age. Karisma Kapoor brilliantly portrayed the real-life titular character and made it more memorable, while the movie, which gave an insight into the life of the entertainer, received a National Award for the best feature film.
4. Rehnaa Hai Terre Dil Mein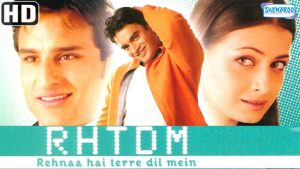 A breezy romantic tale, with a love triangle involving Saif Ali Khan, Dia Mirza and R. Madhavan, 'Rehnaa Hai Terre Dil Mein' had youngsters crowding the theatres to see the film. Not that we hadn't seen a movie with a love triangle before or had never seen Maddy on the small screen hosting a show, but his mere presence on the silver screen, beating the pulp out of the already established Saif, wooing Dia off her feet in ways we had tried before as teenagers, was something we all wanted to witness for ourselves! With a repeat value till date, 'RHTDM' was the year of Madhavan and the movie remains in our heart!
3. Chandni Bar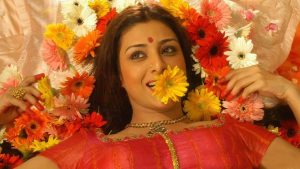 Directed by Madhur Bhandarkar, 'Chandni Bar' was a dark film, which depicted the harsh realities of the underworld and the crimes associated in the business. Starring Tabu and Atul Kulkarni in pivotal roles, the hard-hitting film highlighted the gloomy world of girls at watering holes and how it becomes difficult to break free from such social mores. Tabu gave a performance of a lifetime and was appreciated for her portrayal of a girl, forced to sell her body to make ends meet. The film received four National Awards and needless to say, it did leave a greater impact on our minds!
2. Dil Chahta Hai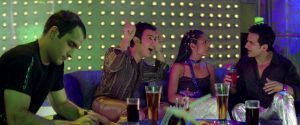 An ode to friendship, 'Dil Chahta Hai' was Farhan Akhtar's debut directorial venture and he definitely proved his worth with a film, which is very close to us millennials' hearts. It told the story of three friends – Aamir Khan, Saif Ali Khan and Akshaye Khanna – who interpret love differently and pursue it in their own way too. But more than the three love angles that were depicted in the breezy film, the fresh, trendy and urbane portrayal of friendship struck a chord with the youth and it instantly became a youth mantra. Farhan had packed quite a punch with 'Dil Chahta Hai' and Goa became our favourite friendship adda!
1. Lagaan: Once Upon A Time In India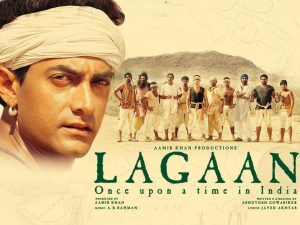 Thirteen years after 'Salaam Bombay!', Ashutosh Gowariker-directed 'Lagaan' became the third film to be nominated at the Oscars in the best foreign language film category. A cricket-based period drama, which needs no introduction, 'Lagaan' ran packed theatres for a couple of weeks post its release and with a repeat value, entertained us every time it was aired on the small screen as well. Starring Aamir Khan and newbie Gracy Singh in the lead, the film saw audiences cheering for the villagers and rejoicing at the nail-biting match finish. They say 'Lagaan' is not a film; it is an emotion!
Read More: Best Hindi Movies of 2015