It doesn't take a Bollywood trade pundit, analyst or insider to ratify the condition of Bollywood films in the 90s: the lackluster scripts, recycled stories and songs, and masala potboilers galore are a testament to that. If there is one era in Bollywood that can somehow be held accountable for the atrocities inflicted upon us year after year, even today, in the name of 'Blockbusters' solely sailing upon big names, it is the 90s. Yes, it might have originated in the 80s, but it reached a fever pitch in the final decade of the 20th century. However, as entropy in the universe goes, everything must reset after reaching a nauseating high, and if recent trends indicate anything, this may already be working.
Why do I start on such a pessimistic note, you may ask? It is to highlight as to why this series of articles was warranted. It is to appreciate efforts of a select few filmmakers who either stood their ground and were not swayed by the wave of commercial cinema that had swept over Bollywood, or found a succinct balance between displaying their art and even making good money out of it.
As I have highlighted in a previous series of articles, these did serve as beacons of hope in a time otherwise marred by stagnation in content. It is these beacons that this series of articles attempts to bring to fore, for the informed public to read, and either get enlightened and update their watchlists, or to simply dowse in a healthy dose of 90s nostalgia. The list may include some movies previously unheard of by the masses, and may have skipped over fan favourite blockbusters. In that, I urge you to keep an open mind, and rather than getting enraged, give the other ones a try. You won't be disappointed. That being said, here goes a list of the top movies of 1997.
10. Yes Boss
Speaking of Bollywood shortcomings in the 90s decade, one also comes across a whole gamut of films that were either shameless rip-offs or subtly 'inspired' from good foreign language films. To the English language speaking diaspora, limited at the time to metros, the 'inspirations' were quickly noticed while a few of them took time to come to light. However, not to digress, even if a remake is sincerely done, it deserves to included in this list.
'Yes Boss', reportedly partly inspired from 'For Love or Money' is one such example of a film, but better in a lot of aspects including the performances, writing, and even the overall look and feel of it. At its core, it is a feel-good romantic comedy with a charming lead pair, buoyed by light at heart proceedings and a few funny scenes. As a film, it has its shining moments and for those and the efficaciously sung 'main koi aisa geet', it sure warrants a watch.
9. Yeshwant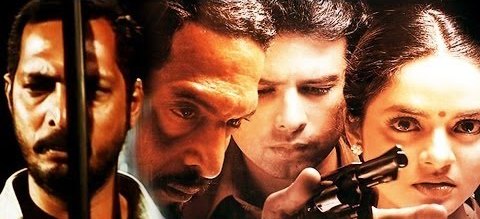 With completely ridiculing macho one-liners mouthed by the ever-energetic Nana Patekar, 'Yeshwant' is a one-man show from the word go; and perhaps the one reason you should most definitely watch this film for among others: its leading man, Nana Patekar. Nana earned his infamy as a no-nonsense character starring in a slew of similar cop dramas, including in the same vein, 'Yeshwant', that tells the story of an honest cop making a simple living brought to the fore and tested by the system and a staged betrayal. The story and characters, I daresay, seem more progressive than what most of the blockbusters seemed to represent that year, especially with respect to the feminist perspective, and that is an added badge on 'Yeshwant''s chest.
8. Darmiyaan: In Between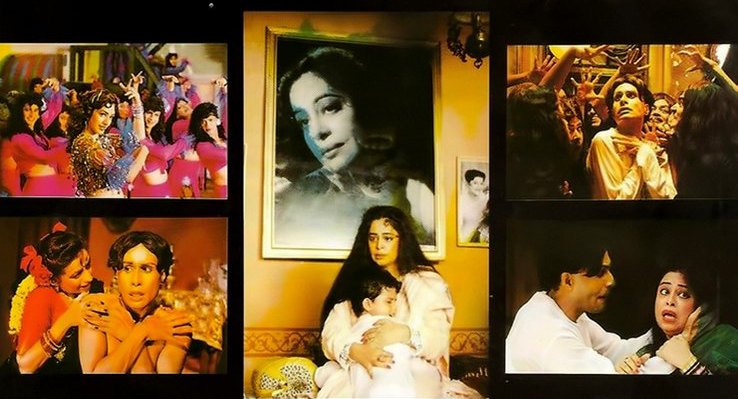 'Darmiyaan' is a film you are least likely to have watched given the number of blockbusters Bollywood gave out in this year alone, and considering its limited release then and virtually no satellite airings. It is, however available online for viewing now on various platforms. 'Darmiyaan' is the story of a successful actress in the 1940s (a feisty Kirron Kher) who has a son, later revealed to be a eunuch.
For fear of acceptance, she refuses to disclose the fact and refers to him as her brother, as she later takes to drinking and gambling upon competing with a younger actress (Tabu). The rest of the film chronicles around how her son helps her come to terms with reality and pull out from the downward spiral she finds herself in. Arif Zakaria empathetically portrays the role of Immi, the eunuch and is essentially the find and highlight of the film, embodying much of the nuances and body language required for playing such a challenging character.
7. Virasat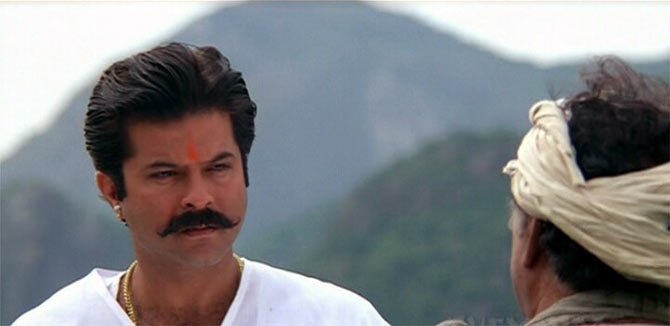 'Virasat' showcases a bygone era in Bollywood, where the rural-urban divide was much talked about and the shift between them especially highlighted via the protagonist's perspective. Here, Anil Kapoor plays the protagonist who has recently returned from London to his rural ancestral home in India and is overcome by the feuds and backwardness he experiences. The rest of the story focusses on how he comes to terms with his 'inheritance' and lives up to it.
'Virasat' is high on values and social commentary, which in a way also implies that it is somewhat high on the drama quotient too. Anil Kapoor is wonderfully restrained as the primary character. Amrish Puri, by then had mastered the role of the steely patriarch. Tabu and Pooja Batra too perform their parts with elan. The film is a remake of the Tamil film 'Thevar Magan' and marks the return of director Priyadarshan to Bollywood following a lengthy hiatus.
6. Ishq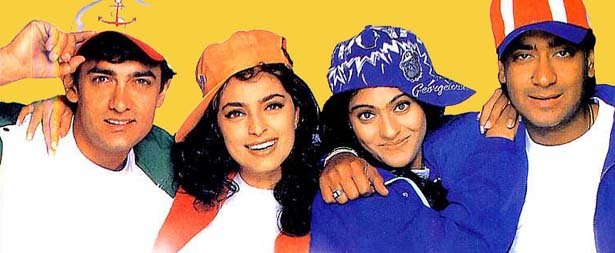 'Ishq' boasts of an ensemble cast that would be virtually impossible to put together today, and it makes such good use of every single one of them, especially Aamir Khan and Juhi Chawla, whose pairing is electric, to say the least, both in the insane comedic bits and the serious, intense bits. There is little I can say about the film the regular Indian family won't know by now, having watched it to the point of complete memorization. Its comedy scenes are cult by now, even serving as memes on multiple occasions till date!
A lot of the audience today would perhaps find problems with the complete polar tone shift that occurs post-interval, when an evil coy comes into play, but most of the Indian audience then, it would appear, seemed content with the intermixing of genres, as is evident by many potboiler blockbusters of the 90s. The story employs cliché tropes, and the central play of parents resenting due to economic differences belongs to the 80s mostly, but 'Ishq' for the most remains an investing watch because of the characters and a few now iconic, laugh out loud scenes.
Read More: Bollywood Movies 1999