It doesn't take a Bollywood trade pundit, analyst or insider to ratify the condition of Bollywood films in the 90s: the lackluster scripts, recycled stories and songs, and masala potboilers galore are a testament to that. If there is one era in Bollywood that can somehow be held accountable for the atrocities inflicted upon us year after year, even today, in the name of 'Blockbusters' solely sailing upon big names, it is the 90s. Yes, it might have originated in the 80s, but it reached a fever pitch in the final decade of the 20th century. However, as entropy in the universe goes, everything must reset after reaching a nauseating high, and if recent trends indicate anything, this may already be working.
Why do I start on such a pessimistic note, you may ask? It is to highlight as to why this series of articles was warranted. It is to appreciate efforts of a select few filmmakers who either stood their ground and were not swayed by the wave of commercial cinema that had swept over Bollywood, or found a succinct balance between displaying their art and even making good money out of it.
The films in the 90s served as beacons of hope in a time otherwise marred by stagnation in content. It is these beacons that articles like these simply dowse in a healthy dose of 90s nostalgia. The list may include some movies previously unheard of by the masses, and may have skipped over fan favourite blockbusters. In that, I urge you to keep an open mind, and rather than getting enraged, give the other ones a try. You won't be disappointed. That being said, here goes a list of the top movies of 1999.
8. Hu Tu Tu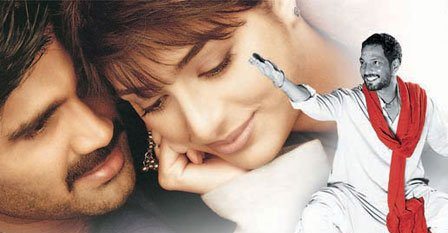 Gulzar Sahab's vast and diverse treasury of work needs absolutely no introduction, even to the layman, and we are all very well versed with what an impressive filmographic pantheon he has been able to put forth in his tenure as director of several acclaimed films. Following the fantastic 'Maachis', 'Hu Tu Tu' turned out to be his last film as director, after which he chose to retire and continue with only writing. Not a feisty departure, but 'Hu Tu Tu' is a solid film in its own right. Like many other films on this list, this film too provides a lot of social commentary to deal with, but is deftly written and consistently well performed that makes the proceedings very palpable, despite the film not being an easy watch.
Vishal Bhardwaj, a maverick director himself and a regular collaborator with Gulzar provides the music for this film, and it works like a charm, although at points seems to hinder the already lavishly paced narrative. Watch out for Tabu's performance as she literally owns the film, and the ever reliable Nana Patekar work his way up to an unpredictable of sorts climax.
7. Taal
When a film's romantic portrayal is lauded by Woody Allen himself, who are we, mere mortals to judge? One of the major strengths of Taal, one that the film draws strongly from is its absolute winner of a score by A.R. Rehman. It is undoubtedly the beating heart and soul of Subhash Ghai's love story centred on social tension between two families. The simplicity in Rai's performance, the confidence in that of Khanna's and a strong supporting act by Anil Kapoor in the film's second half are definite highlights, but make no mistake, the real winner in this Hindi language musical which in itself is a dying breed of a genre, is Rehman's magical gem of an album, each track outperforming the other, accompanied by fascinating cinematography and set pieces, and for that alone, the film warrants a watch.
6. Hum Dil De Chuke Sanam
If there is one thing that Sanjay Leela Bhansali can be consistently lauded for as a filmmaker in over two decades of filmmaking now, it is for how he has been impeccably able to exploit the visual nature of the cinematic medium, delivering consistently watchable, highly dramatic and beautiful looking films, with each frame showing deft, unflinching control. 'Hum Dil De Chuke Sanam' came early in his celebrated filmography but ticks off on all quips that today qualify as Bhansali trademarks. The film is centred around a standard Bollywood love triangle, based on the acclaimed 'Na Hanyate' by Maitreyi Devi. Like many of his other films, this too scores on high voltage staged drama, hard-hitting dialogues, consistent performances, great music and a rather flamboyant treatment.
5. Samar
'Samar' is a film not many of you may have heard of, but is definitely one many of us need to watch right now, especially in the face of all the intolerance that seems to feverishly grip our nation. A National Award Winner and skilfully directed by maverick filmmaker Shyam Benegal, 'Samar' literally translates to conflict and tells, in an overarching manner, of the rampant casteism in India, while its representation in the form of a film within a film makes it all the more effective, raising a whole new set of questions in the process. The film stars a gamut of talent who may now be regarded as veterans in their own right, and the Hindustani boli in the film is definite to charm its way to an enthusiast's watchlist. A true blue homeland Indie flick.
Read More: Bollywood Movies 2001