Over its existence, art has been an expression of and taken inspiration from a whole lot of things, but no other thing has inspired art as much as love. Cinema is no exception. From Scarlet O'Hara to Simba, son of Mufasa, many an iconic character has been enamored by love. Now, Bollywood might not match its peers in many respects and genres, but romantic films are something we can be proud of defining as much as any industry out there. Raj Kapoor's vagrant ways. Dilip Kumar and SRK's emotional delivery. Aishwarya Rai's expressive eyes. Kareena's childlike charm – all these and many more have made audiences go weak in the knees. Bollywood's style of musical romance has an aura of its own. Here is the greatest romantic movies produced by Bollywood.
Honorable Mentions
Chori Chori (1954), Daag: A Poem Of Love (1973), Kabhie Kabhie (1976), Silsila (1981), Maine Pyaar Kiya (1989), Chandni (1989), Devdas (2002), Veer-Zara (2004), The Lunchbox (2013). Lootera (2013).
20. Rehna Hai Tere Dil Mein (2001)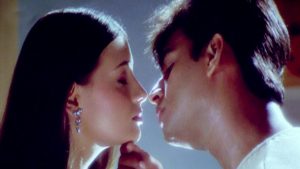 Ask anyone who was a teen during the early 2000s to name their favourite romantic film and RHTDM is almost guaranteed a spot. It didn't rake in the moolah when released, but the film has since garnered a cult following. While love triangles are found aplenty within Bollywood films, RHTDM rises a cut above the rest due to a clear chemistry between its lead pair as well as that between R. Madhavan and Saif Ali Khan. Add some quote-worthy dialogue and a memorable soundtrack and we have a romance with massive rewatch value. While I can't deny the moral question mark the film raises by sort of condoning stalker-ish behaviour, full props to the film for making an obsessive lover as real as R. Madhavan's Maddy, as there's no dearth of those in our great country.
19. Barfi (2012)
Meet Barfi – he can't speak or hear, but his expressive, wide-eyed countenance is all he needs to convey his emotions. Meet Shruti – a dainty dame who Barfi is smitten with, Meet Jhilmil – an autistic heiress with no one who truly cares for her. The lives of our three endearing protagonists criss-cross and coast, first in scenic Darjeeling and then in vintage Kolkata, both of which are stunningly captured by director Anurag Basu. Equally stunning are the performances by Ranbir Kapoor as Barfi and Priyanka Chopra as Jhilmil. With Saurabh Shukla's hilarity interluding with the love story and Pritam's Bossa Nova-inspired music in tow, Barfi is simply therapeutic. A whiff of pure romance as fresh as the Darjeeling air.
18. Rockstar (2011)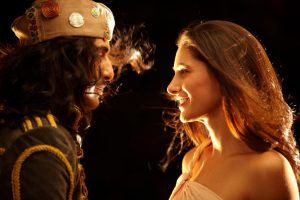 From one definitive Ranbir Kapoor to the next, which is the polar opposite of our previous entry, showing just how much a range Ranbir has. 'Rockstar' is an ode to the overpowering pangs of love and passion which can exude art, as well as wreck a person. Imtiaz Ali's rendering of the story of Janardan Jakad, a loafer in search of the dard (pain) which he believes would make him a true artist, and Heer, the embodiment of Janardan's undoing, is beautifully haunting and surreal. Ranbir gets into the skin of a troubled, lovelorn rockstar in a career-defining role as he hums, sings and shouts aplenty. A lion's share for the andaaz (demeanour) of 'Rockstar' goes to Orshad Kamil's poignant lyrics and A.R. Rahman's legendary soundtrack. One of the most soulful modern romances and a future classic in the making.
17. Kabhi Haan Kabhi Naa (1994)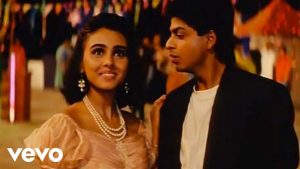 After the incessant barrage of action flicks in the preceding two decades, may it be due to Mr. Bachchan's 'Angry Young Man' persona, or those nutsy 80s films Mithun Da starred in, Bollywood saw a rejuvenation of the classic romances in the 90s. And SRK was at the heart of it. And while a certain film higher up on our list is credited with being the peak of that revolution, 'Kabhi Haan Kabhi Naa', released a year before that film, is no less of a film either. Sunil (played by SRK at his charming best) is a puppy-eyed loser who is smitten with Anna, but Anna likes Sunil's mate Chris. And unlike SRK from 'Darr', the SRK in KHKN loses the girl to another guy, which makes his character all the more lovably real. Relatable, endearing and with a strong humour quotient present as well, KHKN is one of the most underrated gems in SRK's filmography.
16. Jab We Met (2007)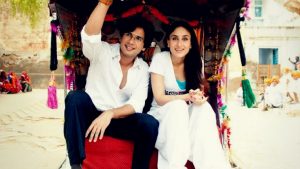 Imtiaz Ali is one of those directors whose films (most of them at least!) mean more to you each successive time you watch them. At first glance, 'Jab We Met' is a fun-filled ride across northwest India, with two strangers who are almost polar opposites. As we delve in, Aditya and Geet's outlooks at love and life unfold, as do their feelings for each other. It is a perfectly and gradually unfolding romance. Shahid Kapoor and Kareena, who were a real-life pair once, shine individually and collectively, as they exude chemistry while playing off each other's energies. Pritam's winning music and dollops of humour (most emerging from Kareena's Geet) are a big bonus. JWM is light and deep, all at once.
15. Qayamat Se Qayamat Tak (1988)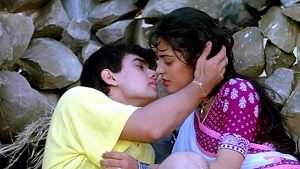 The age-old trope of star-crossed lovers has been used an infinite number of times in cinema, but only a few of these Romeo-and-Juliet-esque films manage to stay in memory ages after one has left the theater. 'Qayamat Se Qayamat Tak' is one such tale of lovers against the world. In an era where action was the norm, QSQT's refreshing youthful romance set the tone for musical romances in the following decade. Aamir Khan and Juhi Chawla, both of whom were fledgling starlets then, bring forth a natural chemistry as they play the lovelorn children of bitter rivals. Anand-Milind's soundtrack, massively popular and recreated to date, elevates the duo's enamored expressions. A quintessential yet memorable tale of love till doom.
14. Hum Aapke Hain Koun..! (1994)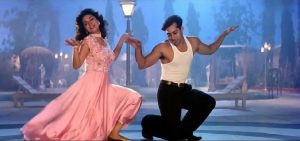 Salman Khan rose to stardom after starring as the winsome Prem in Sooraj Barjatya's 'Maine Pyaar Kiya'. And 5 years later, Barjatya upped the ante with this musical romance for the ages, which would have an impact on many wedding celebrations to come. HAHK still remains one of the most adored wholesome family films out there. Heck, to this day my sisters don't even let me change channels when the film is on TV! The film bridges traditionalism with modernity, through a display of family values, as well as acceptance of non-arranged romance, which is still a big no-no in our country. Yes, maybe some of the ideals in the film have become dated. But the inextricable chemistry between a babyfaced Bhai and the ever-graceful Madhuri hasn't aged a second, nor has the legendary 14-song soundtrack, 11 of which had the indomitable Lata Mangeshkar in them. A triumph for the style of Bollywood.
13. Hum Dil De Chuke Sanam (1999)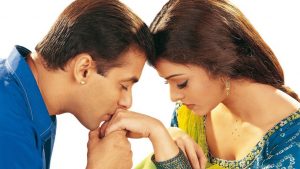 The mark of a great auteur is distinction, and any Sanjay Leela Bhansali film can be identified by his trademark stamp of visual vibrancy and evocative romance. And it was in 'Hum Dil De Chuke Sanam' that his style came of age. Set in the heart of a colour-soaked Gujarat, the film tells the story of Nandini (Aishwarya Rai), a musician's daughter who has to give up her room to his protege Sameer (Salman Khan), but amidst weddings, festivals, get-togethers, our couple falls for one another. But she has to get married instead to Vanraj (Ajay Devgn), a match chosen by her father who loves her devoutly. This three-hour extravaganza has it all – innumerable iconic coy moments between Salman-AIshwarya, a soundtrack, some parts of which will make you sing along for days, other parts will break your heart and the beautiful set pieces which have now become classic Bhansali tropes. HDDCS is certainly the most romantic of Bhansali's lovestruck filmography.
12. Madhumati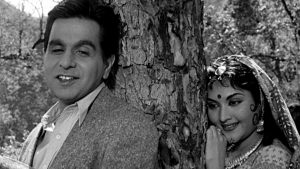 What do 'Karz', 'Om Shanti Om' and 'Karan Arjun' have in common? Reincarnation. And this is he romantic film that catapulted purnajanam is a pivotal theme in cinema to the mainstream. The film chronicles the undying love between Anand and Madhumati, and how even death couldn't keep them from eventually coming together. In this glowing era for Bollywood romances, both Dilip Kumar and Vyjayantimala are effortless as they fall in love amidst the hills, sing and dance to yet another memorable soundtrack by Salil Chaudhary, and share moments of poignant romance as the plot twists and turns in classic Hindi potboiler fashion. A guidebook to Bollywood paranormal romance 101.
11. Raincoat (2004)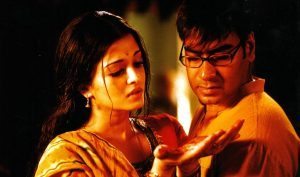 There re only few films more criminally underrated in the new millennium than this poignant romance directed by Rituparna Ghosh, and starring Aishwarya Rai and Ajay Devgn. 'Raincoat' is a modern retelling of an O. Henry classic called 'Gift Of The Magi', wherein two long-lost lovers meet one night, 6 years after they parted ways, to talk about where life has led them. And when they realise that both of them aren't doing so well, they try to help each other out in an anti-climactic fashion. But in their conversations in the major part of the film lie all the highlights of the film. Rai and Devgn both mete out restrained performances to elevate the emotion film even more. A brooding tale of lost love.
10. Dil Chahta Hai (2001)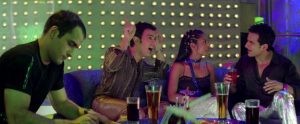 'Dil Chahta Hai' is a seminal film in Bollywood for more reasons than one. What makes it a seminal romances is the wildly different outlook at love among the three friends whose life the film narrates. There's Sameer, who is a hopeless romantic, forever in search of love, falling for almost every girl he encounters in search of 'the one'. Then there's Akash, who doesn't believe in love at all till he finds his own 'the one'. And Sid isn't interested in trivial romance and looks for a mature, deep relationship. Even a decade and a half on, DCH mirrors the views of youth on love bang-on. It is the holy grail of 21st Century Bollywood romances.
9. Lamhe (1991)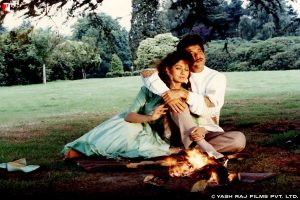 Yash Chopra is hailed as "The King Of Romance". The ace director churned out one iconic film after another in a career spanning decades, but 'Lamhe' remains his boldest and his personal favourite. It also features a sensational performance by lead actress Sridevi, who portrays a duo of mother and daughter, with whom the protagonist (Anil Kapoor) falls in love in different eras. Though its ahead-of-its-time storyline (an age gap romance) made it an abysmal disaster at the box office when it first released in India, the film was a raging success overseas and garnered a host of accolades, and has since picked up a cult following. An unconventional bright spot in Bollywood's sordid conventional history of cliches.
8. Kaagaz Ke Phool (1959)
Riding high on the success of 'Pyaasa', Guru Dutt was finally free to do the kind of films he wanted to. So he followed 'Pyaasa' up with another tragic, melancholy tale of a film director who casts an unknown woman as Paro in a rendition of 'Devdas' , but soon falls prey to the emotional turmoils in his life, while the woman becomes a superstar. Both Dutt and Waheeda Rahman The film, considered by many to be ahead of its time, tanked without a trace at the box office. In a crude example of 'art imitates life', much like the protagonist's last film in KKP is a disaster, this was Dutt's last film as a director. But it was revived through a cult following in the 80s and is now considered one of the finest films to have emerged from Bollywood.
7. Barsaat (1949)
Just before the onset of the golden era of Indian cinema, a lanky newbie named Raj Kapoor made a film, every aspect of which would become iconic in due course, may it be the jodi of Raj Kapoor-Nargis, the music by debutants Shankar-Jaikishan or the voice of the then-new chanteuse Lata Mangeshkar. Even the poster of 'Barsaat' would go on to inspire the logo of RK Studio, which Kapoor built upon the success of this film. 'Barsaat' revolves around the love stories of two best friends, one of whom is faithful and true, while the other is just a womanizer. How both relationships fare under the pressure of time, society and emotions forms the crux of the story. 'Barsaat' is one of the films which laid the foundation for romances in Bollywood, as well as the mood of films in decades to come.
6. Dilwale Dulhaniya Le Jayenge (1995)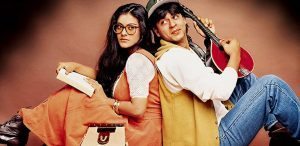 On the surface, 'Dilwale Dulhaniya…' is a routine 'boy-meets-girl' kind of story. So what makes it the one of the most influential, referenced and imitated Bollywood films of all time? Plenty of things. Firstly, it lays focus on expatriates harbouring Indian values, something which hadn't been shown n Bollywood celluloid then. The scenic European locations give the story a refreshing spin as well. Its soundtrack, produced by 90s staples Jatin-Lalit, remains one of the most memorable from the decade. The duo of SRK-Kajol play off each other's contrasting energies well. But the most important virtue of the film, as elucidated by Scott Jordan Harris, writing for Roger Ebert's website, is its ability to effectively convey two opposing themes appealing to different portions of society. He said, "It argues that we should follow our hearts and chase happiness wherever it leads, regardless of the obstacles in our paths, while simultaneously suggesting we should respect the ways of our elders, particularly our parents, and do nothing that challenges their will."
5. Guide (1965)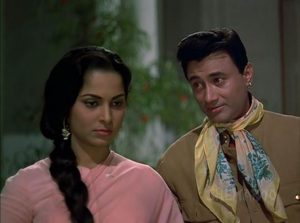 The story of an ex-convict turned guide and a married woman, who he takes in and supports in her dreams despite obstacles, is a winning formula for a cutesy romance. However, 'Guide' is an unconventional romance in more respects than one – its protagonist isn't infallible, he lies and cheats, although for love, and he even drinks and gambles his life away. The leading lady isn't an epitome of nazaqat and beauty at all times – she is emotional tormented, and wrenches her lover for no apparent reason when she becomes successful. The film goes way past the 'happily ever after' and contemplates upon the existence and ideals of its protagonist towards the end. And for the lovers of quintessential romances, 'Guide' has aplenty to offer as well. Both Anand and Rahman eke out knockout performances both in the romantic and dramatic area. S.D. Burman's soundtrack is one of the very best Hindi Cinema has to offer. 'Guide' is an unforgettable blend of textbook romance and unconventional drama.
4. Awaara (1955)
Raj Kapoor is considered India's greatest showman, and he has brought his charm to many characters on celluloid. The most well-known of them all, however, is his Chaplin-esque 'little tramp', and 'Awaara' was where he appeared as the tramp for the first time. The film is the story of the intertwining lives of a vagrant Raj and a privileged Rita, while also shedding light on Raj's past. The iconic pair of Raj Kapoor-Nargis are at the height of their powers in 'Awaara'. The film is full of love, life, passion and musical interludes, but it also touches upon a social vein which goes beyond to the Indian milieu. That is probably the reason 'Awaara' was India's first global phenomenon in cinema, earning ardent fandom across Asia and the Soviet Union, where people viewed the film many times over too! And the song 'Awaara Hoon' ("I'm a vagabond") still plays across the world. Such was the impact of this evergreen classic.
3. Devdas (1955)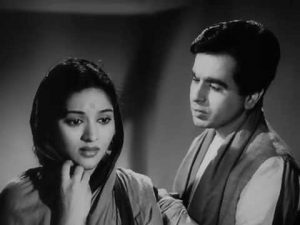 Sarat Chandra Chattopadhyay's 'Devdas' is one of the most renowned works in Indian literature. Naturally, it has been adapted for the screen, big and small, multiple times and in multiple languages, the version most fresh in memory probably being Sanjay Leela Bhansali's 2002 adaptation. But it is the 1955 iteration of the story of Devdas, Paro and Chandramukhi during the feudal times in Bengal that is sure to stand the test of time as a breathtaking, poignant tragedy. Dilip Kumar, the 'tragedy king' himself, gives an intense, stirring performance as Devdas, like it were a role he was born to play. S.D. Burman weaves his magic into yet another film, with a soundtrack partly inspired by thumri and tawaif cultures, both of which Chandramukhi's profession as a prostitute represents. The film also aces in cinematography and lighting under Kamal Bose, that enhances the emotional torment of the tight-lipped protagonist. While the SLB's version is technically superior, this film wins on a sheer wrenching rendition of its source material.
2. Pyaasa
There's no better way to describe 'Pyaasa' than "a poetic love letter to poetry." It is the haunting story of Vijay, a gifted but indigent poet, who is ill-treated until he is mistaken for being dead and becomes a posthumous sensation. It is only his mother, a prostitute with a heart of gold and a wandering masseuse named Jafar who stay by his side. Every line in 'Pyaasa' is a contemplative expression, every song a commentary on the way things run in a selfish universe. In a soulful ode to the art of tragedy, Guru Dutt embodies the stricken poet with an heart-rending panache. And then there's the actual humane romance between him and Waheeda Rehman as Gulabo in her first major leading role, which is purely acted by both leads as well. A single line from a song in the film can be used to describe all of it. "Ye mahalon, ye takhton, ye taajon ki duniya. Ye insaan ke dushman samaajon ki duniya. Ye daulat ke bhukhe rawaajon ki duniya. Ye duniya agar mil bhi jaaye to kya hai." (This world of castles, thrones and crowns. This world of a society which is man's enemy. This world of customs hungry for money. What good will having this world do to me!)
1. Mughal-e-Azam (1961)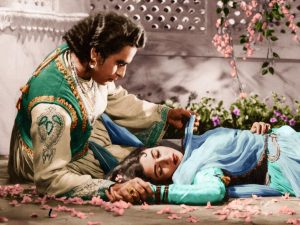 Only one word can describe this historical drama about the love blossoming between Mughal shehzaade Salim and court dancer Nadira (who he renames Anarkali) and his father's chagrin about it: mammoth. Everything from the the widest release a Hindi movie had ever seen till date to the massive sets, some of which exceeded the budgets for a typical film then, are proof of the epic proportions of Mughal-e-Azam. But unlike SLB's latest fares, the magnanimous proportions of 'Mughal-e-Azam' take nothing away from its characters. As floored as one gets by Madhubala's iconic dance in a palace of mirrors during 'Pyaar Kiya Toh Darna Kya', the acting chops shown by Dilip Kumar and Madhubala expressing profound love in flawless Urdu in the light of a sole candle floor us even more. I'm a true blue Bollywood fan, and I like many Bollywood movies, but there's few that I adore with all my heart; 'Mughal-e-Azam' is one of them. It is a landmark achievement in the history of Indian cinema, and thus a worthy crowning jewel atop this list.
Read More: Best Hindi Thrillers