Bruce Willis is a name to reckon with. A name that instantly reminds us of a visibly bald, badass action hero, whose patience hangs by a thread. As we know many great, veteran actors living today are known for few of their signature movies, we know Bruce Willis primarily for his stint in the Die Hard film series. Playing the protagonist John McClane, a detective with the Police Department, who seemingly doesn't care a damn about the consequences, Bruce Willis managed to awe us with his breathtaking action sequences (most of which he performed himself), his quirky monologues and his sarcastic, condescending overtone.
In a career spanning more than three decades, Bruce Willis has dared to go places, taken a lot of chances, has failed and succeeded beyond expectations and has won numerous awards, accolades, appreciations, and a whole lot of respect. After starting his mainstream acting career with the TV series Moonlighting (1985-1989) for which he also won the Emmy Award and the Golden Globe (both in '86), to his big break with 'Die Hard (1988)', to reaching his career peak with the astounding successes of the likes of 'Armageddon (1998)', 'Pulp Fiction (1994)', 'Twelve Monkeys (1995)', 'The Fifth Element (1997)' etc., Bruce Willis has come a long way. As with all the actors, he also has faced the heat when he made some poor choices for a while, but as they say, success and courage are all about getting up. So, tell me, "Why do we fall, Bruce"?
As a part of this list, we bring you the best movies of Bruce Willis so far. There are many factors which come into play, like performance, premise, production design, coherence of story, direction, script, and overall storytelling and I've tried to consider all these aspects for a movie to figure on this list. And just to let you know, this isn't an exhaustive list of all the movies featuring Bruce Willis. Below is a list of top Bruce Willis movies selected from his cast filmography. You can watch some of these best Bruce Willis movies on Netflix, Hulu or Amazon Prime.
20. Armageddon (1998)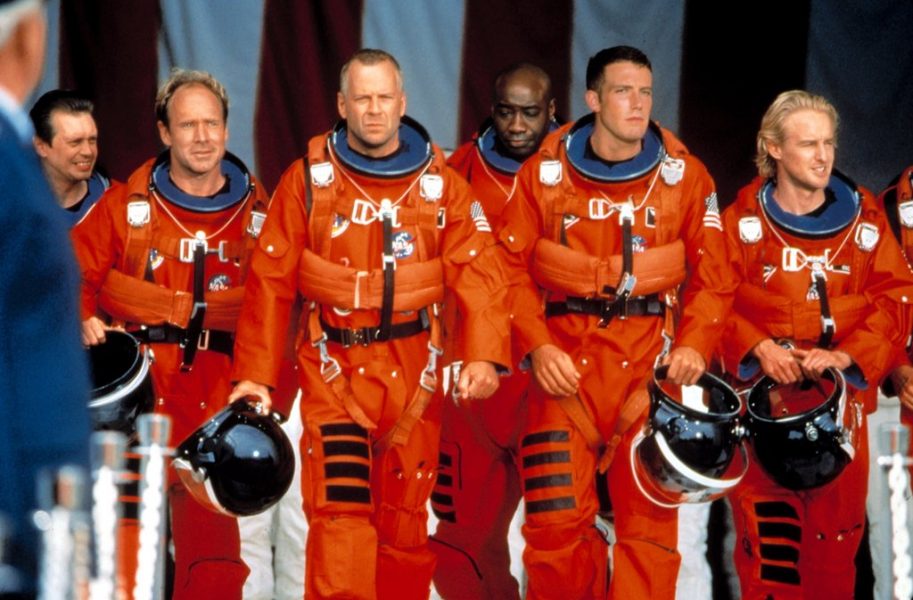 No surprises here, this movie has to be on this list. A Michael Bay's brainchild, 'Armageddon' deals with a disaster and how it is successfully averted, thanks to the ingenuity of Harry and his team. The story starts with the discovery of an asteroid which is roughly of the size of Texas, about to collide with Earth in a few weeks, which may thus lead to an extinction of humanity as we know it. NASA then contacts and trains Harry Stamper and his team of deep-sea oil drillers, who are then sent aboard two space shuttles to the asteroid, where they would drill holes, plant the nukes and come back to Earth. The asteroid would detonate, thus bypassing its impact on Earth. 'Armageddon' is science fiction taken to another level altogether.
19. Tears of the Sun (2003)
A war-based movie, 'Tears of the Sun' is set in Nigeria which has faced a coup and the rebels are closing in all the areas of the country. Lt. A. K. Waters (Bruce Willis) is tasked with a mission to extract a high-value asset, a doctor who is also the relative of a U.S. Senator, along with a few other people. Things take an ugly turn when the doctor refuses to come along by leaving the wounded refugees behind. The rest of the movie progresses with a cat and mouse play between the rebels and the security forces, with a very predictable end. Bruce Willis and Monica Bellucci are the only palpable highlights of this film.
18. Sin City (2005)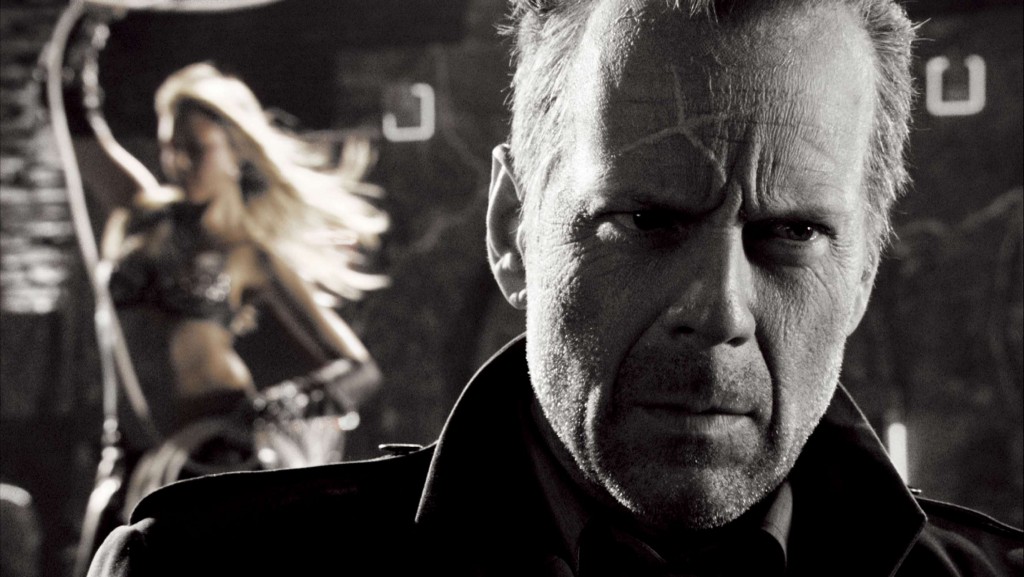 This directorial venture of Frank Miller based on his own graphic novel gained a lot of praise and positive reviews from critics and viewers alike, for its visual marvel, the violence, and gore and also the ensemble cast set perfectly in the script. Kind of reminds us of movies like 'Batman vs. Superman: Dawn of Justice', 'Justice League', etc. the plot of this movie is set in Basin City, a place which is replete with corruption, lust, vengeance, killings and a lot of violence. Spread across three different main stories and a lot of other sub-plots featuring corrupted cops, sultry women, love and hate, the movie is a delightful watch.
17. Hostage (2005)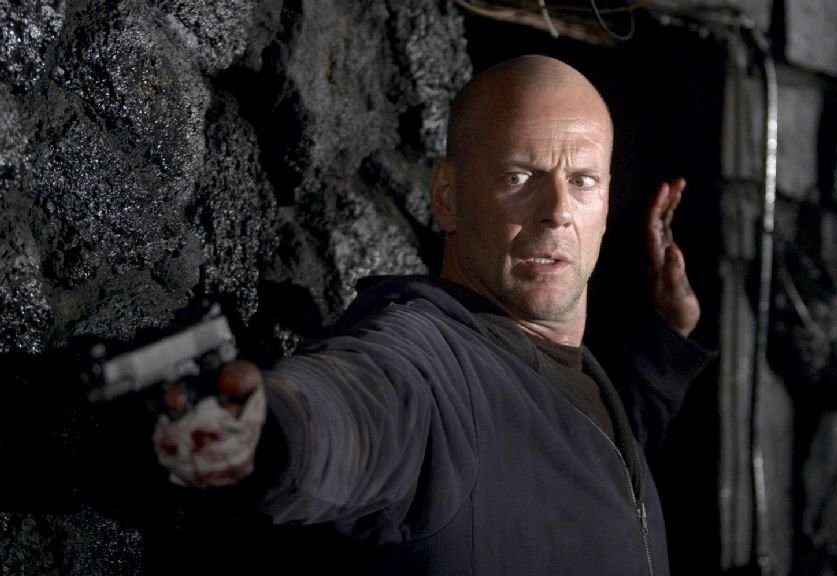 Also produced by Bruce Willis, this action thriller is reminiscent of 'Die Hard', albeit in a far less intense and engaging manner. Revolving around Jeff Talley, a former negotiator settled in a small town with a low crime rate as a Police Chief is forced to resume his older role given the hostage situation in a high profile house that has all kinds of security measures. The movie progresses with Jeff's struggle within, for he never wanted to step into his older shoes again and the family that he needs to save for which he has to do the needful. Again, a predictable and relatable, yet a commendable effort from Bruce Willis as a gloomy, hung-up man with a purposeless life.
16. The Expendables 2 (2012)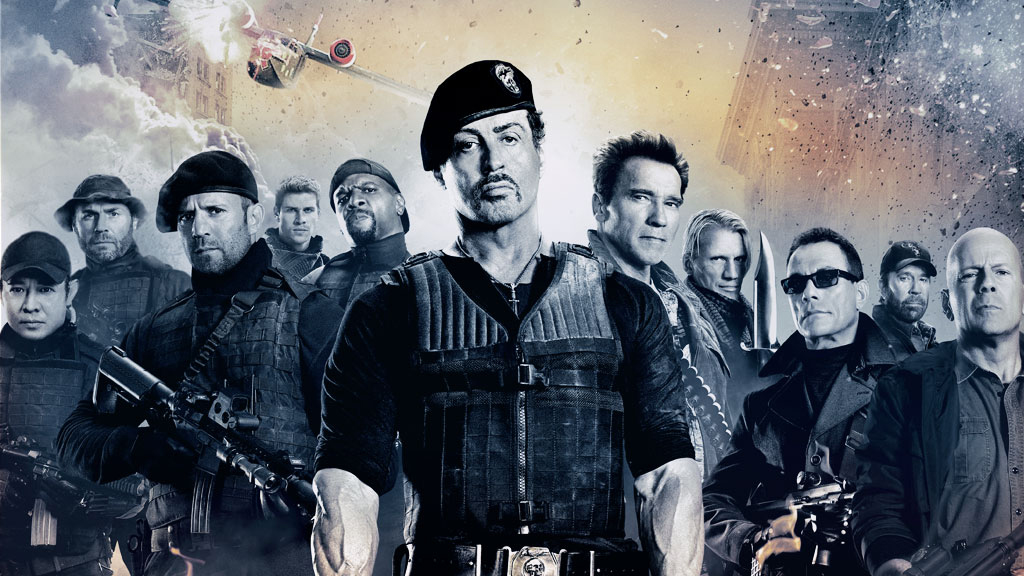 In a more of a supporting role, Bruce Willis plays Church, a CIA operative who helps Ross and his Expendables team get the right leads at the right time, thus saving their behinds. Though the focus of the movie is more on the team which has experts from each and every section of weapon science, Church's role is mostly restricted to the beginning and end of the movie.
Read More: Katherine Heigl Movies and TV Shows
15. RED (2010)
Being the acronym for Retired, Extremely Dangerous, 'RED' is the same old Bruce Willis' portrayal of a retired ex-cop/CIA/special forces operative who is forced into rolling up his sleeves for another mission. Frank Moses, a retired CIA, who is secretly infatuated with Sarah, a clerk with the pensions department, is attacked by CIA-backed forces, for he knows a secret that cannot be out. The story advances with Frank trying to team up with ex-veterans of other special forces against the CIA and the end is without any unexpected deaths. Straightforward and without any surprises, 'RED' is a decent comeback by Bruce Willis after a bit of slack in his career in the mid-2000s.
14. Lucky Number Slevin (2006)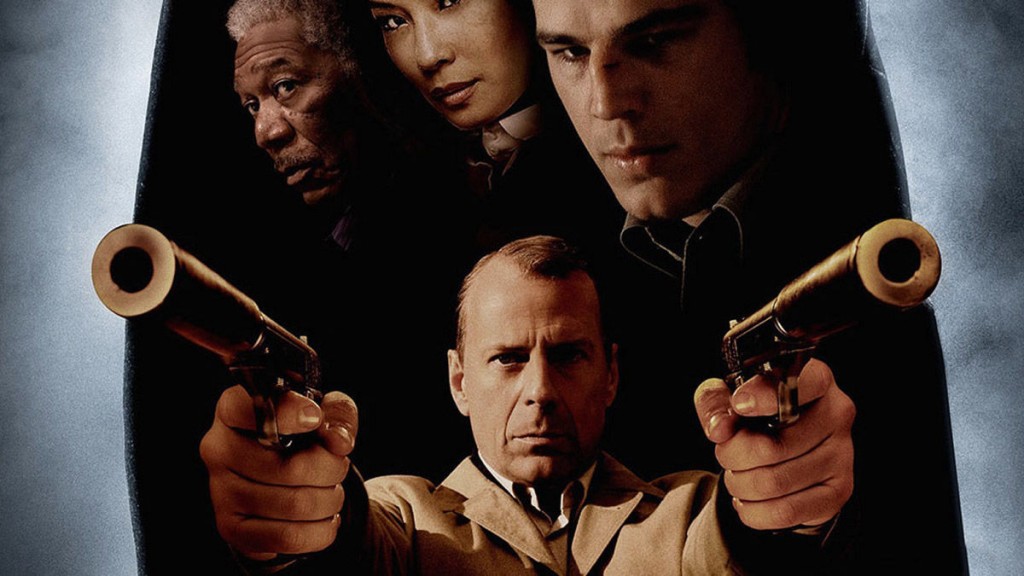 This might be a slightly dumbed down version of 'Pulp Fiction' for a start. The story deals with mistaken identities and fallacies, wherein a man named Slevin lands amidst the catfight between two criminal overlords "The Rabbi" and "The Boss" when he is kidnapped from his apartment after he's mistaken being Nick, his friend. Bruce Willis plays Goodkat, an assassin who acts as a catalyst between both the criminal bosses and also involved is Brikowski, a detective, who too is tracing Slevin. Though the story is engaging enough, it seems overdone at a few places. Yet, 'Lucky Number Slevin' hits the right notes for the most of its duration.
13. Moonrise Kingdom (2012)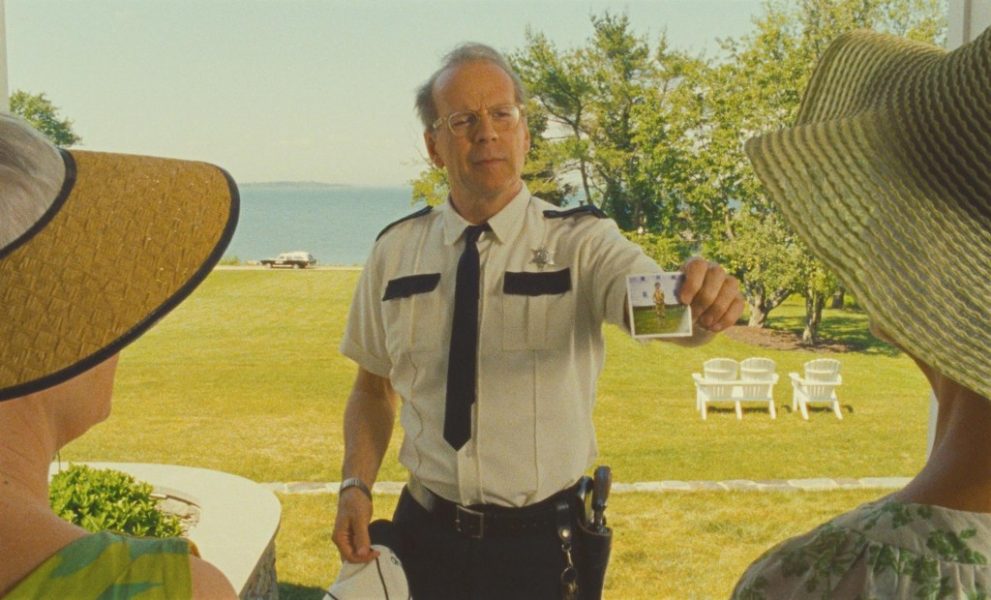 Not in a leading role, yet not so unimportant, Bruce Willis plays Captain Sharp of the island police, who helps in tracing two absconding teenage-lovers. Their eloping is followed by a bunch of search party comprising scouts, parents and the island police, resulting in a wild-goose chase into the wilderness. A fun watch, 'Moonrise Kingdom' though isn't an out and out Bruce Willis' film, it surely is worth a shot.
12. Die Hard: With a Vengeance (1995)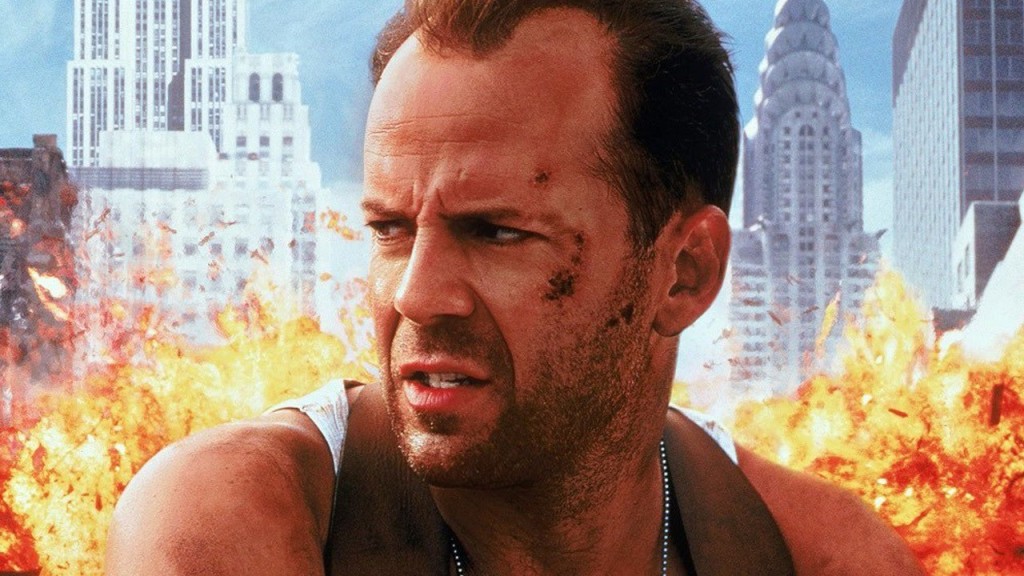 The third installment of the 5-film series, though 'Die Hard: With a Vengeance' is pretty good, yet somehow trails in terms of its overall impact, given its superior predecessor(s), John McClane is up against a German terrorist Simon Gruber (brother of Hans Gruber from 'Die Hard') who has looted the Fed Reserve Bank and is on the run with the looted gold. Just another run and chase, wherein, as usual, John is impossible to kill, 'Die Hard: With a Vengeance' is solid on its premise but slips with the storyline.
11. The Whole Nine Yards (2000)
With an eerie quirkiness to it, 'The Whole Nine Yards' is set in Montreal where a dentist, Nick "Oz", who is riled with his debt problems and his married-life and wants to get a divorce as early as possible. He finds out that they have a new neighbor – ex-mob hitman Jimmy "The Tulip" Tudeski (Bruce Willis) and tells his wife, who in turn, implores her husband to tell the hitman's whereabouts to few of his old rivals in Chicago. Exasperated, Oz commences on an ordeal he would remember his entire life. The quips are constantly oscillating between those of a sitcom and a black comedy, whereas Bruce Willis maintains his demeanor. This one is strictly for Willis' fans.
10. 16 Blocks (2006)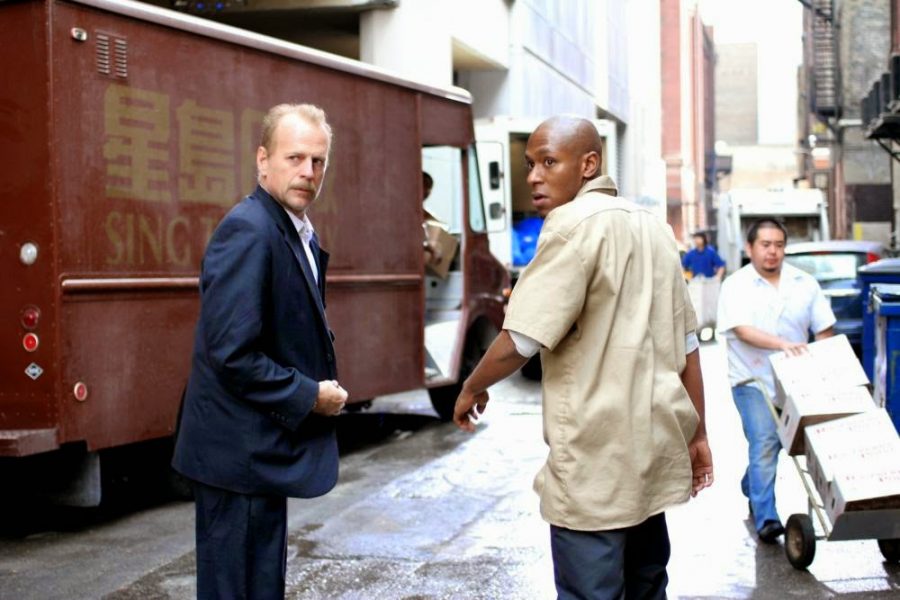 More than being an action movie, '16 Blocks' concretely established the stereotype roles Bruce Willis has been portraying so far in all of his movies, save a few. An alcoholic detective with the NYPD, Jack Mosley, has been assigned a simple-looking task of transporting a convict from a precinct to the court which is 16 blocks away. The convict is to testify against another bunch of cops and detectives who've been accused of corruption. Jack, who is in charge of taking this man alive to the court has to choose between justice, truth, and friendship and has to protect the convict at all costs. Fast-paced and captivating, even though slightly stereotyped, '16 Blocks' is an unconventional take on the so far portrayed roles of Bruce Willis.
9. The Last Boy Scout (1991)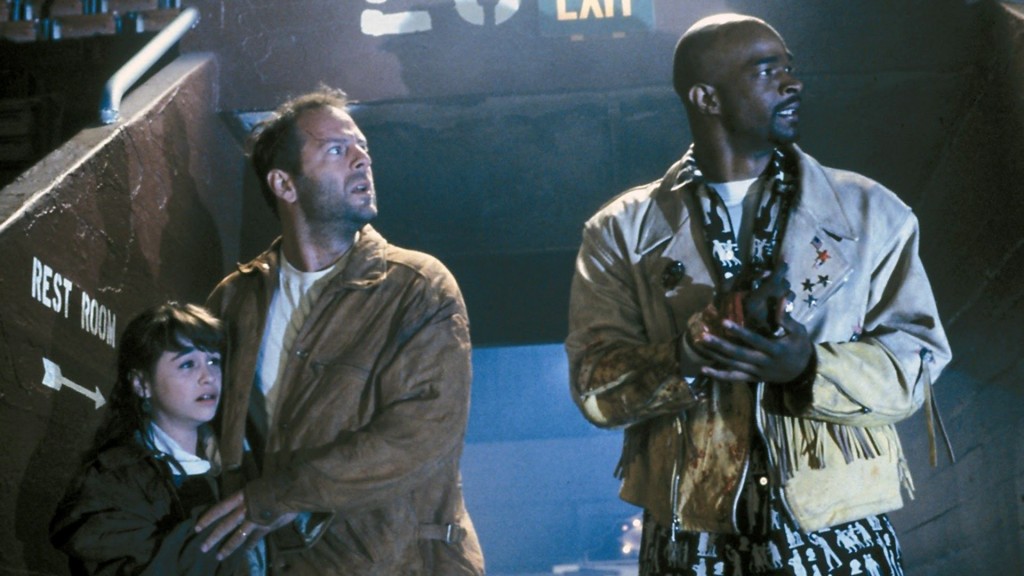 Bruce Willis seems to have played the former cop/secret service operative roles since times immemorial. 'The Last Boy Scout' revolves around a former secret service agent turned investigator, who's been assigned with a task of protecting a stripper called Cory. Things take an ugly turn and Cory is murdered, thanks to her boyfriend Jimmy, a banned league player. The story proceeds with Jimmy and Joe going through a series of incidents and investigations caused by the tussle between Senator Baynard, a tainted politician, and Marcone, the owner of a pro football team. The ending is as anticipated, the justice prevails, the bad guys are killed and Joe finds his lost love again.
8. Die Hard 4.0 (2007)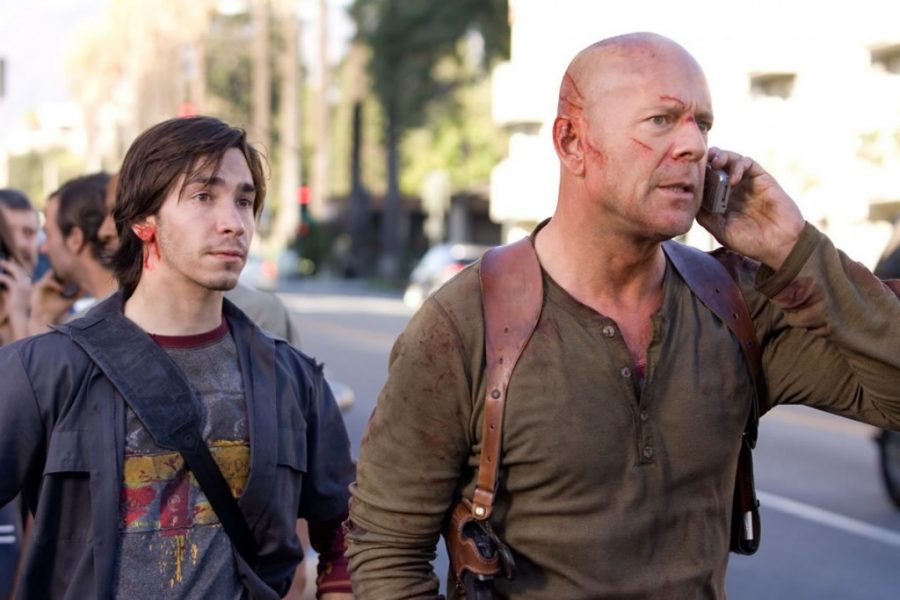 Also released as 'Live Free or Die Hard', this fourth installment in the 'Die Hard' series is a slight departure from its predecessors. The premise is set on cyber crimes and the cybercriminals led by Thomas Gabriel, who contrives on systematically shutting down the power transmission, transportation, and other infrastructure grids. John McClane, who's been crude and orthodox to this new category of criminals, seeks help from a hacker Farrel in hunting down Thomas, who has also kidnapped McClane's estranged daughter Lucy. With the action sequences that are a great improvement from the previous installments and the storyline that is coherent with quirky lines and sarcastic inferences, 'Die Hard 4.0' does a good job in carrying forward the McClane's brand and his legacy.
7. Looper (2012)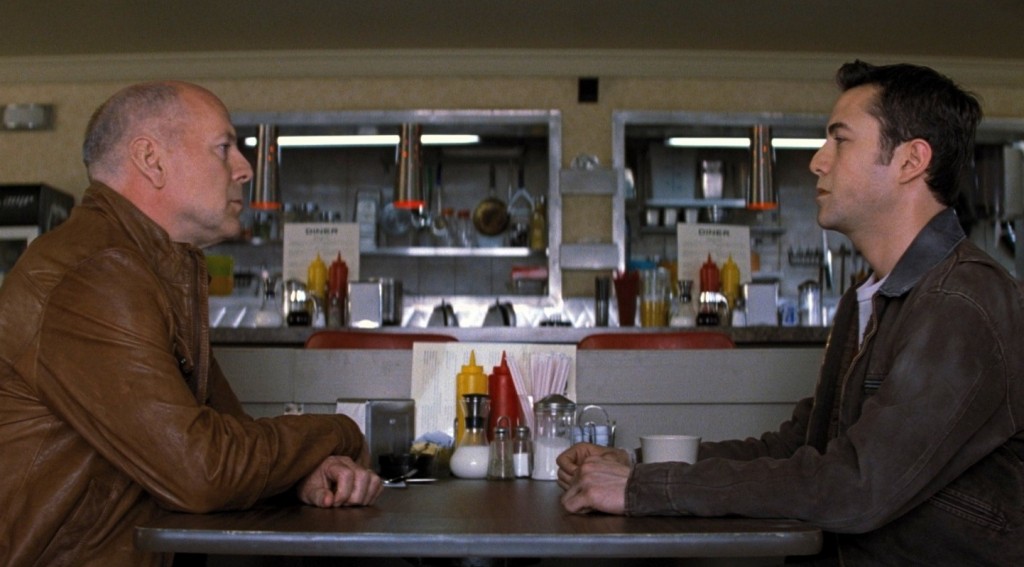 Perhaps one of the best Sci-Fi movies yet, 'Looper' and its ingredients like time-travel, fast-paced action, multiple time loops, social degradation, futuristic setup, and Bruce Willis are unlikely to be forgotten for a very very long time. Bruce Willis plays Old Joe, the futuristic self of Joe, in a story set in 2044. Joe is tasked as a looper, with employers who make use of time travel to travel back to past to kill their present selves. Joe, apprehensive about his futuristic self who would one day come to kill him, struggles within the self, his own future self Old Joe, the social oppression, and the paradoxes of temporal time-travel. 'Looper' is grittier as it progresses and as intelligent as a movie can get. One of the best Bruce Willis movies out there.
6. Unbreakable (2000)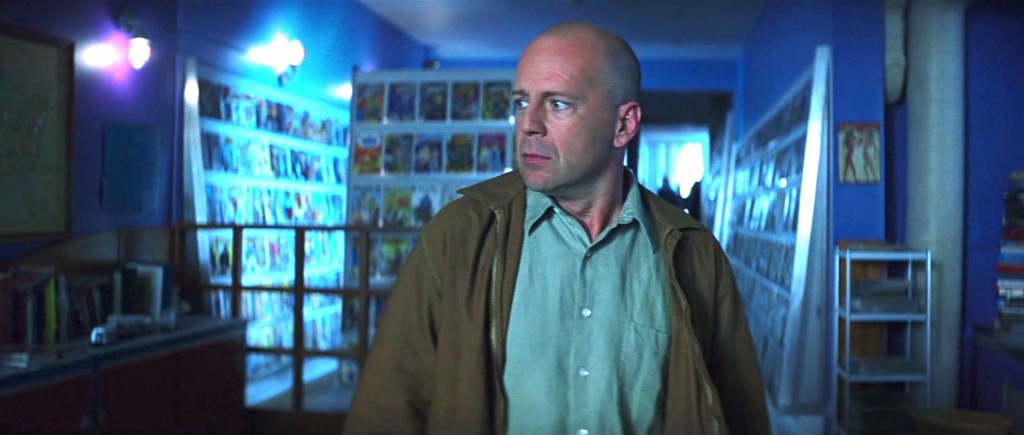 A superhero film, for the uninitiated, 'Unbreakable' is Willis' first venture into playing a superhero. David Dunn, a security guard, who is facing troubles with his marriage and his social life, is an unscathed victim of a horrifying train accident which leaves the other 131 people dead. He meets with Elijah, the owner of a comic book gallery who is suffering from the brittle bone syndrome. Elijah then beseeches David to take a look back into his life and makes him aware of his "superpowers", and that of his weakness with water. David then starts discerning his superpowers like incredible stamina, visions into the crimes committed by people among other things. Soon, it is revealed that Elijah was the conspirer of the train accident that led to David's revelations of being a superhero, the villain for the greater good. Suave, thrilling, and replete with some decent dramatic, chilly sequences, 'Unbreakable' is a perfect alternative to all the cliched superhero movies out there.
5. The Fifth Element (1997)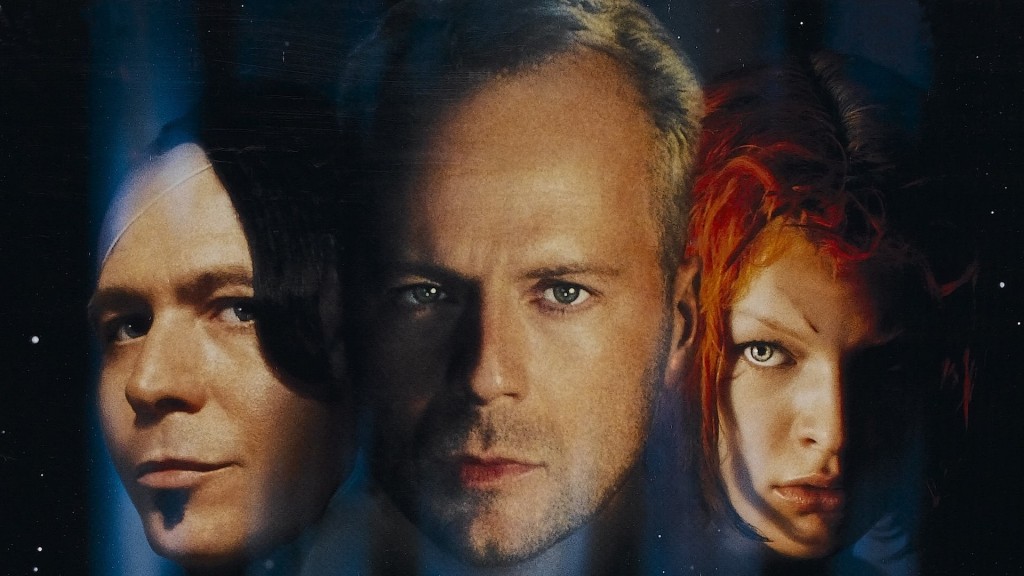 Bruce Willis seemingly has a penchant for playing exes, this time, he plays an ex-Major of the Federated Army's Special Forces turned cab driver named Korben Dallas in a story set in the mid-2200s. A movie that gives us the vibes of 'Guardians of the Galaxy' but much before, 'The Fifth Element' is a Good vs Evil movie in a futuristic setup. The story commences in 2263 AD when a spaceship carrying a celestial fifth element is destroyed by the ominous Mangalores. Scientists succeed in creating a humanoid female form using the fifth element and name her Leeloo, who escapes the laboratory and lands on the cab of guess who. The story progresses with Dallas trying to protect her from evil and also from an evil-headed Zorg while trying to retrieve the four stones relating to all the four elements and falling for her in the process. Visually captivating and a Sci-Fi lover's delight, 'The Fifth Element' would definitely win you all over.
4. Die Hard (1988)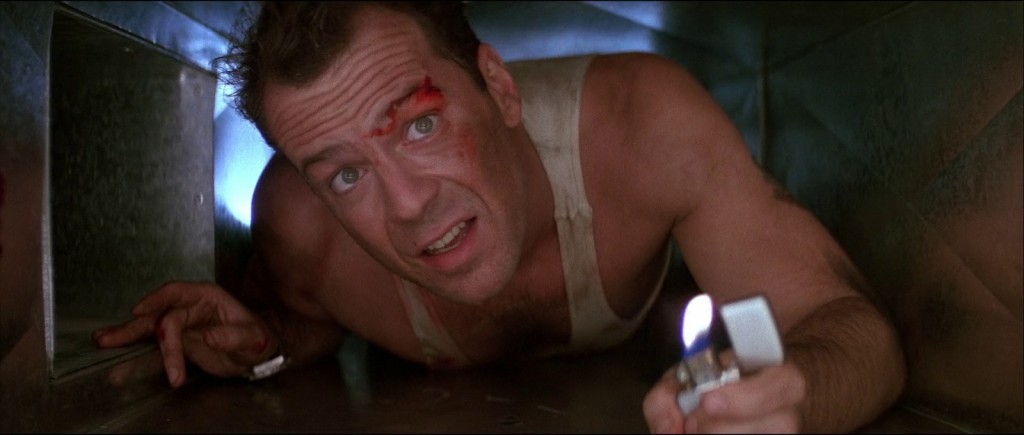 For those who want to be die-hard fans of Bruce Willis, 'Die Hard' is a classic example of an action movie where the protagonist (Bruce Willis as Officer John McClane) fights all odds single-handedly against an equally good or maybe slightly better antagonist (Alan Rickman as Hans Gruber) which skyrocketed the careers of both Willis and Rickman to new heights. The plot revolves around these two, NYPD Officer John McClane, who's visiting his wife on the eve of Christmas at her workplace in Nakatomi Corp. which is struck by a group of terrorists, led by Hans Gruber who takes everyone in the building hostage, except for John. John decides to take control of the situation before the officials arrive by singling out the terrorists one by one. This one for sure is breathtaking.
3. The Sixth Sense (1999)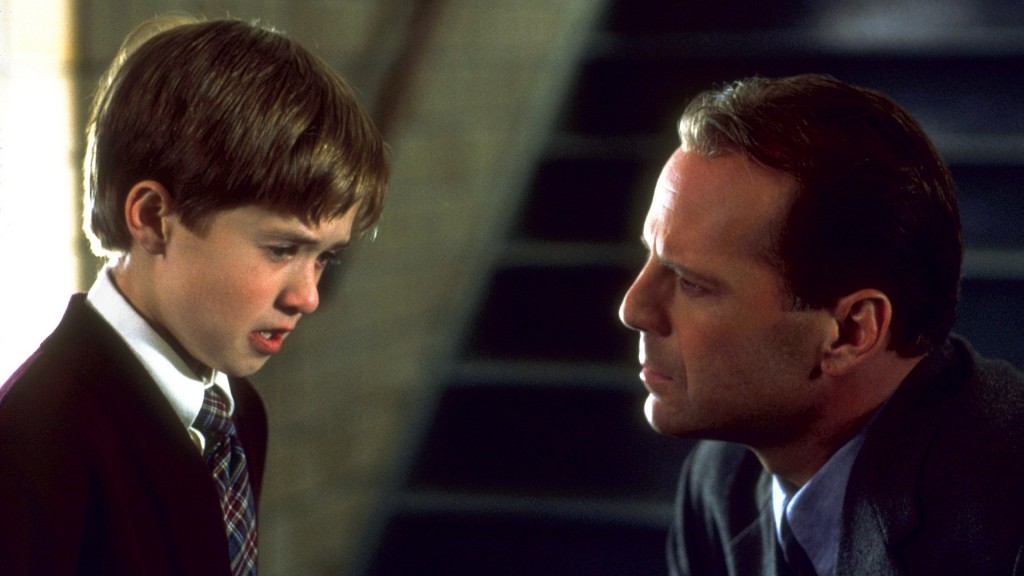 Often claimed to be the best movie of M. Night Shyamalan, 'The Sixth Sense' has two central characters – a boy named Cole Sear who has the supernatural capability to see the dead and an accomplished yet neurotic child psychologist Malcolm Crowe (Bruce Willis). Malcolm tries to help Cole talk to the dead and some astonishing facts are revealed when the latter talks to a few dead people. As the movie progresses, murkier secrets surface until the end when Malcolm realizes he's been dead the whole time. Twisted, complicated, and scary, 'The Sixth Sense' is an example of cinematic ingenuity.
2. Twelve Monkeys (1995)
Set in 2035, a convict James Cole (Bruce Willis) is selected to go back in time to 1996 to investigate the spread of an epidemic which has wiped out 99% of the world's population. Things go awry and he's sent back to 1990 instead and thrown into an asylum, wherein he meets Jeffrey Goins, the son of a famous virologist and the one who helps him escape. Back in 1996, James Cole decides to stay in the past to try and stop the army of Twelve Monkeys and the spread of the epidemic. 'Twelve Monkeys' is one of the most complicated movies ever made, with references of time-travel, worldwide epidemics, and lunacy in the background and even though a wee bit complicated, Bruce Willis' role as a reluctant sociopath James Cole is an impressive feat.
1. Pulp Fiction (1994)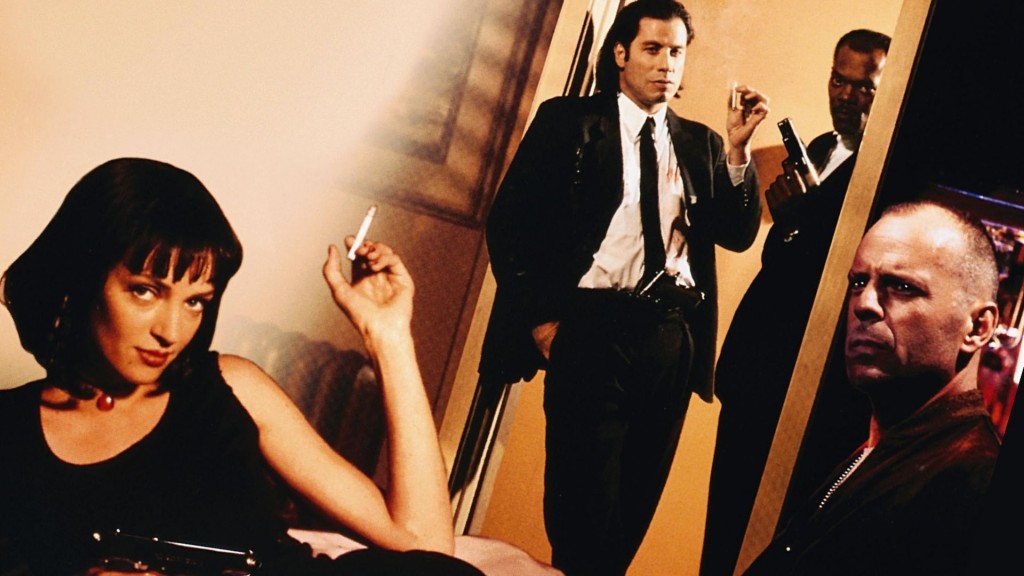 And now, one of the greatest movies ever made, which constitutes Bruce Willis (playing Butch Coolidge) as one of its supporting cast, 'Pulp Fiction' is the tale of four interrelated stories comprising violence, love, hate, and betrayal. Trying to find quirk in serious events, 'Pulp Fiction' entwines the lives of two hitmen who're on a mission, a boxer, who after killing his opponent is planning to leave the city and two lovebirds who are conspiring to rob a coffee shop. Gritty, spellbinding, and a major influencer and game-changer of the movie pop-culture, 'Pulp Fiction' by and large exceeds the sum of its parts.
Read More: Best Quentin Tarantino Characters