Chadwick Boseman shot to fame with his portrayal of Black Panther in Marvel's cinematic universe. However, Boseman has been in the acting scene for quite some time now, sometimes on the fringes in television shows where he has appeared in one or a few episodes and sometimes in movies where he has had supporting roles. This is not to say that Black Panther is Boseman's first major role since he does have a few other good movies and shows under his belt.
He is a talented actor who has now almost become a household name. Here's the list of top movies and TV shows of Chadwick Boseman. You can watch some these Chadwick Boseman movies on Netflix or Amazon Prime.
10. Draft Day (2014)
A sports drama film about American Football directed by Ivan Reitman and starring Kevin Costner. Chadwick Boseman plays Vontae Mack, an Ohio State linebacker. The movie is a tale of pressure on the managers during the draft picks and shows the appeasement that must go on in all quarters for these sports teams. Boseman as Mack delivers a balanced performance as an insightful and friendly member who advises the manager to watch clips of him and the other first choice. A finely made movie, Boseman stands out in the small capacity he has to play in and makes it a memorable performance in his budding career.
9. Lincoln Heights (2007-2009)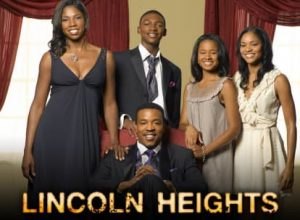 This drama series follows the life of a cop who decides to settle in with his family in Lincoln Heights in order to help out his old neighborhood. However, they realize that this is not as easy as it seems and the show follows the various hurdles the family has to overcome. Chadwick Boseman plays Nathaniel 'Nate' Ray Taylor, the son of Eddie Sutton, the main character. However, he is Eddie's son with his former flame, Dana Taylor. Nate is a soldier who has served in Iraq and when he moves in with the family he does not get along with Eddie's youngest son Tay. However, Nate soon ships off to Iraq again and is injured there and later suffers from a post-traumatic stress disorder. Boseman delivers a memorable role as a soldier and a long lost son who grew up without his parents. A fitting testament to the actor's skills, this television show stars him mostly in season four which aired in 2009.
8. Persons Unknown (2010)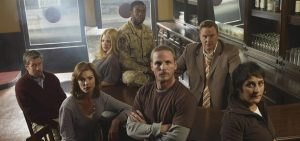 Airing on NBC, this television show follows seven strangers who are abducted and wake up in a deserted town with no memory of how they got there. They eventually discover that something called The Program is trying to manipulate their actions and behavior through several physical and psychological hurdles. Chadwick Boseman plays the role of Sergeant Graham McNair, a level-headed Marine who became a Muslim after he witnessed the torture in prison camps that held alleged terrorists. Boseman delivers a fine performance as a soldier who has been in the grind and seen things, he also brings a slightly dangerous edge to his character as the sergeant has acted as a mercenary for some time. The show ran for thirteen episodes, but Boseman's acting will remain with the audience longer than that.
7. 42 (2013)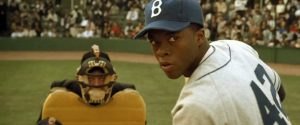 Directed by Brian Helgeland, this movie is about the racial integration in baseball, by Jackie Robinson, a player who wore the jersey number 42 throughout his career. Boseman plays Robinson, a player who despite his evident talent had to face racism on and off the pitch. He impresses in this role as a man with a short temper but immense talent, a man who has to face a lot of pressure but deals with it with determination and perseverance. Boseman makes this a memorable and extremely mentionable performance in his acting career.
6. Get On Up (2014)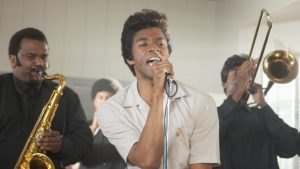 Starring Chadwick Boseman as James Brown, this film is about the life of the famous singer told as a series of asynchronous events, in a stream of consciousness narrative style. Often resorting to breaking the fourth wall, director Tate Taylor manages to give the audience an insightful look into the singer's personal and professional life and his association with his contemporaries. Boseman delivers a wonderful performance bringing the singer to life and making this one of the better films he has starred in.
5. Message from the King (2016)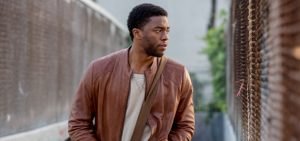 Directed by Fabrice Du Welz, this movie stars Chadwick Boseman as Jacob King. A revenge action thriller, the man King is living in South Africa when he receives a call for help from his sister in Los Angeles. By the time he arrives he finds his sister in the morgue, tortured and killed. Set on a path of revenge he uncovers the dirty trail of pimping and pedophilia in Los Angeles and takes out all those involved, it is revealed only later that King himself was a member of the detective force in South America. Boseman delivers a powerful performance as an angry man on a mission to avenge his loved one. A finely delivered role this movie is strongly recommended as one of Boseman's top movies.
4. Marshall (2017)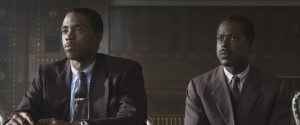 Directed by Reginald Hudlin, this film stars Chadwick Boseman as Thurgood Marshall, the first African American US supreme court judge. It specifically focuses on the case between the State of Connecticut vs Joseph Spell. The story follows Marshall as he has to battle a hostile court environment and defend a black chauffeur accused of rape by a white person. A gripping tale, Boseman delivers a powerful performance of a man who would eventually become a historically significant judge and a Black Rights activist. One of Boseman's finest films, this movie definitely deserves a watch.
3. Captain America: Civil War (2016)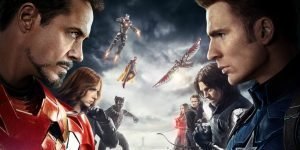 This was the movie that introduced Black Panther to us, T'Challa, the man who saw his father die in front of his eyes and could not protect him. Boseman plays the character that gained him the most fame, Black Panther. He dons the mantle of the Black Panther and goes off to avenge his father. He is shown to be a highly motivated, charismatic prince, resourceful and ethical. As far as introductions go, the character couldn't have hoped for a better one and Boseman grabbed eyeballs in his first Marvel appearance itself.
2. Avengers: Infinity War (2018)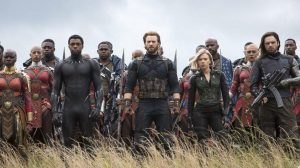 Boseman returns as the Black Panther in the most recent Marvel movie which sees them fight their strongest opponent yet. He plays the part of the Black Panther perfectly, showing not only the character's skills as a warrior but also a competent ruler as he leads his nation of Wakanda into war against the alien invading force. The disappearance of one of the most favorite characters at the end of the film has fans asking whether the Black Panther will be back and we can hope that he will, we cannot wait to see Boseman sit again on the Wakandan throne.
1. Black Panther (2018)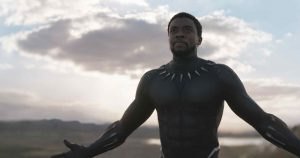 Directed by Ryan Coogler, this film formally gave us the backstory to Black Panther and made Chadwick Boseman's Black Panther one of the most loved Marvel characters. The film follows the events after Civil War as T'Challa returns to Wakanda and must soon defend it from his uncle's son and his vision of global dominance. A film where Boseman gets the chance to play out the full spectrum of emotions of the superhero, this movie remains the finest in Boseman's career, not just for the acting but the political message it conveys through a superhero movie.
Read More: Most Powerful Marvel Characters