The Fanning sisters are perhaps the most celebrated child actors of the industry. With a range of work already donning their body of work, they seem to be unstoppable. Since adulthood, though, they seem to have gone their different paths. Elle's work is more mass-oriented, while Dakota edges towards more outlandish and quirky scripts. The latter has delivered some amazing performances in the recent past, which unfortunately have gone unnoticed. Remembering some of these performances, we compiled a list of the same. Here is the list of top 10 Dakota Fanning movies you must watch. Happy reading!
10. Uptown Girls (2003)
A young independent woman starts working as a nanny to an 8-year old when her savings are stolen. Still a child inside, she forms an unbreakable bond with the little girl, in turn, assuming the responsibilities of being an adult. The confidence that Dakota wears in the film is truly infectious and astonishing. Assured and calmer than her co-star, Dakota steals the show with a fun and intelligent turn as the gutsy Ray. Despite boasting of more than decent performances, 'Uptown Girls' fails to comprehend itself and gets too wound up in trying to be raw and natural. The surrealistic air of vanity around its lethargic screenplay is almost incorrigible and in turns ruins the movie.
9. Hide and Seek (2005)
A freshly divorced man moves in with his daughter in a house uptown. All seems well until the girl befriends an imaginary entity named Charlie. Certain paranormal events transpire leading the father to believe in his daughter's disturbing claims. With a clichéd storyline and the familiar jump-scare technique, 'Hide and Seek's intrigue quickly unravels and presents itself as a boring and uninspired movie to sit through. Despite the presence of someone like a Robert De Niro, the movie is a sinking ship and instead of trying to be a creepy and eery thriller-horror, it turns into almost a comical and paranoid movie of mind games.
8. Man on Fire (2004)
Denzel Washington inhabits the character of John Creasy, a weary and unfancied CIA operator, who is hired by a wealthy entrepreneur to safeguard his daughter, due to the high rates of child abductions in Mexico. During a pickup from piano lessons, John is ambushed by abductors posing as police officers and imitating normal pedestrians. A gunfight ensues which results in John killing four of them, but getting mortally wounded in the process. The abductors get away with it, with a coalescing John promising to extract revenge and save the girl. The predictable storyline is a huge disappointment. Despite spirited performances from the cast and more than decent action sequences, 'Man on Fire' narrowly escapes the title of being called a good film due to clichéd stereotypes operating stronger than realism and pragmatism.
7. Coraline (2009)
'Coraline' is one of the best-animated features I have seen in recent times. On par with films like 'Coco' and 'Inside Out' in my impoverished opinion, it's an intelligent and thoughtful film about a child rummaging his imagination to create a new world for herself. The adventurous journey is marred by evil spirits and negative condiments, though still being as beautiful as ever. Some fine work behind the microphone and camera ensures this top notch film receives its due credit.
6. The Motel Life (2012)
'The Motel Life' is a story of two close-knit brothers, bonded together by the untimely death of their mother when they're in their early teens. Since then, these brothers have been inseparable, living rough on society's fringes due to no fault of their own. When the movie opens, the brothers are living in their hometown of Reno, Nevada in the cheap-motel miasma on the "other" side of town. Although one's a gifted artist and the other is an accomplished storyteller, they live at the bottom of the economic pile with nothing but odd jobs for support. The two brothers, Frank and Jerry Lee Flannigan, are played by Emile Hirsch and Stephen Dorff respectively with about as much emotional depth and raw credibility as you're likely to ever see portrayed on screen. The supporting cast includes Kris Kristofferson—in a truly moving performance—and Dakota Fanning who also gives a terrific accounting of her character. The inspired animation of Mike Smith adds substantially to the movie as well, clearly delineating the "real" world from Frank's fantasies. Movies like these don't come along often, but when they do, make sure you see them and live them.
Read More: Kurt Russell Movies
5. I am Sam (2001)
I don't seem to understand people's attitude towards this film. Led by brilliant performances from Sean Penn and Dakota Fanning, 'I am Sam' is an emotional tale of a protective father, who is mentally unsound, and his constant efforts to win custody of his beloved daughter. The doting father works at a Starbucks to compensate and make a living and shares a wonderful bond with his daughter. Despite the loopholes in the story, the performances are compelling and convincing enough to persuade us into liking the movie. Stop thinking using your brain people, and start listening to your hearts.
4. War of the Worlds (2007)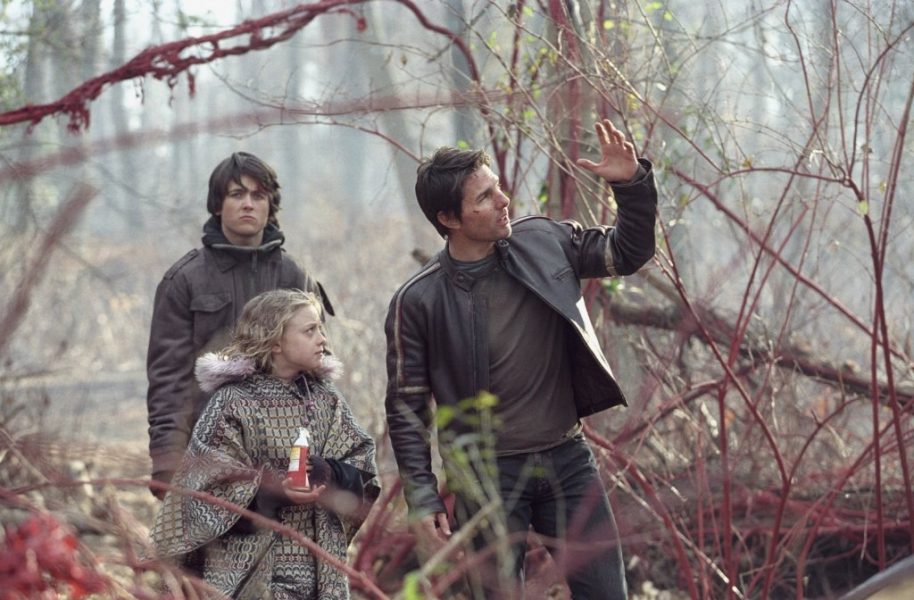 An impending alien attack warns Ray Ferrier, a divorcee, and his children to leave town. Just as he's about to do so, the warnings take shape in the form of spider-like monstrous entities, who emerge out from beneath the earth. A survival game begins, with the three protagonists hardly coordinating. Led by the charismatic Tom Cruise, 'War of the World' is a fine effort by the master raconteur, but far away from his very best. Fanning's performance was characterized by constant screaming, so much so that YouTube videos have since emerged with a montage of it. Go enjoy it!
3. Now is Good (2012)
One of Dakota's more recent movies explores the life of a young girl affected by leukemia. With no plausible hopes of a prolonged life, she chalks up a list of to-do things before she dies. At the acme of it is the urge to lose her virginity. Films like these have come out before as well. That one starring Nicholson and Freeman had more comic elements. But 'Now is Good' is much staider and dramatic. Dealing with teen emotions is always a difficult task, owing to their erratic nature. But the film does a fine job of encapsulating the spirit of teenhood. In a brilliant turn as the affected girl, Dakota manages to present a conflicted state, wherein she is excited to explore new things and meet new people but is also simultaneously aware of her impending end. A watchable movie with good performances.
2. The Runaways (2010)
The charismatic and marvelous duo of Kristen Stewart and Dakota Fanning set the things right. The biographical-drama coalesces on the formation of the '70s rock band 'The Runaways' and the relationship between its key members Jett and Currie. Led by bold and rebellious turns as the erratic and mystifyingly charming real-life people, Stewart and Fanning decipher and deliver the film in a must watch haven. A little light on music, the film derives its strength from its dynamic duo, and God I can't write enough about them.
1. Brimstone (2016)
The beaming cast of this movie is almost irresistible. Spread over four periods, or chapters, of the journey of a woman wrongly convicted of a crime she didn't have the 'morality' to commit, the Western thriller is new wine in an old bottle. Using cast plains and aesthetic mountains as a vessel for complimenting its characters, the familiar setting is dawned upon in an erratically different narrative characterized by confusing themes. Probably one of the best movies on human rights of the year, 'Brimstone' is a wonderful watch, considering Western are your cup of tea.
Read More: Patrick Swayze Movies