Patrick Swayze, who was considered a sex symbol back in the late 80s, had girls, young and old alike, swooning over him. His smooth dance moves, his pretty face and a body to die for, made girls go weak in the knees, every time the teen icon appeared on the big screen. Such was his charisma that filmmakers wanted to cast him in their movies, which eventually turned out to be money-spinners at the box office. In a career spanning three decades, Swayze appeared in a number of films, which were as different as chalk is from cheese!
But fate had other things planned for the star that faded out way too early at the age of 57, due to pancreatic cancer. Patrick Swayze, who was a singer, dancer, an actor, a licensed pilot, one time Sexiest Man Alive and a songwriter, all rolled into one, went on to deliver some really good films in his entire career. We bring you a list of top Patrick Swayze movies selected from his vast filmography. You can watch some of these best Patrick Swayze movies on Netflix, Hulu or Amazon Prime.
12. Uncommon Valor (1984)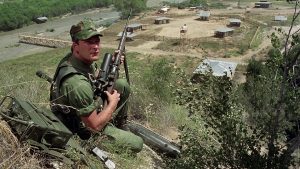 The film set in the 80s was a fictitious take on the events post the Vietnam War of 1975. It featured a host of actors, including Patrick Swayze, who was relatively new in the entertainment industry. Swayze played a young ex-marine in the US force, who joins the disparate team formed by a retired Marine Colonel, on a mission to find his missing son in Vietnam, ten years after the war. Although the film was generally given a thumbs-down by the critics, it was a commercial success at the box office for its realistic storyline.
11. Red Dawn (1984)
This film starring Patrick Swayze, Lea Thompson, C. Thomas Howell and Charlie Sheen in the lead, was a war movie, which narrated the story of two young brothers and their friends, who go up in arms against the Soviet occupation of America in the middle of a college lecture and how they then stand up to the RPG-launching Communists from entering into their free territories. Swayze as the leader of the youth brigade shone in his role and proved his mettle at the box office success, which was also placed in the Guinness Book of World Records for being the most violent film of the time.
10. Steel Dawn (1987)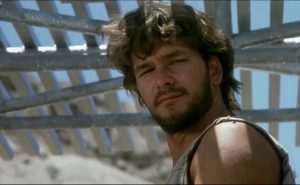 Set up in a futuristic world, this post-war apocalyptic film paired Patrick Swayze with his wife Lisa Niemi for the first time on the big screen. The movie, directed by Lance Hool, opened to mixed response at the box office for its incongruent storyline and depiction of a world post World War III. With a few political undertones and a plot that bordered on predictability, Swayze's film couldn't do much. Considered as one of his few career mistakes, 'Steel Dawn' saw him playing a swordsman, who is out to avenge the death of his family and mentor. For the film, Swayze is said to have mastered the art of sword fighting, which he also showcased on the big screen.
9. Jump! (2008)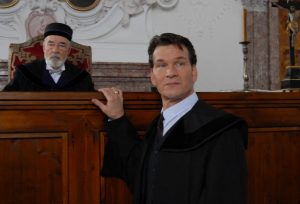 The film was loosely based on the real-life infamous case of Austrian national Phillipe Halsman, who was accused of patricide, who later went to become one of the most iconic portrait photographers of his time. Patrick Swayze was seen in a pivotal role as the protagonist's attorney, who is also threatened for defending him. The courtroom drama had Swayze in his element and the movie was one of the last films of the actor's career and his life.
8. Youngblood (1986)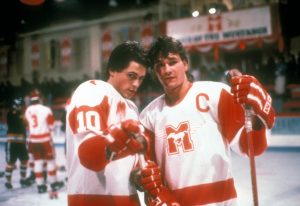 In a thirty-year career, Patrick Swayze made sure his films were based on different subjects. 'Youngbloood' released in the year 1986 when Swayze was already basking in the glory of being a teen idol. Yet he did a sports-based drama, where he was in the second lead. Rob Lowe, who played the main lead, did a fine job as Dean Youngblood, the titular character, who aspires to make it big in ice hockey, while Swayze played the team's captain, who mentors the young blood. The film received mixed responses but Swayze's performance was greatly lauded.
7. Donnie Darko (2001)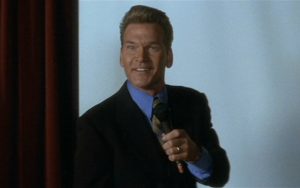 A film with an odd storyline, which went on to gain a cult status amongst its fans and an 8.1 rating on IMDb, starring Jake Gyllenhaal, also featured Patrick Swayze as a motivational speaker Jim Cunningham in it. The sci-fi supernatural thriller had a long list of actors in the cast and Swayze chose to appear in the film in a non-lead. Although the film belonged to the very young Jake, Swayze, with a twist in his part of the tale, managed to grab the audiences' attention in a miniscule yet very powerful role.
Read More: Dakota Fanning Movies
6. The Outsiders (1983)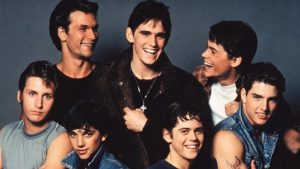 Released in the early 80s, 'The Outsiders' was a drama film, which had several young actors in their early twenties, who later went to become A-listers in Hollywood. The film was instrumental in giving the American film industry its Brat Pack genre of movies, which had a bunch of young actors together in a film, involving boy gang wars. Most movies, which followed 'The Outsiders', had the same young stars featuring together in subsequent films. Although Patrick Swayze was more of a sidey in this film, he managed to come into his own in a miniscule role as the lead actor's elder brother.
5. 11:14 (2003)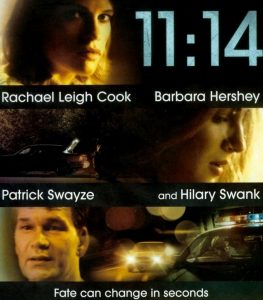 A meticulously planned dark comedy, '11:14' was a movie with an ensemble cast. In the film, Patrick Swayze played a middle-aged father to a teenager, who is involved in petty thefts and is cheating on her boyfriend. The film with four different stories running parallel, seemed disjointed in the beginning but when they all converged at 11:14 PM, it made a lot of sense. Although Swayze was part of only one story, he left an indelible mark with his acting skills and his portrayal of a father to a young girl, despite never having a first-hand experience in real life, totally won our hearts!
4. Point Break (1991)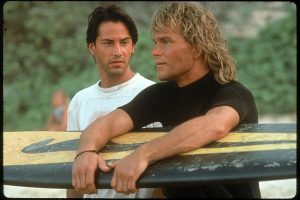 Patrick Swayze featured in an action crime film with Kathryn Bigelow's 'Point Break' and it was his second movie with Keanu Reeves in second lead. The film was about a young undercover FBI agent, who infiltrates a group of surfers, to get to the depth of a series of bank heists pulled off in the dead of night. The agent is smitten by the group's leader Bodhi, played by Swayze, and his philosophies, so much so that he almost gives up on a chance to pin down the robbers' boss when he had the chance. The film was quite a success as it struck a chord with the audience with its philosophical undertones. Swayze played a grey shade in his career and his efforts were appreciated by critics and commoners alike.
3. To Wong Foo, Thanks For Everything! Julie Newmar (1995)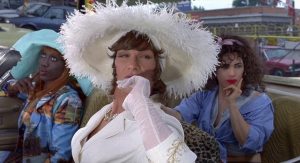 While many actors fear dressing up as girls for even one scene, Patrick Swayze played a drag queen in a full-fledged role in the comedy movie 'To Wong Foo, Thanks For Everything! Julie Newmar'. And to the audience's surprise, he did a commendable job with it. Swayze played the character Vida, who along with his friends, is on a road trip to Los Angeles to win the Miss Drag Queen America pageant, made for one eye candy in the film. And trust us, his effeminate portrayal of the drag queen, without going overboard with his acting, was probably one reason, fans had fallen for this good-looking actor all over again.
2. Dirty Dancing (1987)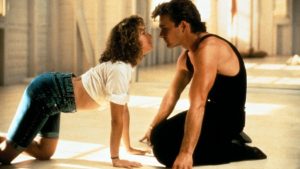 Patrick Swayze, known as the nimble-footed actor, danced his way into the hearts of hopeless romantics post the release of this coming-of-age film in 1987. A young dance instructor at a resort falls for a rich female guest and how situations lead the twosome to come together for a performance, eventually parting ways over misunderstandings. 'Dirty Dancing', which had some soulful tracks, won an Academy for the best original song for the duet Time of my life, which saw Swayze and Jennifer Grey embraced in a finale dance sequence towards the end of the film. Swayze lifting Grey up in the air had also become one of the iconic scenes of the romantic film.
1. Ghost (1990)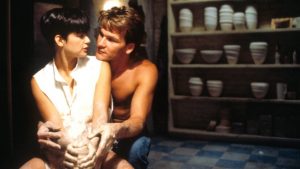 Audiences would probably laugh at this film's plot had it released today; but back in 1990, a film like 'Ghost' was considered cool. And if it starred Patrick Swayze, it would definitely be good! This fantasy thriller, which starred Demi Moore opposite Swayze, saw the actor playing a ghost, after he is bumped off by a mugger, eventually bringing his killers to justice towards the end of the film. A scene featuring the onscreen couple engaged in passionate pottery was also one of the reasons (apart from Swayze, of course!) why people thronged cinema halls to watch this romantic crime thriller.
Read More: Jeremy Renner Movies