Ah. 2017. You've been brutal. On the economy, on freedom of speech, on cinema (basically on everything except bitcoin!) In this somber year, Bollywood was much more mediocre than usual, but even the tamest fire has a few sparks. This is the piece where we appreciate the bright sparks in a dull year.
Continuing a promising trend of recent years, India's growing Indie quarters packed the most punch (and landed 6 of our 10 spots). There were many instances of brilliant performances in lacklustre films, such as Ayushmann Khurrana in 'Meri Pyari Bindu', Vidya Balan in 'Begum Jaan' and the lead trio of Shahid Kapoor, Kangana Ranaut and Saif Ali Khan in 'Rangoon', whereas some great performances made run-of-the-mill films a little more enjoyable, such the ensemble of Akshay Kumar, Saurabh Shukla and Anu Kapoor in 'Jolly LLB 2'. But which were the performances that truly deserve to be remembered beyond this year? Read on to know:
Honorable Mention
Pankaj Tripathi gave us five memorable performances in 'Anaarkali Of Aarah', 'Bareily Ki Barfi','Gurgaon', 'Newton' and 'Fukrey Returns'. He deserves a special mention for having a phenomenal year.
Now for the list of the best Bollywood performances of 2017 :
11. Ayushmann Khurrana – Shubh Mangal Savdhan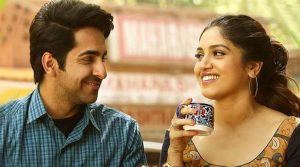 In an industry where larger-than-life leading men is the norm, Ayushmann Khurrana keeps wooing us with one understated slice-of-life performance after the other. While he had a busy year with three heartfelt performances and two great films, it is his part-hilarious, part-relatable role as Mudit Sharma, a shy Gurgaon boy about to get married, who can't seem to "get it up", which lands on this list because it is the most charming of the three. Despite the sketchy subject matter, he keeps the film from going into the "awkward" territory by normalising his problems. A lot of the film's merit comes from a witty script, but Khurrana makes the shy frustration of Mudit his own, making his situation seem even more accessible. A new-age Indian protagonist.
10. Sridevi – Mom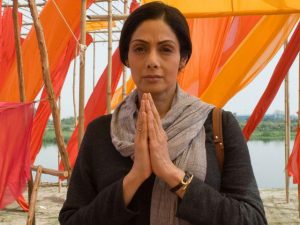 Sridevi made a second comeback, 5 years after the unprecedented success of 'English Vinglish' in this thriller about a vigilante who is out to avenge her stepdaughter, who was raped and left half-dead at a party. The film has quite a few twists and turns, but gets predictable in the final third and ultimately cannot rise above the swarm of revenge thrillers Bollywood is releasing of late. The performances by the cast though, are a completely different ballgame. Nawazuddin Siddiqui and Akshaye Khanna both mete out pro performances, but Sridevi's performance as the resolute, even cold-blooded vigilante out to decapitate the assaulters of her daughter is sensational.
9. Rajkummar Rao – Newton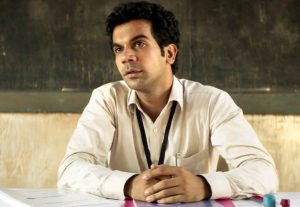 Rajkummar Rao has been quietly making a mark on Bollywood since his appearance in Hansal Mehta's widely acclaimed 'Shahid', but 2017 has officially become a breakout year for this boy from Haryana, which is signified with two of his performances making this list. In 'Newton', India's official entry to the Oscars, Rao plays Nutan 'Newton' Kumar, a by-the-books, pedantic government servant sent to the naxal-ridden jungles of Chattisgarh, who has a doggedly commits to holding elections in the area, a task he considers to render him noble. Rao's flawless portrayal of a flawed yet righteous man does justice to the unique story and makes 'Newton' one of the year's unlikely revelations.
8. Swara Bhaskar – Anaarkali Of Aarah
'Anaarkali Of Aarah' tells the story of an erotic dancer fighting for justice against an influential goon who misbehaves with her in an inebriated state, while the system looks on with chagrin, stating that such conduct is common in her line of work. With a risque theme like that, either sleaze or sentimentalism could easily have overtaken substance in this film. But they don't, thanks to a crackling lead act by Swara Bhaskar, who paints the character of a buxom seducer well aware of the boundaries she allows her audience into with fervour. She is one paan-toting, trash-talking, badass in the most authentic female performance this year. It's about damn time she gets more starring roles.
7. Irrfan Khan – Hindi Medium
Irrfan Khan is a man of infinite talents. And he showed his versatility once again in this thought-provoking comedy, which has turned out to be the sleeper hit of the year. Khan ditches his famed intensity to play Raj Batra, a self-made man well in touch with his puraani Dilli roots, who must transform himself into an angrezi-speaking "classy" parent to get into the good books of elitist snobs who decide the fate of his kid's admission in a "Top 5" school. Although based on a highly relevant social issue, 'Hindi Medium' never gets too "heavy", thanks to Khan's lighthearted take on Batra. Yet another feather on a heavy cap.
6. Vikrant Massey – A Death In The Gunj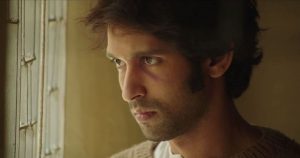 'A Death In The Gunj' is a stirring drama about messed-up family ties by debutante director Konkana Sen Sharma, wherein Shutu, a shy, conflicted student's life spirals down during a family holiday. His family, who are unknowingly insensitive towards the boy and make him the butt of their jokes, have storms brewing within themselves as well. Forever keeping a reserved tone, the film shows the discordant emotions of its characters oh so subtly, until it doesn't. At the center of the ensemble is the criminally overlooked Vikrant Massey, who imbibes Shutu's stricken demeanour his twisted idea of manhood bequeathed unto him by society and his gradual alienation with the world which constantly mocks and bullies him with such immersion that it feels like he's acting in his own biopic.
5. Ranbir Kapoor – Jagga Jasoos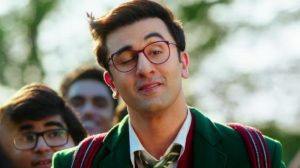 'Jagga Jasoos', for me, was one of the most heartbreaking failures of the year. While the film was not bereft of flaws, it was inspiringly fresh and had immense potential to become a series of sprawling adventures had the audience been kinder. The lacklustre showing of the film also means less accolades for its protagonist Ranbir Kapoor's heartening act. Kapoor has been accused of playing the character of the 'lovable goof' over and over. I, for one, wouldn't mind if he played the type for all his career if he brings a fresh charm to the table each time around. Jagga's purity is infectious, his innocence melts your heart and his winsome quirks are a joy to watch. He is an ageless hero, who a kid can look up to and an adult can laugh along with. Yet another "great performance weighed down by a not-so-great movie" for poor RK. Boy, I desperately hope he gets back on track with "Dutt".
4. Ratna Pathak – Lipstick Under My Burkha
'Lipstick…' is a film which looks for stories of women showing a middle finger to patriarchy in the unlikeliest of places – Bhopal's crowded alleys. In a film that doesn't shy away from showing the dire state of its protagonists in a bare, no-holds-barred manner, the most challenging role falls in the lap of Ratna Pathak, who plays Usha a.k.a Bhuaji, a revered 55-year old widow in a typical moholla in Bhopal. Usha tries to cope with the loneliness in her life through erotic literature and titillating calls with her swimming instructor, adopting the guise of 'Rosie'. Pathak shines in probably her greatest performance (perhaps eclipsed only by her stint as Maya Sarabhai!) as she teeters with apprehension on the edge of her desires, and finally takes a nosedive, leading to disastrous consequences at the hands of a nosey society. The gutsiest Bollywood performance of the year.
3. Rajkummar Rao – Trapped
We've seen men deserted on islands ('Cast Away') at sea ('Life Of Pi') or in canyons ('127 Hours'), but the tale of a man stranded inside an uninhabited high-rise apartment besides a crowded street almost sounds too ludicrous to be made into a film right? Well, there lies the genius of director Vikramaditya Motwane. He lends a legitimate, hellish tension to the story and creates a gripping thriller. But the biggest piece which powers this engaging puzzle is the sole protagonist Shaurya, who Rajkummar Rao brings to life. As Shaurya's stability spirals down, as hallucinations resulting from hunger kick in, as claustrophobia begins to take over, you feel trapped in the apartment with him. As the civilised man turns into a beast, you cringe and squirm in your seats, appalled but alert. That's how hauntingly magnetic Rao's performance is.
And now for the greatest performance this year,
*Drumroll*
2. Varun Dhawan – Badrinath Ki Dulhania
Just kidding. We're not the Zee Cine Awards.
The actual Numero Uno performance this year is:
1. Sanjay Mishra – Kadvi Hawa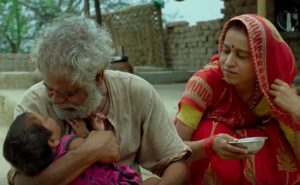 Drishyam Films has been turning the tide of Indian cinema towards serious, mature content, one film at a time. And the production house ended 2017 with a poignant, gritty, wrenching tale of farmers affected by climate change and acute rainfall – Kadvi Hawa. And playing the role of an old, blind man named Hedu, who strikes a deal with a debt recovery agent to save his son from a debt trap is the virtuous Sanjay Mishra. It is one of his best, and most heartbreaking performances (and he has given many in recent years), as he stumbles about, aided by a stunted stick, thinking of ways to save his depressed son. The film never gets too in-your-face preachy about global warming, instead opting to show how its impact lingers on people and their lives. And this is made possible by an all-too-humane touch lent to it by Mishra. I can list many actors working today who are criminally underrated, but this versatile actor, who also made a rib-tickling appearance in 'Golmaal Again', a film which is as different as could be from 'Kadvi Hawa', this year, tops that list. And he deservedly tops this list too.
Read More: Best Hindi Movies of 2017