The star of Marathi Cinema is on the rise right now. Slowly and steadily, it is coming up as the best regional film industry in the nation. Both content-wise and commercially, Marathi films are finding appreciation around the country. It has given us some of the best Indian films in recent times and continues to do so. Time and again, Marathi films have shown us how commercially viable films are made without compromising on artistic value.
Last few years have been golden ones for Marathi cinema as many of its films became huge hits and at the same time, found support among the critics. Movies like 'Half Ticket' and 'Natsamrat' wowed the critics with their excellent content while others like 'Lay Bhari' impressed the audience minting loads of money. 'Sairat' turned out to be a revelation with its heart-touching romantic story. Actors like Riteish Deshmukh and Nana Patekar are not Bollywood regulars yet, they happen to find both success and respect in Marathi Cinema. The Pilgaonkars are to Marathi film industry what the Kapoors are to Bollywood. Young talents like Rinku Rajguru show us a bright future while veterans like Sachin Khedekar and Swapnil Joshi have probably well established their foot in this industry. With that said, here's the list of top Marathi movies of 2017.
12. Ubuntu
Marathi cinema has been long known to have raised serious issues like literacy in the country. 'Ubuntu' is just another example of this. Talking about the low attendances in rural schools and the lack of willingness from the people to get educated, this beautifully woven story touches every heart with its message. Also, the cast nicely backs the story by delivering impressive performances in the film. 'Ubuntu', an African term meaning humanity, smoothly sums up the nature of the film.
11. Dashakriya
Considering all the hype around 'Padmavati' and it's release being postponed forcibly by a few right-wing groups, the makers of 'Dashakriya' made a really bold move by going ahead with the film's release. The film tells the story of the exploitation of the bereaved families by the high-caste priests through the eyes of a young boy named Bhanya. The film scores marks for its brave telling.
10. Deva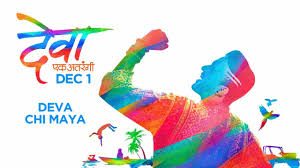 A remake of hugely popular Malayali film 'Charlie', 'Deva' tells the story of a guy with a heart of gold and is generous towards his fellow villagers. With just a week after its release, it is difficult to tell the audience reaction although it looks positive. The story, needless to say, is very strong while Ankush Chaudhari justifies the goodness of the titular character with his powerful onscreen persona. Consequently, a very entertaining film to watch.
9. Gachchi
In the opening scene where the two protagonists meet each other on the terrace in a very "Titanic" manner, you know that you are in for a pure love story. But the best part about 'Gachchi' is that the characters are detailed but the story is kept simple. Within a few days of release, it managed to touch multiple hearts and the performances of Priya Bapat and Abhay Mahajan have been hugely appreciated. All that this film finally does is spread love.
8. Boyz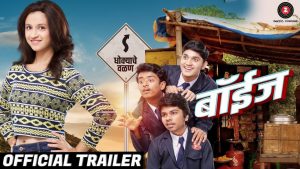 Having a very young cast, 'Boyz' promises a lot of energy and fun to its viewers. The story pans over three boys, all of whom happen to have problems and are studying in a boarding school trying to battle them. Parth Bhalerao of 'Bhootnath Returns' fame makes an amazing presence while Sumant Shinde and Pratik Lad show a lot of promise on their first outings. Therefore, 'Boyz' is a film every kid should watch and get inspired from.
7. The Silence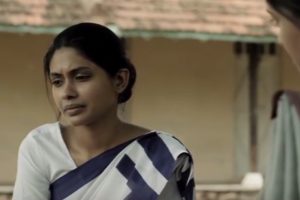 Gajendra Ahire is regarded as the most daring of all directors in Marathi cinema. This film is great as to how dark and unconventional his films are. Drawing light to the various crimes against women like molestation, it gives a hard-boiled, yet, emotional narrative of the hardships a small group of women have to go through in their lives. Hence, this movie shall both open your eyes and bring tears to them. A truly heart-touching film.
Read More: Bengali Movies 2017