Bengal has always been the cultural hub of the country. From Hrishikesh Mukerjhee to Rani Mukerjhee we have been blessed with the finest performers and actors of all times. The Bengali film industry boasts of some of the most well crafted actors and they didn't disappoint. 2017 saw an array of beautiful films from different genres exploring the intensity of human emotions, testing the caliber of a brilliant detective and travel to the depths of and even the commercial entertainers that are a source of escapement from our mundane lives. Here's the list of top Bengali movies of 2017.
12. Devi
This modern day adaptation of Devdas by Sarat Chandra Chattopadhyay had the protagonist in reversed gender and was a path breaking movie in its own terms. Paoli Dam is exceptionally brilliant in this adaptation of Devdas. The movie was highly praised for it bold thinking and stellar performance by its leading actors.
11. The Bongs Again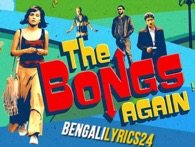 This bilingual Indian-English film starring Jishu Sengupta and Parno Mitra is the story of two women exploring and finding themselves. Sara comes looking for her mother Oli (Parno Mitra) and discovers her own roots and heritage. The somber movie leaves us longing for more. The film vividly describes the cosmopolitan Calcuttans and NRI Bengalis of today.
10. Chaya o Chobi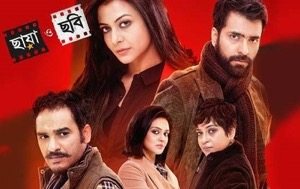 Our past never leaves and old wounds that rarely heal, they fade a little we time as we move on. When Rai goes missing from her film set in Darjeeling no one including her Arindam has a clue. Koel Mallick as Rai gives a sensitive performance. She portrays the pains of Rai beautifully. Abir Chatterjee as Arindam delivers a compelling performance. The movie leaves us asking for more as it delves deeper into the human psyche.
9. Boss 2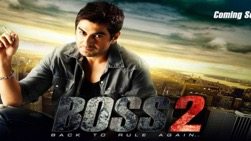 This Baba Yadav directorial is a pot boiler crime thriller starring Jeet. The movie revolves around Surya (Jeet) who has is misunderstood by his own loved ones and must prove his innocence. The movie exploited the fame of Jeet and was a huge commercial success. The story line was weak but a strong performance from Jeet saved the day. The screenplay and songs touched a chord in the audience's heart.
8. Byomkesh o Agnibaan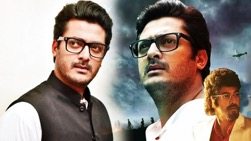 Byomkesh Bakshi the name is enough to send chills down our spine. This Anjan Dutta directorial venture merged two stories "Agnibaan" and "Uposonghar" to give us a treat that delights our very soul. Jishu Sengupta takes up the role of Byomkesh once again and is quite impeccable in his portrayal of the Dhoti-cladded detective. Saswata Chatterjee is brilliant as ever as Ajit and there are moments when he eclipses Jishu. Swastika Mukerjhee and Ushasie Chakroborty as Malati and Satyabati provide equally memorable performances. The story revolves around a drug racket and their downfall at the hands of Byomkesh.
7. Yeti Obhijan
This adventure thriller directed by Srijit Mukerjhee saw Prosenjit as Kakababu and Aryan Bhowmik as Sontu. The duo was on a journey to discover the mystery of the Yeti. Prosenjit captures the essence of Kakababu perfectly and is brilliantly supported by Aryan. The movie was appreciated unanimously by audiences and critics.
Read More: Best Malayalam Movies of 2017
6. Macher Jhol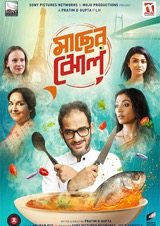 The title gives it away all. Bengalis and their love for fish is well known and the movie deliciously captures the love for food and the ultimate journey to find one's own self and heritage and return back to one's roots. Ritwick Chakroborty is Chef Dev D who comes back to Kolkata after 13 years to his ailing mother played by Mamata Shankar only find his true self and true calling. Paoli Dam is stellar as Sreela. The movie captures the essence of all things Bengali was warm and comfy reminding us to go back to our plate of Macher jhol.
5. Dhananjay
This critical movie based on the conviction of Dhananjay Chatterjee, accused of the murder of Hetal Parekh in 2004 saw some powerful performances from Anirban Bhattacharya as Dhananjay and Mimi Chakroborty as Kavya Sinha. It portrays the shady side of media and the influence of politicians that take a toll on bureaucracy and justice. The movie was critically acclaimed and was well accepted by the masses.
4. Meghnad Badh Rahasya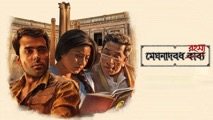 Sabyasachi strikes again. He is grand as he is cunningly brilliant as Prof. Asimavo Bose. As the famous professor disappears under mysterious circumstances all his close ones and allies come under suspicion as their secrets and battered pasts tumble out. The movie is beautifully thought out and craftily executed by the actors. The movie paces briskly as it unravels the ulterior motives of the loved ones of the professor. Meghnad badh rahasya is one of those rare gems that leave us satiated for indulging in the performing arts.
3. Bibaho Diaries
Directed by Mainak Bhaumik this romantic comedy was a light breeze that touched our hearts and left us asking for more. The movie was awarded the best Bengali film of 2017 by Hyderabad Bengali film festival. Starring Ritwick Chakroborty and Sohini Sarkar , this movie scrutinizes modern day relationship quite meticulously as it changes before and after tying the knot. The humor is fresh and the actors essay their role with brilliance. The songs are mellifluous and soulful adding to the grace of the movie.
2. Amazon Obhijan
This Kamaleshwar Mukerjhee directed sequel to 2013 Chander Pahar takes us on an amazingly thrilling journey through deep and intriguing El Dorado. The spellbinding shots landscapes set a new benchmark in Bengali movies. Shankar (dev) sets out with an Italian philanthropist Anna Floriana (Svetlana Gulakova) to bring back his alcoholic father Marco (David James). The CGI of panthers and anacondas are breath-taking and the sheer grandeur of the film is quite compelling to bring us to the theatres. The movie brings back all the exciting memories of our childhood and is just like we had envisioned when we were children.
1. Posto
This Shriboprosad Mukerjhee and Nandita Ray directorial venture starring Jishu Sengupta and Mimi Chakroborty dealt with one of the most sensitive and grave problems faced by parents today. The lovely son posto (Argha Basu Roy) the son of Arnab lahiri and Sushmita Lahiri played by Jishu and Mimi resides in Shantineketan with his grandparents Dinen Lahiri and Gouri lahiri played by Soumitra Chatterjee and Lily Chakroborty as his parents work in Kolkata. Problems arise when Arnab is offered a new job abroad and wants to leave with posto. The movie deals with question of the roles of grandparents in our lives are they just to be used and a source of trouble-shooting. Why cant posto decide whom he wants to stay with, why the grandparents have to bear the loss of their kid and why is it a taboo to treat a family where both the parents work as dysfunctional. The rights of our senior generation, the love they shower and the arrogance that they receive in return breaks our hearts and forces us to look deep within to comprehend the place our grandparents should be given.
Read More: Best Tamil Movies of 2017