Monty Python, our readers in their sweet 60s can identify easily to it. The troop was an epitome of satire and humor on BBC. Six official members, were often considered 'The Beatles' of Comedy. Such was their impact on British Televised Comedy. One of the six was Terrence Vance Gilliam, a.k.a. 'Terry Gilliam', the only non-British origin member among the company. He was born on American Soil but renounced his citizenship in 2006. A step to proclaim his protest against The Bush government. Politics apart, Terry Gilliam and Monty Python faced a hiatus in 1979. Although, he already initiated his feature film Direction Career with Monty Python and The Holy Grail(1975).
Gilliam, in his career spanning over 40 years, has capped just 12 movies. Call it his auteur-ship, J.K. Rowling is a huge fan of his work. Such was his influence, he was Rowling's first choice for Directing Harry Potter and The Philosopher's Stone.(Things could have been much more exciting) Nevertheless, his movies have been acknowledged as imaginative and innovative by movie buffs. Terry Gilliam confessed about his love for framing story-lines in Trilogy. Nine out of his 12 movies are correlated in three separate series. Gilliam's style of film-making is known for creating surreal atmosphere, through distinctive visuals and unusual camera angles.
Roger Ebert analysed his filmmaking as, "his world is always hallucinatory in its richness of detail." His style of art provoked a dystopian established society, breaking free through imaginations. Here it is, recalling his selective nature in film-making. This the list of his unusual works, just like the unusual posters he created. Here is the list of top Terry Gilliam movies selected from his impressive filmography. You can watch some these Terry Gilliam movies on Netflix, Hulu, or Amazon Prime.
10. Jabberwocky (1977)
Jabberwocky, his first solo-directed movie after the break of Monty Python. Mistakenly considered Monty Python and The Jabberwocky. It was a comical story of a young man Dennis Cooper, a Cooper and his adventures. His fellow-mate Michael Palin played the protagonist. Loosely based on the poem from Lewis Carroll's 'Alice in The Wonderland' where Cooper unintentionally slays the monster 'Jabberwocky'. Critics appraised the humor and grey nature of the film. Gilliam never felt odd for the Monty Python situation. After all, it was his days at The Flying Circus that proved critical for his film.
9. The Brothers Grimm (2005)
The second Heath Ledger movie in the list, alongside Matt Damon. Brother's Grimm follows the story of Grimm Brothers playing con-artists bluffing people of French-occupied Germany. The two brothers Will & Jake have a turbulent relationship, after Jack was bluffed by a man for beans before their mother dies. He clearly borrowed elements from Sam Raimi's The Evil Dead Series, utilizing horror and comedy blended with Gilliam's imaginations. Monica Bellucci plays The Mirror Queen, the main antagonist. Heath Ledger gave a terrific performance as a stammerer. As a Ledger fan, I consider it an accomplishment to outrun an established actor, but then he amazed everyone the same year with Ang Lee's Brokeback Mountain. The film went on to be a moderate box-office success, with critics praising its Art Direction and sets but panning it for trivial story-line.
8. The Imaginarium of Doctor Parnassus (2009)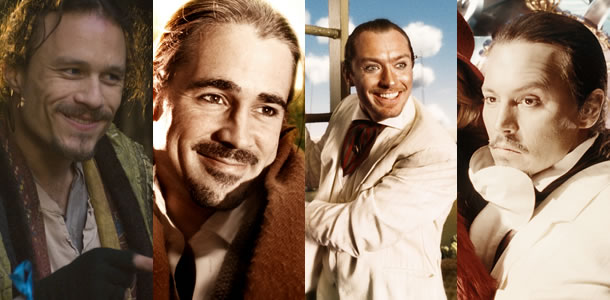 The delay and hardships in the pre-production can be exemplified with this movie. Majorly, due to the untimely death of Heath Ledger lead to its hindrance. The Imaginarium of Doctor Parnassus, follows a theatre troop (Gilliam's obsession with theatre) with his enigmatic leader. The audiences were his experiments. Johnny Depp, Colin Farrell and Jude Law were cast to portray Ledger's character in different physical form. Ensemble cast of Christopher Plummer, Andrew Garfield and Lily Cole gave a worthy performance. Critics praised the innovative imagination and dark atmosphere of the film. Gilliam's perseverance lead TIDP to two Academy nominations and box office success.
7. Fear and Loathing in Las Vegas (1998)
Terry Gilliam's "Americana Trilogy" ended with this one. Starring Johnny Drop and Benicio Del Toro, the film is about a journalist and his lawyer friend. Raoul Duke(Johnny Depp) travel to Las Vegas for a MINT400 race, with Dr. Gonzo(Del Toro) primarily as a drug trip. Terry Gilliam confessed in an interview, "I want it to be seen as one of the great movies of all time, and one of the most hated movies of all time." Nevertheless, after watching this movie, I came to know about so many drugs and their names.
Both Raoul & Gonzo strangle down in unusual and weird circumstances due to their ecstasy. On a whole, they get high, lower down only to hit a blow again. Johnny Depp and Del Toro brilliantly put their work. Director describes the life and reality of Vegas through his imagination. Furthermore, Dr. Gonzo is based on a real life character, apparently with same interests.
Read More: Nicholas Sparks Movies
6. The Adventures of Baron Munchausen (1988)
The Adventure of Baron Munchausen, is another of Terry Gilliam's ecstatic imagination. Turning a German myth into reel life. Munchausen has been the centre of tall tales among the people. The third in Gilliam's "Trilogy of Imagination", depicts the escapade of an elderly man from an autocratic society. An old man claims to be Munchausen, during a play by a theatre troop. He later gathers his remarkable associates to battle the Ottoman Turks, waging the war against the Empire. Seemingly, an adventure fantasy, it holds a brilliant message of imagination breaking free. It was a box-office flop yet has gained a cult status since 1988.
5. Time Bandits (1981)
Time Bandits is the story of a little boy's imagination, that actually turns real. The first in 'The Imagination Trilogy', is the tale of a boy untangling from his orderly parents and living. Yet another brilliant time-travel movie from Terry Gilliam. Kevin and six Dwarfs maneuver through time and space in search of riches. In this journey, Kevin undergoes an adventure worth a life time. Gilliam proves his excellence, he visualized a mature plot from a child's perspective. The ending is kept dark, refining the taste of the movie. Sean Connery, Shalley Duvall and his mate from Monty Python-John Cleese profoundly played their characters, while the Director plays with his visual effects and camera elements as always.
4. Fisher King (1991)
Terry Gilliam was considered a man of unusual fantasies and imaginative films, until Fisher King. It's a comedy-drama about Radio jockey Jack Lucas(Jeff Bridges) trying to seek redemption by building the life of a delusional man. His insensitive comments lead to mass murder-suicide, killing Parry's(Late Robin Williams) wife. An emotional story-line is brilliantly merged with Gilliam's ecstatic imagination. Inspirational in different ways, Jeff and Williams provide mature roles, yet its Mercedes Ruehl giving a moving performance. The concept of The Holy Grail is excellently utilized in the plot, through Parry's imagination. It has always been delightful to watch Late Robin Williams go, put aside, a delusional man. Significantly, Ruehl played Jack's love interest and surprisingly received Academy. Fisher King received accolades from critics and audience as well. It also marks the first installment of Gilliam's "Americana Trilogy".
3. Brazil (1985)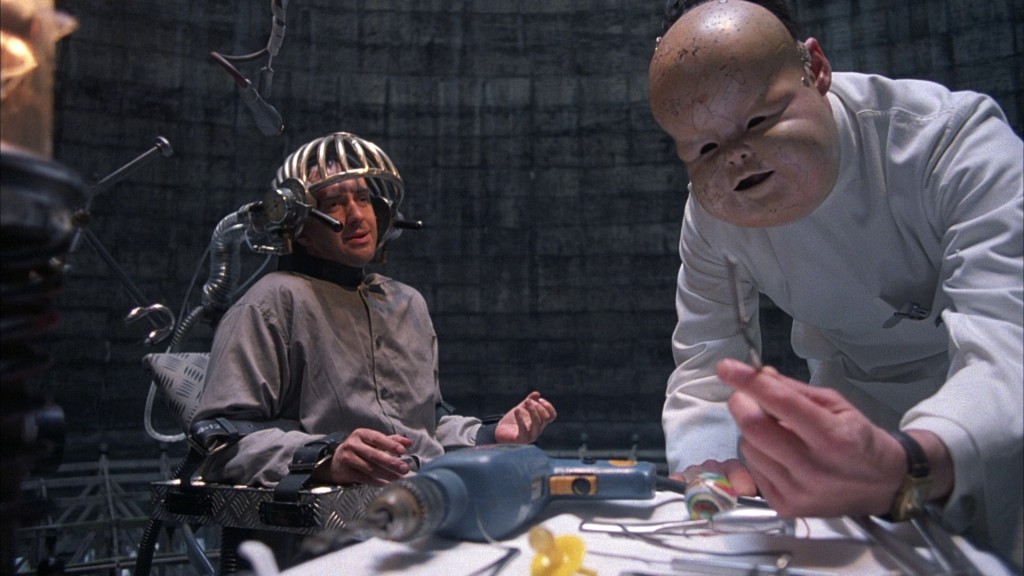 It is above Fisher King, primarily because it accidentally depicts the current real-life scenario. The second in "The Imagination Series", Brazil is pure example of Gilliam's sheer brilliance. A man in his thirties attempts to break-free of a dystopian world of totalitarian society. In this world, people are highly dependant on amusing machines.(Sounds unreal?) Loosely based on George Orwell's 1984, has veteran Jonathan Pryce giving stellar performance. A minor role is played by Robert De Niro. Critics praised the satirical theme of the film. "Satirising the bureaucratic, largely dysfunctional industrial world that had been driving Gilliam crazy all his life" said Jack Mathews. Brazil beautifully uplifted the trilogy, by highlighting the core subject: 'imagination flowing free'. To its benefit, Gilliam's work was compared to Stanley Kubrick's Dr. Strangelove, in term of its satirical theme.
2. Monty Python & The Holy Grail (1975)
One of the most revered comedy of all time, by a group of all-timers. Monty Python and The Holy Grail, is the joint venture of Terry Gilliam and Terry Jones. A slapstick parody based on the Legend of King Arthur. Watch this movie just for the comical timing. MPTHG hilariously provides every aspect of a parody as King Arthur and his knights search for the Holy Grail. Director easily makes you giggle with Police investigation in that Era. The satirical comedy hasn't lost its touch, just like the crazy shows the Monty troop has made. Total Film Magazine named it "One of the best comedy film of all time". Coincidentally, another of Monty Python's Life of Brian topped the list. Terry Gilliam's performance as Patsy revealed his acting skills. Although, released years before Jabberwocky, Gillliam's first solo, The Holy Grail became a huge critical and commercial success. Unfortunately, the hiatus dropped many of such future projects.
1. 12 Monkeys (1995)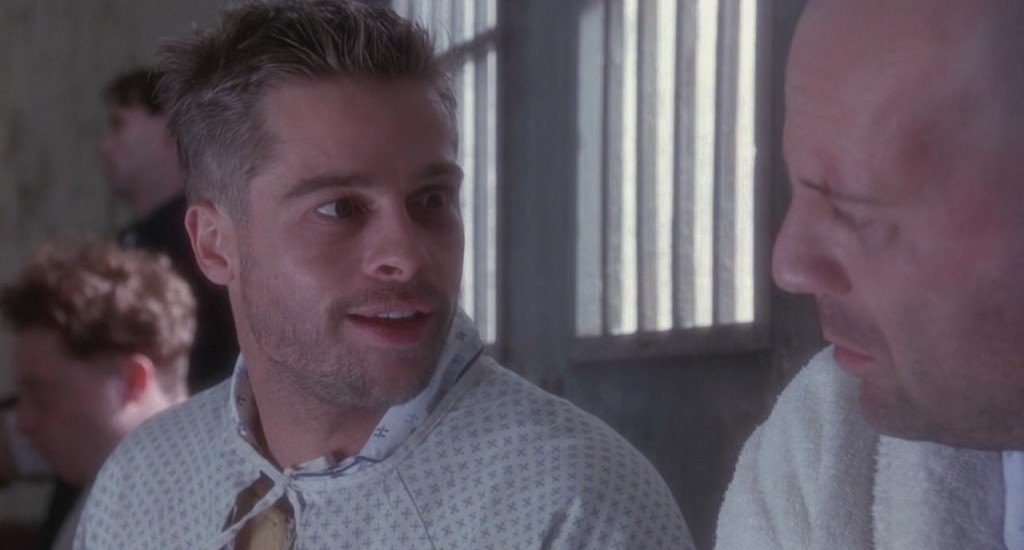 Cited as one of the best time-travel movie of all time. 12 Monkeys is set in a dystopian world, destroyed by a deadly virus. From future, James Cole (Bruce Willis) is transported into the past to investigate the apocalypse. A mesmerising cast with gripping plot, given the tense neo-noir atmosphere, makes it a great science fiction. Brad Pitt stole the show with his exceptional performance, winning a Golden Globe and Academy Nomination for Best Actor in Supporting role. However, 12 Monkeys is inspired by a 1965 french short-film La Jetée. The film has since gained a cult status among syfy movie geeks.
12 Monkeys is the highest grossing movie directed by Terry Gilliam. Acclaiming wide critical and commercial success, the movie had Bruce Willis drop his action-hero image. Director utilises 'Dutch Tilt' to create thrilling atmosphere, that goes with the theme. It is highly recommended for science fiction geeks, to watch the movie and get overwhelmed. In 2015, a TV series aired of the same name, being inspired from the movie. The show aired on NBC.
Read More: John Grisham Movies