6. Frankenweenie (2012)
A remake of Burton's own 1984 short film of the same name, 'Frankenweenie' (2012) is a 3D stop-motion-animated fantasy horror comedy re-imagination of the classic tale. Written by John August, Lenny Ripps and Burton, the 2012 film is about a boy named Victor, who upon losing his dog, a Bull Terrier named Sparky, uses the power of electricity to resurrect him only to be blackmailed by his peers into revealing how they too can reanimate their deceased past pets and other creatures, resulting in complete pandemonium. The movie is a tongue-in-cheek parody of the 1931 revolutionizing film Frankenstein. Shot as a black-and-white film, it was the first one of its kind to be released in IMAX 3D. Like all Burton creations, the film is oozing with thematic representations of death, denial, emotions and morals which are heightened by a talented voice-cast, a queer music and a visually engaging cinematograph.
5. Ed Wood (1994)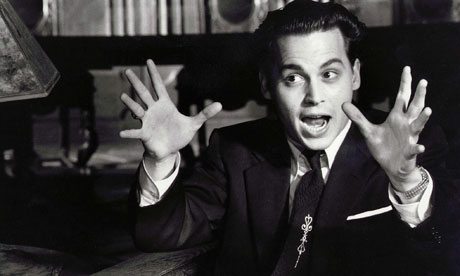 This was practically homage to b-movie legend Ed Wood. Much of Burton's style and forte of directing campy films is credited to the American filmmaker of the fifties. Starring Johnny Depp as the titular character, 'Ed Wood' is a 1994 biographical period comedy-drama film which gathered critical commendation. This was ironical, given Ed Wood's reputation as one of the worst directors of all times. Set in 1950s Hollywood, the film chronicles the director's trying to achieve his ambition and dream despite the stinging disapproval and lack of support. The film was Depp's second collaboration with Burton and gave him the chance to venture out into a different character-set and essentially build a strong foundation of friendship and trust between the two, spawning many more collaborations.
The screenplay written by Scott Alexander and Larry Karaszewski is a seamless and unspoiled tribute to a panned yet cult director. The cinematography captured the spirit of 1950s Hollywood which had a sudden thrust of multiplicity due to the introduction to television and other forms of visual entertainment. An instant classic, the film went on to win several accolades including the Academy Awards for Best Supporting Actor (Martin Landau, who played Ed Wood's love interest Bela Lugosi) and Best Makeup (Rick Baker, Ve Neill and Yolanda Toussieng).
4. Corpse Bride (2005)
A credit shared by Mike Johnson and Tim Burton, 'Corpse Bride' is a stop-motion-animated musical fantasy film set in fictionalized Victorian village. This was his first full-feature stop-motion-animated film and was successful in mastering this category of filmmaking. Based on an old Jewish folklore, Burton sketches out a story about a young man voiced by frequent collaborator Johnny Depp who unwittingly gets married to an "undead" wife who is voiced by Helena Bonham Carter. Burton quite artistically adapts the Jewish tale into a Victorian age narrative which is packed with traditional Victorian age characteristics – lack of morality, rapid industrialisation and stinking poverty.
Burton also employs his favourite tools of whimsy and macabre which acts as a visual portrait into his mind. The voiceover cast is exceptional with both Depp and Carter perfectly encapsulating the audiences' imagination with their adroit sense and command of interpreting human emotions. 'Corpse Bride' was a critic and fan favourite with the film grossing over $100 million worldwide and gathering a variety of honours including a nomination for the 78th Academy Awards for Best Animated Feature (losing out to Wallace & Gromit: The Curse of the Were-Rabbit).
3. Pee-wee's Big Adventure (1985)
The directorial debut of the queer filmmaker, 'Pee-wee's Big Adventure' (1985) served as the archetypal future Burton creations. Written and performed by Paul Reubens, the film is about an eccentric yet unripe man-child who sets out on a journey to find is adored bike. The debutant clearly established his art of filmmaking which contained bold ideas, audacious characters and ingenious storytelling. The flick managed to pull-off a strange yet faultless story which appealed to both the audiences – young and old alike. It did receive some flak though, with Chicago Tribune film critic Gene Siskel claiming it to be "one of the worst movies of 1985".
However, much of the criticism for overindulgence of slapstick comedy and immaturity are now seen as a comment on the society in the advent of the modern age. With the core plot inspired from the 1948 Italian classic 'The Bicycle Thief' and a deployment of the Paul Reubens' 'The Pee-wee Herman Show' (1981), the film's themes and narrative garnered financial success which achieved a cult status and resulted in the birth of two sequels – 'Big Top Pee-wee' (1988) and Pee-wee's Big Holiday' (2016).
2. Batman (1989)
"I was never a giant comic book fan" – is what Tim Burton said in one of his initial interviews when the world got to know that he was the new creator of the caped crusader on the big screen. Adding to this, Burton selected an actor who was primarily known to do comic roles to don the iconic character. Naturally fans were not happy. However, every cloud of doubt disappeared once it was released in theatres. Starring Michael Keaton as the World's Greatest Detective Batman; Kim Basinger as Batman's romantic interest Vicki Vale and Jack Nicholson as the arch nemesis The Joker, 'Batman' hit the right spot with both audiences and critics. The director employed dark humour, comic-book corresponding visuals and despicable villains to create an apt superhero movie.
The film is bursting with inspirations from Alan Moore and Brian Bolland's 'The Killing Joke' and Frank Miller's 'The Dark Knight Returns' and adapting 'The Red Hood ' for the origin of The Joker, which makes is so true to the roots. Nicholson's portrayal of the psychotic Joker was bang on and managed to create a fitting foe for the Dark Knight. Burton did make several changes though, changing The Joker's origin by introducing his alter-ego, a gangster named Jack Napier. The gothic music combined with a tinge of superhero inspiration by Danny Elfman elevated the film's success. The brilliant work of thoughts and ideas between the director and the screenplay writers, Sam Hamm and Warren Skaaren, produced a tremendous story and spawned a fitting sequel which is a work of brilliance in its own right.
1. Edward Scissorhands (1990)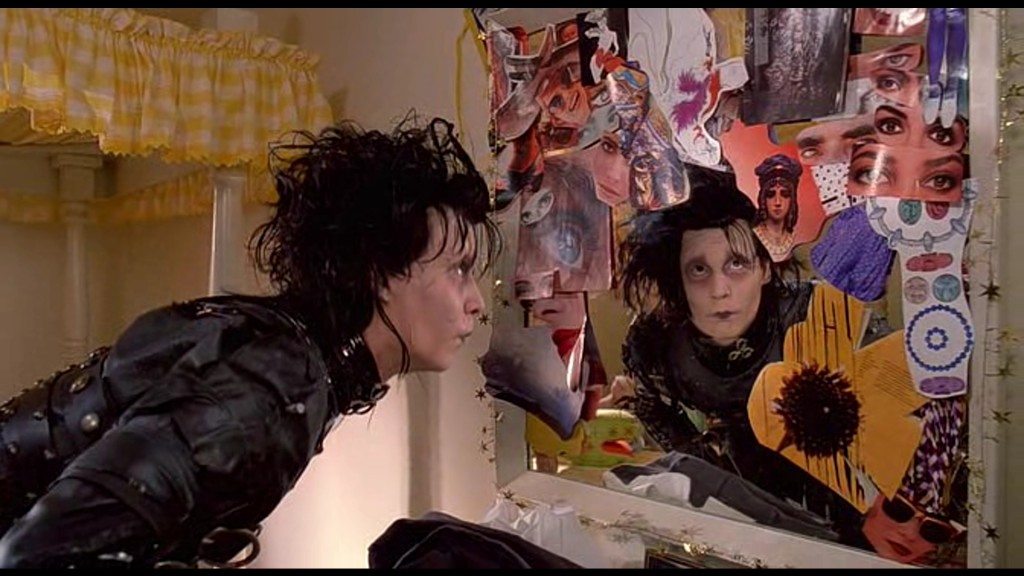 This is the director's favourite film and might be his best creation. Written, director and produced by Burton himself, it has the director's genius all over it. Releasing in 1990, 'Edward Scissorhands' was a story about an artificial man with scissor blades instead of hands who is taken in by a suburban family after living years in isolation. Caroline Thompson and Tim Burton's beautiful writing procreated a story which has an essence of emotional depth which connected to all on a transcendental level. The first collaboration between Depp and Burton, the film is a reflection of the fantasy of gothic exquisiteness. The performance by Depp was met with immense praise which built a foundation of successful future associations between the actor and director.
Read More: Batman Movies