Val Kilmer is a very talented actor who sometimes goes unnoticed because he plays a lot of supporting roles. However, his roles are often pivotal to the success of the movies and in setting up the character of the protagonist. Here is the list of top 12 movies of Val Kilmer.
12. Batman Forever
Directed by Joel Schumacher, this movie is the third installation in the Batman franchise. The plot follows Batman as he tries to stop Penguin and Riddler from controlling the minds of all residents of Gotham in an attempt to learn Batman's identity. He is assisted in his quest by Dick Grayson who'd later go on to be his sidekick Robin. Val Kilmer does an amazing job as Batman in a movie with a star-studded cast including Nicole Kidman, Tommy Lee Jones, and Jim Carrey. Kilmer's effortless acting fits perfectly into the new style and direction that the Batman movie took in order to be more family-friendly and his acting played a major part in making this film the highest grossing film in 1995.
11. Mindhunters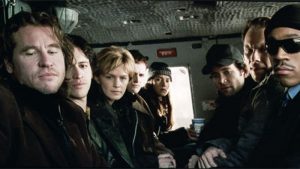 Val Kilmer plays the experienced profiler Jake Harris in this crime thriller. The plot is very similar to Agatha Christie's And Then There Were None. However, the inhabitants of the island here are all FBI profilers and one of them is a serial killer. A high-strung mystery, Kilmer's role is memorable in this taut narrative right up to the point where his experience of all the years cannot save him from the inevitable death at the hands of a killer who remains on the loose till the film's climax.
10. The Saint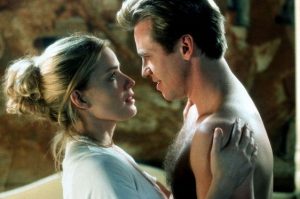 Val Kilmer plays the titular role in this crime espionage thriller. The Saint is an international thief called so because of using aliases of saints for his name. Kilmer's character gets into trouble after he steals some microchips and the film's gripping narrative shows the unfurling of events surrounding the theft. Kilmer delivers a laudable performance which matches the film's style and makes this one of the better films in his repertoire.
9. Heat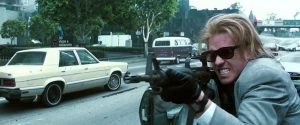 Directed by Michael Mann, this film needs no introduction. The De Niro and Pacino starring film is one of the finest cop and robber films made. Val Kilmer plays Chris Shiherlis, one of McCauley's crew members. Kilmer delivers a notable performance in a movie studded with star talent and brilliant acting. Chris becomes a plot device where the police come unbelievably close to capturing McCauley after Chris manages to get wounded and his wife gets hauled in by law enforcement. However, Chris escapes the dragnet and doesn't venture forth any information about McCauley. Kilmer's role in this movie shows how important supporting roles are in making a great film.
8. Wonderland
Directed by James Cox, this crime drama is based on the real-life murders that took place in 1981. Val Kilmer plays the character of John Holmes, the pornographic film star and the person who the police suspected as an accomplice to the act of murder. Kilmer delivers a mind-blowing performance as a cocaine-snorting pornstar with a swagger and his role alone is enough to carry forth a film that has no dearth of acting talent. Kilmer keeps up with the narrative pace of the film with his stylish acting as the famous porn star and his entangling with the law in course of the investigation propels the gripping narrative to a conclusion.
7. The Salton Sea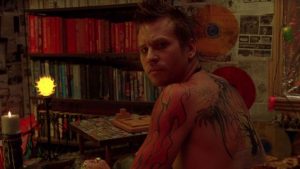 A neo-noir crime thriller directed by DJ Caruso, Val Kilmer plays the role of Danny/Tommy Van Allen. A man who sinks into a drug-fuelled life after the death of his wife. However, Danny is actually working to take down the cops who killed his wife while pretending to help the cops to take down drug dealers. A complicated plot with twists and turns Val Kilmer's acting alone carries this film to successful fruition for it all boils down to how well Kilmer's character can deceive the people around him for him to get closure.
Read More: Best Movies of Vin Diesel
6. Top Gun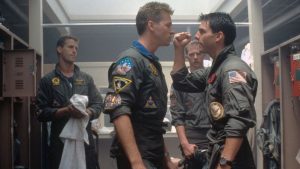 Directed by Tony Scott, this military action drama stars Tom Cruise as Maverick the protagonist of the film, a talented fighter pilot who doesn't play by the rules. Set against him is Val Kilmer who goes by the codename Iceman. Iceman and Maverick have their moments of rivalry, and Iceman shows his dislike for Maverick from the very beginning. Kilmer's acting is top notch as his arrogance and cold ruthlessness and even moments of doubt in Maverick's capacity all strive to build Maverick's character in the movie and one might say that Kilmer's character was absolutely essential in building Cruise's character in the movie.
5. The Ghost and The Darkness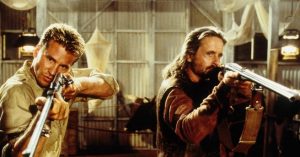 A historical adventure film based on the real-life accounts of the man-eaters in Tsavo, this film stars Val Kilmer as Patterson, the British military engineer who is sent to Africa to ensure that a railway bridge gets completed on time. However, when he arrives he faces the problem of two man-eaters terrorizing the workers. Kilmer's role as Patterson is memorable for its shining moments of humanity and the helplessness he portrays when faced with the ferociousness of nature itself. A well-told tale, Kilmer's acting only seeks to accentuate an already brilliant film.
4. Thunderheart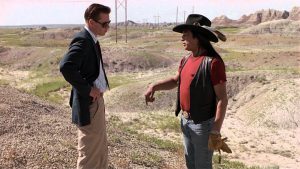 A western mystery film, the plot was loosely based on the time when a town in South Dakota was seized by Native Indians. Ray Levoi played by Val Kilmer is an FBI agent investigating a political murder on the Indian reservation. Kilmer delivers a stunning performance as a person who has to cope with diaspora being of mixed Indian heritage he finds it difficult to reconcile his own roots with his job at the FBI. A well-balanced performance makes this one of Kilmer's finest moments as an actor.
3. Kiss Kiss Bang Bang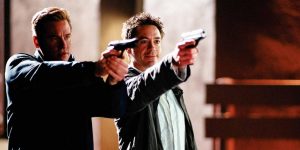 Directed by Shane Black, this neo-noir black comedy crime film stars Robert Downey Jr and Val Kilmer as Harry and Perry Van Shirke respectively. Kilmer plays to perfection a private detective who tries to do the wrong thing but the script moves forth in a manner when things go awfully wrong for both Harry and Perry and Kilmer's character's attempts to stay abreast of events going awfully wrong is a memorable performance in itself. Kiss Kiss Bang Bang is a well-scripted movie and Kilmer adds just the right flavor as the investigator.
2. Tombstone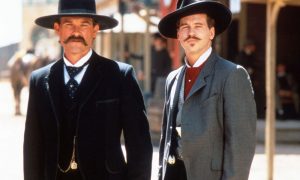 One of the finest Western films about outlaws and gunmen, surrounding the events of the OK Corral, this movie stars Val Kilmer and Kurt Russell. Kilmer plays Doc Holliday an arrogant and aristocratic man who despite his violent nature was loyal to his friends and was ultimately an honorable man. Kilmer himself considers Holliday as one of his finer roles and Kilmer really did get into character for this movie making it one of the finest movies in his career and generally making the movie as great as it is today.
1. The Doors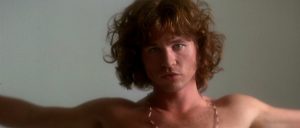 Directed by Oliver Stone this film is of course about the titular rock band and Jim Morrison is portrayed by Val Kilmer. Morrison's image as a larger than life rock star while retaining all the intellectual depth of one of the finest poets is captured excellently by Kilmer and put on screen. Kilmer also manages to portray a wide array of issues including Morrison's alcoholism, drug-induced hallucinations, and obsession with death. A larger than life character who is captured in essence by Val Kilmer makes this movie his greatest performance.
Read More: Best Movies of Tom Cruise