With foreboding music in its backdrop, 'Bloodride' begins with a "wrap around" which serves as an intro for every single episode. While the intention or the true meaning of this common thread is never revealed, what follows right after this is usually surprisingly good. Since it's an anthology series, for obvious reasons, it comes with its own share of ups and downs and some episodes completely outshine the others.
However, even as an overall horror series, 'Bloodride' manages to captivate you with its what-the-hell's-going-on suspense; though in some of its episodes it fails to bring in the type of intensity that gnaws on our nerves. To put it simply, there are moments when it completely blows you away, especially in the first few episodes, but there are also other episodes that only function as cathartic tales with expected twists and turns.
Blood Ride Plot Summary
Ultimate Sacrifice
Ultimate Sacrifice is a tale of greed that seems to be inspired by Stephen King's 'Pet Sematary.' It revolves around a family that moves from the city to the countryside only to discover that something truly sinister is going on there.
Three Sick Bothers
As the name suggests, this one is about three brothers, out of whom, one has just been released from a psychiatric hospital. But things take a grim turn when he and his brothers decide to celebrate his freedom in a secluded cabin. Nothing is as it seems.
Bad Writer
Bad Writer is, by far, one of the most twisted episodes of the series. It initially revolves around the life of a privileged young girl who has everything she needs. But then one day, her life goes spiraling down until she reaches rock bottom. With this, she begins to question her own reality and her sense of control over her life.
Lab Rats
Lab Rats is about a wealthy industrial titan who invites some guests over to his place for dinner. But when one of his guests ends up stealing his newly invented prototype, he takes drastic measures to find out who's the culprit.
Old School
Old School is somewhat of a clichèd high school horror drama that revolves around a teacher named Sana. A past tragedy of her new school begins to merge with her own reality and as she further delves into investigating what truly happened, she further finds herself buried in the dark secrets of the school.
The Elephant in the Room
The final episode is more of a slasher horror that unfolds itself like a typical murder mystery and eventually ends with a big twist. It portrays two newly appointed office employees who try to solve the mystery behind an ex-coworker's gruesome accident.
Bloodride Review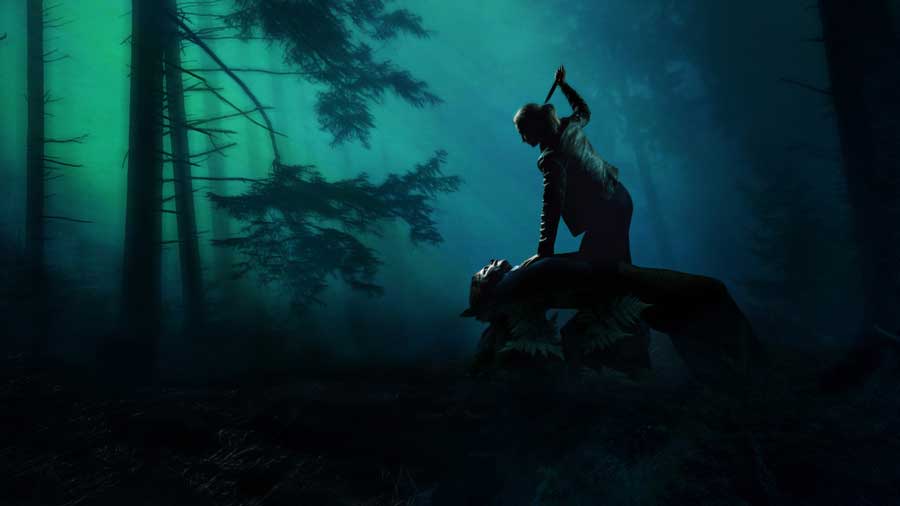 While its intro is the glue that holds all of its episodes together, there's shared aesthetics or subject matters that primarily make it a unified horror package. However, the time constraints that come with its underlying format prove to be more of a curse than a blessing. Some of its episodes, especially "ultimate sacrifice" and "bad writer", work really well with its limited runtime and manage to build the right spooky atmosphere. However, most other episodes vary in quality and offer nothing more than jumpscares and twisted conclusions. On the positive side, it never really loses vision and ensures that all of its stories remain textually rich and vividly realized.
Each of the stories presented in the series comes with a motif that adds a human element to it. And it is this element that keeps it grounded and centralized despite the varying worlds and scenarios that it presents in each. This trait can be strongly noticed in "Three Sick Brother" and "Ultimate Sacrifice", both of which use this narrative device as a replacement for character development.
At the end of the day, the beauty, yet the tragic reality of every anthology series is that at least one of its dark tales always manages to hit home for you. And when that particular perfectly constructed short leaves you with a sense of fulfillment, you can't help but expect something similar later. 'Bloodride' gives us its best right in the beginning but because of that, its second half seems to have a lacking compound compared to what came before.
Overall, like most other anthologies, 'Bloodride' is a mixed bag. Some of its episodes are conceived with broad ambition but simply bogged down by a narrow perspective, while others are executed perfectly and offer pure unadulterated horror and dark humor. On the bright side, since each of its episodes is no more than 30 minutes long, you'll never feel trapped and you can always skip ahead to its best episodes.
Rating: 3/5
Read More: Best Horror TV Shows