Bollywood has been recently picking up the pace with sequels, with films like 'Golmaal', 'Dhoom' etc. making some strides. The reason I stress of them belonging to the 21st Century is two-fold, one, the global trend which kicked off after the new millennium started, with the release of some Box Office trendsetters like the 'Jurrassic Park', 'Terminator', 'Alien' etc. to name a few, and two, the dearth of such successful, sequel-related franchises in the pre-2000 era. While the Indian movie diegetic franchises like the eight movies belonging to 'Khiladi' series starring Akshay Kumar garnered some accolades, many of the filmmakers didn't want to venture into something as risky as making a sequel back in those days.
Regardless, nowadays, most of the Bollywood movies we know do end with a sequel's possibility, irrespective of whether the movie franchise, as a whole, lives up to it. The idea of minting millions though might have come from the west, we have had umpteen examples like the 'Hera Pheri' or the 'Dhoom' or the 'Krrish' franchise which made the "franchise" wheel spinning. This list of 25 such movie franchises consists of the ones that mostly lived up to its expectations, some in terms of their popularity and a few others in terms of their storyline. Some of them may just suck altogether. Here goes the list of 25 Bollywood franchises, ranked from worst to best.
25. Murder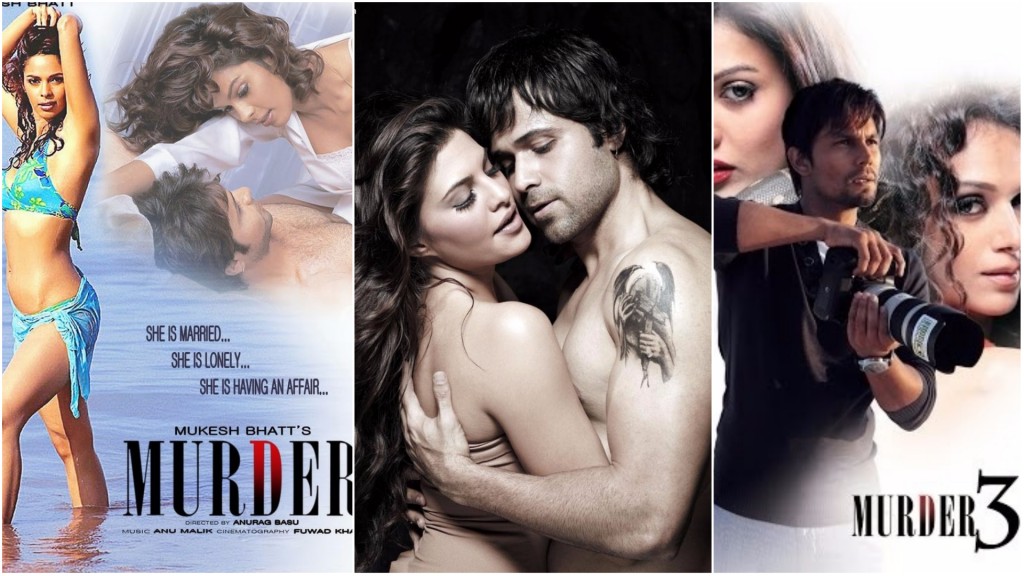 Filmography: Murder (2004), Murder 2 (2011), Murder 3 (2013)
Director: Anurag Basu; Mohit Suri; Vishesh Bhatt
Principal Cast: Emraan Hashmi, Ashmit Patel, Mallika Sherawat; Prashant Narayanan, Jacqueline Fernandez; Randeep Hooda, Aditi Rao Hydari, Sara Loren
Of the three, Murder 2 is a borderline watchable favourite of mine, all because due to the casting of Prashant Narayanan as Dheeraj Pandey. The finesse with which he pulled off his antagonistic act in a rather weak story is commendable. While Murder (2004) is crippled at best, with sexual insinuations and cringe-worthy intimate scenes, the third instalment lacks the vigour and practicality of being classified as a murder-thriller-mystery. Overall, the Murder franchise has failed to impress, except for a handful of songs and performances. While Emraan Hashmi continues to bear the brunt of the franchise's criticism, it is the undulating popularity due to its songs and the sex that takes away the prize.
24. Raaz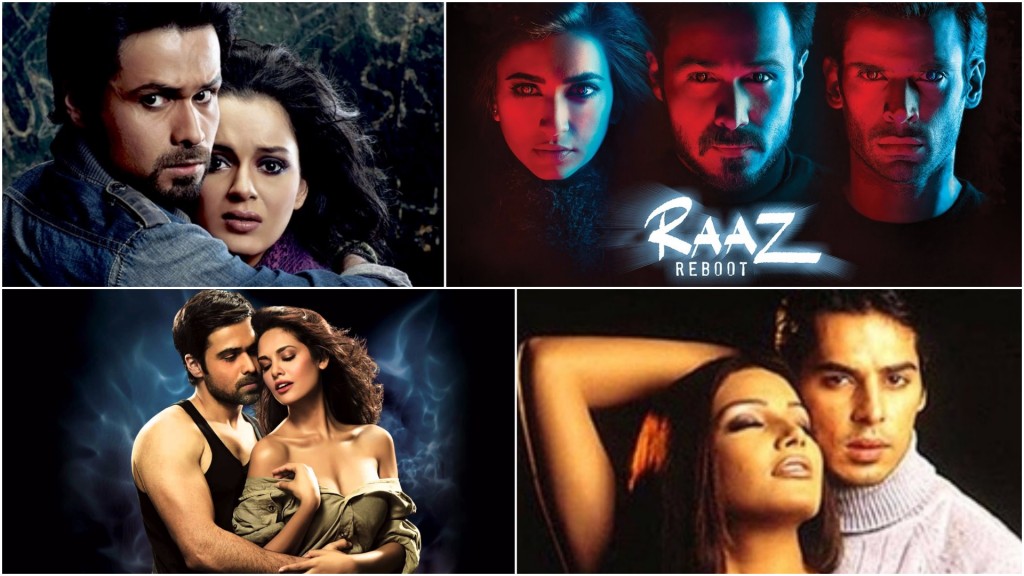 Filmography: Raaz (2002), Raaz: The Mystery Continues (2009), Raaz 3D (2012), Raaz: Reboot (2016)
Director: Vikram Bhatt; Mohit Suri
Principal Cast: Bipasha Basu, Dino Morea, Ashutosh Rana; Emraan Hashmi, Adhyayan Suman, Kangana Ranaut; Emraan Hashmi, Bipasha Basu, Esha Gupta; Gaurav Arora, Kriti Kharbanda, Emraan Hashmi
A franchise that can conveniently be called unworthy, even of a single word of praise, the 'Raaz' franchise, including and most importantly the latest instalment kind of underlines the fact that the absence of a concrete storyline leads to all sorts of misdirection and failed endeavours. Save the first part, which was just short of average, with nothing but increasingly louder acoustic effects, the plunge for the rest of the franchise is staggering. And no, the so-called "reboot" didn't help. Thanks to the franchises like 'Raaz' and 'Murder', an otherwise talented artist Emraan Hashmi has forever been stereotyped as a serial kisser.
23. Housefull
Filmography: Housefull (2010), Housefull 2 (2012), Housefull 3 (2016)
Director: Sajid Khan, Farhad Samji
Principal Cast: Akshay Kumar, Riteish Deshmukh, Boman Irani, Chunkey Pandey, Jacqueline Fernandez
A very average humour-based series featuring Akshay Kumar in the lead role for all three movies, 'Housefull' succeeded to gain all the popularity, mainly because of the few punchlines, the okayish first instalment and the catchy songs. While it has been allegedly inspired by a Tamil language film 'Kaathala Kaathala' featuring Kamal Hassan and has been marred by controversies due to the remixed versions of one of its songs, yet, Housefull never deterred its makers in pulling off three instalments, with the fourth one in making. If you haven't seen it yet, but still want to, do it only for Akshay Kumar's and Riteish's performances.
22. Side Effects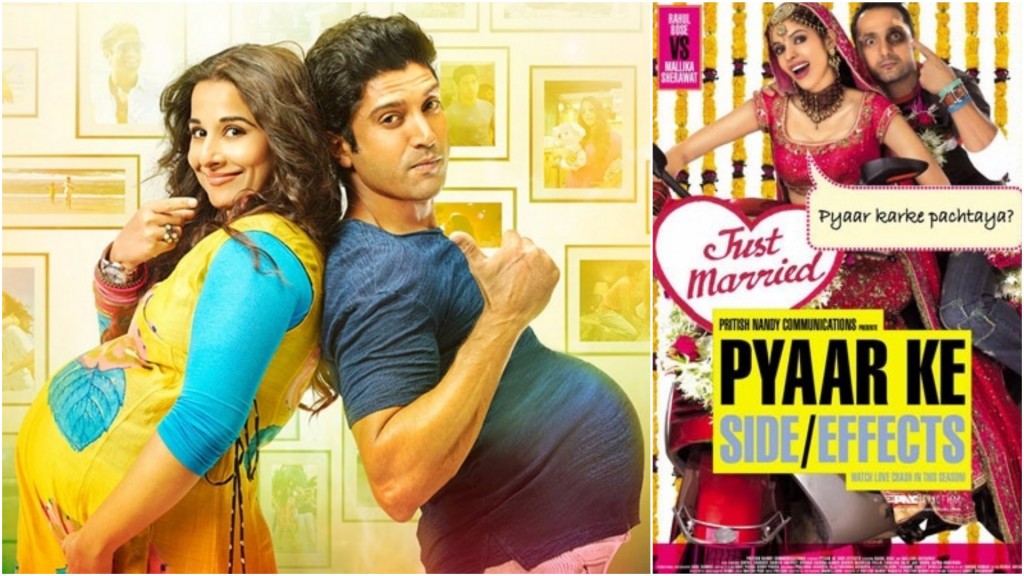 Filmography: Pyaar Ke Side Effects (2006), Shaadi Ke Side Effects (2014)
Director: Saket Chaudhary
Principal Cast: Mallika Sherawat, Rahul Bose, Ranvir Shorey; Farhan Akhtar, Vidya Balan
While the first instalment almost nearly failed to make its mark but surprisingly recovered its cost, thanks to the dearth of any other noteworthy movies during that time, the second one came out a notch better nonetheless. 'Shaadi Ke Side Effects' highlights the apparent "ills" of a marriage when a budding music composer struggling to make ends meet is on the cusp of fatherhood. It showcases the dubious identities one has within themselves, be it a man or a woman, as long as a happy "marriage" is concerned. The moment where the film ends, seeds are seemingly sown for a new chapter in this movie franchise.
21. Once Upon a Time in Mumbaai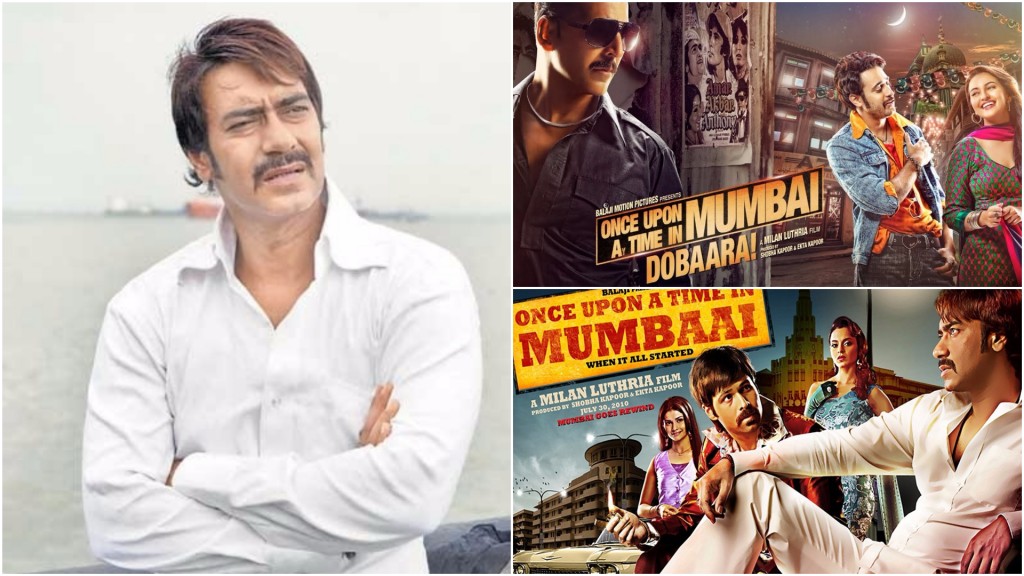 Filmography: Once Upon a Time in Mumbaai (2010), Once Upon Ay Time in Mumbaai Dobaara! (2013)
Director: Milan Luthria
Principal Cast: Ajay Devgn, Emraan Hashmi, Prachi Desai, Kangana Ranaut, Randeep Hooda; Akshay Kumar, Imran Khan, Sonakshi Sinha
I sincerely do not know what the third instalment be called if there's going to be one. 'Once Upon a Time in Mumbaai' (2010) won many accolades, for it apparently showcased the lives of real-life gangsters Haji Mastan and Dawood Ibrahim for the first time, with changed names of course. The second instalment, 'Once Upon Ay Time in Mumbaai Dobaara!' (2013) was a mere bland continuation of the empire that Sultan Mirza had left for Shoaib Khan, a role that was played by Akshay Kumar in the sequel. Realistic or otherwise, the sequel was lacking spontaneity and the penchant of its prequel. Though the replacement of Emraan Hashmi by Akshay was slightly uncalled for, the casting of Imran Khan in the movie was a total overkill.
20. Krrish
Filmography: Koi…Mil Gaya (2003), Krrish (2006), Krrish 3 (2013)
Director: Rakesh Roshan
Principal Cast: Rekha, Hrithik Roshan, Preity Zinta, Priyanka Chopra, Naseeruddin Shah, Vivek Oberoi, Kangana Ranaut
The looming question, that still looms is – Why's the third instalment called Krrish 3 and not Krrish 2 or Koi…Mil Gaya 3? 'Koi…Mil Gaya', which was almost entirely lifted from 1982 classic 'E.T. the Extra-Terrestrial', is the story of a demented grown-up boy who is sort of healed in an alien's presence. The alien, nicknamed "Jadoo" is being hunted by various law enforcement officials, just like 'E.T.'. As opposed to the common notion, the sequels have nothing to do with aliens. Nothing at all. While the quality of everything except Hrithik's performance dropped drastically, so did the storyline, without any end to the exaggerations and misappropriations, from mutant beings (yes, like X-Men) in 'Krrish 3' to a supercomputer which can foresee the future in 'Krrish' (strikingly similar to the 2003 thriller 'Paycheck', without Ben Affleck or time travel of course).
Even if we keep all the logic aside, 'Krrish 3' in particular looked more like a glorified advertisement, showcasing various brands in almost every frame of the movie, with pukish CGI and almost no coherent story. If you're gonna binge-watch the entire series anyway, look out for the performances of Hrithik, Kangana, and Vivek Oberoi. Rest of the stuff is passable. All the movies were a smash hit and extremely well-received, even if it could not stand up to be a robust franchise.
19. Shootout
Filmography: Shootout at Lokhandwala (2007), Shootout at Wadala (2013)
Director: Apoorva Lakhia; Sanjay Gupta
Principal Cast: Vivek Oberoi, Sanjay Dutt, Amitabh Bachchan, Suniel Shetty, Tusshar Kapoor, Dia Mirza, Neha Dhupia, John Abraham, Anil Kapoor, Kangana Ranaut, Sonu Sood, Manoj Bajpayee, Ronit Roy, Mahesh Manjrekar
Based on true events, 'Shootout at Lokhandwala' rose to popularity mainly due to its Mumbaiyya flavour, the performances and the massive star cast. A film that depicted Mahindra Dolas a.k.a. Maya, the second-in-command to Dawood Ibrahim and his associates being encountered at the Lokhandwala Complex in 1991. Somehow, Vivek Oberoi has been going places with the negative roles he's been portraying on-screen and 'Shootout at Lokhandwala' is a binding proof of that. Tusshar Kapoor is convincing too, by playing the dreaded gangster Dilip Buwa.
The sequel, 'Shootout at Wadala' revolves around the encounter of gangster Manya Surve, played by John Abraham. He too makes for quite a conniving and convincing gangster. The scorching chemistry between John and Kangana is to watch out for. Overall, the series depicts a plenty of gunshots, foul language, crumbling structures due to bullets, the police administration and the encounter specialists in their real selves. A good watch for action-movie buffs.
18. Dabangg
Filmography: Dabangg (2010), Dabangg 2 (2012)
Director: Abhinav Kashyap; Arbaaz Khan
Principal Cast: Salman Khan, Arbaaz Khan, Vinod Khanna, Sonakshi Sinha, Mahi Gill, Sonu Sood, Malaika Arora Khan, Prakash Raj
'Dabangg' has had a sort of cult following, with people trying to copy Inspector Chulbul Pandey's style and conscience. If you keep Salman's performance aside, or even his screen presence, there's nothing much one can salvage from the movie. It is all about Salman, his "Dabanggi" style, the spontaneity and his happy-go-lucky characterization as Chulbul Pandey. If you remove Salman from the so-called "equation", everything falls. 'Dabangg' is a real-life example of the fact that even with a shallow and weak storyline plus a bunch of average performances, the movie still could become a massive hit, all thanks to the face value and the personal branding. On a separate note, Arbaaz Khan as Makkhi isn't very bad either.
17. Dhoom
Filmography: Dhoom (2004). Dhoom 2 (2006), Dhoom 3 (2013)
Director: Sanjay Gadhvi; Vijay Krishna Acharya
Principal Cast: Abhishek Bachchan, Uday Chopra, John Abraham; Hrithik Roshan, Aishwarya Rai Bachchan, Bipasha Basu; Aamir Khan, Katrina Kaif
I agree to the fact that 'Dhoom' (2004) made speed-bikes and stunts utterly ubiquitous in the country, along with soaring the popularity of John Abraham, the antagonist in the first movie. Story-wise, it looked like a cheap rip-off from any Hollywood movie of the likes of 'The Fast and the Furious', albeit on a bike instead of a car. Abhishek Bachchan as Jai and Uday Chopra as Ali lacked any sort of depth in terms of their character portrayals throughout the series, without any exceptions.
Moreover, the movie franchise relied mainly on the antagonist, thus sidelining the good guys. 'Dhoom 2' (2006) was a notch better in terms of its heist techniques and also due to the controversial sizzle between Hrithik and Aishwarya. 'Dhoom 3' (2013) must be only watched for Aamir Khan's performance, whereas in terms of its story, it is the most flawed of all three. Regardless, the Dhoom franchise has been immensely popular among the millennials and Generation X due to the obvious reasons – speed, restlessness and empathy for the bad guy. Watch it at your own risk, if you haven't yet.
16. Bheja Fry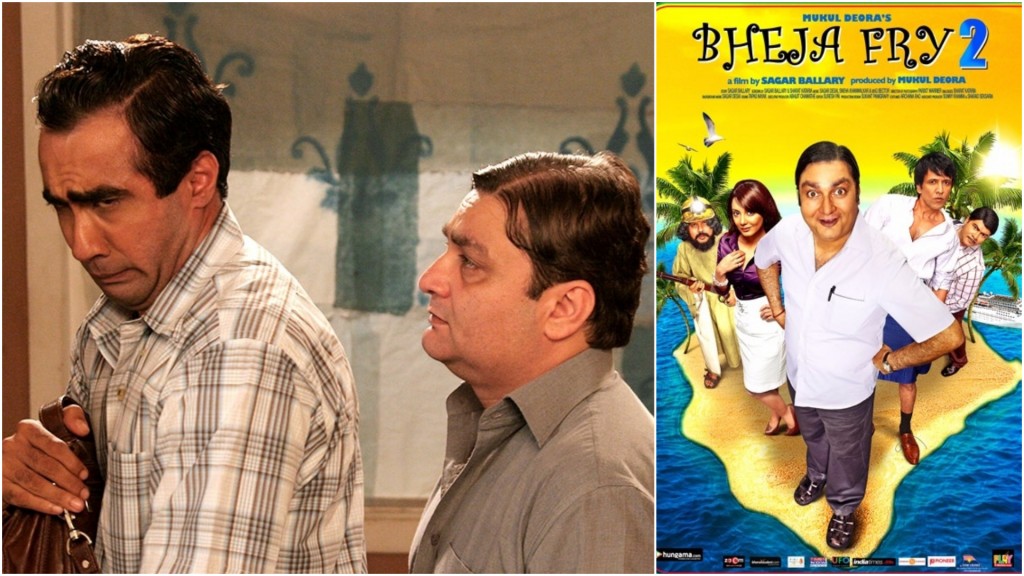 Filmography: Bheja Fry (2007), Bheja Fry 2 (2011)
Director: Sagar Ballary
Principal Cast: Vinay Pathak, Rajat Kapoor, Sarika, Ranvir Shorey; Kay Kay Menon, Minissha Lamba
Another classic and known for his slapstick comedy of errors, Vinay Pathak as Bharat Bhushan aces in this film series, possibly going to be a trilogy. 'Bheja Fry' is the story of a music producer Ranjeet Thadani (Rajat Kapoor) who likes making fun of random people on Fridays, along with his friends. He ends up having Bharat Bhushan as his guest on one of the fateful Fridays, along with a sprained back. Tables turn and Bharat Bhushan tries to give Ranjit a taste of his own medicine. What is more watchable in 'Bheja Fry' is the act between Ranvir Shorey and Bharat Bhushan, which I think is the best part of the film.
The sequel, though not as outstanding as its predecessor, was able to garner mixed responses, though on any given day, 'Bheja Fry' is a hundred notches better than 'Bheja Fry 2'. A humorous and satisfactory watch, this movie series is bound to leave you in splits.
15. Malamaal
Filmography: Malamaal Weekly (2006), Kamaal Dhamaal Malamaal (2012)
Director: Priyadarshan
Principal Cast: Paresh Rawal, Om Puri, Asrani, Riteish Deshmukh, Reema Sen, Rajpal Yadav, Sudha Chandran, Arbaaz Khan, Shakti Kapoor; Nana Patekar, Shreyas Talpade, Madhurima
The sequel might have been forgotten, but the original one ends up staying with us. 'Malamaal Weekly', upon its release in 2006, garnered a whopping 500% return over its original budget, a big number for a movie made with a meagre budget of US $900k. Comprising of a simple story (although the originality is disputed) set in a village called Laholi, where Leela is a lottery ticket seller, who incidentally sells a bumper prize ticket of Rs. 1 crore (~US $160k) to a drunkard, the latter is found dead in his house. The whole story revolves around Leela and Ballu dodging questions and contemplating an equal distribution of the prize money among the perpetrators. Paresh Rawal, Om Puri and Asrani give one of their career-best performances ever. For those who love brainless comedies, this one's for you.
14. Welcome
Filmography: Welcome (2007), Welcome Back (2015)
Director: Anees Bazmee
Principal Cast: Nana Patekar, Anil Kapoor, Paresh Rawal, Akshay Kumar, Katrina Kaif, Feroz Khan; Shruti Hassan, John Abraham, Dimple Kapadia, Naseeruddin Shah, Shiney Ahuja
'Welcome'(2007) was probably one of the best comedy films of its decade, without any sleazy lines or sexual references. Even with a smaller cast compared to its successor, 'Welcome' turned out to be a nicely executed screenplay with brilliant comic timings and performances. The music was another highlight, with some very catchy songs that stayed for a while. The story of two gangsters in Dubai who plan to wed their only sister to a person with a clean image (Akshay Kumar in this case), things don't go as planned and hence the humour. 'Welcome Back' however, lacked the charm of its predecessor, even with a huge pool of talented actors and hence failed to make its mark, At best, it ended up putting down its prequel too. Nevertheless, the 'Welcome' franchise is a breath of fresh air compared to its explicitly ridiculous counterparts. In the end, 'Welcome' turns to become all about Nana Patekar and Anil Kapoor.
13. Don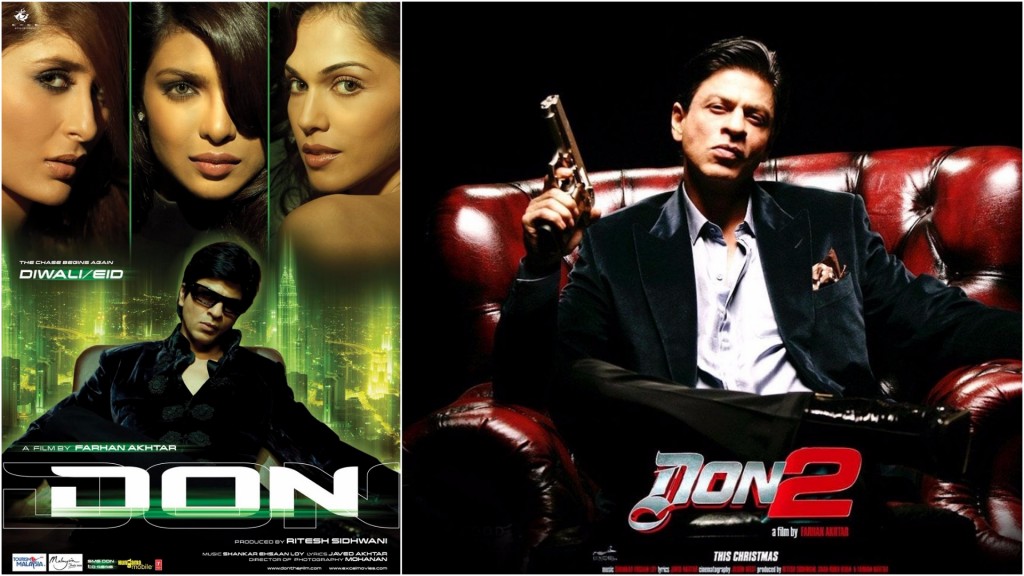 Filmography: Don (2006), Don 2 (2011)
Director: Farhan Akhtar
Principal Cast: Shahrukh Khan, Priyanka Chopra, Boman Irani, Om Puri, Arjun Rampal, Isha Koppikar, Lara Dutta, Kunal Kapoor
A remake of the blockbuster 1978 movie bearing the same name, 'Don' is the story of a gangster who is wanted by the police of 11 countries. While the first instalment has almost a similar story as that of the original movie, except for a shocking twist in the end, the sequel is the story of a bank heist that Don pulls off successfully. Two reasons to watch both the films, one, the flamboyance and the glamour quotient it has and two, the visuals and action sequences. Also, Shahrukh Khan delivers one of his career-best as Don and it pretty much identifies with his persona. Also, watch out for Kareena Kapoor in "Yeh Mera Dil…", she's mindblowing.
12. Pyaar Ka Punchnama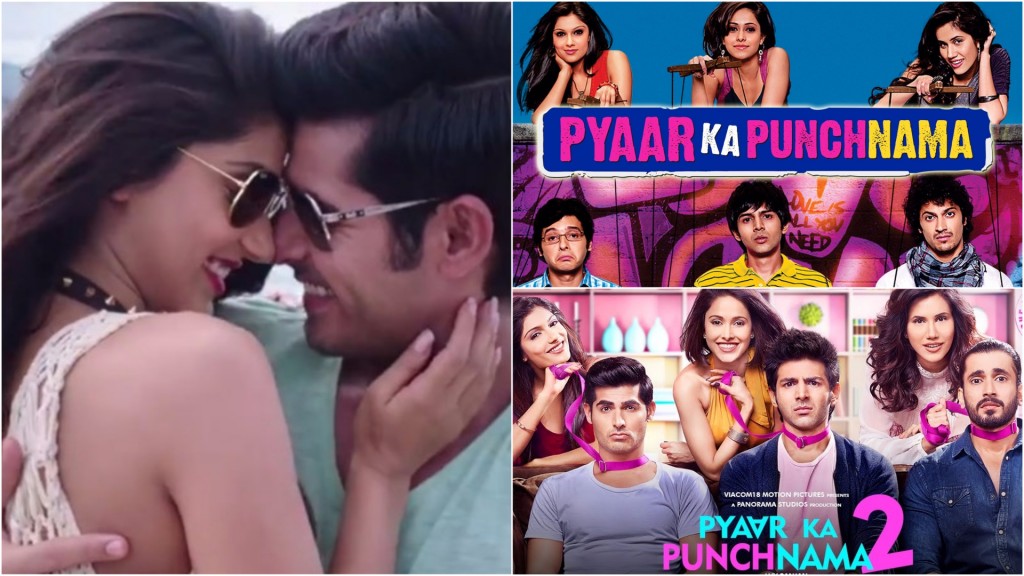 Filmography: Pyaar Ka Punchnama (2011), Pyaar Ka Punchnama 2 (2015)
Director: Luv Ranjan
Principal Cast: Kartik Aaryan, Divyendu Sharma, Raayo, Nushrat Bharucha, Sonnalli Sehgal, Ishita Raj Sharma; Omkar Kapoor, Sunny Singh
Three bachelors, who fall for three different women are left in disdain when they find out their hearts have been stomped mercilessly. While the women they fell for move forward in their lives with different men altogether, the men are just happy for having each other in the end. And also their moms. A movie series with a difference, though Pyaar Ka Punchnama brings in some sort of vigour, there's a misogynistic imbue surrounding it. Yet, storywise, it is all laughter and jokes till the end. A light-hearted watch, which many would relate themselves with, if not everyone.
11. Singham
Filmography: Singham (2011), Singham Returns (2014)
Director: Rohit Shetty
Principal Cast: Ajay Devgn, Kajal Aggarwal, Prakash Raj, Sachin Khedekar; Anupam Kher, Kareena Kapoor Khan, Amol Gupte, Pankaj Tripathi
A remake of the Tamil-language blockbuster film series, 'Singham' was remade with some minor tweaks. While the comic timings seemed better, the cast could've been even better. 'Singham' a.k.a. Bajirao Singham is the protagonist, a no-nonsense police officer who is put up against a local politician and extortionist Jaykant Shikre. The verbal duel between Ajay Devgn and Prakash Raj simply falls into place, with some quirky heated exchanges and stupendous delivery. A movie that became synonymous with many punchlines like 'Aata Maajhi Satakli' and 'Abhi ke abhi…', Singham impresses on mostly all fronts – action, comedy and romance. 'Singham Returns' too followed suit and turned out to be a 360º entertainer. Rohit Shetty's direction has been known for a lot of toppling vehicles, kickass action scenes and witty dialogues, which gets full marks with 'Singam'.
10. Ishqiya
Filmography: Ishqiya (2010), Dedh Ishqiya (2014)
Director: Abhishek Chaubey
Principal Cast: Naseeruddin Shah, Vidya Balan, Arshad Warsi; Madhuri Dixit, Huma Qureshi
The genius behind movies like 'Makdee', 'Maqbool', 'Omkara', 'Kaminey', etc., 'Ishqiya' was conceptualized and directed by Abhishek Chaubey. A dark comedy, reliant on the punchlines premised on sadistic things, 'Ishqiya' revolves around a woman Krishna and two criminals – Babban and Khaalujan, who seek asylum at her house in Gorakhpur, UP. Krishna's husband, who stages his own death meets his deserved fate at the end of the movie, while Babban and Khaalujan fall for the promiscuous Krishna. 'Dedh Ishqiya', a purportedly superior movie than its predecessor, ups the game by adding two female protagonists opposite both the male leads. One of the finest examples of an improvised sequel, 'Dedh Ishqiya' is rightly paced, more humorous, has better dialogues and overall plot. Overall, 'Ishqiya' is a milestone which is yet to be touched upon by many.
9. Gangaajal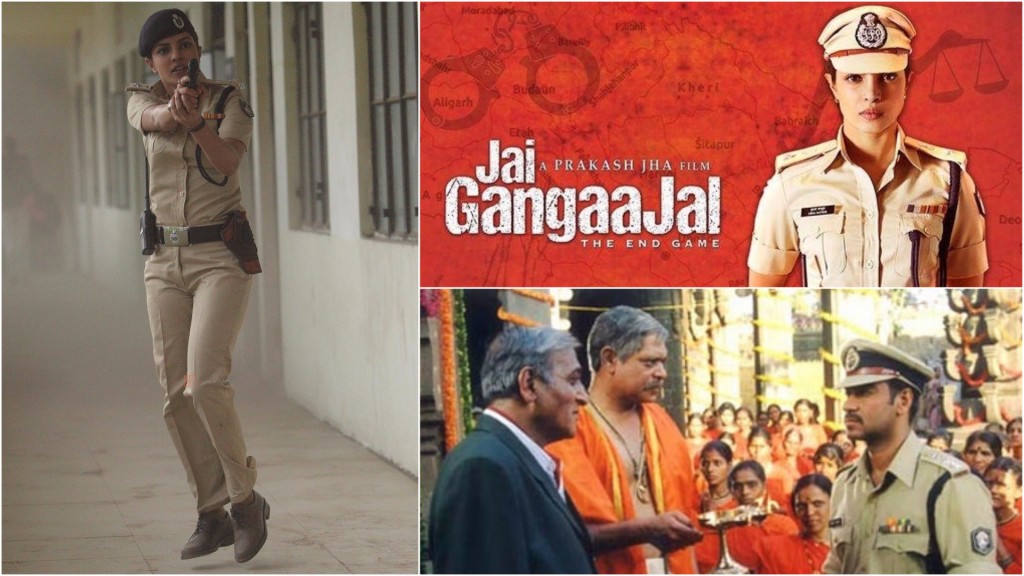 Filmography: Gangaajal (2003), Jai Gangaajal (2016)
Director: Prakash Jha
Principal Cast: Ajay Devgn, Mukesh Tiwari, Gracy Singh, Mohan Agashe, Akhilendra Mishra, Daya Shankar Pandey, Mohan Joshi; Priyanka Chopra, Prakash Jha, Murli Sharma, Manav Kaul, Ninad Kamat
'Gangaajal' is a landmark and an undying gem among the movies made on Bihar's politics. It revolves around a newly appointed SP Amit Kumar of make-believe Tezpur district, which is infamous for the crime syndicates led by Sadhu Yadav, his cohorts, and almost the entire police department, including Amit's superiors at the IG level. The entire story is Amit's ordeal to cleanse the plagued department and also neuter the crime, one at a time. Hence the name, Gangaajal – "Sab pavitra kar denge".
The sequel too was not unpredictable, with PC taking the lead playing the SP Abha Mathur of Bankipur district. She goes full throttle against the two brothers responsible for all the ruckus and oppression in the city. She battles corruption within, the riots and tortures and the killings. In the end, everything's settled, albeit at a great cost. The highlight of the series isn't just the performances but also is the direction and the dialogues. Atleast watch it for Ajay Devgn's gait. And also Prakash Jha's performance.
8. Sarkar
Filmography: Sarkar (2005), Sarkar Raj (2008), Sarkar 3 (2017)
Director: Ram Gopal Varma
Principal Cast: Amitabh Bachchan, Supriya Pathak, Abhishek Bachchan, Tanisha, Ravi Kale, Kay Kay Menon, Aishwarya Rai Bachchan, Yami Gautam, Jackie Shroff, Manoj Bajpayee
A political suspense series, Sarkar is the story of Subhash Nagre a.k.a. Sarkar who is approached by commoners and his followers for his out of the box form of rough justice, different from the government, but just like a government. He is purported to be a wise, just and sensible man with an outlook for truth and justice, as opposed to the commonly perceived notion by his opponents. As usual, his opponents plot against him, which includes his own son Vishnu. Towards the end of 'Sarkar', Shankar apparently rolls up his sleeves to take Sarkar's onus upon himself. The sequels portray a tragic demise of Shankar and Subhash Nagre has to spring back to action, against the perpetrators of his son. In a very concise, dark and thrilling manner, all the characters are portrayed with a darker, self-centred side except for Subhash Nagre and few others. The movie series without a single mainstream song, 'Sarkar' became an overnight success, owing to the character depth and daunting antagonists. I'd not vouch for a Sarkar 4 though.
7. Kahaani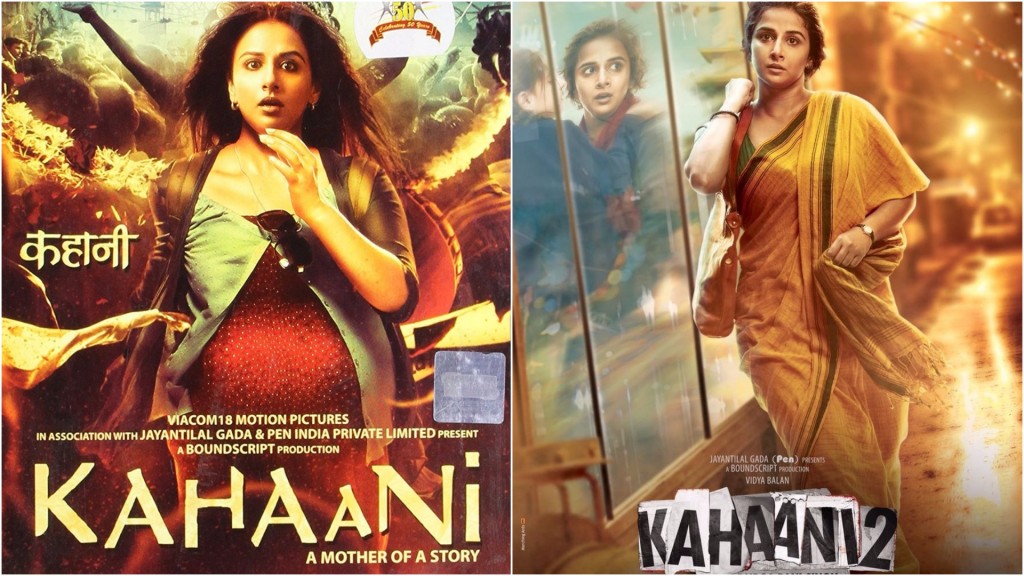 Filmography: Kahaani (2012), Kahaani 2: Durga Rani Singh (2016)
Director: Sujoy Ghosh
Principal Cast: Vidya Balan, Parambrata Chatterjee, Nawazuddin Siddiqui, Indraneil Sengupta; Arjun Rampal, Tunisha Sharma, Jugal Hansraj
The masterpiece that broke all glass ceilings, 'Kahaani' is the story of a widowed woman Vidya Bagchi, who fights social stigma on the path of finding the killers of her husband, along with becoming one of the finest assassins out there. Her methods of deception, along with the overall characterization is scintillating. As a story, 'Kahaani' follows a watertight screenplay and an edge-of-the-seat thrill and suspense that you can't miss. 'Kahaani 2' is the story of Durga Rani Singh, who plays a foster mother to an estranged child Minnie and the entire plot surrounds them moving from one place to another in search of an asylum. Unequivocally, Vidya Balan is the best choice for playing Vidya Bagchi and Durga Rani Singh, and due credit must also be given to the crew with some amazing cinematography and direction. Kahaani is a fitting tribute to the timeless Academy Award Winner Satyajit Ray.
6. Golmaal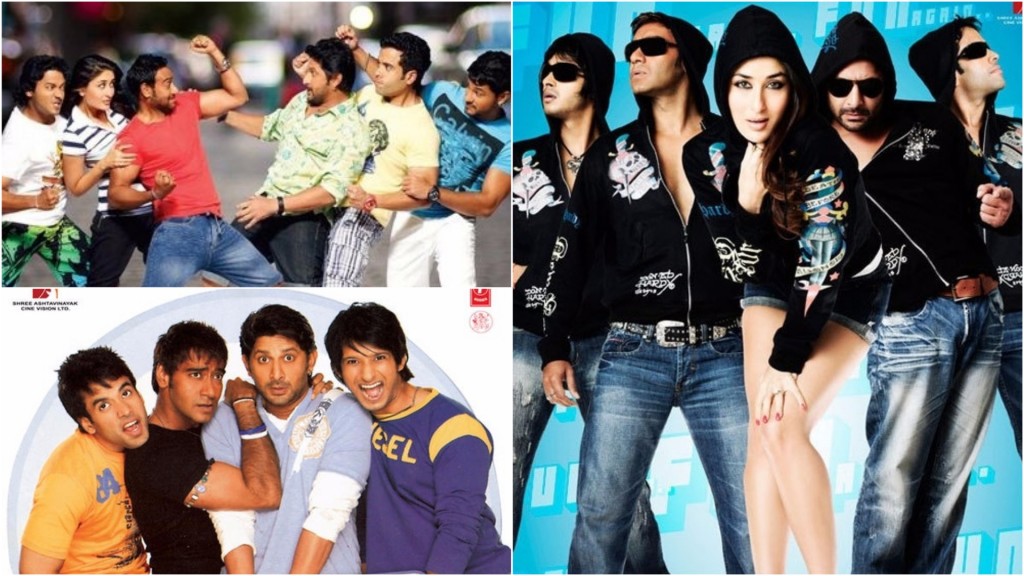 Filmography: Golmaal: Fun Unlimited (2006), Golmaal Returns (2008), Golmaal 3 (2010)
Director: Rohit Shetty
Principal Cast: Ajay Devgn, Tusshar Kapoor, Arshad Warsi, Sharman Joshi, Shreyas Talpade, Mukesh Tiwari, Rimi Sen, Kareena Kapoor, Amrita Arora, Anjana Sukhani, Celina Jaitley, Mithun Chakraborty, Ratna Pathak Shah, Johny Lever, Sanjay Mishra, Vrajesh Hirjee
A whacky comedy for a start, Golmaal is perhaps the most successful and immensely popular non-adult movie franchise on this list. A full-fledged wholesome entertainer, 'Golmaal: Fun Unlimited' features three friends and their quest to find a treasure while hiding inside a blind couple's bungalow and falling for a neighbour girl. Of the three movies, the laughter quotient raises with each one and the redundancies eliminate, thus making it more fun per movie moment. A must watch, at least for Tusshar Kapoor for playing a mute, for Ajay Devgn, for Mukesh Tiwari's perfection as Vasooli Bhai and for Mithunda's best comic performance of the decade. And while we're at it, the trailer for the fourth movie in the set looks promising too. Watch it here.
5. Jolly LLB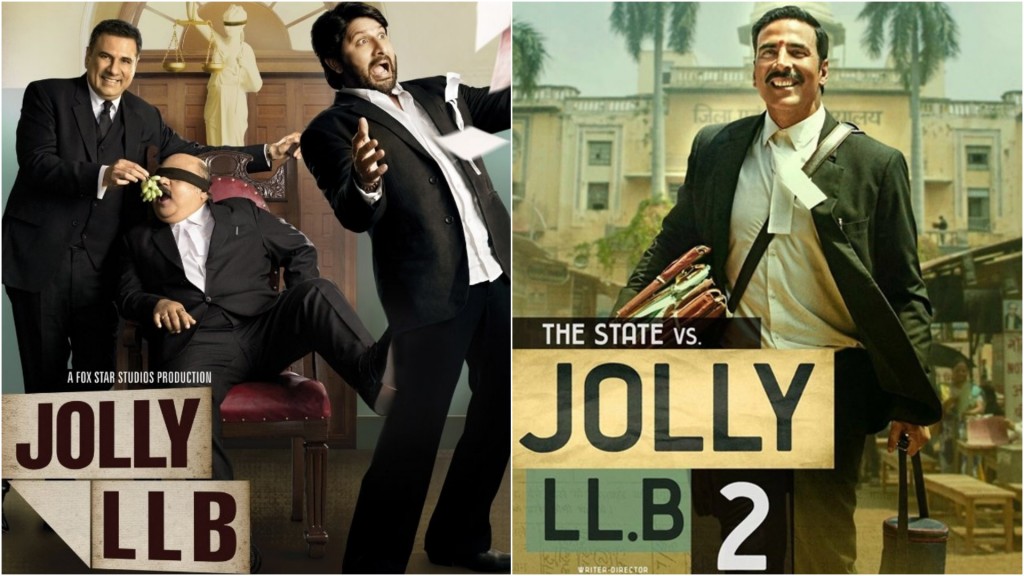 Filmography: Jolly LLB (2013), Jolly LLB 2 (2017)
Director: Subhash Kapoor
Principal Cast: Arshad Warsi, Boman Irani, Saurabh Shukla, Amrita Rao; Akshay Kumar, Annu Kapoor, Huma Qureshi
One of the best courtroom dramas Bollywood has had in its kitty, 'Jolly LLB' broke all stereotypes and went on to win the National Film Award for Best Feature Film in Hindi. Also, Saurabh Shukla as Justice Sunderlal Tripathi bagged his first National Film Award for Best Actor in a Supporting Role. Though popularity-wise the film couldn't gain much initially, word-of-mouth publicity and outstanding performances won hearts across the nation. 'Jolly LLB 2' too did well, whilst trying to capitalize on its predecessor's success. Akshay Kumar aced in his performance and so did Annu Kapoor. Hopefully, Arshad will reprise his role as Jolly LLB in the forthcoming sequels.
4. Tanu Weds Manu
Filmography: Tanu Weds Manu (2011), Tanu Weds Manu Returns (2015)
Director: Aanand L. Rai
Principal Cast: R. Madhavan, Kangana Ranaut, Deepak Dobriyal, Jimmy Shergill, Swara Bhaskar, Eijaz Khan
A movie that's known for its stellar performances and an impeccable story, 'Tanu Weds Manu' was a pathbreaker of the Indian Cinema upon its release. Comprising of a typical UP setup, Tanuja meets Manu for a matchmaking, during one of the former's friend's marriage, wherein Manu is also a guest. A story of falling in love and marrying each other is followed by the usual differences of a married couple in the ensuing sequel. Deepak Dobriyal as Pappi has to be one of the most amazing Bollywood comic characters of the entire century, and no one could've done Pappi's role any better. A movie series that became worthy of three national awards, especially the National Film Award for Best Actress to Kangana for portraying a dual role – Tanuja Trivedi and Kusum Sangwan for the sequel and one of the highest grossing movie series released in India, 'Tanu Weds Manu' shouldn't be missed.
3. Hera Pheri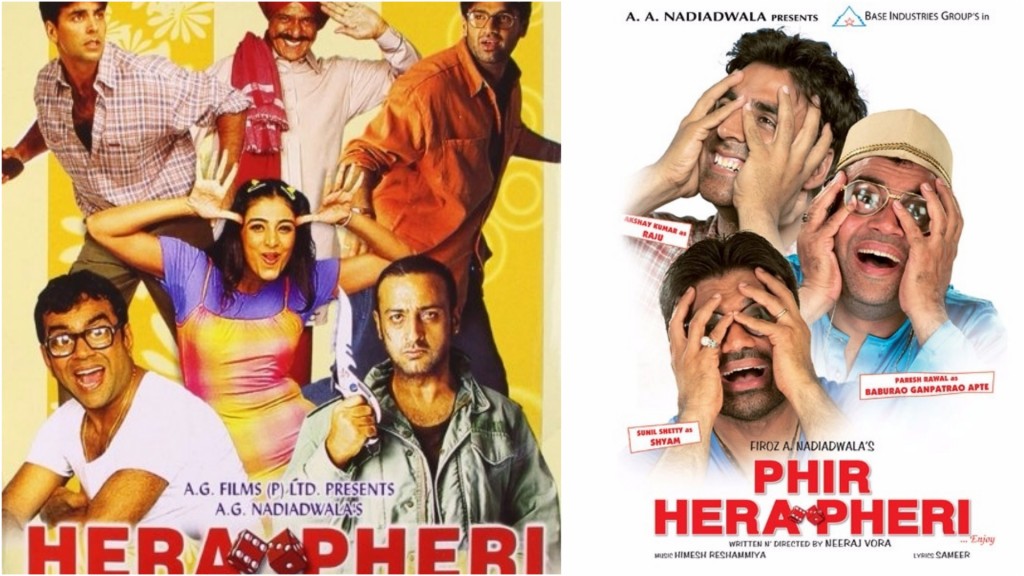 Filmography: Hera Pheri (2000), Phir Hera Pheri (2006)
Director: Priyadarshan; Neeraj Vora
Principal Cast: Akshay Kumar, Suneil Shetty, Paresh Rawal; Tabu, Gulshan Grover, Bipasha Basu, Om Puri, Asrani, Rimi Sen, Rajpal Yadav, Johny Lever, Kulbhushan Kharbanda
We all know this magnum opus of rib-tickling humour and the perfectly timed punchlines of Baburao Ganpatrao Apte. Suneil Shetty and Akshay Kumar complete the circle and the trio has succeeded in winning hearts and garnering box office collections. 'Hera Pheri' is definitely one of the greatest Bollywood films of all time and certainly the best among the humorous ones ever made. Though not a hit from its initial BO collections, it was declared a hit later on, based on the satellite rights and viewership. 'Phir Hera Pheri' too managed to ring many bells and became immensely popular, by building upon its predecessor, after many additions to its existing cast and a complicated plot, with a cliffhanger in the end. Sure, the third instalment is under production and we're all raring for it, yet, it would be impossible for any movie to recreate the charm and the simplicity the original 'Hera Pheri' had.
2. Munna Bhai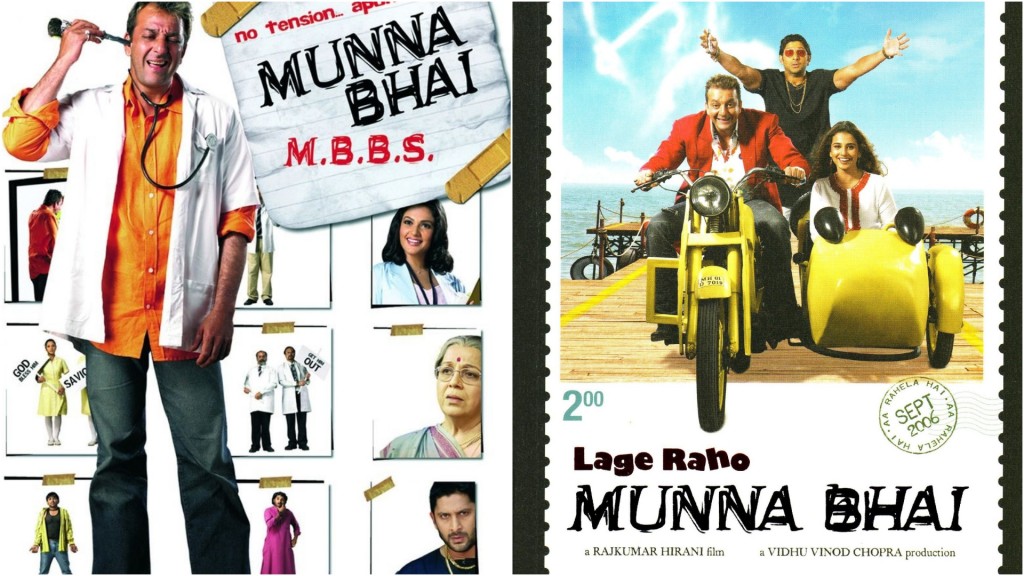 Filmography: Munna Bhai M.B.B.S. (2003), Lage Raho Munna Bhai (2006)
Director: Rajkumar Hirani
Principal Cast: Sanjay Dutt, Arshad Warsi, Gracy Singh, Boman Irani, Sunil Dutt, Jimmy Shergill; Vidya Balan, Dilip Prabhavalkar
Any list of great Indian movie franchises would be incomplete without 'Munna Bhai' in its mentions. Munna Bhai and Circuit became synonymous with the Bert and Ernie of Bollywood. The mutual situational comedy and the vagaries they use in their conversations is both catchy and tickling. While the first instalment 'Munna Bhai M.B.B.S.' revolves around a "bhai" who wants to be a doctor at any cost, to emerge truthful to his parents and marry his childhood friend, 'Lage Raho Munna Bhai' is about wooing a girl and her father and his senior companions by the means of "Gandhigiri" and getting their house back from a tyrannical landlord. A roller-coaster ride of fun and emotions altogether, Munna Bhai strides higher and higher with every frame.
1. Gangs of Wasseypur
Filmography: Gangs of Wasseypur – Part I (2012), Gangs of Wasseypur – Part II (2012)
Director: Anurag Kashyap
Principal Cast: Manoj Bajpayee, Nawazuddin Siddiqui, Tigmanshu Dhulia, Richa Chaddha, Huma Qureshi, Piyush Mishra, Pankaj Tripathi, Reema Sen, Zeishan Quadri
And finally, a movie that should never be described in words rather should be seen and imbibed, 'Gangs of Wasseypur', in my opinion, should be included among the greatest Movies of this millennium. A movie series that got praise from Nolan himself, who apparently described Kashyap as the Tarantino of India, which is clearly evident from this magnum opus cult film, GoW soared so high, in every department, that cannot be easily matched or surpassed by any movie ever, in its genre or regionality. Take any department, the performances, direction, screenplay, music (OMG, the music!), cinematography, action, you just can't find a match, if not a replacement. Every actor fits right in, like a jigsaw puzzle. Anyone's free to try and surpass the zenith this film has achieved, but get this before you start trying – "Beta…tumse naa ho payega!".
Read More: Best Bollywood Action Movies