What is better than one? Two, of course! And that is exactly what movie makers in India have cashed in on in all these years! Be it a movie in the comedy genre or be it drama, making a lead actor or actress play the double role ups the film's entertainment quotient and that is one of the reasons why there have been more than a dozen films with the lead in a double role.
Right from Dilip Kumar, who played twin brothers back in 1967 or Hema Malini, who tried her hand at the subject, there have been several films with A-listers playing twin brothers/sisters or exact lookalikes and have managed to leave their mark. Here's the list of best Hindi movies with double roles that have entertained us thoroughly.
16. Aurangzeb (2013)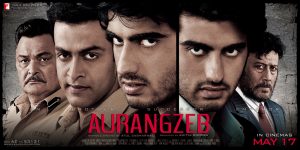 This was the film Arjun Kapoor was meant to step into stardom with but technical halts led 'Ishaqzaade' do the needful! 'Aurangzeb', which was a crime thriller, starring stalwarts in supporting characters, saw Arjun in a double role, but the film failed to make enough noise at the box office. Arjun tested the genre again with the 2017 film Mubarakan, alongside his uncle Anil Kapoor, but the comic caper, too, turned turtle. Guess the audiences cannot handle two Arjuns at one time!
15. Gopi Kishan (1994)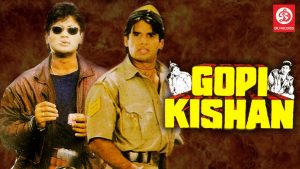 A clear case of mistaken identities, the film, written by Anees Bazmee starred Suniel Shetty in double roles. He played a cop Gopi, not one criminal is scared of and was also seen as a toughie Kishan, who seeks vengeance against his own father for abandoning his mom. None had ever seen Shetty Anna in a funny character like Gopi's before, going by his macho image and his action avatar; and it was one good performance from the star. At a time when relatively new actors wanted to play eligible bachelors on the screen, Shetty not only played a married man but also played a father!
14. Rowdy Rathore (2012)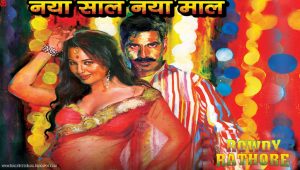 This film starring Akshay Kumar in a double role was an official remake of Ravi Teja's Telugu movie 'Vikramarkudu' and 'Rowdy Rathore' did manage to garner all the attention and praises like its original counterpart. The Prabhudheva directed Hindi drama-comedy narrated the story of an upright police officer, who is killed by a local goon and is later replaced by his lookalike to finish off his incomplete job. The full on masala movie is greatly remembered for Akshay's heavy one-liners and his return to the action genre.
13. Dhoom 3 (2013)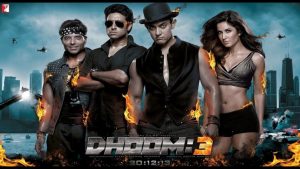 Aamir Khan was never seen in a double role in his movies until 'Dhoom 3' came along. He convincingly played twin brothers Sahir and Samar, who, in a bid to avenge the tragic death of their father, rob the banks the senior was denied loan from. Aamir played the mastermind as well as the autistic brother and both his performances were greatly lauded. The film also went on to shatter many box office records but the only problem with the movie was its over-the-top action choreography and some serious goofs that didn't go down well with the fans of the franchise.
12. Kaho Naa… Pyaar Hai (2000)
The light-eyed Bollywood demi-god Hrithik Roshan began his career with 'Kaho Naa… Pyaar Hai' in the year 2000 and appeared in a double role in his first film itself. His father Rakesh Roshan made sure his son's launch vehicle was a huge success, which was a perfect mix of drama, romance, comedy and tragedy all rolled into one. The blockbuster had a superlative performance by Hrithik in a double role (although the other character comes in only after the first dies), who got into the skin of both his characters – the simpleton Rohit and the suave Raj – with much ease.
11. Karan Arjun (1995)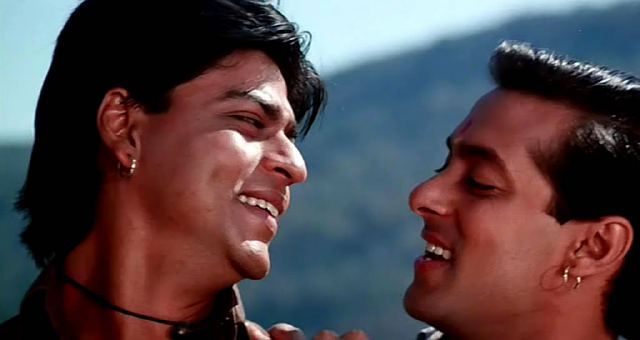 There was a time when Salman Khan and Shah Rukh were still rising stars and didn't carry around big egos. That's when Rakesh Roshan tapped into their burgeoning stardom and cast them together in an action melodrama about two brother reborn to take revenge of their own deaths. 90s was a strange time for Bollywood, when such movies were quite common. Let's just say 'Karan Arjun' was among the better ones of those kind of films.
10. Bol Radha Bol (1992)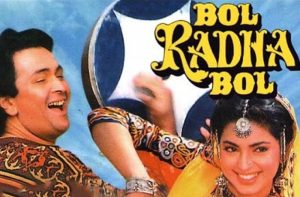 David Dhawan, also known as the "King of Comedy" is an ace at bringing out laugh riots. He directed this Rishi Kapoor-starrer and needless to say, it was quite entertaining. A thriller drama, with undertones of comedy, 'Bol Radha Bol' saw Rishi Kapoor as a young business baron, who is envied by his cousin Mohnish Behl, who in turn, brings his lookalike in the picture to dupe the former of all his riches. The movie, which brought together Juhi Chawla and Rishi Kapoor together for the first time was a grand success as was its song Tu tu tara.
9. Judwaa (1997)
David Dhawan gave the world two Salman Khans and Bhai's fans couldn't contain their excitement. 'Judwaa' was the time-tested story of twins separated at birth, with the flamboyant one growing up as a street urchin, while the meeker one depended on the parents. Salman Khan was in his elements in the out-and-out comedy movie and alongside Karisma Kapoor and Rambha, he gave a performance worth remembering.
8. Tanu Weds Manu Returns (2015)

Anand L. Rai's 'Tanu Weds Manu Returns' was a feel-good movie about a bold Tanuja Trivedi, played by Kangana Ranaut and a shy NRI doctor Manoj Sharma, essayed by R. Madhavan. The film, which was a continuation of 'Tanu Weds Manu', saw most of the actors reprising their original roles with one addition – a Haryanvi student Kusum – also played by Ranaut. Kangana shone in both her roles as Tanu and Datto, but it was her memorable Haryanvi avatar that brought her all the accolades.
7. Aankhen (1993)
This David Dhawan directorial was one laughathon that adorned cinema halls for a couple of weeks together. 'Aankhen' saw not one, not two, but three actors in a double role and with a mistaken-identity-storyline, keep the viewers laughing all the while. 'Aankhen' was a thriller comedy, which had Govinda, Kader Khan and Raj Babbar in dual roles and the crisp story with some good songs upped its entertainment value.
6. Angoor (1982)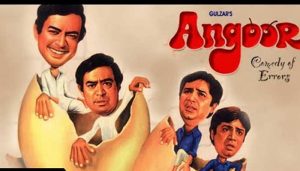 Veteran Bollywood lyricist Gulzar turned director for this film and adapted William Shakespeare's iconic comedy – The Comedy Of Errors – into a full-length feature, starring Sanjeev Kumar and Deven Verma in lead roles. The movie saw Kumar and Verma as identical sets of twins, who are separated at birth, and how circumstances bring both the sets together causing mayhem in the entire family. The film had an ensemble cast and worked wonders at the box office with its funny theme.
5. ChaalBaaz (1989)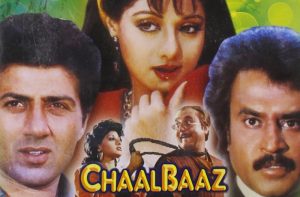 Na jaane kaha se aai hai is one song we can hum at any given occasion. The film it featured in was even more entertaining and the actress that played a double role in it did it the best! 'ChaalBaaz' was a story of twin sisters separated at birth, ably portrayed by the gorgeous Sridevi, who changed into the docile Anju and the daring Manju in a flash! The story of the star-crossed sisters struck a chord with the audiences and the film was a sure shot winner at the box office in 1989.
4. Kaminey (2009)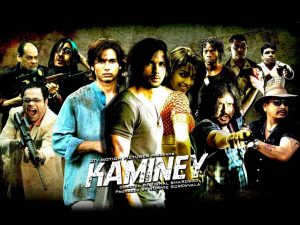 This Vishal Bhardwaj directorial was a dark comedy, which in no way, was similar to the other outings in the same genre. The thriller featured Shahid Kapoor in a double role and also had Amole Gupte in the star cast as an added advantage. Shahid played Charlie and Guddu, a set of identical twins, who are driven into the crime world due to Charlie's unruly ways. Shahid managed to pull off a stutter and a lisp – the two differentiating factors of the twins – without going overboard with it and in a way, carried the film on his own shoulders!
3. Dushman (1998)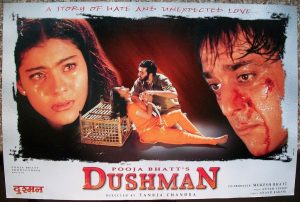 This Tanuja Chandra film featured Kajol in a double role, which impressed not only her diehard fans but everyone in general. The psychological thriller dealt with a mature subject like rape and was way different from the other movies that featured lead artists in twinsies. Naina and Sonia played by Kajol are identical twin sisters leading a normal life until Naina is raped and gruesomely killed. The movie stood out for being ahead of its time and Kajol and Ashutosh Rana received wide acclaim for their memorable roles.
2. Seeta Aur Geeta (1972)
This film, which was inspired by 'Ram Aur Shyam', almost had the same storyline with a female lead. Hema Malini did a wonderful job as the twin sisters, with contrasting personalities, and wowed her fans. While Seeta is the submissive kinds, Geeta is a spunky girl. Fate gives the girls a chance to step into the other's shoes and live the life they want. The drama-comedy gave enough scope to the Dream Girl as far as acting was concerned and she undoubtedly made the most of it!
1. Ram Aur Shyam (1967)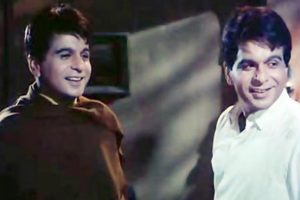 Back in the day when it was cool for twin brothers or sisters to be separated in a mela, Tapi Chanakya's 1967 drama 'Ram Aur Shyam', starring Bollywood thespian Dilip Kumar, harped upon just that. The film was probably one of the firsts to delve into the subject of twins, which later gave Bollywood the idea to make films on it. It narrated the story of a timid Ram, who flees to the city fearing his vile bother-in-law, while his daring twin brother Shyam accidentally lands in his house to teach the relative a lesson. The movie won quite a handful of awards and so did Dilip Saab for bringing out his comic side to the fore!
Read More: Best Bollywood Movie Sequels