South Indian films have an attractive quality about them. The romance is subtle and tasteful, the story-lines are engaging and creative, and the action. Well, the action over the top. Despite the latter, the former attributes are a trademark characteristic of all South Indian movies. The industry is dominated by Telugu films. Appreciating such grandeur pieces of art, Bollywood has inspired time-worthy remakes which you must watch. The thing about Bollywood, though, is its egregious proclivities to over-dramatize and dumb-down plots for its audience's sake. It often distorts everything beautiful about the films, which often flatter to deceive. Here is the list of best Bollywood remakes of Telugu films. Happy reading!
10. Ready (2011)
One thing that stands out in the film is the brilliant Sudesh Lahiri. His God-gifted talents are in full flowing the movie and will certainly leave you with a pro-longed stomach-ache. A case of mistaken identity results in the blossoming of eternal love. Familial pressure and traditions though are a disappointing roadblock, which the protagonists deal with in the utmost humorous of fashions. Salman Khan may not be an actor. A good actor, I mean (I don't), but his comic timing is spot-on. Combining with newcomer Asin, and a handful of the best comedians in the world, he is able to produce yet another mass-oriented carnival, which is bound to leave you with a cracker of pickup lines.
9. My Wife's Murder (2005)
'My Wife's Murder' is probably the most unconventional film in Anil Kapoor's glorious body of work. Playing a grieving and traumatized widower, who just lost his wife, Kapoor is brilliant and moving in his performance, carefully biting away at the development of his character. Despite his and the cast's great performances, and the film's choice of keeping it simple, the effectiveness fades away due to a lackluster display in handling the camera. At the point when Sheela disappears, Ravi, her better half, looks for assistance from the police to track her down. At the point when her dead body is discovered, all fingers point to Ravi. Is he the murderer? Watch to find out.
8. Ram aur Shyam (1967)
Seeing Dilip Kumar act was a true bliss. Probably the greatest actor in the Hindi industry, his nuanced and refreshing acts was a source of unlimited joy for the Indian audiences. 'Ram aur Shyam' is a Hindi classic and probably a benchmark in Hindi cinema. A remake of 'Ramudu Bheemudu', the film is a light-hearted tale of two physically identical men who are mentally and spiritually the exact opposites. I saw the film with my father, an avid fan of the veteran actor, and could see him burst out into laughter, with tears in his eyes, while I sat and watched him laugh. The generation gap, therefore, might be a hindrance but don't miss this one.
7. Mr. and Mrs. Khiladi (1997)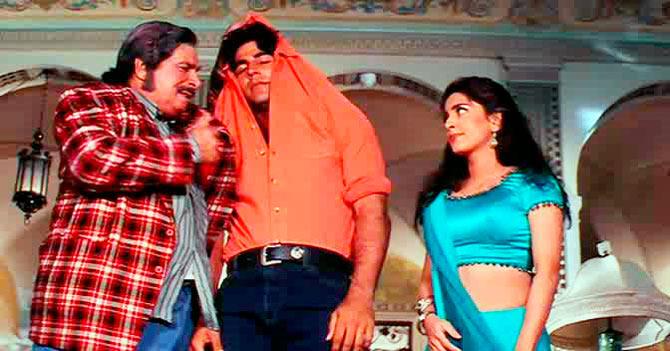 The 90's era was a golden period for the Bollywood box office. And a cringe-worthy saga for moviegoers. The Khiladi series is the base for Akshay Kumar's status as the best action star in the country. The action scenes, some miserably pathetic, and some surprisingly ingenious, are all performed by the man himself, which does reflect on the standards he sets for himself. A celestial prophet predicts a fortune for Raja who begins to look all starry eyed at a tycoon's little girl. Yet, the young lady's dad will permit the marriage just when Raja is richer by a million rupees. Stereotypical and cliched in its execution, the film's Telugu counterpart 'Aa Okkati Adakku' was a much better film.
6. Judaai
Fed up with her mediocre life, a married woman agrees to let a rich girl, who has fallen for her husband, marry him in exchange for a huge amount. Eventually, she realizes how empty her life has become. Sridevi and Anil Kapoor join forces, yet again, and spread magic on the screen. This is perhaps the only Bollywood film on the list which manages to put up a fight with its Telugu counterpart. 'Shubhalagnam's true strength lied in its simplicity and the performances of its cast. 'Judaai's similar approach, although with a tinge of comedy from Johhny Lever, turn out to be a great formula as the film was praised by critics and loved by the audiences.
5. Son of Sardaar (2012)
Jaswinder and Balwinder's families are sworn foes. Nonetheless, when Jaswinder comes back to Punjab, Balwinder invites him to his home and doesn't realize that he has welcomed an old foe into the house. Ajay Devgn is the life of the movie. Ashwini Dhir, the director of the movie, commented on his "supervised role and my restricted liberty in changing the script." Even though it wasn't his baby all the way, Dhir does a commendable job in putting together exciting pieces of a disheveled plot to provide us with a slightly coherent movie. 'Maryada Rammana', its Telugu predecessor, again triumphs the Bollywood remake.
4. Wanted (2009)
A neighborhood raucous tries to go along with one of the city's two groups. He at long last prevails with regards to going along with one of the hoodlums, a tricky character, and starts to wipe out his adversaries, which irritates his innocent girlfriend, who later gets into trouble for being associated with him. Adopted from the Telugu film 'Pokiri', the film is a mere semblance of the former. Even though better than other Salman films, 'Wanted' fails in capitalizing on its intricate plot and the talent of its cast. A decent effort, though.
3. Kick (2014)
It is often advisable to leave your brains at home before going to watch a Salman-starer. 'Kick' certainly lives up to the expectations. Devi Lal Singh, an average youth with an atypical way of life, tries to discover delight in whatever he does. He, in the end, turns into a criminal and wears another name: Devil. And he dons a neat-little mask, probably getting inspired seeing 'Krishh' in action. The mindless action-thriller is another reinforcement in Khan's useless and kitschy potboilers. A winner at the BO, 'Kick' is inspired by the Telugu film of the same name.
2. Rowdy Rathore (2012)
Vikram Rathore, a courageous cop, is executed by degenerate lawmakers. Be that as it may, his group replaces him with Shiva, a hoodlum who happens to be his carbon copy, in an attempt to bother the guilty parties and capture them in the act. The saga is finally put to an end with Shiva killing Baapji and Titla. Akshay Kumar's rise to stardom after a flurry of flops was given a contagious push by the movie. Thoroughly entertaining with catchy songs, this is your true Bollywood masala. The film is a remake of the Telugu film 'Vikramarkudu'.
1. Anjaana Anjaani (2010)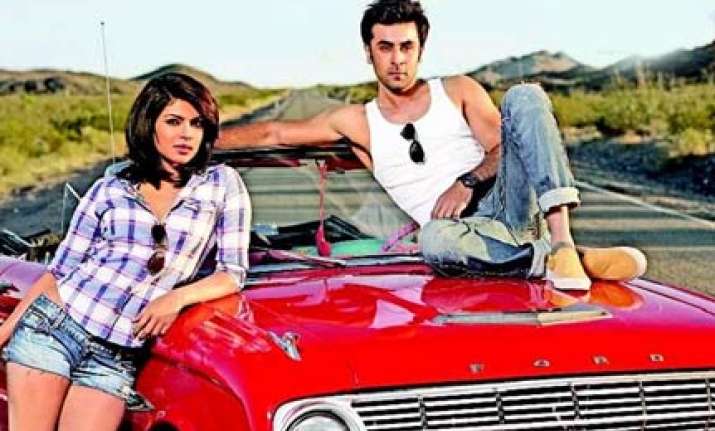 Loosely based on 2001 Telugu film 'Itlu Sravani Subramanyam', 'Anjaana Anjaani' is the story of self-destructive Akash who intends to hop off the Manhattan Bridg when he meets a devastated Kiara there. The two choose to achieve their unfulfilled wishes prior to jumping off together. The movie wasn't half as bad as the reviews were. The affable pairing of two of the biggest stars in the country (one of them in the world) was the highlight of the movie, which was very well shot. Kapoor redeemed himself with a stellar performance, while Priyanka was her usual best, playing out her part with effortless ease. Though the script lacked an emotive and heart-felt touch between the characters, the performances and the cinematography made it a worth while.
Read More: Best Bollywood Remakes of Tamil Movies