Investigation Discovery's 'The Hunt with John Walsh: Family Annihilation' depicts how Brad Bishop, a former Stae Department employee and army veteran, was indicted on charges of murdering his family. All five members, including his three sons, wife, and mother, were found slaughtered and burnt in a freshly dug grave in rural North Carolina in early March 1976. The episode, through dramatization and interviews, upheld the events that might have occurred leading to the horrendous crime and its shocking aftermath.
Who Is Brad Bishop?
William Bradford "Brad" Bishop Jr. was born to Lobelia Amaryllis St. Germain and William Bradford Bishop Sr. in Pasadena, California, on August 1, 1936. He was the quarterback of the South Pasadena High School football team and graduated in 1954. While some reports suggest Brad passed out from Yale University with a Bachelor of Science degree in history and a master's degree in international studies from Vermont's Middlebury College, others report he graduated in American Studies from Yale with a master's degree in Italian from Middlebury.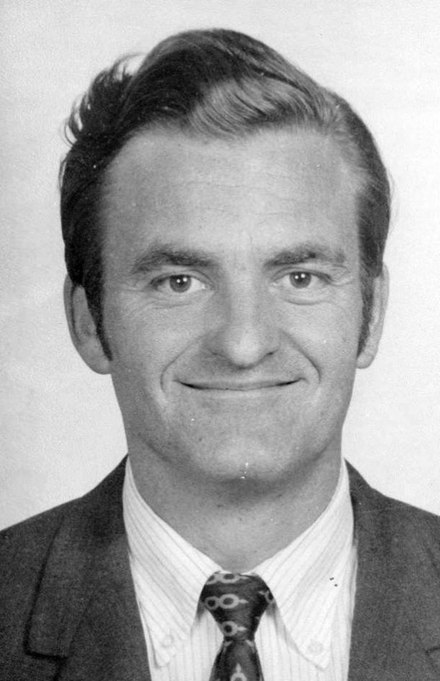 Federal documents describe Brad's passion for outdoor sports, including hunting, running, swimming, fishing, and riding motorcycles. According to family sources, Brad, the quarterback, met Annette Kathryn Weis, a cheerleader, in high school, and she was a year junior. The high school sweethearts married in San Clemente in 1959 after he graduated from Yale — after dropping out for a year — while she attained a degree from Berkeley. Army records state Brad enlisted for service at Fort Dix, New Jersey, on August 7, 1959.
He had a mediocre army record, taking basic training at Fort Moore (formerly Fort Benning), Georgia, before enrolling in the Army's intelligence school at Fort Holabird, Baltimore. Brad attended the Army's language school in Monterey, California, learning Serbo-Croatian in 1960 — adding another language to his arsenal, including English, Italian, French, and Spanish. Brad and Annette's first son was born in 1961 while they resided in Monterey. After assignments in Europe and Italy, he attained his master's degree from Middlebury College.
Staff Sgt. Brad joined the State Department's foreign service program in 1965 after his four-year enlistment ended in 1963, serving in Ethiopia and later Italy. After obtaining a master's degree, he returned to Washington in 1971. Subsequent assignments included UCLA, where he earned another master's degree, and Gaborone, Botswana, where he was the deputy chief. By January 1972, the Bishop couple had three sons, with his widowed mother also living with them. They returned to Washington in 1974 and settled in Bethesda, Maryland.
Did Brad Bishop Kill His Family?
On March 2, 1976, the authorities noticed smoke rising from a densely wooded swamp area five miles south of Columbia, North Carolina. When law enforcement officials went to investigate, they were met with a gruesome sight — mangled, burnt human remains of five people in a four-foot-deep, bathtub-sized grave. The police could not identify the scorched remains until a Carderock Springs, Maryland, resident contacted 911 on March 10 with concerning information — their neighbors, the Bishops, had not been spotted in over a week.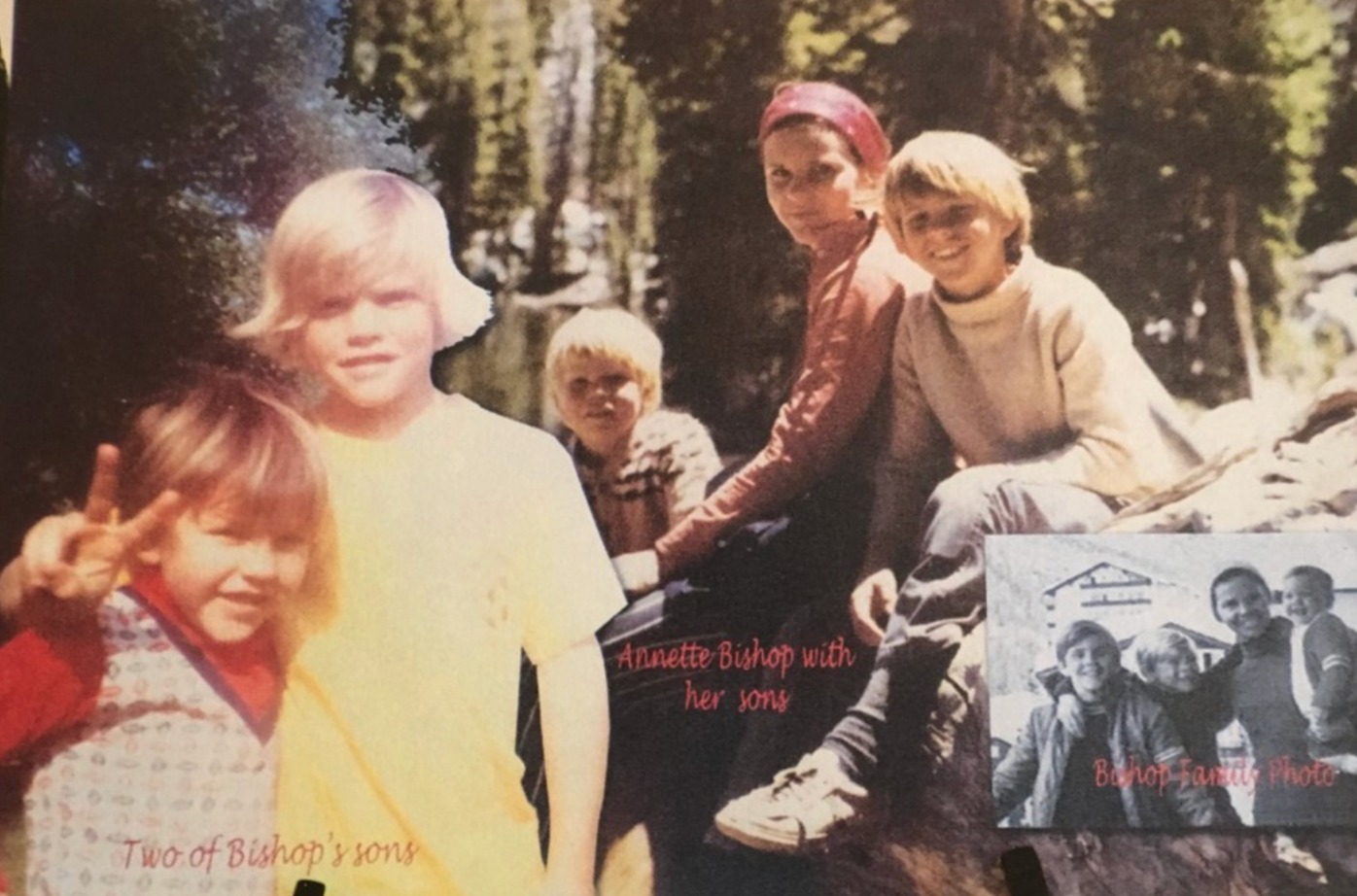 The officers raided 8103 Lilly Stone Drive to discover blood all over the residence — from the front door steps to the lower-level den leading to the master bedroom and even in the hallways and carpeted stairs. Detective Joe Sargent recalled, "On the walls, the ceiling, anywhere you looked, there was blood." With the help of their dental records, the authorities identified the five victims — Annette (37), Lobelia (68), and three sons, William Bradford III (14), Brenton (10), and Geoffrey (5). The medical examiner noted the victims died of multiple head injuries.
With all the Bishop family murdered and burnt brutally except for the missing Brad, he automatically became a person of interest to the authorities. Federal records indicate he was short-tempered and had voiced his desires for "a freer life" several times in his journals. With the help of testimonies from his colleagues and his credit card documents, the police promptly chalked out Brad's probable movements on March 1, 1976 — the day of the murders. He was reportedly seen looking at a memo listing new promotions in his office hallway around noon.
A colleague reported Brad became upset after learning a promotion he had been vying for had been awarded to another co-worker. He then asked his supervisor for an early release, claiming he felt unwell. The police subpoenaed his bank and credit card records to discover he had withdrawn $400 from the American Security Bank at 2:00 pm before driving to a Texaco station at Montgomery Mall to buy 13 gallons of gas with his credit card. He again used his credit card to purchase a gas can and a sledgehammer at Sears in the mall at 6:00 pm.

According to the show, Brad, then 39, possibly returned to his Carderock Springs home before bludgeoning his entire family to death. Police sources alleged he then loaded the bodies into their family station wagon — a maroon 1974 Chevy Malibu — before driving around 275 miles to a site off Albemarle Sound in North Carolina. Dr. Robert Albanese, the erstwhile Montgomery County medical examiner, theorized, "The killer must have gotten out of there in a big hurry when the fire got going. They were just thrown in the hole."
Where is Brad Bishop Now?
Brad, the erstwhile assistant chief of the Special Trade Activities Office of the State Department's Economic and Business section, was declared missing and was sought for questioning. While the store employees could not recall seeing him, his credit card records showed it was used for the last time on March 2, 1976, to purchase $15.60 worth of sporting goods from a Jacksonville, North Carolina, store. However, another 1997 report claimed the store owner recalled seeing Brad with an unidentified woman and the family's golden retriever, Leo.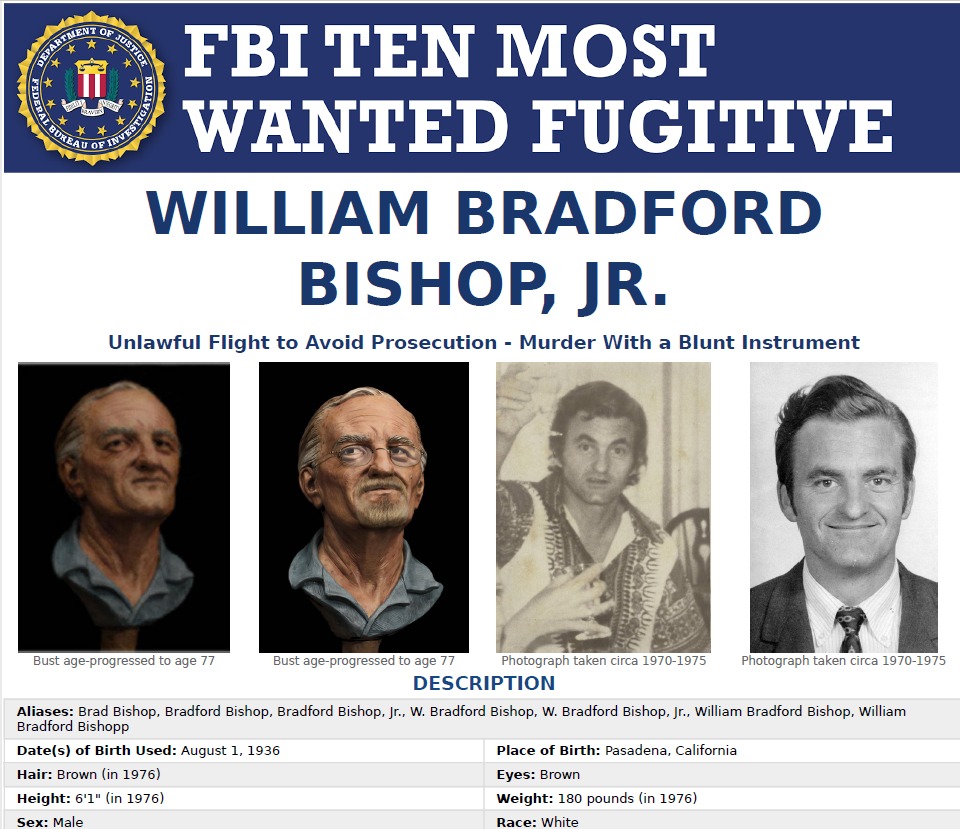 The authorities found Brad's rust-colored 1974 Chevrolet station wagon at an isolated campground in Elkmont, Tennessee, near the Appalachian Trail, on March 18. The vehicle contained traces of blood, with witnesses claiming it had been sitting there since March 5-7. A grand jury indicted Brad on five counts of first-degree murder and additional charges on March 19. Since 1976, there had been multiple reports of his sighting across Europe, though the police could not corroborate any of the claims.
The FBI added Brad to its Ten Most Wanted Fugitives list on April 10, 2014, and he remained there until June 27, 2018. A North Carolina resident, Kathy Gillcrist — previously unaware of her biological parentage — revealed that a DNA testing service identified Brad as her biological father in March 2021. The FBI later verified the relationship. The FBI continues its active pursuit of the 87-year-old, with an INTERPOL Red Notice still in effect. A reward of up to $100,000 is offered for information leading to his arrest. You can call 1-800-CALL-FBI with any information about Brad's whereabouts.
Read More: David Sumney: Where Is The Mom Killer Now?