Fans were overjoyed when they realized that Carlos Jiménez and De Juan VaLentine from '90 Day Fiance: Love in Paradise' season 2 were returning in season 3. They have been a fan-favorite couple since their introduction, as the two rarely gave in to unnecessary drama. On top of it, people were impressed when the pair managed to keep their relationship alive through the Covid-19 pandemic. Well, with Carlos and VaLentine exploring their bond further in season 3, let's find out everything there is about them, shall we?
Carlos Jiménez and De Juan VaLentine: Where Are They From?
A US national and a Los Angeles, California resident, De Juan VaLentine has a fascinating life. Although he holds a day job as a Human Resource Executive, he is an aspiring singer and songwriter who has made quite a name for himself in the Los Angeles music circuit. Moreover, while the 47-year-old gets to perform at various events, venues, and pubs at present, he insisted that he was pretty serious about his music career and hoped his future partner would support his desires.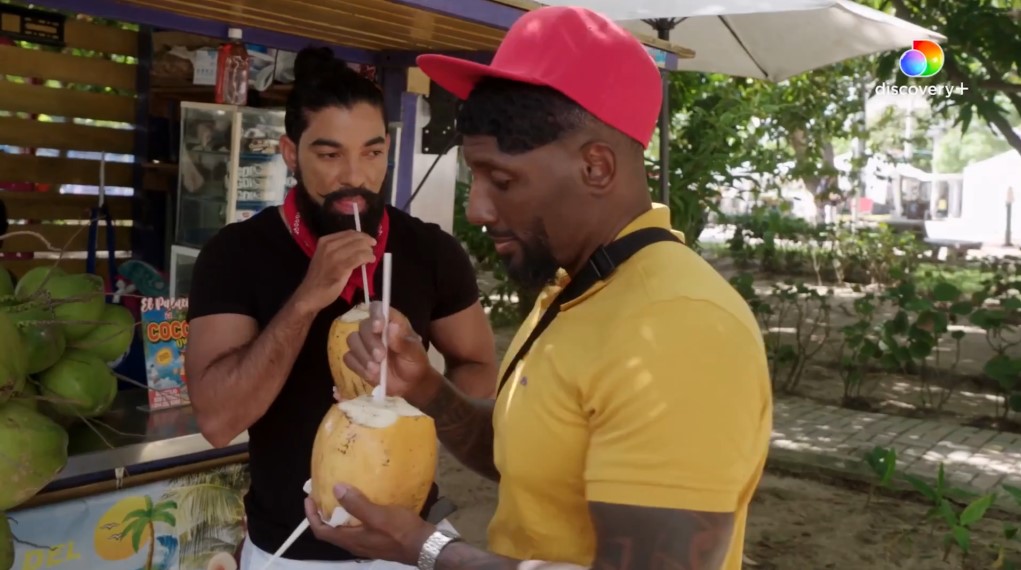 On the other hand, Colombian native Carlos Jiménez was pursuing a business administration degree at the time of filming. He came across as a reserved and quiet individual who loved traveling and was incredibly passionate about bikes. Unlike VaLentine, who has always been pretty open about his sexuality, Carlos prefers to keep his personal life under wraps. However, the 29-year-old did come out as bisexual on the show and hoped it would not ruin his chances with the US native.
Carlos Jiménez and De Juan VaLentine: How Did They Meet?
Incidentally, VaLentine came across Carlos' profile while scrolling through an international dating app, and the US native claimed it was love at first sight. In fact, the moment he saw the latter's picture, he knew he had found his soulmate and was ready to do anything to meet him. Naturally, it did not take long for the two to get comfortable, and they soon realized they had much in common. Yet, shortly after the couple met online, the world was crippled by the Covid-19 pandemic, and VaLentine knew there was no possible way to meet the love of his life face-to-face.
Thus, the two had to endure a long-distance relationship for two whole years before the US native finally traveled to Colombia, where they met for the first time. Carlos and VaLentine appeared very much in love with each other during '90 Day Fiance: Love in Paradise' season 2, and fans were confident that they were in it for the long run. Although a language barrier and their significant age differences threatened to ruin the bond, the couple stayed strong in the face of trouble and did not let anything come between them. Furthermore, season 2 ended on a heartwarming note as VaLentine composed an original song as his unique proposal, and Carlos was only too happy to say yes.
Carlos Jiménez and De Juan VaLentine: Future Prospects.
By the time '90 Day Fiance: Love in Paradise' season 2 ended, it seemed as if Carlos and VaLentine were ready to tie the knot and start a life together. Sadly, trouble soon reared its ugly head, and the two ran into significant differences, forcing them to break up several times in two years. For starters, Carlos mentioned that he still maintains a close bond with his ex-boyfriend, Victor, and considers him his best friend. On the other hand, his and VaLentine's relationship faced a massive threat when he met and got acquainted with Michelle.
Michelle is a beautiful single woman, and Carlos could not help but develop romantic feelings for her. Yet, when he realized she did not feel the same way, he reigned his emotions in and decided to remain a good friend. Nevertheless, that was not enough for VaLentine, as he was pretty disappointed by how Carlos would prefer to spend time with Michelle over him. Hence, although Carlos and VaLentine have some pretty choppy waters to navigate, we sincerely hope they will get through unscathed as long as they remain faithful to each other.
Read More: Jessica and Juan From 90 Day Fiance: Everything We Know