Two years after Patricia Highsmith's death in 1995, screenwriter and playwright Phyllis Nagy ('Weldon Rising') agreed to write a script based on Highsmith's 1952 novel 'The Price of Salt' because she felt a "strange responsibility to take it." Highsmith's works have been adapted for the big screen a number of times before, including famously for Alfred Hitchcock's 'Strangers on a Train.' However, they maintained so few similarities with their source materials that they ended up greatly displeasing the author. Being Highsmith's friend, Nagy was well-aware of this and strove to create a script that doesn't fundamentally alter what was already on the page.
The project remained in the developmental limbo for several years before Todd Haynes ('I'm Not There') came on board in 2013. 'Carol' premiered in 2015 to an overwhelmingly positive response from critics and audiences alike, earning numerous accolades, including Oscar nominations both for the lead actresses as well as for Nagy. What sets the film apart from other projects with similar themes and settings is that it categorically refuses to let its main characters wallow in guilt and regret over their relationship. Instead, it celebrates it, offering a memorable and swelling climax. SPOILERS AHEAD!
Carol Plot Synopsis
Set in the early 1950s, the movie opens with a young man, Jack (Trent Rowland), making his way to the bar at the Ritz Tower Hotel and ordering a few drinks. He notices a long-time acquaintance, Therese Belivet (Rooney Mara), who is there with another woman, Carol Aird (Cate Blanchett). Although he is oblivious to it, it is clear that he is interrupting something between them in their late and reluctant response. The two women part ways, and Therese accompanies Jack and others to a party they are all attending. She gazes out through the misty cab window.
As she reminiscences about her and the eponymous character's history, the film starts a circular journey that is ultimately going to end at the Ritz with Jack's interruption. Therese is a timid, young woman who is understandably ambivalent about most things in her life. She is employed at a departmental store in the weeks leading up to Christmas, although she aspires to be a photographer. Her boyfriend, Richard (Jake Lacy), wants them to get married, but it is evident that she is not completely happy in their relationship.
At her work, she meets Carol, who is there to buy a present for her daughter. While she initially wants to purchase a doll, Therese's exuberant sales pitch convinces her to buy the newly-arrived train set. As they converse, the bustling department store gets forgotten, and sparks fly. After Carol leaves behind her gloves, Therese finds her address and sends them back to her. They reconnect and begin a deeply passionate relationship that culminates in a road trip across the US during the Christmas holiday. Carol is dealing with a messy divorce from her estranged husband, Harge (Kyle Chandler), and desperately trying to be a good mother to their daughter Rindy (Sadie and KK Heim).
After she and Therese make love to each other for the first time on New Year's Eve, their blissful, insulated romance comes to a jarring halt when she discovers that Harge is going to invoke a morality clause to acquire the full custody of their daughter. She rushes back home, leaving a confused and vulnerable Therese with her close friend and former lover Abby (Sarah Paulson). During the travel back to New York, the sudden alienation, combined with her very real feelings for Carol, proves too much for her. The car stops, she gets out and vomits at the side of the road.
The Carol Ending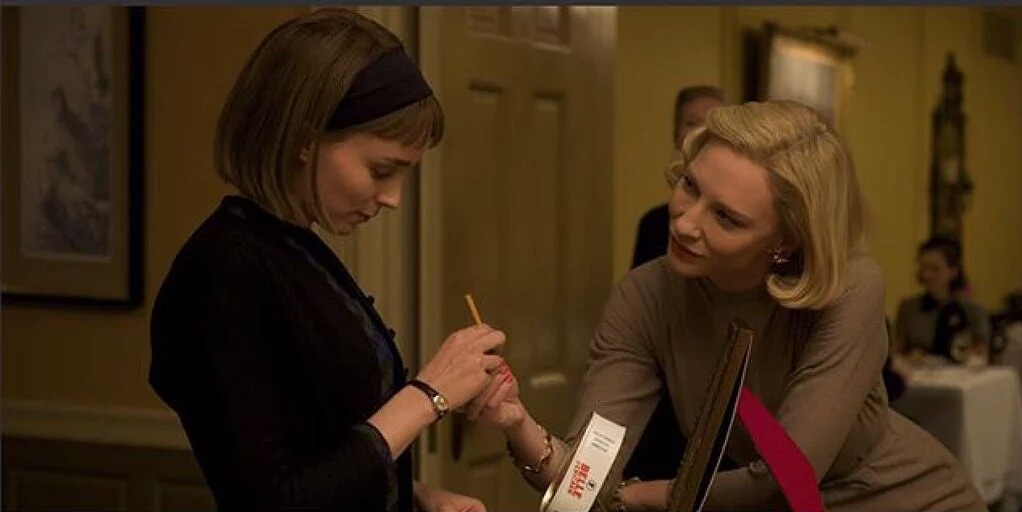 Between the time when Carol discovers that Harge has sent Tommy Tucker (Cory Michael Smith) to spy on her and send back evidence of her relationship with Therese and she confronts him before departing, there is a poignant moment of deep intimacy in which she assures her regretful, young lover that this is not her fault. "I took what you gave willingly," she says. Later, she pens a letter and leaves it with Abby. "Everything comes full circle, be grateful that was sooner rather than later," Carol explains to Therese.
"You will think it harsh of me to say so, but no explanation I offer will satisfy you. Please don't be angry when I tell you that you seek resolutions and explanations because you are young, but you will understand this one day. And when it happens, I want you to imagine me there to greet you, our lives stretched out ahead of us, a perpetual sunrise." She muses about a future in which they are together, but acknowledges that they presently have to stay apart, ending the letter with a simple and decisive "I release you."
A Choice Between Extremes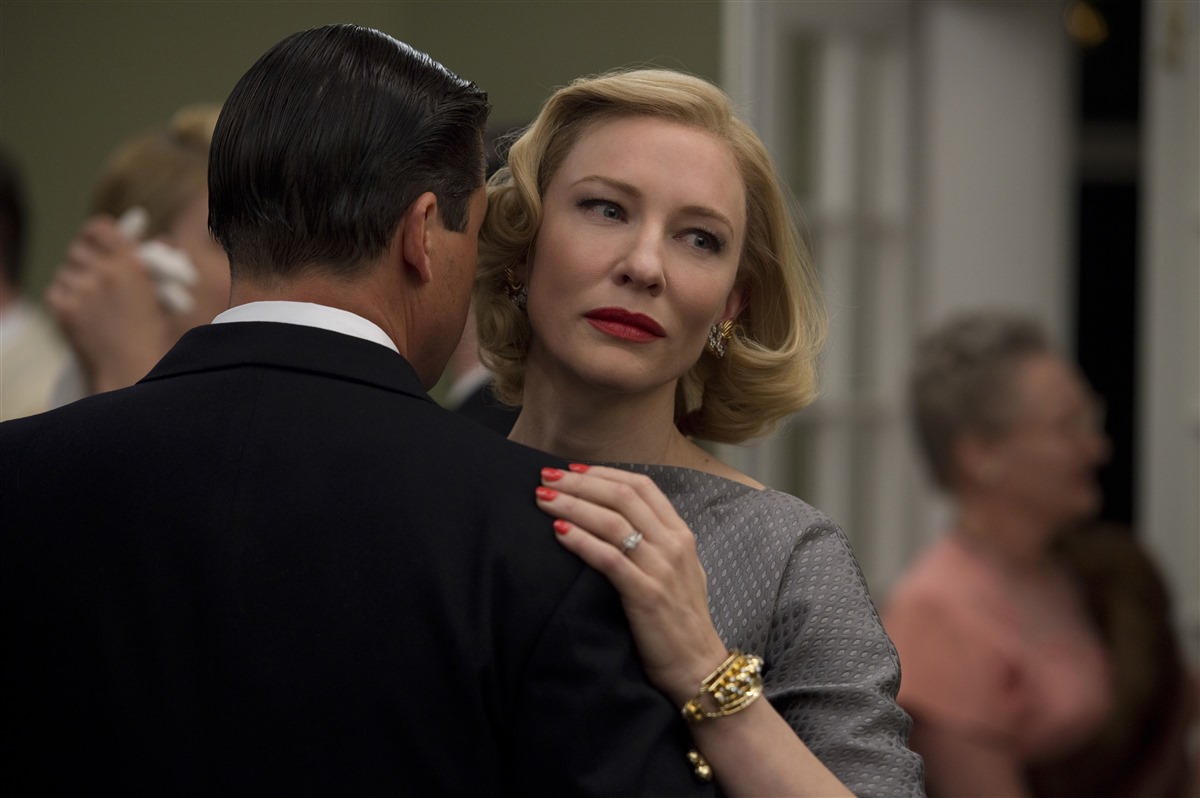 Throughout the film, the point of view oscillates between its two protagonists, so it can be demonstrated that both of them are equally vulnerable and achingly in love with the other. After they return to New York, the narrative about Carol takes precedence. As a woman forced to choose between her happiness and motherhood, she exudes such levels of frustration and fury that they strangely humanize her. Previously, while seen through Therese's perspective, Carol seemed like a woman shrouded in charm and mystery, intricately part of the narrative, but she can exist beyond it.
In the last part of the movie, by underscoring the intensity of her emotions, the filmmakers offer a window of relatability to her character to the audience. As Carol takes a cab to go to a meeting with Harge and their respective lawyers, dreading the confrontation that is about to happen, she sees Therese for the first time in months, walking down the road with much confidence and self-assurance. As Carol later notes, Therese has been thriving.
She has ended things with Richard and started working in the photography section of the New York Times. It appears that her brief relationship with Carol and its abrupt dissolution have radically transformed her. For Carol, that glimpse of her brings back all their memories together, and she realizes that she has to give up a quintessential part of herself to continue to be involved in her daughter's life. It's a hard and unfair choice, but that's the world that Carol and Therese inhabit.
During the meeting, she quickly becomes exhausted with the bickering lawyers and addresses Harge directly. She declares that she will not deny the truth any longer and agrees to give Harge full custody on the condition that she can see her daughter as often as she wants. "Now, there was a time when I would have done almost anything. I would have locked myself away to keep Rindy with me," she tells him. "What use am I to her, to us, if I'm living against my own grain? So that's the deal."
The Final Scene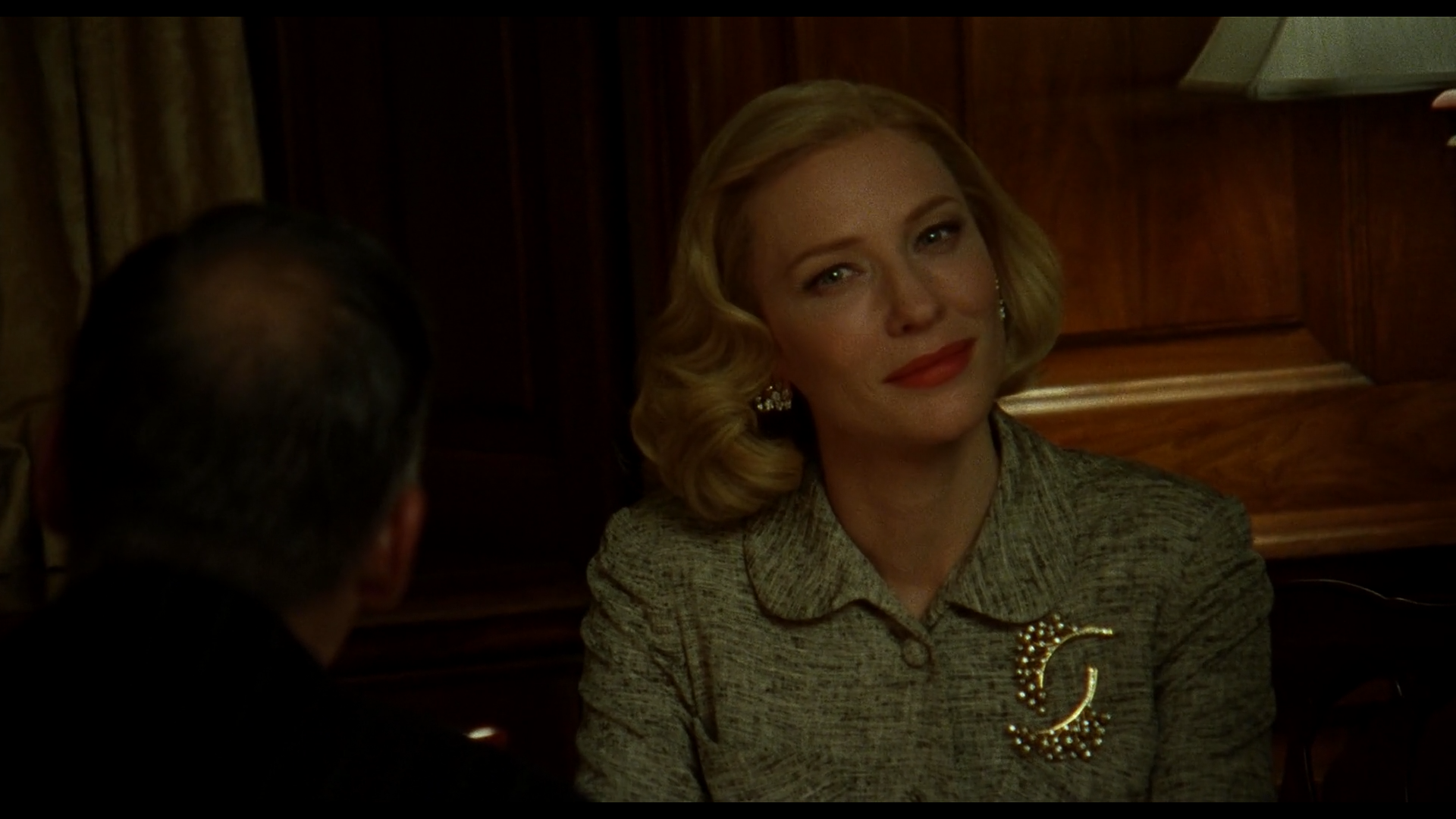 Her ultimate choice liberates her to seek her own desires. Like the toy locomotive in the train set, the story circles back to the Ritz, just before Jack comes and interrupts their conversation. Carol informs Therese that she and Harge are selling their house. She has gotten a new apartment and started working at a furniture house. She tentatively asks Therese to move in with her. But Therese, with the memory of their separation still fresh in her mind, declines. Carol attempts one last frantic effort by saying, "I love you." It is then that Jack calls out Therese's name.
The film articulates the drastic shift in the dynamics between them through how unsure Carol seems as opposed to how purposeful Therese has become. It could have ended right there, with a classic tragical conclusion of most great romances. But, from the beginning, 'Carol' is pursuing something else. Therese heads to the party, where she sees her friends, including Richard, happy and satisfied in their respective lives. She discovers that this is what she is missing.
After gently rebuffing the advances of another female guest, she goes to the Oak Room, where Carol said that she would be. She ignores the calls of the waiter and rushes inside. Like all other emotional scenes in the film, Carter Burwell's unforgettable score frames this one as well. She spots Carol and waits until their eyes meet. As they both begin to smile, the film ends. In the closing moments of 'Carol,' we see two women, unshackled from everything holding them back before, ready to embark on the second attempt at a relationship.
What the Future Holds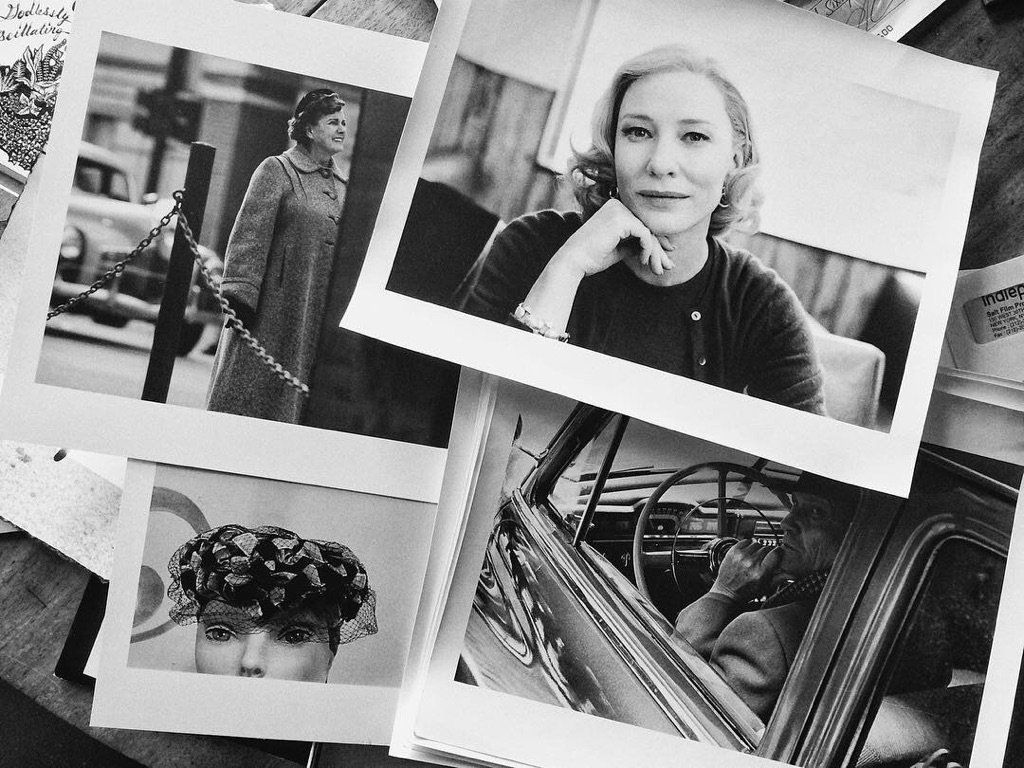 With such a robust and optimistic ending, it is natural to wonder what will happen to these characters. Will their relationship work out this time? Will Therese accept Carol's offer and move in with her? What will be the eventual ramifications of the choices that Carol made for her personal happiness? Will she ever have some semblance of a normal relationship with her daughter, or will Harge continue to deny her that? Will Rindy, when she grows up, understand why her mother did what she did?
Granted, these questions sound speculative, but they help us understand the depth and meaning of the last few moments of the film. Carol and Therese reunite, and during their wordless but deeply emotional interaction across the dining hall of the Oak Room, they start planning their future together. Both of them are now completely different individuals from who they used to be. Neither is trapped in a sham relationship with a man and is free to seek happiness with each other. And anyway, it wasn't the lack of passion or absence of love that separated them in the first place, but the fact that the outside world had leverage on one of them. With that taken care of, they should have a long and happy life together.
Still, the show is set in the 1950s, when same-sex relationships were considered taboo. While Highsmith ensured that her book is devoid of any socio-political commentary, and Nagy faithfully emulated her while working on the script, a story like this can't exist in a vacuum. It was in the 1950s that the lesbian movement started to take shape in the US. In 1955, four female couples set up The Daughters of Bilitis (DOB), a social and political organization that aimed to do away with the misconception about homosexuality and provide help to individuals who need it. In May 1959, the City of Los Angeles witnessed the Cooper Donuts Riot, one of the earliest violent protests from the members of the LGBTQ community in the US.
Highsmith, who was incredibly candid about her sexuality, attached the same level of frankness to both the protagonists. So, while it is possible that they might have to endure certain social discriminations because of their relationship, they will not deter them from being who they are. If anything, they will strengthen the bond between them.
Reads More: Is Carol (2015) a True Story?