Ben Affleck obviously knew something most in Hollywood did not when he cast his younger brother Casey in the lead in his directorial debut Gone Baby Gone (2007). As the private investigator Patrick the younger Affleck proved to an actor of startling originality and depth, attracting the attention of audiences as well as critics who raved about his performance. That same year he would earn his first Academy Award nomination for his riveting and haunting performance as Bob Ford, the man who killed Jesse James in the western masterpiece The Assassination of Jesse James by the Coward Robert Ford (2007). Affleck all but stole the film right from under Brad Pitt, who gives one of his very best performances as the infamous killer from Missouri.
This could be the year of Casey Affleck, with his performance in Manchester Under the Sea drawing raves since the film was first seen at Sundance, and playing at TIFF next week. Critics have stated he is Oscar bound for his performance while others are predicting he will win the little golden man for what is said to be a brilliant performance.
He seems to be one of the best kept secrets in the business, a unique actor who can be brilliant, but is not your average leading man. With a raspy high reedy voice, a thin physique he is not what you would call physically imposing like big brother Ben, yet when angered he reminds me of Jack Nicholson, his eyes narrow, he smiles, he throw out expletives with aggressive, careless abandon and comes across as very threatening, even dangerous, refusing to back down. Ever watchful, his eyes take everything in, he is always sizing the next person up, his mind never stopping. He conveys all of this without a motion other than a flicker of the eyes. He misses nothing. I suppose that is what is most fascinating about Affleck, he is always thinking.
His early work found him cast as a grungy teenager, To Die For (1996) or blue collar worker (Good Will Hunting), finally landing a decent part on the Ocean's Eleven (2001) series as one of the getaway drivers. He was on board for the sequels as well, but was quietly working towards other things.
2007 was a breakout year for him.
His brother daringly cast him as the lead in his directing debut, the very fine Gone Baby Gone (2007) in which the younger Affleck was surrounded by some of the best in the business, including Ed Harris, Amy Ryan, and Morgan Freeman. He anchored the film with a strong performance, riveting as Patrick, a private investigator hired to find a little girl who has disappeared out of neighborhood. Tenacious, he does not stop, initially believing the child dead he keeps digging, (spoiler) and yes does find her in the best care she could be in, far away from her mother. So much was made of Ben Affleck's direction, which in fairness was brilliant, Casey must have felt like the forgotten man at his own party. It did not matter, the performance was there and the right people saw it and he had another film up his sleeve.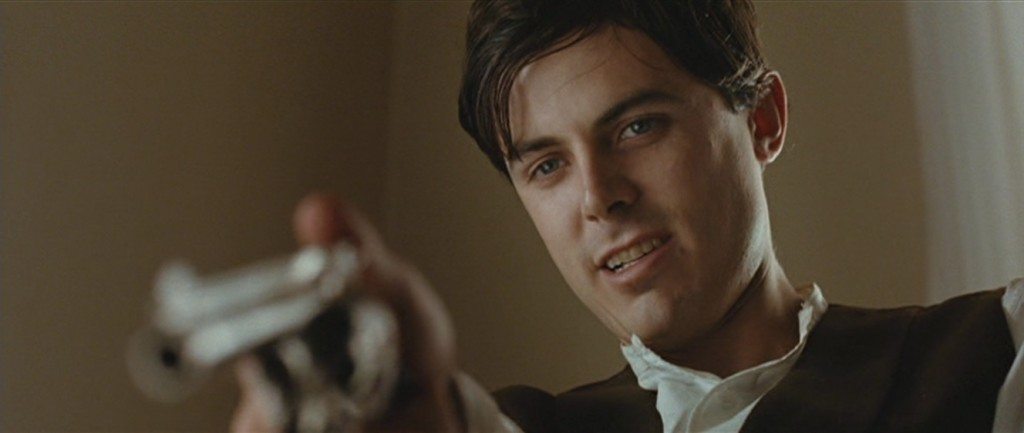 The Assassination of Jesse James by the Coward Robert Ford (2007) was based on a novel based on facts, the story of the relationship between outlaw Jesse James (Brad Pitt) and his killer, his gang member and friend Bob Ford (Affleck). A patient, intense film, character driven in every way, director Andrew Dominick allows the film to unfold easily, Pitt quietly terrifying as the unpredictable Jesse; Affleck superb, equally frightening (in a different way) as the worshipping Bob. At one point Jesse says to him "I cannot decide if you want to be like me or be me" hitting the nail right on the head. The Ford brothers are concerned Jesse is going to kill them so Bob pulls a gun Jesse has given him as a gift and shoots him in the back as he dusts a picture on the wall. His life unravels from there, for though he has fame, he achieved it by shooting a man, his friend in the back when he was unarmed. He becomes an actor in New York and over and over, acts out the killing describing it to the hundreds who watch the play each night, his brother portraying Jesse. He becomes hated, an outcast, and seeks peace, nothing more. He misses Jesse, misses his friend and the life they had, but can never return to it. Opening a bar, he is gunned down one afternoon by a man avenging Jesse, Ford's death barely reported.
Affleck is outstanding in the film, winning the National Society of Film Critics award for Best Supporting Actor and the National Board of Review Award for Supporting Actor. When the Oscar nominations were announced he was up for supporting actor, though the film, Pitt and the director were snubbed.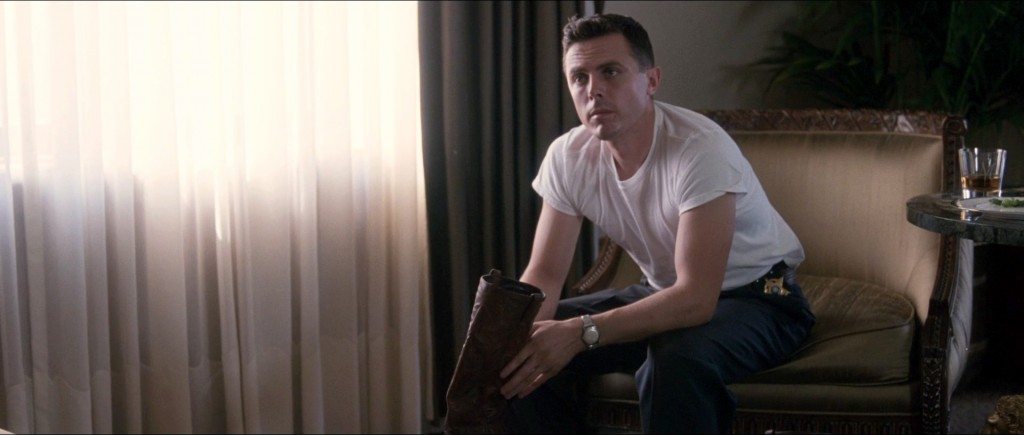 His next major role as Lou Ford in the adaptation of the superb book The Killer Inside Me (2010) in which he portrayed brilliantly a deeply psychotic, sociopathic killer who is a deputy in a small Texas town in the early sixties. Lou is educated, smart, reasonably well off, having been left his parents home and money, and has been able for most of his life to mask his vicious mysoginstic manner to those around him. But when he beats a young prostitute who adores him, beating the young girl to a bloody pulp, leaving her for dead, and then beats his fiance to death, the walls close in on him. He is without a conscience, looking on in disgust as the fiance he has just viciously punched in the stomach urinates on his floor, unable to move. To Lou she is something less than human.
Affleck portrays Lou as a likable young guy, but there is something off, we see that from the beginning, something in the eyes, which are dead. There is no life touching them, when he smiles there is no light in his eyes, and he tries too hard to be liked, to be normal. SO extraordinary is his instinct he suspects when he is suspected and moves to protect himself, but is too late, though they have someone from his past to confront him he is ready for them and prepared to go down in flames. A powerful performance, it is a difficult film to watch because his acts are so terrible and he so obviously despises humanity. Though he should have, without question been nominated, it is one of those times I understand why it did not happen, the film being so demanding on its viewers.
Most recently Affleck earned strong reviews as the charismatic Bob in Ain't Them Bodies Saints (2013) portraying one half of a modern day Bonnie and Clyde working his way back to his girl after a long prison sentence. In Out of the Furnace (2013), with Christian Bale, he is extraordinary as Rodney, a veteran of the Iraq war who wears his pain on his face as though it was burned there by the horrors he has seen and committed in the war. Both strong performances, admired by critics and the small number who saw the films, but still Affleck is widely unknown.
That should stop this fall when 'Manchester By the Sea' opens and Affleck's performance becomes the frontrunner for the Academy Award.
Read More: The 10 Greatest Actor-Turned-Directors