Given the number of past 'Love Island USA' cast members that appeared in the very first season of Peacock's 'Love Island Games,' the likelihood of former partners meeting each other was certainly high. Hence, when Cely Vazquez and Johnny Middlebrooks ended up meeting each other, people could not help but be captivated by the drama, especially given the apparent bad blood that seemed to exist between the two. That said, the pair's animosity towards each other has also left people curious about just why the two split apart in the first place.
Cely Vazquez and Johnny Middlebrooks' Love Island Journey
Given the long and steady journey that Cely Vazquez and Johnny Middlebrooks undertook in season 2 of 'Love Island USA,' which aired on CBS, it is easy to see why the two ended up as runner-ups for the season. This particular installment of the show was the first season to actually not be filmed on an island owing to the COVID-19 pandemic and rather took place in a villa in Las Vegas, Nevada. While Cely had initially been paired with Tre Forte on Day 1, this particular couple did not last long.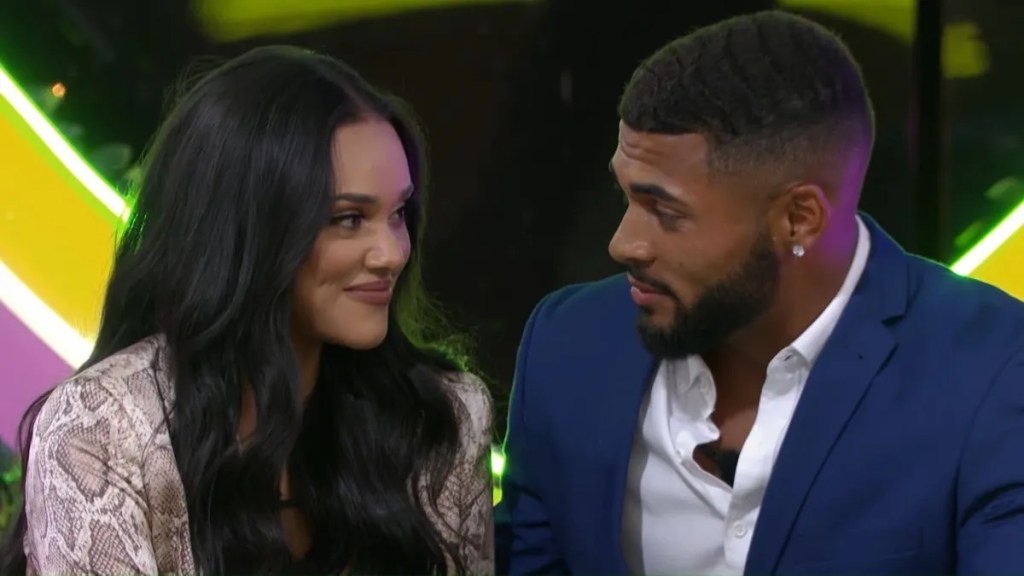 Indeed, by the very second day, Johnny and Cely became a couple and soon gained the admiration and love of the viewers. After all, the two stayed with each other despite every ups and downs, though there were indeed moments when it seemed like the two may end things for good. This primarily became a concern after the two were separated for Casa Amor and Johnny met Mercades Schell. He ended up sharing a bed with the new contestant, which sparked much concern.
Ultimately, despite his growing closeness with Mercades, Johnny chose Cely to be his partner and was overjoyed to have been chosen in return. Since that moment, the couple remained steady and certainly seemed happy to have been chosen as the second-most-popular couple by the viewers, just behind Justine Ndiba and Caleb Corprew. However, only a few months afterward, after Johnny and Cely reentered the real world, they announced their split.
Cely Vazquez and Johnny Middlebrooks' Reasons For Separating
Officially, Cely Vazquez and Johnny Middlebrooks announced their break up via social media on January 9, 2021. "Because you've all been such a close part of our relationship, I wanted to share with you that Johnny and I are no longer together. While our relationship has been public from the start, I do ask that you respect this decision and our privacy during this time. There is no reason to speculate. I am so thankful for our time together, but now it's simply time for each of us to focus on our personal journey," Cely shared on Twitter. She later shared that the split apparently ahppened when the couple had gone to Hawaii in December 2020. Things between them allegedly heated up, prompting Cely to level while Johnny stayed to continue to vacation.
— Cely Vazquez (@Celybird) January 9, 2021
Johnny also initially seemed to be quite on board with the amicable nature of the couple's break up, thanking everyone for their love and support. However, not long afterward, speculations emerged that the pair might be on as good terms as they had indicated. Johnny especially took to social media to express his displeasure that Cely was allegedly trying to imply that their split had happened due to negative reasons. He admitted that his own video about the situation had somewhat of a clickbait title but did not think that this warranted Cely trying to "mislead" the public.
When Cely and Johnny did end up meeting in 'Love Island Games,' it seemed obvious that the former held no love for the latter. In a one-on-one conversation, she chastised him for kissing her as a way of "breaking the ice." Their conversation indicated that the couple's break up might have something to do with Cely allegedly spending more money on the two that Johnny was contributing. In fact, Cely quipped how she had financed a Hawaii trip for Johnny while he was not even willing to buy a Taco for her. Additionally, the two did seem upset about the online fallout that happened between the two after their break-up announcement.
Read More: Is Love Island Games Live or Pre-Recorded?