When the Cleaveland County, Arkansas, police started a missing person investigation into the disappearance of Cherrish Allbright, they had no idea that the case would take such a disturbing turn. A few days later, Allbright's deceased body, along with her unborn child's, was found gruesomely murdered and buried inside a shallow grave. Investigation Discovery's 'The Night That Didn't End: In the Dead of the Night' takes the viewer through the horrifying incident and how a swift police investigation revealed a sinister, murderous plot that terrified the community. Let's dig deeper into this case and find out where the perpetrator is today, shall we?
How Did Cherrish Allbright Die?
Cherrish Allbright was a 21-year-old resident of Rison, Arkansas, who was adored by the community. Described as a free-spirited woman who enjoyed her own life as much as helping others, Cherrish Allbright had even mentioned that she was pregnant before her sudden disappearance. With her sudden and untimely passing, she is still mourned to this very day.
Cherrish Allbright was last seen at her Rison, Arkansas, home on December 3, 2015, when an unidentified person picked her up. When there was no news of the missing girl, her anxious friends and family tried to get in touch with her, but it was to no avail. Concerned about the well-being of Allbright, her disappearance was finally reported to the police on December 7, 2015.
Once the police were involved, they ran their usual searches and combed through the nearby areas for the missing woman. Authorities also learned that Cherrish Allbright was pregnant when she went missing. Finally, three days later, on December 10, the police found an unmarked grave from which they were able to recover Allbright's gruesomely murdered body. The grave also held the victim's unborn child.
Right from the get-go, it was a clear case of homicide as Allbright had a crossbow arrow through her back. An autopsy further determined that the cause of death was blunt force trauma originating from two severe impacts to the back of her head. The horrifying and bloody sight left authorities shellshocked as they resolved to solve the grisly homicide.
Who Killed Cherrish Allbright?
With the police knowing that Cherrish Allbright was already pregnant, they began looking at the unborn child's father. Allbright had talked about her pregnancy with Brad Hunter Smith, the baby's supposed father, in November 2015. Ever since then, according to the show, a few of Brad's associates stated that he had mentioned something about needing help with a murder. However, a confession to the crime came as a complete surprise. Joshua Brown, Smith's accomplice, was called in for questioning on an unrelated matter when he suddenly decided to come clean and confess about Cherrish Allbright's murder.
Brown told authorities about the murder transpired. On December 3, 2015, Allbright was lured to a field by Joshua on the pretext of smoking marijuana. Once in the field, she was ambushed by Brad, who shot her in the back with a crossbow. The poor woman was then forced to get down on her knees, and Smith bashed her head twice with a baseball bat, effectively killing her. Once she was confirmed dead, the group buried her body in a grave behind Brad's house. Based on this confession, the police arrested Brad Hunter Smith and charged him with capital murder, kidnapping, and abuse of a corpse.
Where Is Brad Hunter Smith Now?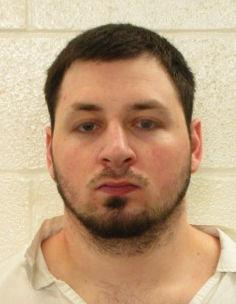 After Brad Hunter Smith's arrest, prosecutors sought the death penalty once he was presented in court. He was found guilty and convicted of capital murder, kidnapping, and abuse of a corpse. The abuse of a corpse and kidnapping convictions got Brad a 10 and 20-year prison sentence respectively, while he was sentenced to death in 2016 for capital murder. Subsequently, Brad appealed his case, and in December 2020, the Arkansas Supreme Court overturned his death sentence and ordered a new sentencing. However, it should be noted that Brad's conviction was not overturned. Currently, Brad Hunter Smith is awaiting his resentencing at the Varner Supermax Unit in Lincoln County, Arkansas.
Read More: Ahmad Rashad Murder: Where Is Clarence Murphy Now?