When 20-year-old Toronto native, Christina Calayca, went on a camping trip with some peers in August 2007, little did her family know it would be the last time they saw her. Crime Junkie Podcast's 'MISSING: Christina Calayca' chronicles how the young woman's sudden disappearance led to a massive search spanning several years and delves into the investigation that tried to decode the entire incident. Now, if you wish to learn more details about this shocking incident and if Christina has been located, here's what we gathered.
What Happened to Christina Calayca?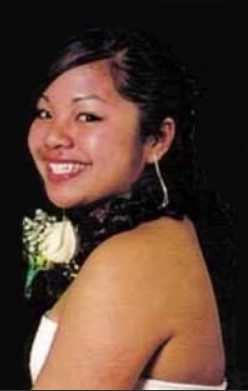 Born on December 19, 1986, to Elizabeth Rutledge and Mario Calayca, Christina Calayaca was a Filipino Canadian who lived with her mom and younger brother, Michael, in Cabbagetown, Toronto. A 2006 graduate from George Brown College with a certificate in Early Childhood Education, she worked at a summer camp hosted by St. Bernadette's Day Care. In addition, Christina was a leader in Youth for Christ and volunteered with an affiliated youth ministry. Loved ones describe her as a hard-working and devout person with a contagious smile and good leadership skills.
At the time of her disappearance, Christina planned to travel to the Philippines for missionary work and attend a teacher's college at York University. On the first weekend of August 2007, the 20-year-old and three of her acquaintances planned an amateur camping trip to the Rainbow Falls Provincial Park in Northwestern Ontario. The group included Christina's 20-year-old cousin, Faith Castulo, and two of their friends from Youth for Christ- Edward "Eddy" Migue (20) and Joe "J.B." Benedict (19). Surprisingly, she was rather vague in telling her mother of her whereabouts.
The four friends drove to the location on August 5, 2007, where they set up camp near Whitesand Lake and stayed up all night. The following day, at 6:30 AM, Christina asked Eddy to accompany her to the camping ground's central comfort station for amenities. While returning, she reportedly suggested they jog back, and the duo decided to take alternate routes at some point. Eddy took the road toward Highway 17, whereas Christina went on the trail leading to Rainbow Falls. She wore a blue hoodie, a purple-striped shirt, black pants, and white running shoes.
It was the last time anyone saw Christina; when her friend returned to the campsite an hour later, she had still not returned. After looking nearby and waiting till 11 AM, her three friends went looking for her around the places she was last seen, even leaving a note for her at the campsite. But when they failed to locate Christina even with the park staff's help, the trio officially reported her as missing at 2:00 PM. Two hours later, the Ontario Provincial Police (OPP) informed her mother of her sudden disappearance.
Is Christina Calayca Found or Missing? Is She Dead or Alive?
Unfortunately, Christina Calayca remains missing to date, and there has been no news of her whereabouts. Nevertheless, her family and friends firmly believe that she may still be alive, and the case is marked as an active missing person investigation. Though the police initially questioned Christina's friends and doubted why they took so long to report her missing, all three were soon let off the hook after verifying their testimonies.
Over the next seventeen days, law enforcement officials conducted a large-scale search operation involving 100 police officers, divers, firefighters, and non-police specialists. Besides, they even used GPS, infrared cameras, underwater radars, canine units, and numerous airplanes and helicopters. But despite several efforts and battling dangerous terrain and wild weather, all searches for the missing 20-year-old turned futile. Meanwhile, a resident of the nearby Schreiber municipality named Paul Gauthier came forward with a hopeful lead.
Paul reported that he had allegedly seen an unidentified woman jogging through the Rossport Campground at about 9:00 AM on August 6, 2007. While the location he mentioned was just 3 kilometers from where Christina went missing, the lack of further evidence nullified the possibility of him spotting her. Later, the search team also retrieved a footprint and items like a white sock from the area, yet they did not match Christina's profile. Not just that, the OPP ruled out the possibility of a bear/wolf attack since no blood, drag marks, or ripped clothing were found.
After a thorough underwater search of Whitesand Lake and the nearby Thunder Bay, the police's efforts yielded no results. Other theories included Christina getting lost due to a misadventure or becoming the victim of a vicious attack or abduction by someone. Nonetheless, all these speculations have remained unproven since no evidence exists to validate them. Furthermore, the OPP does not believe that the 20-year-old was a victim of foul play. On the other hand, her family denied claims that she could have deliberately disappeared to escape her life.
In November 2008, six cadaver dogs detected human remains at the bottom of the Hewitson River, but they couldn't search further due to the water's depth and flow. As the official police search operations receded into the background, Christina's mother, Elizabeth, began raising community fundraisers and conducted private searches, hoping to find relevant information about her daughter. In addition, she formed a Facebook page and created a website, inviting people to help look for Christina.
Sadly, even Elizabeth's endeavors failed to produce any beneficial results, and she was forced to abandon the search in October 2009 due to a lack of finances. In October 2010, human remains were found in Thunder Bay, yet they were not identified as Christina's. Since 2011, her family and the police have been actively in touch to discuss new leads and find the missing woman. Though the search operation has slowed down, retired OPP officer Sgt. Don Webster shared a new update in a September 2021 interview.
Sgt. Webster stated that some information regarding the case has not been made public yet and is part of an active investigation. As of writing, Christina Calayca is believed to be 36, and her loved ones still hope she's alive and pray for her safe return. The OPP is still investigating the case, and the Ontario government has also issued a $50,000 reward for information about her whereabouts.
Read More: Natanalie Perez: Found or Missing? Is She Dead or Alive?