People who are on the run and spend a good amount of time outdoors would know the hassle of constantly reaching for your phone in your pocket. Many often wonder only if there were a device that would help provide easy access to your phone. Well, now there is. Entrepreneurs Mike Cherkezian and Justin Barad came up with Chubby Buttons in 2017 to aid people in easily using applications on their phones without having to touch the phones.
The entrepreneurs presented their unique product on 'Shark Tank' season 14 episode 17, in the hopes of getting the Sharks on board with the idea of gaining a substantial amount of investment to further sales. Now that we have your undivided attention about the product, let's trace the company's growth and find out where they are at present, shall we?
Chubby Buttons: Who Are They and What Do They Do?
Michael Cherkezian completed his Bachelor of Arts in Communication and Mathematics from Boston College. The entrepreneur started his career as a Quantitative Fixed Income Associate & Interest Rate Trading Analyst at Sandler O'Neill & Partners, LP. In 2o10, he joined Norex International, LLC as the Managing Director of Business Development. In 2021, Micheal joined Thinknum Alternative Data as their Managing Director. While focusing on his own company, Michael is also working as the Investment Research Sales at Envestnet | Yodlee.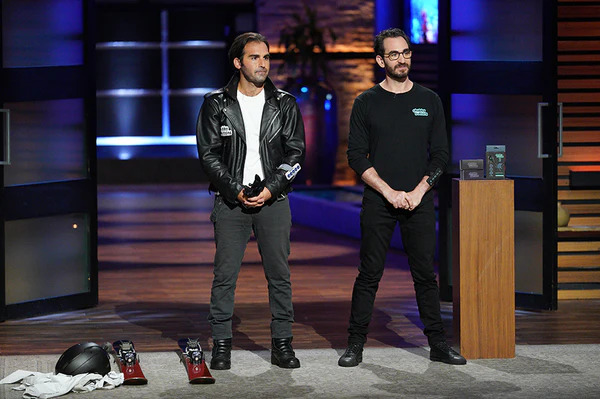 Justin Barad completed his Bachelor of Arts degree in Chemistry from New York University. He later earned his Doctor of Medicine degree from Tel Aviv University. Justin began his professional career in 2010 when he joined The Execu|Search Group as their Staffing Manager. Since then, the entrepreneur has worked in a few companies in reputable positions. In 2012 he joined Boomerang, Inc. as their Director of Business Development. Later, he worked as the Senior Business Development Manager at Fooda and Head of Operations at Rover Diagnostics.
Currently, Justin is the Co-Founder and the Head of Operations at Chubby Buttons. When one of Justin's pals was having trouble changing the music, he came up with the idea to create a device that would help people gain easy access to their phones. After doing some research, Justin and Michael came up with the idea for Chubby Buttons. The majority of bike riders commute while dressed for riding, making it impossible for them to use their phones simultaneously. If the phone is in the inner pocket of the jacket, the rider will need to remove both the gloves and the jacket in order to reach it. Despite the size of the work, this device's wearable technology makes it simple to reach the phone.
Where is Chubby Buttons Now?
Chubby Buttons is a device with big or "chubby" buttons that can be mounted or attached to smooth surfaces, on cars, bikes, arms, and even on handlebars, amongst other places. For people staying at home, you can also attach the product to the walls while listening to music if you are away from your phones or want to enjoy your dishwashing or laundry time. Users can connect the device to any compatible device via Bluetooth and enjoy. You can change the music, click pictures, answer the phone, and control the volume.
The need for the "chubby" buttons is to make it easy for people to use the buttons while wearing gloves. The product is an absolute must-have for runners, cyclists, riders, and everybody who wants a product that makes our lives easier, especially in the era where we cannot survive without our phones. The product is compatible with any Android or Apple device and is durable and water-resistant. The product can control your speaker or phone from up to 200 feet only if there are no mediating obstructions in the way and up to 75 feet in crowded places. The nano suction layer technology contains millions of tiny suction cups that allow the button to stick to any smooth surface easily.
The product is ultra-thin, reusable, and washable. The wearable or stackable Bluetooth remote or chubby buttons come in three variants, grey, blue and white, and olive green, each sold for $74.99. The brand has been doing great in the market with amazing positive reviews. It has also been featured in reputable publications such as Entrepreneur, MotorcycleMojo, Ski, Outside, Mashable, Games, and others. Mike and Justin appeared on 'Shark Tank' to ask for a substantial investment to increase production. We are very excited to see how far Chubby Buttons go and what new models they bring to the table.
Read More: Autio Shark Tank Update: Where Are They Now?