Investigation Discovery's 'Vengeance: Killer Millionaires: Love, Sex and Greed' depicts the gruesome execution-style murder of successful Akron, Ohio businessman Jeff Zack in mid-June 2001. While the police had their suspects on a local socialite as the person of interest from the beginning of the probe, they could not gather enough evidence for an arrest before a year. The episode details the tale of love and lust and lays the question before the viewers — was an allegedly fatal love triangle the reason behind Jeff's brutal murder?
How Did Jeff Zack Die?
Jeffrey "Jeff" Zack was born to Elayne Zack in Detroit in Wayne County, Michigan, on January 20, 1957. The former Israeli paratrooper took his stepfather's name after his biological father abandoned him as a child. With his refined and charming manner, the successful stockbroker had a reputation in the town as a womanizer and disregard for the law. According to the show, Jeff had multiple criminal convictions, including ties with an illegal Arizona escort agency in 1981 and sexually harassing an adolescent girl in a hardware store in 1996.
By 1991, he shared a decade-long marriage with his wife, Bonnie Cook, and had a son, Brian. However, the crooked businessman shifted to Akron in Summit County, Ohio, for a fresh start after the authorities pursued his Arizona firm for mishandling money in 1991. As of June 2001, the 44-year-old owned a successful business servicing vending machines around Ohio. On June 16 morning, he left his Akron residence suddenly in his Ford SUV without informing his family about his plans or destination.
However, they were not concerned as he regularly went out on Saturday mornings to BJ's Wholesale Club to purchase supplies to fill his various vending machines. Jeff pulled into the gas pump on Home Avenue to refuel his tank when a stranger wearing black pulled up on a bike to his passenger-side window and fired a single shot. The bullet pierced through the 44-year-old's skull, killing him instantly. According to Carolyn Hyson, the pump attendant on the scene, the assassin paid her a cursory glance before speeding away on their bike.
Who Killed Jeff Zack?
The Akron detectives did not have much leads except for the pump's grainy surveillance video, some bullet fragments, and a shaken Carolyn's witness statement. The security footage showed a "lime green and black, ninja-style motorcycle" with the killer wearing a dark helmet that revealed none of their facial features. The police interviewed Jeff's family to learn about his short temper and prior criminal record. Lt. Dave Whiddon stated, "We talked to several people who had confrontations with him." However, none of the leads panned out.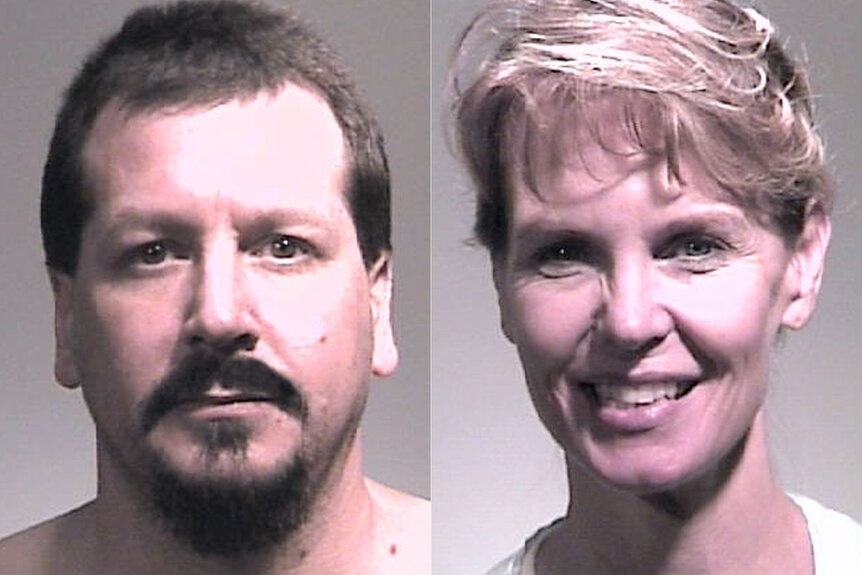 The investigators talked with Jeff's friends until they stumbled upon Cynthia "Cindy" and Ed George. The Zacks and the Georges shared a decade-long friendship since they met at Ed's supper club, the Tangier. Ed was a well-known, wealthy Akron restaurateur and 15-16 years senior to his wife, Cindy, with whom he shared seven kids. The beautiful Cindy — a factory worker's daughter — had met her affluent husband at the Tangier in 1978 and married him six years later, in 1984.
Veteran reporter Phil Trexler added, "The Georges were part of the old tradition of Akron — wealth and prominence." However, the police had an initial breakthrough when Jeff's widow informed them about her husband's recently concluded long-term affair with a married woman. Detective Vince Felber added, "Jeff had broken up with someone he loved for a long time and was distraught over it." It did not take long for the investigators to figure out that the "married woman" was Cindy George herself.
Jeff's mother, Elayne, noted the affair was "an open secret" and said, "Cindy was very attractive, a beauty queen living in this mansion." She added, "And Jeffrey was a typical egocentric male that probably enjoyed having this beautiful blonde." Elayne also detailed her son's difficult childhood after his biological father rejected him after divorcing his mother. She described how Jeff's childhood trauma resulted in his inability to handle rejection. The investigators also found it quite fishy that Jeff's murder happened less than a month after the affair ended.
The police had also located a threatening message on the victim's answering machine — "All right buddy, you've got one more out. So you need to start answering your cell phone, okay?" The detectives felt the threat message seemed to have a personal touch, and they started looking into whether Cindy and Ed could have arranged the hit. Their suspicions grew stronger after learning one of the couple's seven kids had been fathered by Jeff. However, they had to wait over a year before a breakthrough regarding the gunman's identity came from a tip.
The authorities had offered a reward for any information, and an anonymous tip sent the police to Christine Todaro, a former wife of an unemployed trucker, John F. Zaffino. Cindy and John had met in 2000, and the show noted how Cindy juggled both her lovers before finally ending it with Jeff in May 2001. However, Jeff continued to call, and Cindy told John about the alleged harassment. Christine recalled, "He was a maniac. He would go from zero to Mach Ten in three seconds."
When the police played the anonymous threat message on Jeff's answering machine to Christine, she instantly identified it as John's. A co-worker stated they sold him two guns — a .32-caliber pistol and a .357 Magnum — weeks before the murder, with the latter being identified as the murder weapon. The officers also checked his phone records to discard John's alibi of being at a car show during the murder's time frame. John's first wife also informed the authorities he had sold a bike similar to the one used in the killing to her erstwhile fiancé. Based on all the circumstantial evidence, the investigators arrested John on September 25, 2002.
Where is John Zaffino Now?
John's trial began in late February 2003, and a jury convicted him of aggravated murder. He was sentenced to life in prison without the possibility of parole for at least 23 years. However, Jeff's friends and family maintained it was Cindy who had arranged the hit. The police had also found records of her withdrawing $5,300 just before John purchased the getaway bike. Even though John declined to cooperate with the authorities, they arrested Cindy on January 10, 2005, charging her with both complicity and conspiracy to commit aggravated murder.
Cindy's trial began in November 2005, and the prosecution used an alleged confession John had made to a fellow inmate. The defense sought a bench trial, with the judge convicting her of complicity in aggravated murder and sentencing her to 23 years to life. However, the Ninth Ohio District Court of Appeals reversed the conviction on March 22, 2007, and the Ohio Supreme Court upheld the reversal on August 30. Owing to her constitutional protection from double jeopardy, she cannot be tried again for Jeff's murder. John, 57, remains incarcerated at the Grafton Correctional Institution and will be eligible for parole in September 2025.
Read More: The Reason Behind Why Jane Andrews Killed Tom Cressman