Peacock's 'American Nightmare: Becoming Cody Rhodes' is a documentary movie that tells the life story of Cody Rhodes (previously known as Cody Runnels), a famous sports entertainer whose journey within and outside the world of World Wrestling Entertainment (WWE) is the film's primary focus. The ups and downs that he faced during this time and his actions truly make one admire the athlete even more. Naturally, many of Cody's fans are eager to know where he is these days, and we are here to answer the same!
Who is Cody Rhodes?
Born on June 30, 1985, Cody is the son of Dusty "American Dream" Rhodes and Michelle Rubio. Growing up in Marietta, Georgia, he adored that his father was such a big name in sports entertainment. While Dusty retired when Cody was about eight to spend more time with his kids, the latter has always held his father's professional accomplishments close to his heart. Hence, the fact that his father had not won a WWE Championship title throughout his career with the organization impacted Cody deeply.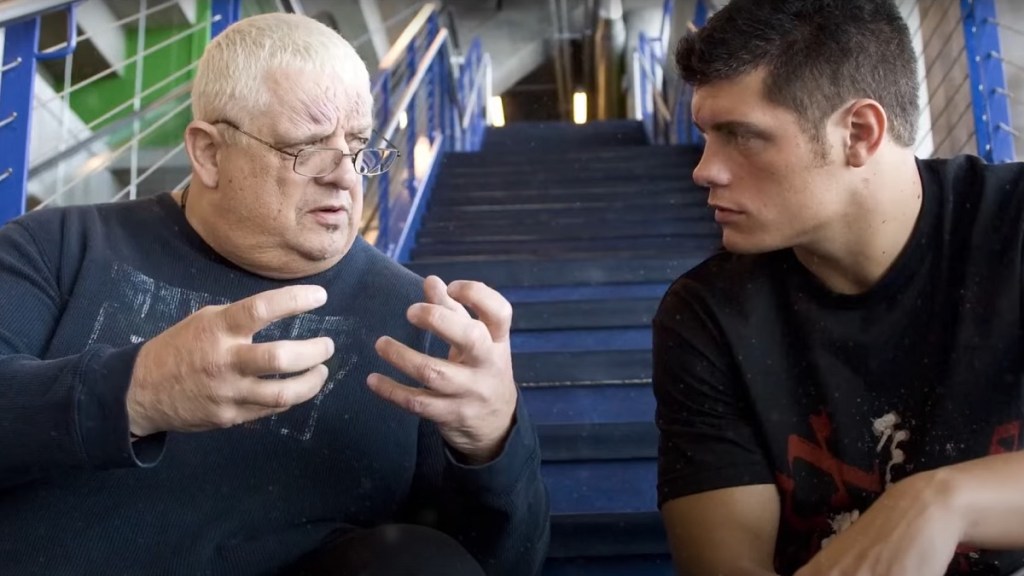 During his high school years, Cody dominated the wrestling circuits, having started preparing for the same around nine. Following his schooling, he decided not to go to college and instead tried his luck at acting for some time by staying in Los Angeles, California, and taking classes for the same. However, just about a year in, around 19, Cody realized that his passion lay in the world of sports entertainment and that he wanted to pursue his childhood dream of winning a WWE Championship title on behalf of his father.
Initially, Cody joined Ohio Valley Wrestling and started to dominate the local circuits. Although, when his father was inducted into the WWE Hall of Fame on March 31, 2007, the speech given by Cody made him stand out in the eyes of big names in the organization, including the then-Chairman, Vince McMahon. Thus, merely months later, he made his television debut on July 2, 2007, during an episode of 'Raw,' which is part of the WWE franchise. The dramatic sequence led to Cody's first ever on-screen wrestling match on July 16, 2007, where he had to face Randy Orton.
As Cody's time in the WWE progressed, he became highly popular, though it seemed complicated to shake off the shadow of his father's legacy. The fact that his older half-brother, Dustin Rhodes, was already a part of WWE as Goldust only made Cody want to stand out even more. Things took a turn for the star when he became a part of a "villainous" trio which also comprised Randy Orton and Ted DiBiase.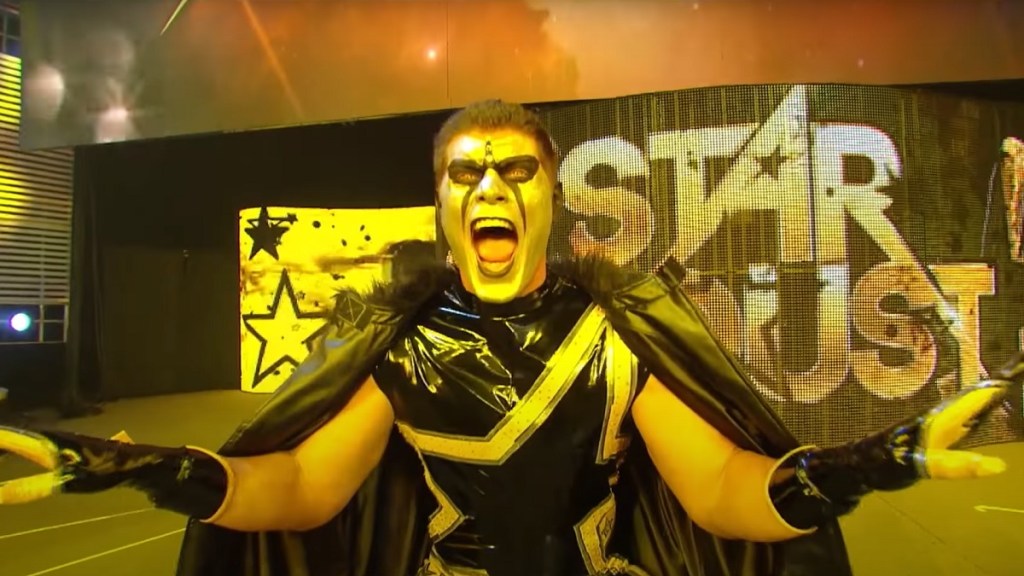 Around 2010, Cody left the trio behind and became "Dashing" Cody Rhodes, a man immensely proud of his looks. During this arc, he was often seen sharing grooming tips and became incredibly protective of his face. In 2011, when Rey Mysterio legitimately broke Cody's nose, the wrestler decided to give his character a new arc as "Dashing" became "Undashing" Cody Rhodes, who would wear a clear protective mask even while in the ring.
In August 2011, Cody became the Intercontinental Champion by defeating Ezekiel Jackson. He held on to the title for around 233 days before things became chaotic as many people tried to claim the title for themselves following his defeat to Big Show. Cody was part of various storylines and disputes in the show for a significant period, which only boosted his fame.
It was in June 2014 that Rody made his debut as Stardust, a character that looked similar to Goldust. Yet, the entertainer felt that his horizons had been considerably narrowed with this decision and started to grow creatively frustrated, even though his dedication to the portrayal of the character has been praised by many. With Dusty's tragic passing on June 11, 2015, Cody felt that his chance at continuing his father's legacy was slipping away from his hand as Stardust. In the documentary, he revealed how he realized he would never be fired from WWE because of his worth ethic and family connections, so he quit on his own in 2016.
After Cody quit the WWE franchise, he started participating in independent circuits, where he began gaining more and more traction. Due to this, his "All In" event, which was held on September 1, 2018, became as successful as it was, setting the record as the first non-WWE sports entertainment event since WWE that had sold 10,000 tickets. Other franchises Cody was a part of during his independent years include Ring of Honor, Total Nonstop Action Wrestling/Impact Wrestling, and New Japan Pro-Wrestling.
Around 2018, Cody and several others helped establish All Elite Wrestling (AEW), with its wrestling events starting in 2019. Nevertheless, in 2022, the wrestler left AEW to return to WWE, donning the persona of American Nightmare. Cody's reception to his first comeback match against Seth "Freakin" Rollins was nothing short of jubilant, as fans were eager to see what he would do next. His subsequent declaration that he wanted to claim the WWE Championship title in his father's honor bolstered his positive regard.
Where is Cody Rhodes Now?
Cody Rhodes seems as dedicated as ever to bringing home the WWE Championship title. Despite a legitimate pectoral muscle tear, his breathtaking Hell in a Cell match against Seth Rollins has only made him more popular with the fans. As such, Cody's ongoing rivalry with Roman Reigns, who holds the Undisputed WWE Universal Championship as of writing, is something many have been following with bated breath.
As for his personal life, Cody's marriage to Brandi Rhodes is going as strong as ever. The two met during their time in WWE as she herself was once part of the organization and currently works as a ring announcer, model, and businesswoman. Interestingly, she was also once a professional wrestler. The two tied the knot in September 2013 and have remained with each other through thick and thin. On June 18, 2021, Cody and Brandi became parents to their daughter Liberty who has become a focal point of his world. We wish the wrestler and his loved ones the best in their lives and hope he soon accomplishes the dreams he has worked so hard towards.
Read More: Is WWE Real or Scripted?