Who doesn't love soft-serve ice creams wrapped in delicious, high-quality fresh dough rolled in wooden dowels and grilled rotisserie style? Sounds quite interesting and unique, right? Entrepreneur Jeremy Carlson created Crispy Cones while he was trying to make ends meet as a student on the roadside of Rexburg, Idaho. The European-styled dessert soon became very popular, and people used to come from different places in Idaho to try the soft-serve ice cream filled with goodness.
Therefore, Jeremy Carlson, with his beloved wife, Kaitlyn Carlson, presented his unique product Crispy Cones to the Sharks in 'Shark Tank's season 14 episode 17. Crispy Cones is an innovative Czech-inspired dessert that brings a US twist to the European dessert with the creativity infused by the entrepreneur. With such a tasty product on display, we got intrigued to learn more about the company, and here is what we found out!
Crispy Cones: Who Are They and What Do They Do?
Crispy Cones is a soft-serve ice cream served in cones made from fresh dough and grilled rotisserie-style, which is infused with different flavors such as Oreos, cinnamon, Nutella, and others. Jeremy first came across the dessert while doing missionary work for The Church of Jesus Christ of Latter-day Saints in the Czech Republic. He found the treat absolutely delicious and innovative, something the people of the States are not familiar with. He realized he should bring the product, add a bit of his own touch clubbed with his American roots, and sell it in the US.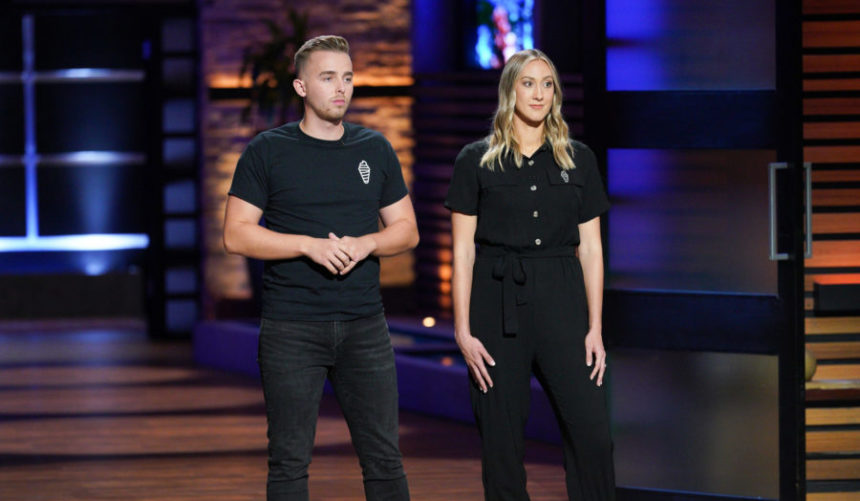 Jeremy started selling the treats from a trailer while he was still studying at Brigham Young University. With the help of his wife, Kaitlyn, Jeremy began his business in Rexburg, Idaho, in 2018 and later opened another store in Logan, Utah. The young entrepreneur attended Brigham Young University in 2018, where he studied General Studies with a Business Emphasis.
In 2022, Jeremy obtained his Bachelor of Science Degree in Business Marketing from the Utah State University – Jon M. Huntsman School of Business. Freshly out of college, the young entrepreneur does not have much experience on the professional front and has only completed a five months internship with Hotel Štamberk as their Hotel Manager/Worker. For the last four years, Jeremy has been concentrating on his business which he started in 2018 in Rexburg, Idaho, and opened another store in Logan, Utah, in 2021.
Where is Crispy Cones Now?
A Crispy Cone is a cone made of fresh dough roasted in a rotisserie fashion and dusted with cinnamon and sugar. It can be filled with gourmet soft-serve ice cream, cookie butter, hazelnut chocolate, or both. The crispy, crunchy cones, a local favorite, are said to have what it takes to take the dessert business by storm. In 2018, Crispy Cones first opened as a snack food stand. It rapidly turned into a local favorite and has continued to expand over time. In addition to two corporate offices, one in Rexburg and one in Logan, Utah, Crispy Cones presently has 11 franchise stores distributed across Arizona and Utah.
Within the cone, layers of spreads like cookie butter and Nutella are placed. The cones are filled with premium ice cream in the last step. It's now time to devour the Crispy Cones. According to the customer's preferences, topping is also applied to the cone. At the Crispy Cones store, in addition to vanilla and chocolate flavors, special flavors are also available every week. Each ice cream is sold for $7.59 and comes in different flavors, with vanilla and chocolate being available every day and weekly flavors being rotated. As of writing, the flavor of the week is Pistachio.
The hot cones are sold at $6.49 with a traditional flavor of cinnamon sprinkled and chocolate layered. The March 2023 speciality flavor for the Hot Cone is Orea. The spread comes in three different flavors, Nutella, cookie butter, and peanut butter. Customers can choose their own toppings from Oreos, pretzels, almonds, walnuts, KitKat, cookie dough, graham crackers, Heath Bar, Almond Joy, Biscoff Cookies, and strawberries. Additional toppings cost 25 cents. Four different flavored sauces are available to choose from, which include Nutella, cookie butter, raspberry, and caramel.
The brand also sells cool merchandise like T-shirts and stickers. The Crispy Cone T-shirts are currently being sold at $29.99 at a discounted price, while each sticker costs $2.50. We are excited to see what new products the brand launches in the near future. It is lovely to witness Crispy Cones rise to the top, and we are confident that the company is headed for further success in the years to come.
Read More: Chubby Buttons Shark Tank Update: Where Are They Now?