: 'Cruel Summer' is a Freeform anthology thriller series that explores its narrative through multiple storylines. In season 2, the plot is set in the fictional Northwestern coastal town of Chatham, Washington. Like the first season, the narrative in season 2 is split into three parts: summer 1999, winter 1999, and summer 2000. The plot follows 17-year-olds Megan Landry (Sadie Stanley), Isabella LaRue (Lexi Underwood), and Luke Chambers (Griffin Gluck) and the friendship between them.
In summer 2000, it is discovered that Luke is murdered, and Megan and Isabella become persons of interest in the subsequent investigation. Season 2 episode 9, titled 'The Miseducation of Luke Chambers,' exclusively focuses on Luke as he reflects on his life and how the pressures of being a scion of the Chambers family have impacted his actions. Here is everything you might want to know about the ending of 'Cruel Summer' season 2 episode 9. SPOILERS AHEAD.
Cruel Summer Season 2 Episode 9 Recap
The penultimate episode of season 2 stands apart from the rest as it exclusively depicts events from Luke's perspective and is set during autumn 1999 and on January 1, 2000. The previous episode ended on a cliffhanger with Isabella shooting at Luke. We have already known Luke would survive this. The coroner's reports revealed that his body had a gunshot wound, but the said wound wasn't fatal. This episode begins by revealing that the bullet has only grazed Luke's ear. All three individuals in the cabin begin to panic, and Megan tends to Luke's injury.
As the episode progresses and the narrative shifts back and forth between the two timelines, it becomes apparent that there is not much difference between Luke and his older brother, Brent, at least not according to the people in his close circle. In autumn 1999, Luke tries to tell his father that he doesn't want to attend Steve's alma mater and wishes to join the Coast Guard instead. Steve Chambers is not a man who likes to hear refusals, especially not from his children. He simply overwhelms the courage Luke has manifested to tell him this, informing his son with an air of finality that he is going to Branson.
Luke applies for Branson and the Coast Guards and gets into both places. However, when he tries to tell his father again that he prefers to join the Coast Guard, Steve dismisses his younger son's desires as naïve. This prompts Luke to accuse his father of not caring about him and his hopes, going as far as telling the older man that it seems that he (Steve) favors Brent.
Meanwhile, this episode makes it clear that Luke's accusation that Isabella wanted him and Megan to break up is not without some merit. We see Isabella asserting her influence over Megan to guide her toward a life where she will achieve all her dreams while warning Luke not to get in the other girl's way. Luke and Jeff finally have a conversation since Megan left the latter for the former. Jeff makes it very clear to Luke that he thinks that the other teenager is worse than his older brother, as, unlike Luke, Brent never tries to hide who he is.
On January 1, 2000, Megan tells Luke about her pregnancy after Isabella leaves. Luke panics, wondering how this could have happened. He immediately tries to assure her that his father will help them deal with it, implying they should abort it. This turns out to be the last straw; Megan tells Luke that she now knows what kind of a person he truly is and leaves.
Cruel Summer Season 2 Episode 9 Ending: Who Did Luke Page?
After Megan's departure, Luke is left all alone at the cabin, still bound to the bed. He manages to get free and ventures outside, the effects of the combination of benzos and alcohol still apparent in his movement. There is a moment in the episode when it seems that Luke might fall into the water in this state, making his death somewhat of an accident. Isabella and Megan still drugged him, and Megan put alcohol in his drink. However, he manages to sit down on the dock and pages someone. We don't see the person as they arrive, but Luke seems relieved.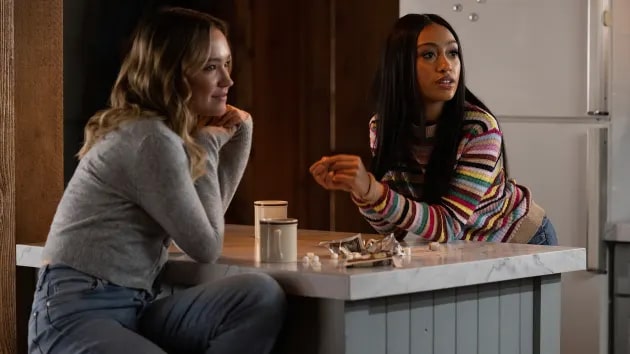 It's probably safe to presume this person is why Luke is dead. It's not likely Steve. He is probably the last person that Luke will reach out to under the circumstances. That leaves his brother, Sheriff Myer, and perhaps Jeff. None of these people seems to have motives to kill Luke unless there is something we don't yet know about. One thing seems certain: Megan and Isabella aren't directly responsible for Luke's death. Both are at home and in bed when this mysterious person arrives at the dock.
Who Leaked the Tape?
The tape leak has been one of the two big mysteries of the season, along with Luke's death. In the previous episode, even under the influence of drugs and alcohol, Luke vehemently denied that he leaked the sex tape he secretly made of himself and Megan. However, we see him having yet another argument with his father at the party at their house in this episode, becoming frustrated, grabbing a videotape, and giving it to a server to play it for all attendees.
When Luke discovers that it's the very tape he made with Megan, he seems surprised, as if it isn't supposed to be there. It's possible that he thought that it was one of Brent's tapes. This means someone found Luke's tape and put it in Brent's collection. Brent is the likely suspect, which means that there is a possibility that he is the person at the dock as well. Perhaps, Brent wants to be the sole inheritor of his father's fortune and has always wanted to get rid of Luke, though admittedly, that sounds too improbable for him as a character.
Read More: Cruel Summer Season 2 Episode 8 Recap and Ending, Explained