Physical transformations and use of prosthetics are synonymous with breathtaking performances in motion pictures. Pervasively a part of method acting, losing/gaining weight for a role requires gusto and blithering determination. The genial provenance of method acting in the industry is none other than the great Marlon Brando. We were first introduced to the bludgeoning concept in 'On the Waterfront', which also fetched Brando his first Oscar. Over the years, there has been a gradual syncretism of physical transformation with method acting. The great thespians of the industry have often stupefied and flabbergasted audiences, critics, and their able contemporaries with unfathomable transformations. With the pioneering use of science and technology, shedding or acquiring priceless pounds has become relatively easy. But take nothing away from these actors. It still is one of the hardest things to do.
Transforming yourselves physically deeply effects your personal demeanor and being. It changes the way you walk, the way you sit, the way you think. You live in someone else's skin and lead a different life altogether. As an actor, it is an orgasmic experience and an expected occupational hazard. Celebrating these great actors' drive and determination for rendering the most authentic of portrayals on screen for us cinephiles, we bring you a list of the twenty greatest physical transformations by artists for a movie role. The transformations aren't circumscribed to weight, but also the use of prosthetics and make-up to an extent. Here is the list of actors — from Hollywood and other film industries around the world — who went through extreme body transformations for roles.
25. Chris Hemsworth ('In The Heart of the Sea')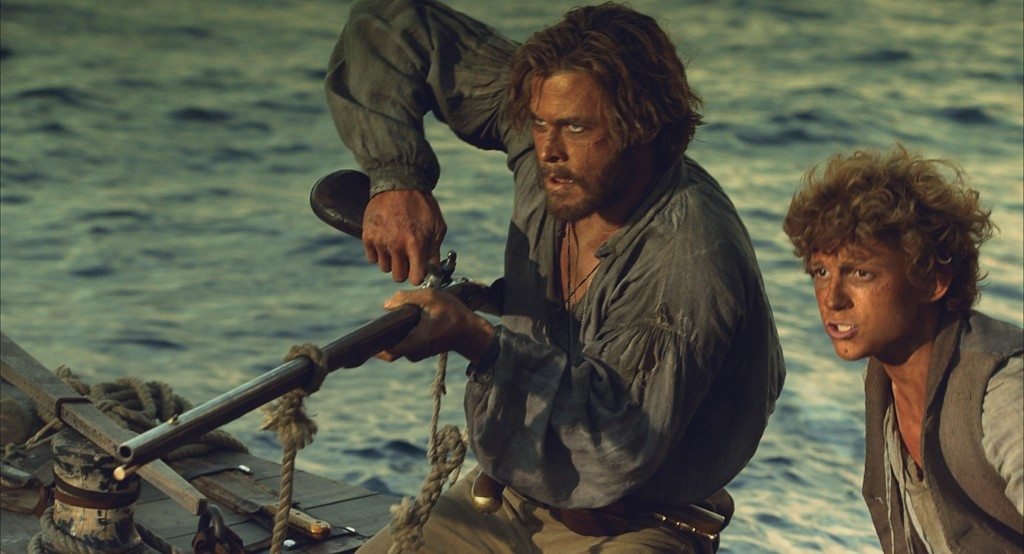 Hemsworth is universally regarded as one of the most attractive men on the planet. His six-abs and ripped body is much revered and loved by the female, and the male gender alike. Well, they were certainly disappointed and charmed by his awe-inspiring transformation for 'In the Heart of the Sea', a 2015 rendition of Nathaniel Philbrick's novel of the same name. Speaking about his metamorphosis, the actor opined : "That's all we spoke about. You've got 15 burly blokes on the sea and all we talked about was our diet and who'd lost more weight and who's looking really skinny. It's ridiculous!" In totality, his weight loss for the movie stood at a respectable 20 lbs. The word respectable in the sentence before is only relative considering what more lies on the list! Nonetheless, a valiant effort from our very own Thor!
24. Priyanka Chopra ('Mary Kom')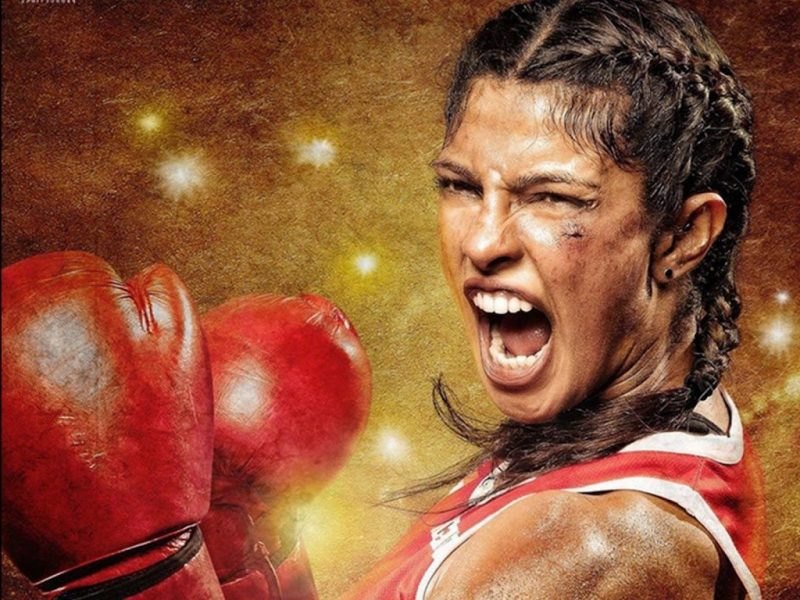 It was a delight to me as a movie lover when an inspirational sports movie based on the life of Mary Kom was announced. But frankly, I was a bit let down when Priyanka Chopra was decided as the lead cast in the movie. I didn't have much faith on how she would be able to pull off a role that involved so many challenges. But it caught me all by surprise. Priyanka Chopra's portrayal and performance were one of the very few things that I actually liked about the movie. And her transformation for the role was beyond amazing. If you are a PC fan, this film is for you.
23. Natalie Portman ('Black Swan')
Darren Aronofsky's Oscar winning 'Black Swan' was an achievement in film-making. The riveting and engaging drama set the screens on fire with its thrilling narrative, and a once in a lifetime performance from its cast. Leading the way was the mercurial Natalie Portman, who not only won the Oscar that year for Best Leading Actress, but also recorded her name in the method acting books, losing a staggering 20 lbs for the movie. Commenting on her rigorous physical and mental transformation, Portman said "There were some nights that I thought I literally was going to die.It was the first time I understood how you could get so wrapped up in a role that it could sort of take you down." A shout out also to the gorgeous Mila Kunis, a co-actor in the film, whose achievements were by no means any lesser, who joked : "I trained four hours a day, seven days a week, for seven months. I had one day off on my birthday and half a day off for the Emmys and the Golden Globes. On those days my ballet instructor worked with me from 5am to 11am, then I went to hair and make-up and on to the awards shows."
22. Aamir Khan ('Dangal')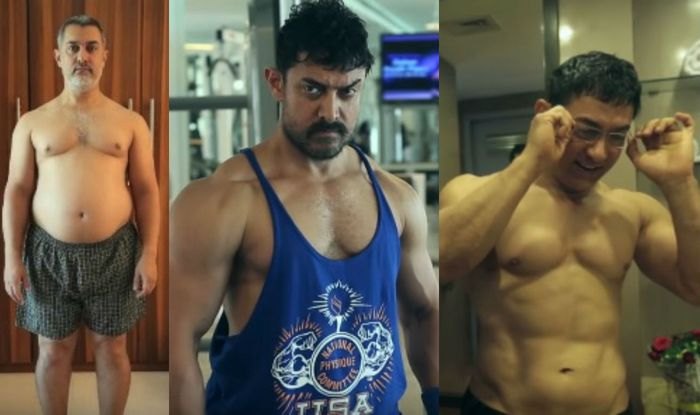 Bollywood superstar isn't a surprise entry in this list. Aamir Khan has surprised audience several times with his body transformation. The master of guises won hearts with his act in 'Taare Zameen Par' which everyone loved. However, the perfectionist left everyone jaw-dropped with his physique and 8-pack abs in his very next flick 'Ghajini'. And then Mr. Perfectionist simply dropped all his hard-earned muscles just as that for '3 Idiots' to play the role of an engineering student. That wasn't the end of it. PK did portray him without much physical transformation, but for his very next Aamir gained weight to play the middle-aged father in 'Dangal', and we all know this isn't his last.
21. Bradley Cooper ('American Sniper')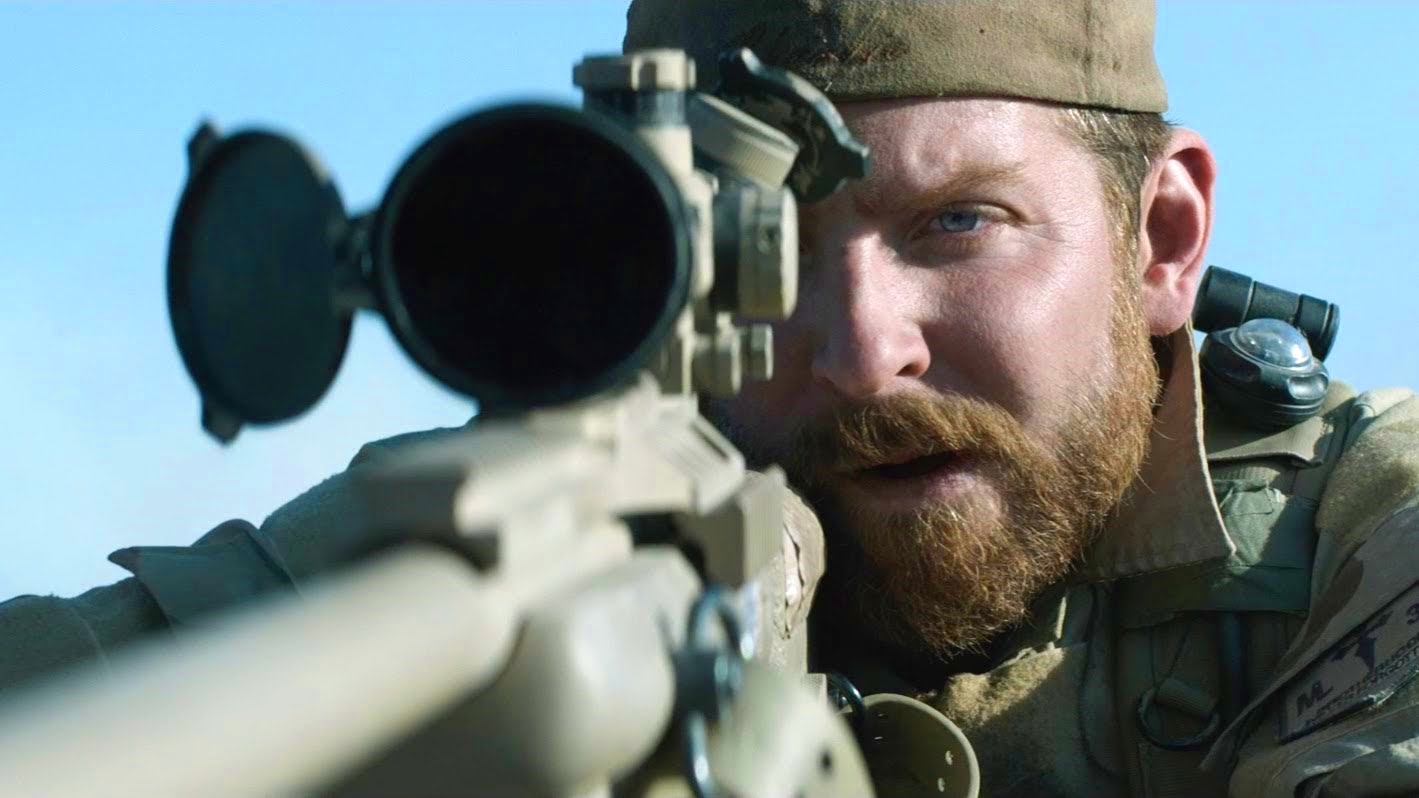 There are few stars in Hollywood who are willing to give everything for a role. Bradley Cooper is certainly one of them. In preparation for his role as Chris Kyle in American Sniper, he gained 37 pounds of lean mass. He followed an intesive workout regime to gain so much weight in quick time. All his efforts really paid off in the end, as he went on to receive Best Actor Oscar nomination for the role.
20. Javier Bardem ('The Sea Inside')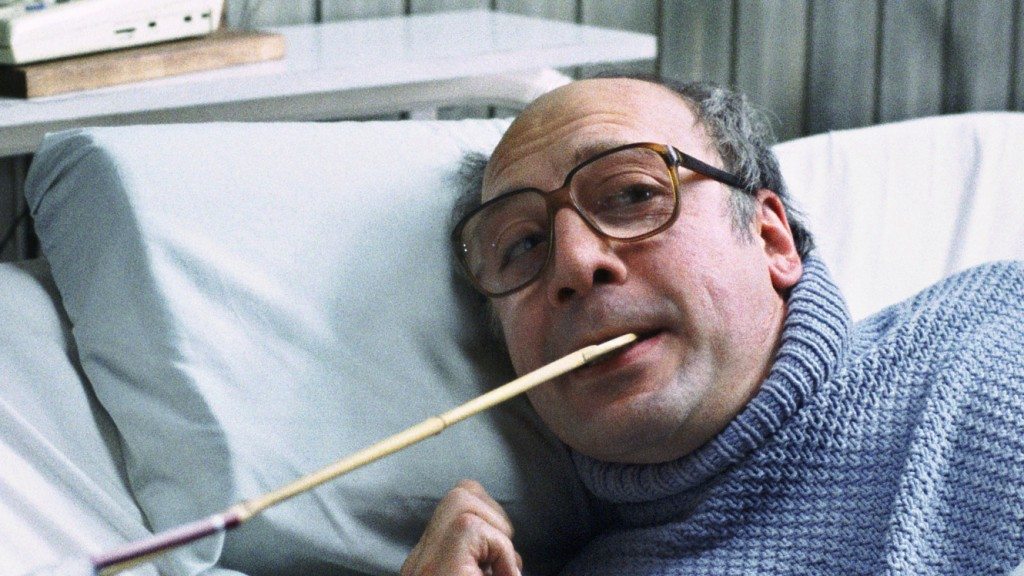 Javier Bardem is one of the finest actors in business. In order to play Spaniard Ramón Sampedro, who fought a 28-year campaign to win the right to end his own life with dignity, Barden lost a tremendous amount of weight. The film explores Ramón's relationships with two women: Julia, a lawyer suffering from Cadasil syndrome who supports his cause, and Rosa, a local woman who wants to convince him that his life is worth living. The film went on to receive nomination for Best Foreign Language Film at the Oscars.
19. Colin Ferrel ('Triage')
If you look like the way Colin Ferrel does, you would pray to God everyday to sustain those looks. Ferrel, being the dedicated and earnest actor that he is, decided to do the contrary, and bring out one of the most shocking transformations on screen in 'Triage'. Playing an unforgiving and physically exhumed photojournalist, Ferrel lost a jaw-dropping 44 lbs for the movie. He solidified his acting credentials with the movie, and equivocally stated in media about his wish to lose the weight as per the requirements of the role. "I lost weight because my role demanded it. It was all very healthy."
18. Michael Fassbender ('Hunger')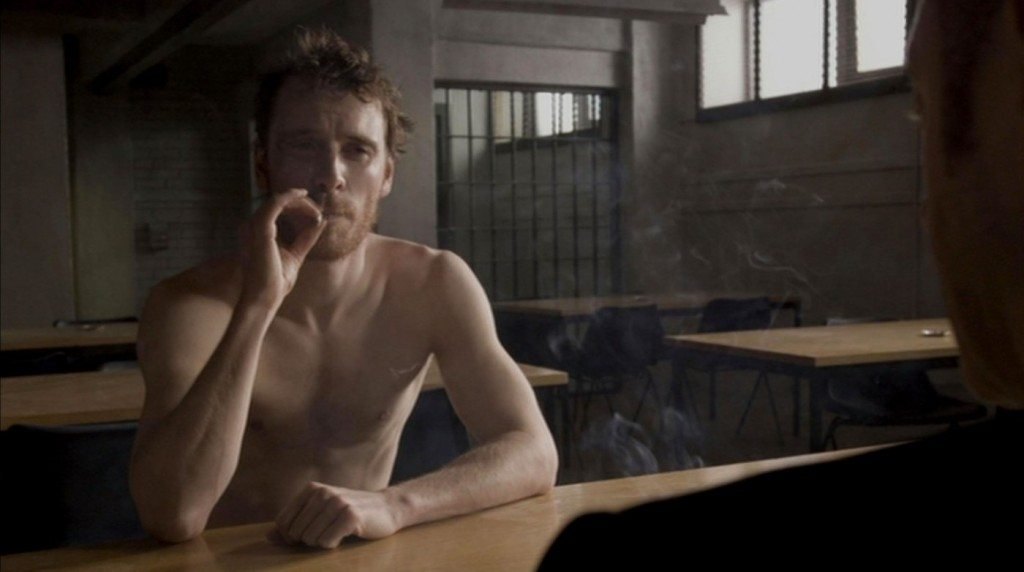 Steve McQueen made his directorial debut with this historical-drama, shadowing the 1981 Irish hunger strike. The film focuses on Bobby Sands, an IRA volunteer, who led the second hunger strike and also participated in the no-wash protest. Apart from the movie being moving and brilliant, the drastic weight loss of its lead actor, Michael Fassbender, was heavily purported. In preparation for his role, he went on a special diet of less than 900 calories a day for ten weeks. After meeting with a nutritionist, he settled on a diet of berries, nuts, and sardines, and underwent periodic medical checks. In an interview with The Telegraph, Fassbender said that he skipped, did yoga, and walked four and a half miles day, but also added that he had difficulty sleeping, and stopped seeing friends. He also said that the experience made him feel "grateful" and "strong". In totality, he lost almost 50 lbs preparing for the role.
17. Anne Hathaway ('Les Miserables')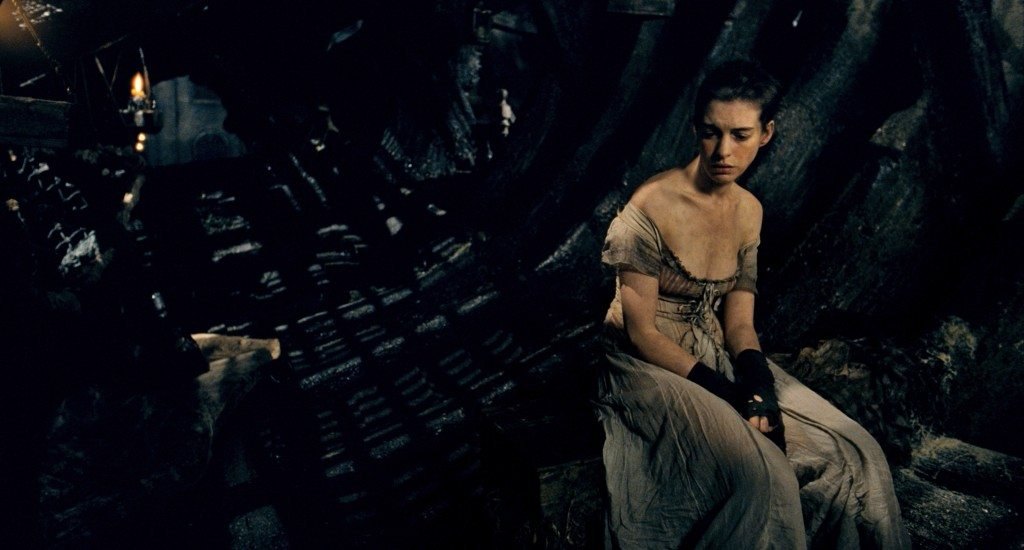 Anne Hathaway is one of the most gorgeous and talented actresses around. Her unbridled arrays into uncharted territories have often transpired into award-winning performances. It was no different in 'Les Miserbales', a French-American musical which saw her portray the role of a destitute woman, who is compelled into selling her body due to getting fired from her job. Her 20 minute appearance was perhaps the most moving performance of the year and fetched her a well-deserved Academy Award. The struggle and helplessness of the character were immaculately captured by the brunette actress. Eventually succumbing to her death, her orphan daughter is then adopted by her employer. Even though she has the image of a rom-com and kitschy actor, Hathaway turned the tables with her award winning portrayal, losing a mind-boggling 50 pounds for the film, and clipping those beautiful brunette flowy locks.
16. Demi Moore ('G.I. Jane')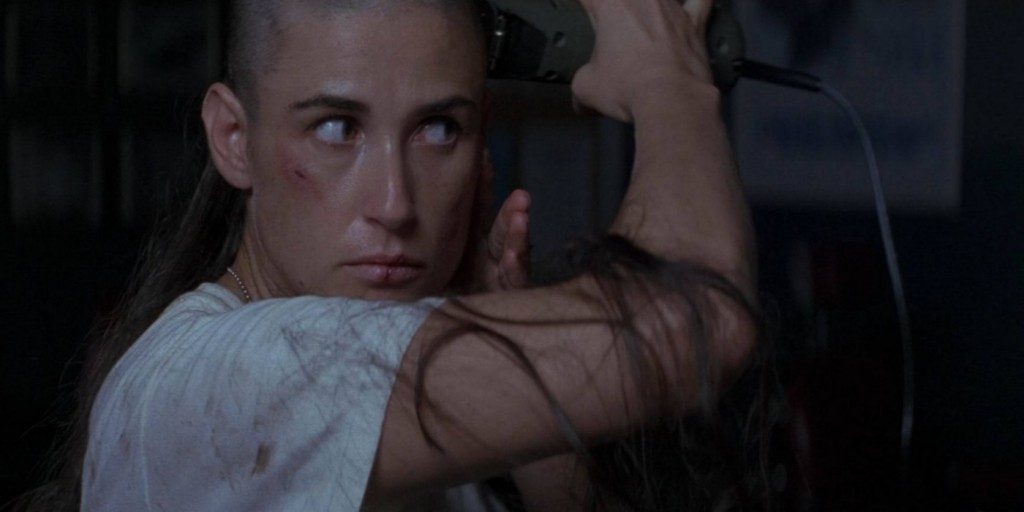 In a trial to balance the gender ratio in U.S. Navy, a sitting U.S. Senator includes a topographical assistant Jordan O'Neil (Demi Moore) in the most grueling training regime of the Navy Seals. She is challenged at every point and forced to quit, whether it be her gender-biased trainer, her fellow teammates, or even the senator who got her there in the first place. To play the role of Jordan, Moore completely transformed herself. She built her body to the point where she not only developed muscles but also had six packs. That's commitment!
15. Tom Hanks ('Cast Away', 'Philadelphia')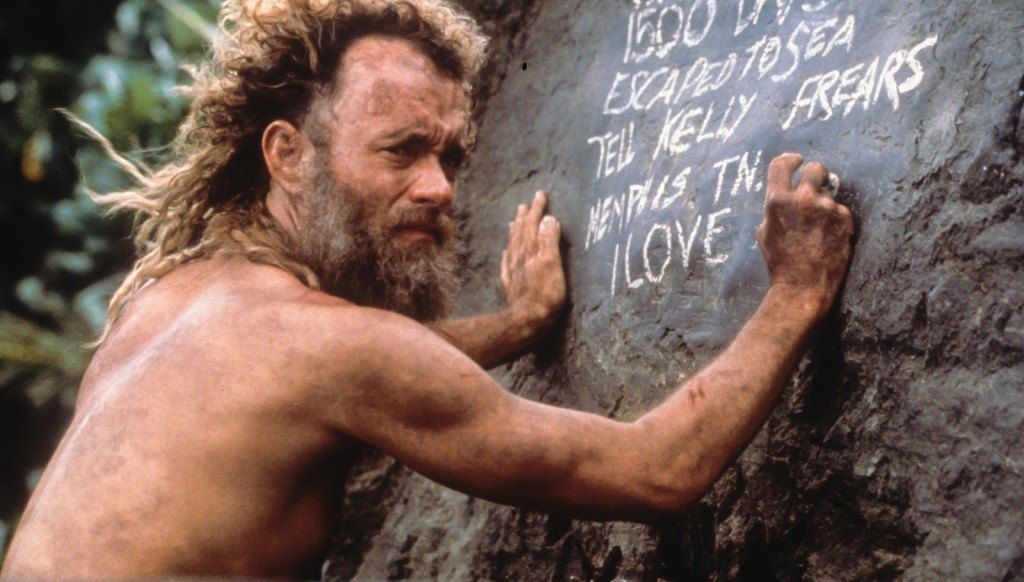 If you conduct a spontaneous poll, asking people to name the cutest and the chubbiest actor in the industry, they'll unflinchingly answer back with Tom Hanks. Perhaps the greatest and the most loved actor of the industry, Hanks' full cheeks and kind face are a substantial part of his aura and charm. He ditched the aforementioned for his Oscar-nominated performances in 'Cast Away', and 'Philadelphia', going on to win in the latter. The jarring transfiguration in the two films saw him lose up-to 50 lbs and 35 lbs respectively. "The hardest thing was the time. I wish I could have just taken a pill and lost all the weight but the reality was that I had to start in October knowing that we were going to go back in February. The idea of looking at four months of constant vigilance as far as what I ate, as well as two hours a day in the gym doing nothing but a monotonous kind of work-out, that was formidable. You have to power yourself through it almost by some sort of meditation trickery. It's not glamorous". Well but you are Mr Hanks!
14. Matt Damon ('The Informant!')
Matt Damon is one of the most talented actors around in the industry. His varied body of work includes an array of roles. But he surprised us all with his character preparation in the 2009 biographical-comedy, 'The Informant!', for which he egregiously buffed up. He gained about 45 lbs for the film, during which, he also developed pre-symptoms of gout. His immense sacrifice and drive ultimately paid off, with the film doing really well at the box-office, and also gaining him significant appraisal from the community and critics.
13. Kevin James ('Here Comes the Boom')
Not many people are sentient of the fact that Kevin James, the adorable grown-up from 'Grown-ups' holds the record for the most weight gained/lost for a movie. For the 2012 sports-comedy, James lost a total of 55 lbs during his preparation, and beefed up by another 25 lbs to be realistically presentable as a Division I collegiate wrestler. His immense drive and dedication for the role, though, weren't enough to save the movie, which levied the ire of critics for its shoddy screenplay and loose story-line.
12. Charlize Theron ('Monster')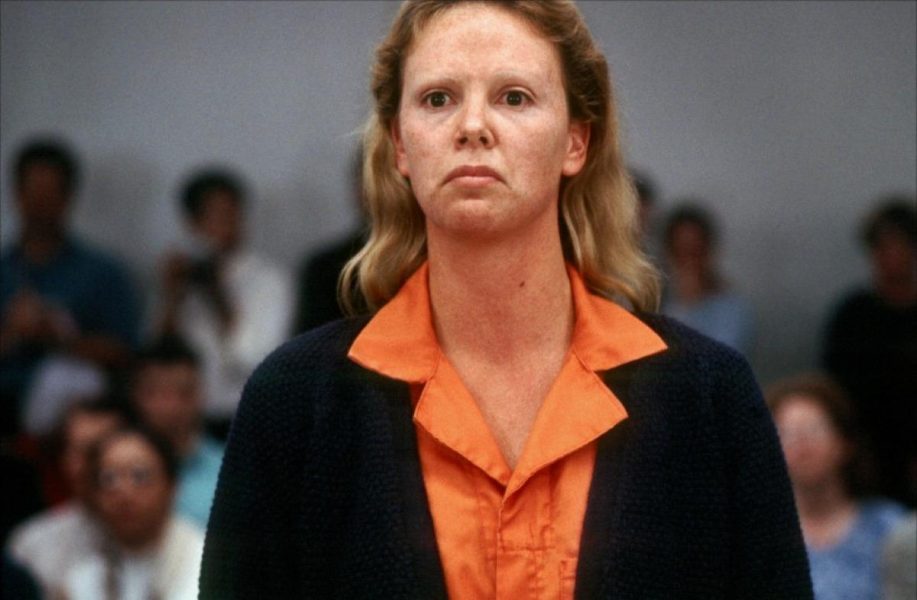 If there's one actress in the industry who doesn't care about her looks and is a method actor, it is Charlize Theron. The protean actress, known for changing looks and colors like a chameleon with each film, won her first Academy Award for her portrayal of former prostitute and serial killer Aileen Wuornos. For the role, Theron gained 30 pounds (14 kg), shaved her eyebrows, and wore prosthetic teeth. Critics called her performance, and her makeup, a "transformation". Her performance is often cited as one of the greatest in the history of cinema. A must watch!
11. Rooney Mara ('The Girl with the Dragon Tattoo')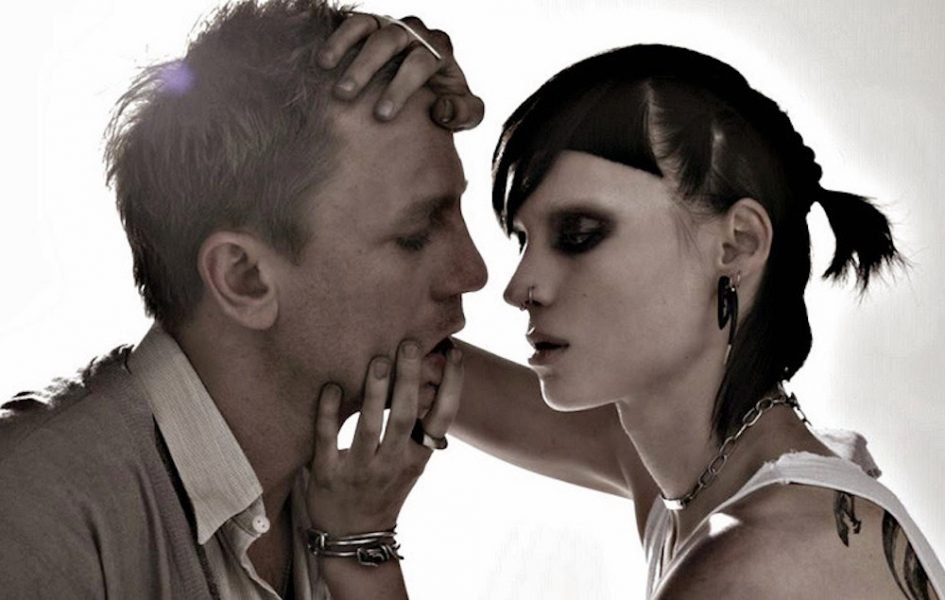 Frankly speaking, Rooney Mara's metamorphosis into Lisabeth Slander in David Fincher's 'The Girl With the Dragon Tattoo' is the greatest I have screen by an actress on screen. It's a little hard to remember that Rooney Mara was once the sweet-faced ingénue of "Tanner Hall" and the pointless "A Nightmare On Elm Street". For her role, Mara had her hair dyed and cut, her eyebrows bleached, had four piercings put in either ear as well as having her brow and nipple pierced (the other body modifications were faked) and emerged as Lisbeth Slander. The result is undoubtedly iconic, and it garnered her an Oscar nomination too.
10. Jake Gyllenhaal ('Nightcrawler', 'Southpaw')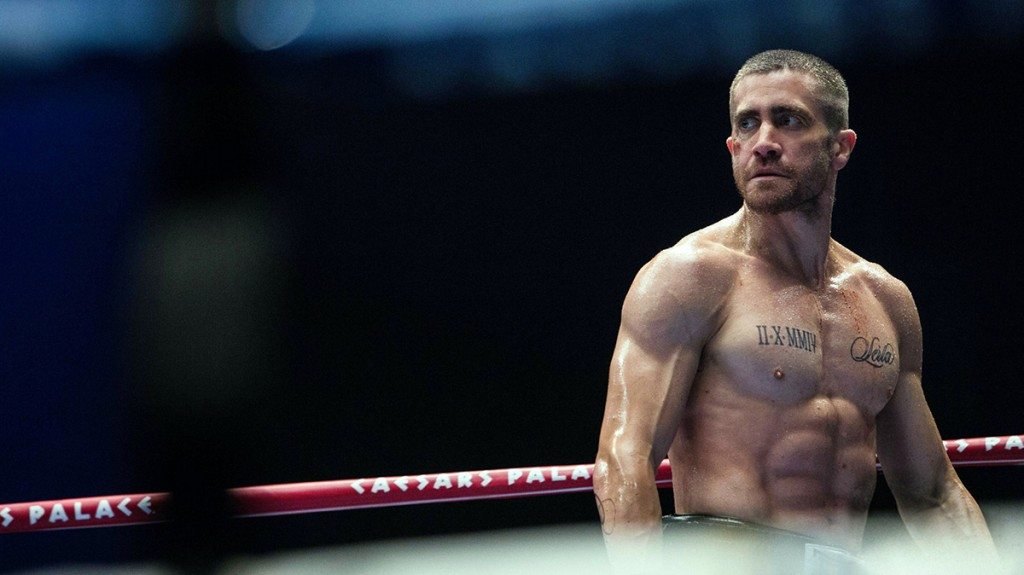 Jake Gyllenhaal is one of the most underrated actors in the industry. His performances and preparation for the roles has often gone unnoticed and unheralded in the media. But his roles in the aforementioned movies grabbed all the headlines, especially the way he prepared for them. He lost about 30 lbs for 'Nightcrawler', and gained an unprecedented 45 lbs of muscle for his ripped physique in 'Southpaw', playing a boxer in his primes. For his transformation, Jake was quoited as saying "I went into full training-camp mode and I got myself—what I consider in my mind as an actor—in shape to fight. I was literally learning the skills of boxing, which is not only for the body, but also for the mind. You can't play a boxer and just look like a boxer; you have to believe you can exist in that world." A truly amazing actor, who deserves the recognition!
9. 50 Cent ('All Things Fall Apart')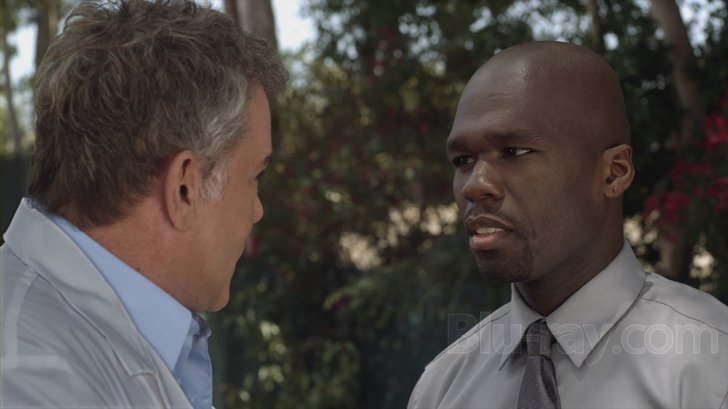 Probably one of the most overlooked performances in a movie in recent times is that of 50 cents. Despite the film not being a special one, 50 Cent, who based his character on a childhood friend who died of cancer, lost up to 54 pounds in order to accurately portray his emaciated character, dropping from "214 pounds to 160 in nine weeks after liquid dieting and running on a treadmill three hours a day" according to the Associated Press. Amidst all the controversy over the title name, where he offered a million dollars to keep the name, which was eventually rejected, 50 Cents shone in the film, and registered his transformation as one of the most inspiring in recent times.
8. Vincent D'Onofrio ('Full Metal Jakcet')
Getting directed by a master autuer like Stanley Kubrick can change your life. It can transform you, revitalize you, and change you in an incorrigible way. A similar thing happened with Vincent D'Onofrio, more widely known as the antagonist on the TV series 'Daredevil'. Playing Private Leonard "Gomer Pyle" Lawrence, an overweight, slow-witted recruit who becomes the focus of Hartman's attention. D'Onofrio was required to gain 70 pounds (32 kg), which broke the record for the largest weight gained for a role, set by Robert De Niro for Raging Bull, until obviously, Kevin James came along. The role saw Vincent attract new found respect from his peers, not only for his brilliant portrayal, but also for one of the greatest physical transformations by an actor.
7. Jared Leto ('Dallas Buyers Club', 'Chapter 27')
Leto. Jared Leto. I really am short of words to describe this fella's genius, both on and off screen. His masterful performance in 'Dallas Buyers Club' won him an Oscar for Best Supporting Actor. But what was even more profound, was his preparation for the role. Leto reportedly dropped 35 lbs, and went down to a shocking 5% body fat, which is physically impossible. But really, it's not. Courtesy this guy! And what was even more preposterous, was his double the wight gain in 'Chapter 27'. God. How does he do this? "Really, it's a stupid thing to do. I got gout, and my cholesterol went up so fast in such a short time that my doctors wanted to put me on Lipitor, which is for much, much older people. Again, though, a fascinating journey."
6. Johhny Depp ('Edward Scissorhands')
This list wouldn't have been complete without this actor. The protean thespian, renowned for changing and owning those looks has always experimented with his characters. His body of work is perhaps the most varied, and versatile, in the sense of intrinsic human behavior. His most figurative of transformations came in 'Edward Scissorhands', perhaps the most colorful and yet hollow character in Tim Burton's universe. The actor transcended all boundaries, and descended into one of the most thought-provoking and unique characters ever presented on celluloid.
5. Joaquin Phoenix ('The Master')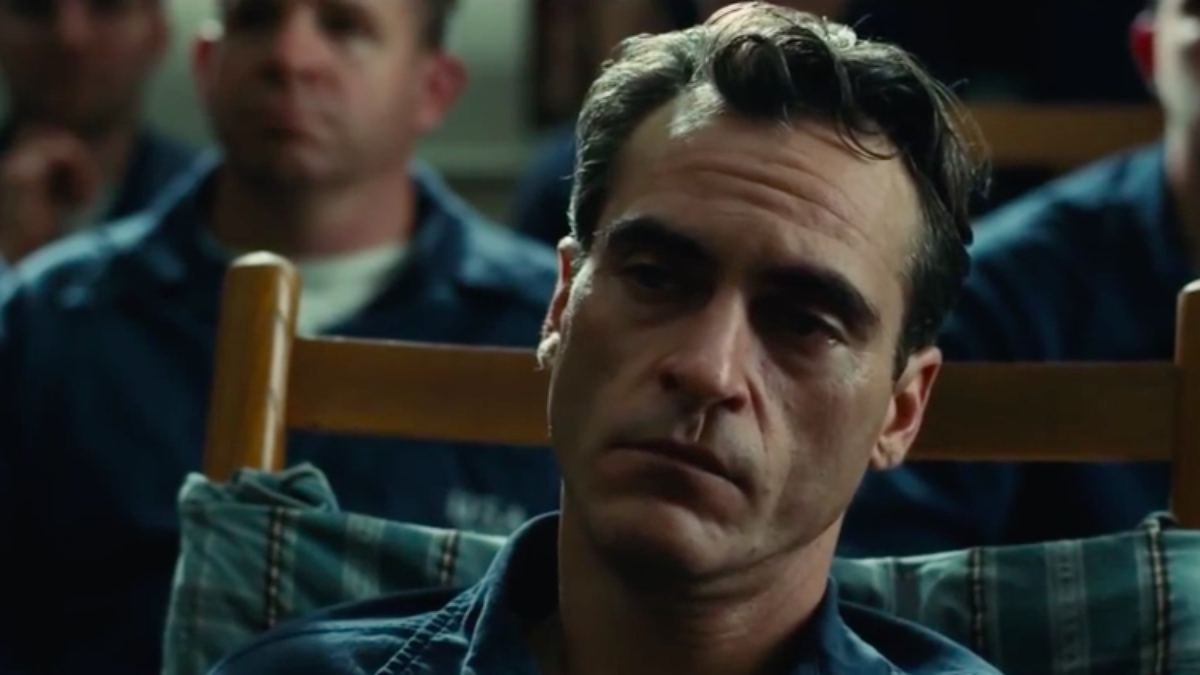 Phoenix is an unheralded genius, whose improvisation and character study is unparalleled in the industry. His best cinematic performance to date comes in the magician Paul Thomas Anderson's 'The Master'. During filming, Phoenix was allowed to improvise on set. Phoenix lost significant weight for the role and came up with Freddie's awkward gait. Anderson compared Phoenix's commitment to that of Daniel Day Lewis for his level of concentration, saying that Phoenix got into character and stayed there for three months. The former lost out on the Oscar and all the major award to the latter's coming-out of his five year hiatus. But that doesn't deter his creation of one of the most memorable and troubled of characters on screen in cinematic history.
4. Matthew McConaughney ('Dallas Buyers Club', 'Gold')
Alright, Alright, Alright. The M-Man has arrived. The charismatic actor is known for his condensed speech and especially, his trademark aforementioned phrase. Apart from these shenanigans, he is also one of the most dedicated actors in the industry. He modeled this in his Oscar winning performance as Ron Woodruff, in the Oscar winning film 'Dallas Buyers Club'. McConaughey had apparently planned to stop the weight loss, which he achieved simply by not eating (no grueling exercise regimen, because after all he wanted to look sick) at 145 pounds, but kept going until, at 135, people stopped asking if he was all right and started suggesting he seek help. "And I thought," he told Vanity Fair, "'There we go. That's the perfect spot.'" Not only this, but his physique in 'Magic Mike' made him the most desired man on the planet, and can make any woman go weak in the knees. Recently, he outshone himself with another masterful performance in the film 'Gold', by gaining about 40 lbs for the role.
3. Robert De Niro ('Raging Bull', 'Taxi Driver')
His name is Bob De Niro. Bob De Niro. His game is being the best. The best. Arguably, the greatest actor our industry has ever seen, Robert De Niro brought method acting to the fore in mainstream successes like 'Raging Bull' and 'Taxi Driver'. His immense dedication, preceded by rigorous self-inflicted punishment and work-out regimes, with subsequent jolly-rides in the award seasons, have become a familiar cadence in recent times. Record breaking weight gain, for his role in 'Raging Bull' stood at a massive 60 lbs, a world-record at that time. He overwhelmed himself in the process, outranking his stunning reduction in 'Taxi Driver'. And as he said, "The first 15lb was fun, the rest was hard work."
Read More: 100 Best Movies of All Time
2. Daniel Day Lewis ('The Boxer', 'Lincoln')
This guy. I don;t understand what adjectives I could possibly add for this man's drive. There is absolutely no actor in the whole wide world, who would go to such painstaking efforts, to live the character, as this man does. His immersion to his role, complete exhuming of his soul in every picture, is unparalleled in the industry. His physical transformations are very limited, though he did touch the level of a proffessional boxer in Jim Sheridan's 'The Boxer' by gaining 20 lbs. I just can't do justice to this man's genius with my petty words. Hail him. Worship him.
Read More: 100 Best Movies of All Time
1. Christian Bale ('The Machinist', 'American Hustle')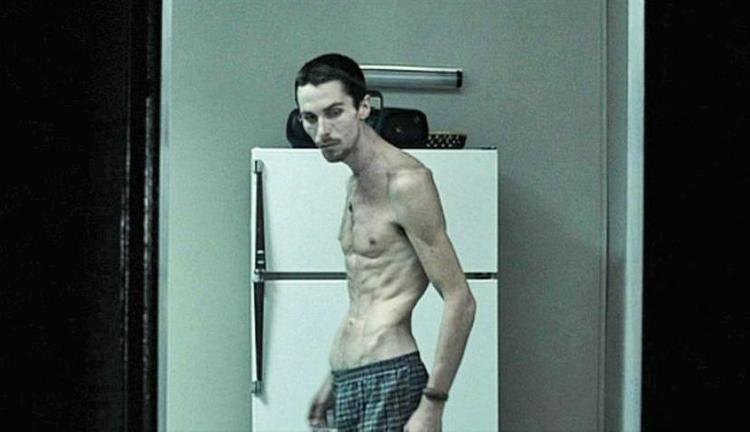 Eating coffee and drinking apples for five months. Wait. Let me correct myself. Drinking coffee and eating apples for five months, subsisted him losing 60 lbs for his role in 'The Machinist'. I couldn't sleep, nor couldn't fathom a grain of food for three days after seeing the film. But that was one of my happier moments, as it was my introduction to this man's genius. Majority of the roles he has played, have required him too drastically oscillate from being absolutely ravenous, to being the biggest gourmand you could possibly find. When the pendulum went the other side of the threshold for human body, he was Travis the mechanic. And when it went the other way around, he gave an Oscar nominated performance in David O'Russell's 'American Hustle', gaining well over 45 lbs for the role. But what is striking, is that he gained about a 100 pounds of muscle following 'The Machinist' for the role of Batman, in 'Batman Begins', in just six months! We have seen it all. He never bares loose anything when he performs, and exhumes himself mentally, physically, and emotionally. That is why he tops the list.
Read More: 100 Best Movies of All Time