In its fourth episode, Prime Video's 'Daisy Jones and the Six' focuses on the characters' internal conflicts as they try to decide what's best for their future. Billy doesn't want any more collaborations with Daisy, but the success of their single makes it clear that she is essential to their success. Meanwhile, Simone finds herself at a crossroads and has to make a decision that will change the course of her career.
Graham, too, finds himself grappling with the desire to profess his feelings to Karen, but he knows how it can quickly turn into something that breaks up the band. By the end of the episode, we find other characters looking back at their decisions and wondering if they'd made different decisions, would things have turned out differently? Here's what the events of this episode mean for the band's future. SPOILERS AHEAD!
Daisy Jones and the Six Episode 4 Recap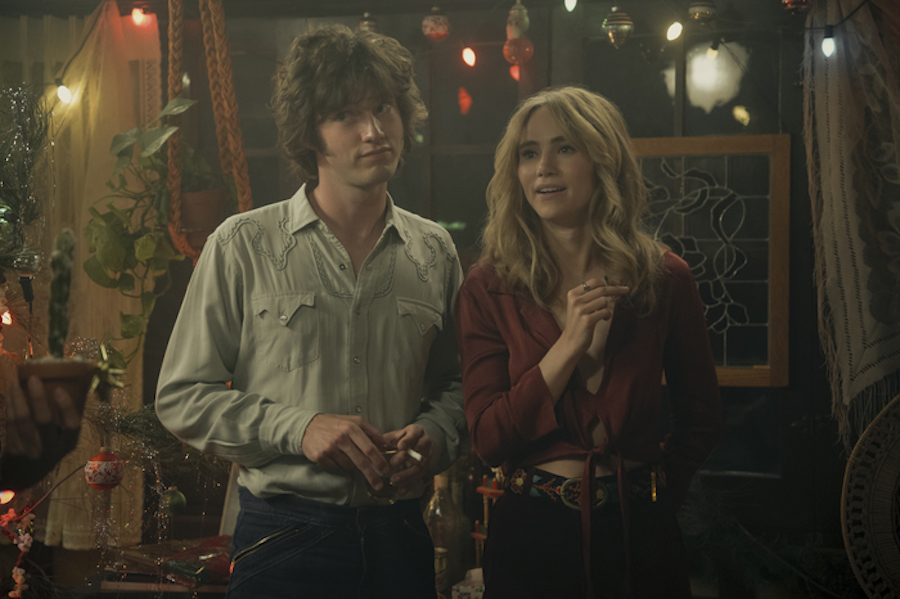 "Look At Us Now" becomes a hit and changes the lives of the Six and Daisy Jones. It puts the Six back on the map, and while Billy is glad about it, he is not interested in carrying forward the collaboration with Daisy. Things get more heated between them at a music festival in Oahu. This is their first time performing live after Billy's debacle stripped them of a well-earned contract from the record label. This is her first time performing in front of a crowd for Daisy.
Billy tells Daisy to wait for four songs, which is when he will introduce her. However, she walks on the stage after the first song, and Billy interprets it as a hostile takeover. The crowd goes wild over their songs, and while Daisy is supposed to leave after one song, she stays for the rest of the performance. This convinces Billy that she is not the right fit for them, saying they won't survive her.
Simone discovers that the record producer she worked with previously has used her voice and created a music video without crediting her. She is heartbroken and wonders if she should move on. She remembers Bernie's offer to come to New York and decides to take that chance. Meanwhile, Billy and Camila move into a house of their own, and despite Billy's concerns about Daisy, Camila invites her to the party, hoping to convince Billy to change his mind. At the same time, Graham professes his feelings to Karen but is disappointed when she doesn't reciprocate.

Daisy Jones and the Six Episode 4 Ending: Do Billy and Camila Break Up?
Camila left her life behind in Pittsburgh because she believed that Billy and his band had the potential to turn into rock stars. She believed in them from the beginning, and had it not been for Billy, things would have gone swimmingly for all of them. When he messed things up, it looked like the Six had no future until Daisy came along. Despite Billy cleaning up his act, no record label was ready to risk betting on him again. When Teddy Price brought in Daisy, things took a turn for the better.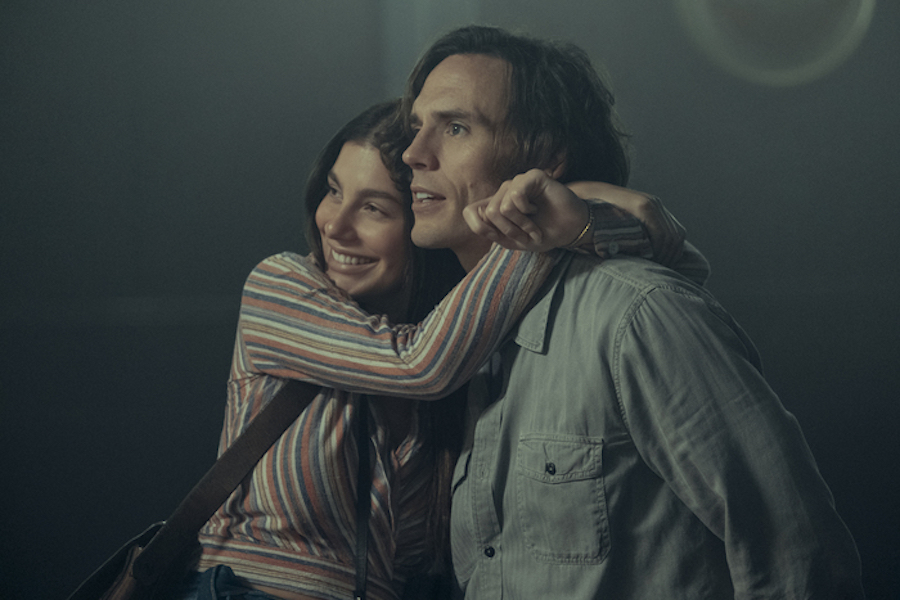 Camila knows how important Daisy is to the Six's success. She also knows that Billy's ego prevents him from seeing the bigger picture. She watches it happen in the interview where Billy takes all credit for "Look At Us Now," never acknowledging Daisy's contribution. Camila doesn't want their second chance to be wasted by one wrong decision on Billy's part, so she intervenes. She invites Daisy to their housewarming party and extends an olive branch to her after the mistreatment she receives from Billy.
By the night's end, Billy sees how important Daisy is to them. Teddy said they make good songs, but Daisy makes them great. They need her just as much as she needs them. She is also just good enough on her own. She struggles to write on her own, and it becomes even more challenging in the loneliness that grips her after Simone leaves for New York. Daisy knows that the Six already have a lead man, which makes her a point of conflict. But she also needs their sound to make her songs come alive.
At the party, a spontaneous tune from Karen brings the Six and Daisy Jones together, and everyone sees the magic happen. The following day, Camila talks with Daisy about the close bond between the members of the band and how they look out for each other. She feels that Daisy needs a family like that. Camila's words strike a chord with Daisy, who agrees to join the band.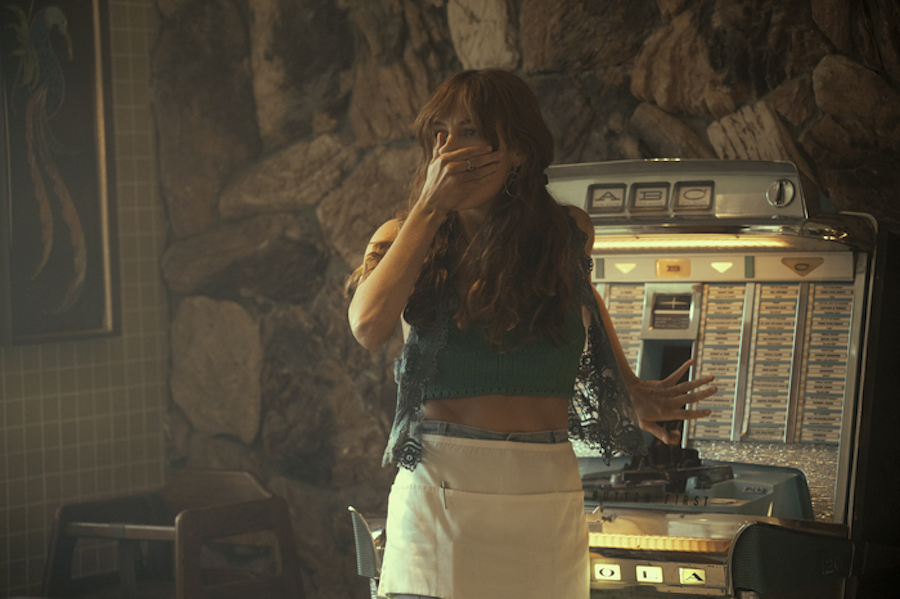 At the moment, it feels like an excellent move to Camila, but looking back at it, she wonders if it was a mistake to bring them together, to trust them. Her accusatory tone indicates that things didn't turn out as she had expected them to. She wanted Billy and Daisy to work together purely in a professional capacity. She welcomed Daisy into the family, hoping she would be like any other band member. However, it looks like her trust was broken, which might also have been what eventually broke up the band.
Despite their differences, Billy and Daisy end up becoming a great team. They make great songs together, and while they might fight for credit, both enjoy the recognition and the success that the songs bring them. This episode offered a glimpse into what their future will look like. So, from a professional point of view, Camila did what was best for the band. Personally, however, things are up for debate.
It is no secret that Billy and Daisy will develop feelings for each other as time passes, and that's where things will get complicated for Camila. The more successful Daisy Jones and the Six get, the more problems it will spell for her marriage with Billy. This is why she is conflicted about her decision to bring Daisy on board, especially considering that Billy never wanted to work with her in the first place.
Read More: Why are There Only Five Members in the Six in Daisy Jones and the Six?