Netflix's 'Race to the Summit,' AKA 'Duell am Abgrund,' details the feats of two talented mountaineers, Ueli Steck and Daniel "Dani" Arnold, whose love for the mountains helped them set some jaw-dropping world records. Given just how much the documentary talks about the moves that Dani Arnold made to become one of the best in their field, it is hardly a wonder that people are eager to know what they can about him. So, if you are also someone curious about his current whereabouts, worry not because we have your back!
Who is Dani Arnold?
Dani Arnold was born on February 22, 1984, in the canton of Uri in Switzerland. His father, Fredy Arnold, and mother, Monika Arnold, love the mountainous region that they call home. Needless to say, their love for the snow-capped peaks was something that Dani also imbibed. "It all started as a child: with hiking and the first attempts to climb the frozen stream near my parents' house with two ice axes. The mountains immediately fascinated me," the mountaineer told the Pill Outdoor Journal.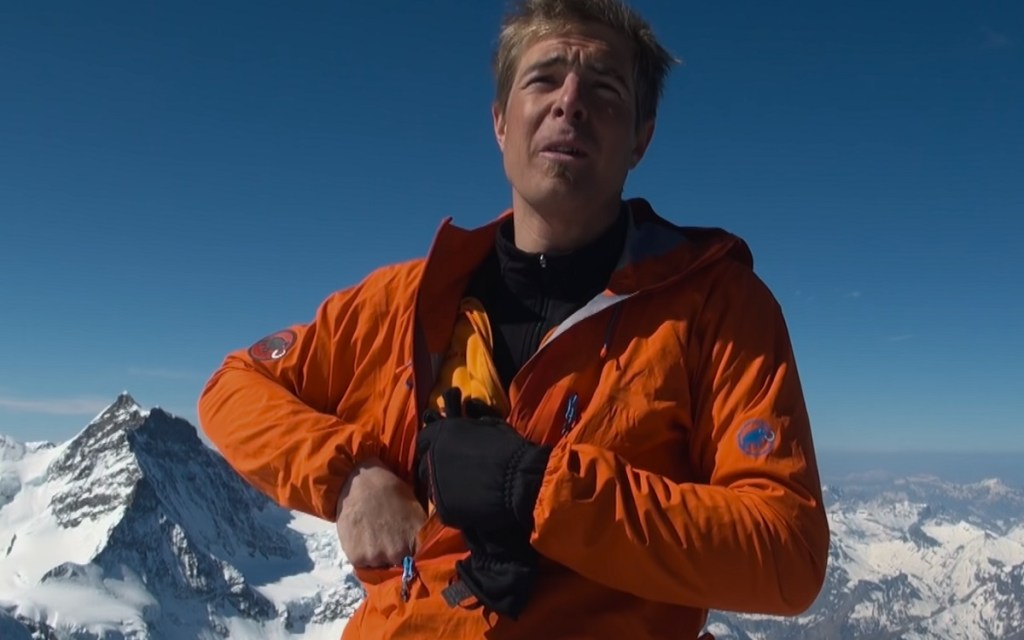 "I grew up in Switzerland, in the Canton of Uri, in the Schächental alpine valley, at 1,720 meters above sea level," Dani added." To go to school, my brothers and I had to take the cable car every day to the valley and then back from school. Soon, we started doing the first alpine tours with our father, then simple climbs. Even then, I wanted to push myself further and progress quickly to experience more challenging adventures."
A mountain guide by profession, Dani's initial decision to become a solo ice climber at the age of 20 is not something his parents were on board with, likely due to the danger that often surrounds the profession. While well-known within the climber community, it was Dani's record-breaking climb of the north face of Eiger at 2 hours 28 minutes that brought him to the attention of the public, though Ueli Steck seemingly was not completely happy with the fact that Dani had used for a particularly perilous area of the mountain to complete his ascent.
That said, there are multiple other accomplishments under Dani's belt. He climbed the west ridge of Salbitschije at a record time of 1 hour and 25 minutes and made the first-ever winter ascent of Torre Egge in 2010 alongside Stephen Siegrist and Thomas Senf. Some of his other accomplishments include being the first non-Scottish person to free climb The Hurting, climbing the high east face of Moos Tooth in April 2013, and setting the record for the fastest solo ascent of the Matterhorn by summiting in 1 hour 46 minutes, beating Ueli Steck's record by 10 minutes on April 22, 2015.
Ueli Steck ended up reclaiming the best time for the ascent of the north face of Eiger in 2015 by climbing the mountain in 2 hours and 22 minutes. However, Dani then went on to set the record for the north face of the Grandes Jorasses by completing the climb in 2 hours and 4 minutes, a record previously held by Ueli at 2 hours and 21 minutes. An extreme mountaineer, Dani has become an icon for aspiring climbers who look up to his achievements.
Where is Dani Arnold Today?
Presently, Dani Arnold is still as active in the world of mountaineering as ever. In fact, on June 12, 2023, he set another record by being the first person to climb all three ridges of Salbit, a feat that took him 9 hours, 36 minutes, and 55 seconds. He also summited the peak of Mount Everest on May 8, 2023, without any oxygen cylinders. A Mountain Guide by profession, he also works as a speaker and often gives lectures and keynote speeches based on all that he has achieved in life, especially when it comes to the mountains. He has also written two books titled '9: 39 Nord' and 'Warum Das Alles?'
Along with his wife, Nicole Arnold, Dani lives in Bürglen, Switzerland, and enjoys the love and support of his family. The couple are both passionate mountain climbers who enjoy summiting mountains together, though it does not seem like Nicole is as active in the world of extreme mountaineering as her husband is. The Arnolds are proud parents of their daughter Ladina, who seems to have inherited her family's love for the mountains and often accompanies her parents during their trips across the world. We wish Dani and his loved ones the best in life and hope that they all have a wonderful future ahead.
Read More: What Happened To Ueli Steck? How Did He Die?