Coalescing adventure and connection, 'Love in the Wild' chronicles the journey of ten single men and women as they hope to find the person of their dreams amidst the flanking flora and fauna of Costa Rica. As the singles head on adventures hand-in-hand, they must also determine their compatibility with their partner. The high-stakes situation leads the individuals to overcome countless hurdles together. Derek and Jess are one of the couples whose competitive spirit and connection made fans curious. Years since the show's release, fans continue to wonder where are the duo now.
Derek and Jess' Love in the Wild Journey
Battling the elements at each turn, Derek and Jess were determined to display their abilities and win the top spot of the season. While the duo didn't come together in the beginning, destiny had other plans. After they were partnered up during the third swap and elimination round, Derek and Jess displayed their abilities as a unit. Their agility, competitive nature, and mental acumen made them formidable opponents. Consequently, the two ended up winning two adventure challenges back to back.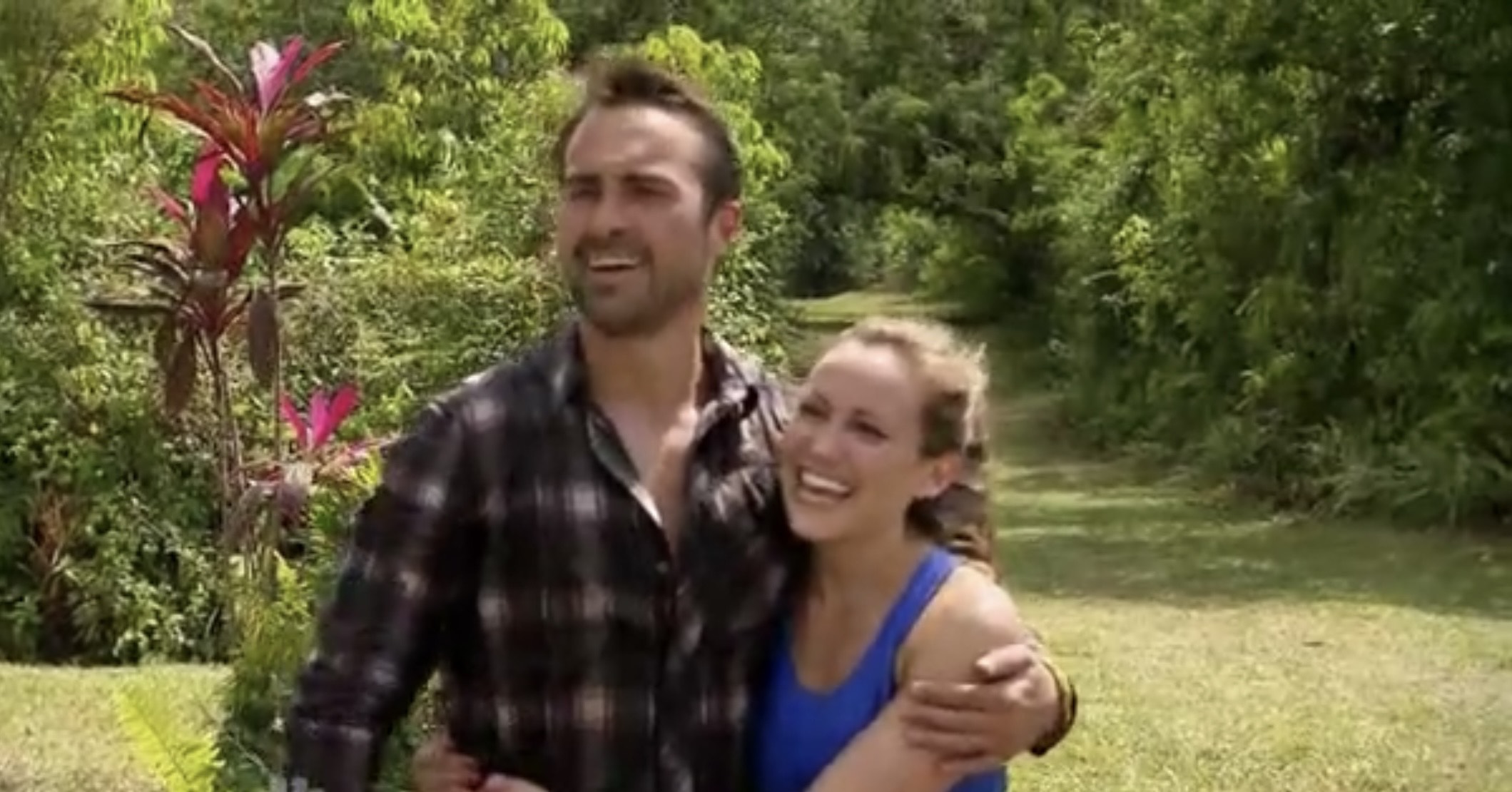 However, their road to oneness wasn't without its trivial ups and downs. After the fourth swap and elimination round as a couple, Derek confessed that he had initially planned to pick Samantha and explore a connection. Naturally, Jess was blindsided as she was growing closer to Derek. However, the latter later reassured her of their unique bond. As the two grew closer, they managed to solidify their connection and embarked on a journey to get to the top spot.
A significant curveball came once again when a mandatory switch was introduced in the play. Given the lack of autonomy they had in the matter, Derek had to partner with Erica for the adventure challenge. During this hurdle, Derek ended up injuring his toe, which bled profusely. While medical intervention helped subside the bleeding, it became apparent that Derek couldn't participate any further. However, later that day, he returned to the swap and elimination round to confess that he "came back for Jess" and to tell her how sorry he was that he couldn't carry their partnership forward. Ultimately, Jess was also booted from the season.
Derek and Jess Didn't Reconnect After the Show
Albeit a short sojourn, Derek and Jess made countless memories hand-in-hand. Not only were they strong contenders throughout the competition, but they also had several things in common. Naturally, their growing attraction led many to believe they would reunite outside Costa Rica. Alas, the couple couldn't resume the path they had embarked upon in the wilderness. Audiences had anticipated that the two would reconnect, given they were both based out of California. In an exit interview with Reality TV World, Derek confessed, "I came back for Jess…I absolutely would like to see something come out of it…I'm not closed off to the possibility of love, so could this be a long-term relationship? Absolutely, and I mean that."
However, it seems that things didn't pan out as many had initially expected. Since the couple likes to largely keep themselves out of the spotlight, there has been little information about their parting. Nevertheless, reality stars have still managed to create significant milestones as individuals. While Derek has wholly taken himself out of the public realm, Jess still shares snippets of her life online.
Thank you for the gorgeous flowers #teamhollywood miss you! #LoveWhereYouWork @bdf @nikkimeagher @its_EmB @Teabright @EstebanRivera16 @_LupoLupo @AshleyFoxen @lexa @oliviakdelrio @HeyTerrisha pic.twitter.com/Qfxzmegils

— Jess DeBolt Berman (@jessdebolt) February 18, 2022
Since her time on the show, Jess has become an industry leader and an integral part of significant operations. Having graduated from the Wharton Business School, the graduate slowly climbed the ladder of success. She is now a Senior Client Partner of Entertainment at Spotify. With decades of expertise in management positions, she continues to map the road to success. Formerly an employee at Twitter, she has also worked with companies such as Travelzoo and Apple. She has been equally busy when it comes to her personal life. Jess is now married to Eric Berman. Not just this, the couple also share the parental duties of their daughter, Berkeley. Besides sharing domestic bliss, the couple likes to head on family vacations, too. So, even though Derek and Jess have gone on to explore other paths, it is apparent that they have fulfilled the goals they set out to achieve.
Read More: Mike and Samantha: Love in the Wild Couple is Happy Together