As a five-part documentary series steadily living up to its title in every way imaginable, Netflix's 'Muscles & Mayhem: An Unauthorized Story of American Gladiators' is simply unlike any other. That's because it incorporates not only archival footage but also exclusive interviews to really shine a light upon the rise and fall of this titular 1990s game show, along with how it changed lives. Amongst those to thus inadvertently be featured here to help support the narrative was proud former gladiator Deron "Malibu" Mcbee — so now, let's just find out more about him, shall we?
Who is Deron Mcbee?
It was ostensibly back when Deron was growing up in Los Angeles, California, that he first developed an interest in entertainment and sports, only for it to continue rising as the years passed. The truth is he actually kickstarted his career as a professional racquetball athlete and toured its circuits for over three years before evolving into an actor to land a spot on 'American Gladiators.' His luscious blond hair, deeply tanned skin, as well as surfer-like persona was the reason he was subsequently handed this Malibu character, yet he'd admittedly never surfed a day in his life.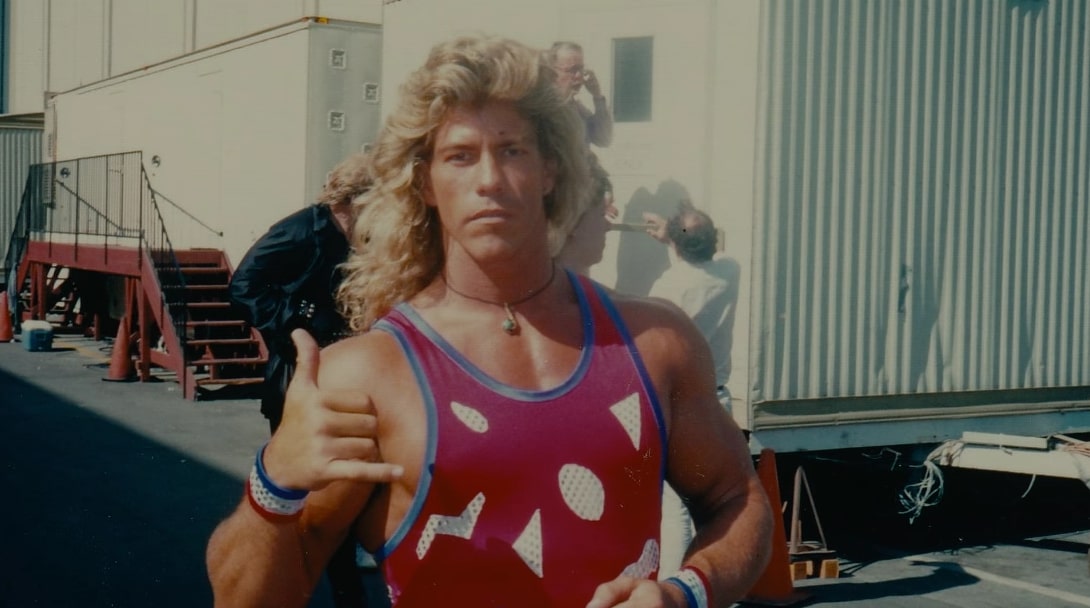 Deron as Malibu was arguably one of the most polarizing gladiators in the entire original production due to his egotistical, loud behavior, but it turned out he was mostly putting it on for the show. In other words, his agreeing to things like he's part love machine or asserting, "I got no problem with my ego; I'm just a wild and good-looking California guy" was largely for the audience booing him. However, no matter how you felt toward him as a person, an athlete, or an actor, watching him get seriously injured during Human Cannonball in season 1 itself (1989) was terrifying, to say the least.
Deron reportedly played it cool on 'American Gladiators' while saying goodbye — he proclaimed he was only stepping away for his concussion on doctor's orders — but the truth was much worse. He had two broken ribs, a broken thumb, the concussion from having his knee hit his head during the fall, and a complete muscle tear in his bicep, for which he had to undergo proper rehabilitation. "The concussion was [scariest]," he once said, "because the doctor basically was not gonna let me go back… He said, '…You get hit one more time even close to that, and it could be it for you.'"
Where is Deron Mcbee Now?
Even though Deron's time on television was cut short owing to his injuries, he honestly didn't let it interfere with his career as a whole since he then managed to enter the world of big-screen movies. His first project in this sense was 'Time Barbarians' (1990), following which he did a myriad of other sci-fi, action, and comedy dramas prior to landing a spot in 'Mortal Kombat: Annihilation' (1997). 'Walker, Texas Ranger' (2000), 'Welcome to Sundown' (2008) as well as most recently 'Black Dynamite Teaches a Hard Way!' (2013) are just some of the additional 40 productions he has been a part of.
Coming to Deron's current standing, the trained karate athlete and former Deputy Sherriff for the LA County Sheriff's Department (the 1980s) has since chosen to simply pursue painting as a hobby. Nevertheless, per his Facebook, the 62-year-old does try to continue dabbling in the world of physical activity as well, especially by serving as a Bouncer as well as an Actor-Stuntman for SAG-AFTRA. On a more personal note, the Riverside, California, resident has also gotten deeply involved in faith/Christian ministry, which he made evident while hosting his 'The Issues of Life' podcast (2019-2020).
Read More: Danny Lee Clark AKA Nitro: Where is the American Gladiator Now?