The 2022 Dutch film 'Stromboli' has begun streaming on Netflix. Directed by Michiel van Erp, the plot revolves around Sara (Elise Schaap), a recently-divorced Dutch woman who comes to the eponymous volcanic island for a holiday. After a day spent drinking, she loses the handbag containing her cards, money, and phone. As she trashes the place she is renting, she is thrown out of there the following morning. Sara eventually ends up at a church where she meets a mysterious man named Jens (Christian Hillborg), who gives her food and takes her to the From Fear to Love Retreat he works for. It is there that Sara meets Hans (Pieter Embrechts). As the film progresses, the two develop a complex relationship with romantic undertones. If you are wondering whether Hans and Sara end up together in 'Stromboli,' we got you covered. SPOILERS AHEAD.
Do Hans and Sara End up Together?
If Sara becomes a resident of the retreat completely by chance, one of Hans' friends signed him up. After she arrives at the facility, Sara spends hours sleeping. When she wakes up, she finds her missing bag there. When she later speaks to Thandi (Neerja Naik), the head of the facility, about it, the latter explains that the villagers brought it to the retreat. Sara meets Hans for the first time at a gathering of the residents. Hans is quiet and intense, and there is seething anger within him, ready to burst. We learn the reasons for it later in the film. Sara and Hans sleep together that night, but it doesn't end well.
Every resident of the facility is there for their own reason. Harold is there because of his troubled relationship with his mother, which left him despising the human touch. Diane is there because she is filled with guilt and frustration following her son's death by suicide. Parisian Violette is at the retreat because she used to send models to wealthy people's parties and one day sent a "really young" girl who had no idea what these parties were.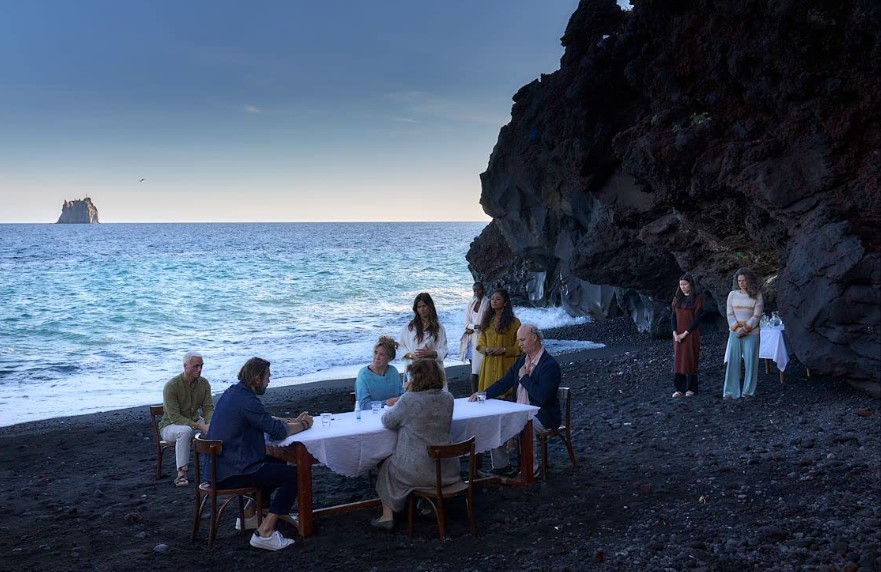 Both Hans and Sara don't agree that they should be at the facility. This is primarily because while the others came to the program knowing their issues and seeking solutions, the trauma is so deeply buried in Hans and Sara that they haven't acknowledged it yet. Jens pushes them to do it by candidly speaking about it in front of the rest of the group. Both were raped when they were younger — Sara by a boy her age at a party and Hans by his gym teacher. The more they tried to ignore the trauma, the more it affected their lives. Sara's relationships with her parents and daughter have become dysfunctional, and her marriage has fallen apart. She also hasn't had an orgasm in her life. Meanwhile, Hans has become so traumatized about sex that he doesn't know what to do while being intimate.
As Sara's week-long stay at the facility nears its end, Jens hosts two roleplay sessions. In the first one, Harold plays Sara's father, Diane Sara's mother, Hans Sara's former husband, and Helene plays Sara. In real life, Sara never told her family about the rape; the roleplay depicts a day in which she does. Each individual brings their own experience and pain into the roleplay. Diane proclaims that she would have supported Helene if she had come to her and told her the truth. Hans confronts Harold for his inaction — something he hasn't done with his real father. And then, Jens joins in, portraying Sara's rapist.
In the second roleplay, Violette plays Sara and Hans, the rapist. They depict the events at the party as Sara narrates them. Ultimately, the week they spend at the retreat proves beneficial for everyone there. Sara calls his daughter and tells her she wants to speak to her about something once she returns home. As they depart from the island, Thandi and Jens welcome a new group of visitors. The ending heavily implies that Hans and Sara are now in a relationship. This doesn't necessarily mean they are all healed after spending only a week at a highly-priced retreat. It simply means that they are now on the right path.
Read More: Is Netflix's Stromboli Based on a True Story or a Book?