In Netflix's 'Never Have I Ever,' we follow Devi Vishawakumar as she navigates the complexities of being a teenager. She excels academically, but when it comes to romantic pursuits, she has nothing to show for it. She decides to change that by dating the hottest guy in school. However, there is a problem. Her mother disapproves of her dating, so Devi must be very careful about her relationships.
In the fourth season, things change for Nalini, too, as she finds someone she likes spending time with. An unexpected meeting with Andres leads to something more as they bond over common things. Still, there are some hurdles in their path. If you want to know whether Nalini and Andres end up together, we've got you covered. SPOILERS AHEAD
Do Nalini and Andres End Up Together?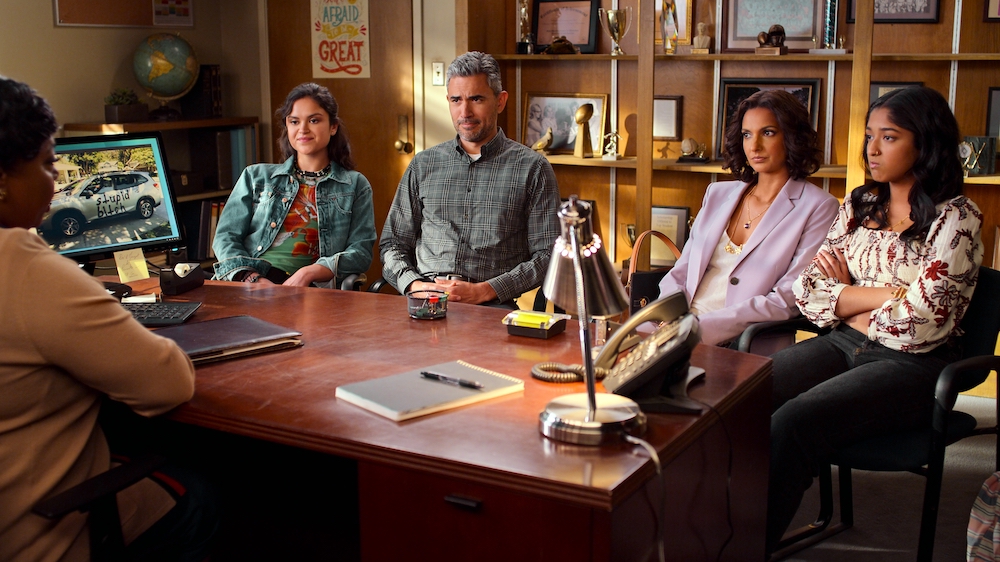 Nalini and Andres first meet at Sherman Oaks High at the principal's office. When Devi's car is vandalized, and she accuses Margot of it, Nalini, unaware of the conflict between the girls, decides to take things into her own hands. Andres is Margot's father, and he defends his daughter, who is accused of vandalizing the car. The squabble between their daughters extends to Nalini and Andres, who take a dislike to each other.
The next time they meet is at Nalini's house. When one of the stairs at their house is broken, Nirmala Pati suggests a contractor that Len found on Yelp. It turns out to be Andres. At first, Nalini thinks about getting someone else, but when the situation demands urgency, she lets Andres rework the stairs. It was supposed to be one stair, but he discovers that the entire staircase would need to be replaced, so he tears it down without consulting with Nalini. He assures her that it will be done in a day or two, but then he doesn't show up to work for a week.
An angry Nalini confronts him, and he confesses that he did it out of spite. The conversation reveals that Andres is a single father. His wife left him and Margot to be with someone else. He also finds out that Nalini is a widow and has been raising Devi on her own. Whatever the problems between their daughters, Andres decides to be professional and fixes the staircase. However, Nalini finds something else that needs work, keeping Andres around for the next few weeks.
Due to their similar situations, Nalini and Andres bond with each other. He also understands that she must feel lonely when Devi goes to New York for the school trip. They become good friends, but when it comes to dating, they decide against it due to the animosity between their daughters. When Devi finds out about it, she decides to make up with Margot. She doesn't want her mother to be alone when she leaves for Princeton. For a while, it looks like her plan might work, but then the drama on Pati's birthday happens.
Ben, who got high with Trent, shows up at Devi's house with flowers, which appears weird to Margot. At the same time, Baby shows up, and Kamala confronts Len about being a con man. With all this drama unfolding, Andres and Margot leave, which gives Nalini the impression that Andres would like to stay away from their family. Later, however, he shows up at her house, expresses his desire to be with her, and they kiss. By now, Devi and Margot have also cleared away any bitterness between them, which means there is no reason for them not to be together. Andres also shows up at Nirmala and Len's wedding, which shows that he and Nalini end up together.
Read More: Do Devi and Paxton Get Back Together?