As any 50s and 60s movie fanatic would know, it was an era of jukeboxes, lowriders and drive-in theaters in the US. Richard Hollingshead Jr. first came up with the drive-in theater concept, opening in Camden, New Jersey during the summer of 1933. The idea caught on quick and by the 1950s it was the move to make on a Friday night, with over 4,000 theaters across the US alone. Moviegoing wasn't just about the cinema then ; it was a family event, sort of like a carnival! And that is why drive-in theaters flourished.
But then the era of blockbusters began, and these theaters, which could only screen shows at night, couldn't keep up. The rise of home entertainment led to further decline of the classic American drive-in. Seeped in nostalgia and no viable contenders to big, gleaming multiplexes, Drive-in theaters are a thing of the past now. But they are undergoing a revival and for the retro-lovers at heart, there are still a handful of iconic theaters in operation in which one can watch movies under the starry skies. Here is the list of best drive-in movie theaters around the world. Get ready to add them to your bucket list!
10. Harvest Moon Twin Drive-In, Gibson City, USA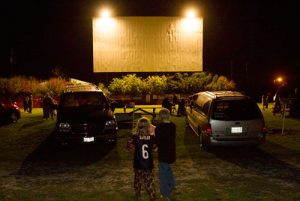 Situated in the heart of Central Illinois, Harvest Moon is one of the first truly sustainable drive-ins, with energy provided by a Skystream 2.4kw turbine on a 50 foot tower which creates 30% of the theater's electricity during the season. This drive-in also utilizes LED lighting, soy paints, energy efficient appliances, and recyclable products to reduce their carbon footprint. A larger solar panel set up is planned for this year to reduce an additional 50% of the electricity, plus a Solar Hot Water System is set for installation. Some old school entertainment with an eye on the future. A good look for 21st century drive-ins.
9. 99W Drive-In, Newberg, USA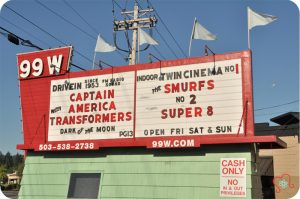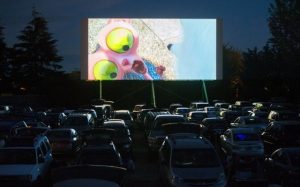 The 99W Drive-in theatre opened in August 1953 with "Sea Devils" and "Under the Sahara" as the first features to be played there. Three generations of the Francis family have been showing movies at this drive-in theater in Newberg, Oregon. The theater opened continues to screen movies between April and October. The indoors have 225 seats each, the drive-in can park 275 to 300 cars. It was chosen as the best drive-in for 2016 by popular vote in a poll conducted by 10best.
8. The 49er Drive-In, Valpariso, USA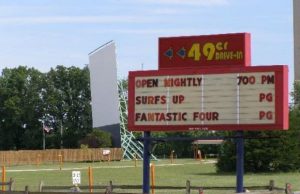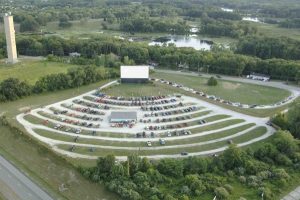 This place located in Valpariso is one of the few authentic drive-ins left out there, right down to its ambience and menu. The name of this drive-in is in reference to the Highway 49, the road on which the theater lies. The 49er is particularly unique in that it host several special movie or holiday themed events throughout the year. Visitors have enjoyed the Shrek Forever After Weekend, Karate Kid Weekend, Toy Story 3 Weekend, and 4th of July Weekend.
7. Becky's Drive-In, Berlinsville, USA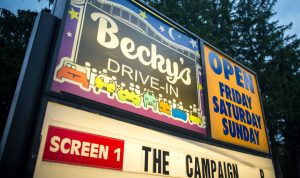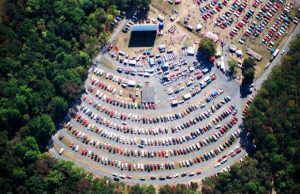 Becky's Drive-In has been a Pennsylvania favorite since its founding back in 1946.William Beck was an early drive-in pioneer. Cindy Deppe and brothers Darrel and Dennis Beck are the second-generation owners, constantly breathing new life and excitement into the historic venue. According to the season there are hayrides, fireworks, and employees dressed like the Men in Black. These days, though, the facilities are perfectly modern: first-run movies are shown across two screens, visitors tune into the sound via their car radios, and sloped parking ensures everyone has a view. Then there are the concession stands, with snacks like funnel cake, which contributes to the theater's fun-fair vibe.
6. The Silver Lake Twin Drive-In, Perry, USA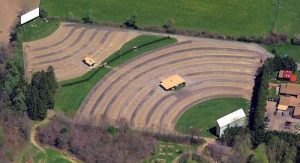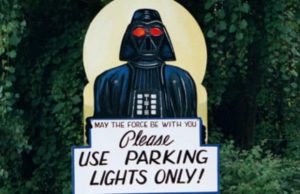 Located in Pery, New York, the Silver Lake is a prime example of the ultra-modern drive-in. This place is the total package. What was once just a screen in a cow pasture established in 1949 now has everything you could want for a quality evening out. There is a cool restaurant known as the Charcoal Corral, a pizzeria, and ice cream parlor, a bandstand that hosts karaoke on Wednesday nights, a video arcade, 18 holes of miniature golf and even a series of concerts in the summer! Wowza!
5. Sunset Cinema – Ahmedabad, India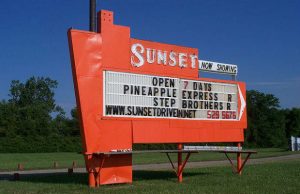 Located in Ahmedabad in the state of Gujrat, Sunset Cinema is one of only two drive-in theaters in the country. It is the largest outdoor screening in the entire Indian subcontinent, and can accommodate about 665 cars and above 6,000 people. Started on September 6th 1973, the first film it hosted was 'Abhimaan' starring Mr and Mrs Bachchan. It is one of the most popular attractions in the city and even has a covered area for people who don't own cars.
4. DRV-IN, New York, USA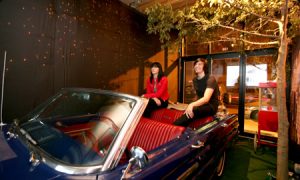 Now this is a little different from what you might call a 'conventional' drive-in theater. While the rest of America went gaga behind drive-in theaters. NYC, being a haven of the world's highest real estate prices, missed out on all the fun. But now, this Manhattan joint, the only such place in New York, lets you watch films while you lounge in a stationary 1965 Ford Falcon convertible under an artificial sky in an isolated room right in the middle of the bustling city. A quaint recreation of the good ol' days.
3. Mission Tiki Drive-In, Montclair, USA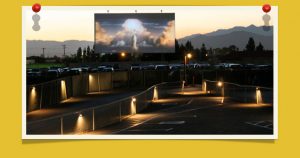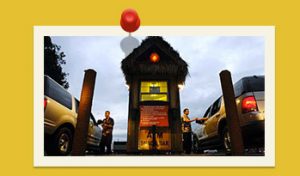 This drive-in is located in Montclair, California. Complete with a state of the art projection system and tiki hut ticket booths, this drive-in has been around since 1956 under the original name "The Mission." It was completely redone in 2006. With a large selection of newly-released double features, a well stocked snack bar, and authentic Mexican cuisine; there's no better way to spend an evening in the California hills. They have also been hosting a swap meet since the 1960s. Each weekend vendors from across southern California gather to sell everything from wholesale goods to hand-me downs.
2. Fort Lauderdale Swap Shop, Fort Lauderdale, USA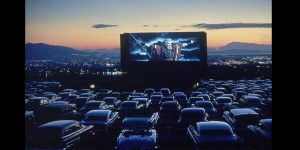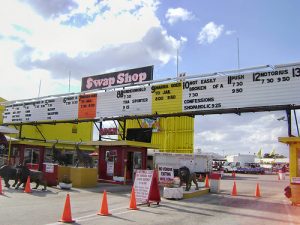 On November 22, 1963, Betty and Preston Henn opened the Thunderbird Drive-in Theater in Fort Lauderdale, Florida. In the beginning, there was one screen (still in use today as Screen 9)— and a reputation for showing adult movies, which concerned passing motorists. Now, the Fort Lauderdale Swap Shop is a 14-screen drive-in theater, the biggest in the world. By day, it doubles as the largest drive-in and largest daily flea market in the world (local broadcast advertising states it to be "Florida's second-biggest tourist attraction"). From 1989-2006 the Hanneford Family Circus had been performing daily (except Tuesdays) in the Swap Shop food court, entertaining the roughly 12 million people who visit each year.
1. Shankweiler's Drive-In, Orefield, USA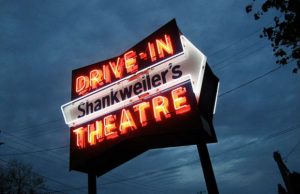 Located in Orefield, Pennsylvania, Shankweiler's is the second-oldest drive-in to begin operation. The landmark establishment celebrated its 75th birthday in 2009. They charge $8.00 for adult tickets, and $4.00 for children's tickets, and that price is good for both movies (Shankweiler's offers a double feature each time they screen a movie). They are open each year from April through Labor Day. It is still a family business and the actual Shankweiler descendants run the theater today. It has the honorable distinction of being "the oldest drive-in in the World."
Read More: Best Movie Theaters in the World